Back
January 29, 2021—Over the course of the past week, equity market volatility has spiked based on several concerns, including:
Budding asset bubbles in select pockets of the market, particularly lower-quality stocks subject to elevated short interest
Delayed or diminished government stimulus
Possible lower COVID-19 vaccine effectiveness against new virus variants
In today's blog post, we focus primarily on the third topic as two major vaccine development programs provided positive updates over the past 24 hours. However, we would also like to briefly address the first topic relative to abnormal market activity in certain stocks, most notably GameStop (GME). The extreme gains seen in GME and numerous other lower-quality stocks is both counterintuitive and unsettling. While this unease does account in large part for the selloff we have experienced over the past several sessions, we believe that these phenomena are isolated and should resolve themselves without posing a serious risk to the stability of the broader markets. It is difficult to say how long this process will take to play out, but there is fundamentally little reason to expect the affected securities' mispricings to spill over to the broad market. 
Returning to the state of COVID-19 vaccines, yesterday evening Novavax (NVAX) announced top-line Phase 3 data from its COVID-19 vaccine trial that demonstrated an overall 89.3% efficacy. The vaccine was shown to be 95.6% effective against the UK variant with 60% efficacy against the South African variant. Although the overall efficacy levels were lower against the South African strain of the virus, most cases were mild to moderate with no severe cases occurring in the trial's vaccine arm .
This morning, Johnson & Johnson (JNJ) reported a top-line global efficacy of 66% from its single-dose COVID vaccine trial. While on the surface this numerical result appears disappointing, we think the underlying elements remain positive. The vaccine is 57% effective in preventing disease against the South African variant after a single dose (similar to NVAX results after a two-dose treatment) and more importantly, there was no increase in the number of moderate or severe cases to this variant of the virus. Additionally, 28 days after vaccination, which is a key measure in determining vaccination effectiveness, there were zero instances of hospitalization or death across all virus variants.
JNJ is planning to file for emergency-use authorization in the coming weeks and we expect the company to receive this approval in mid to late February. The approval should dramatically increase the availability of vaccines across the country as JNJ will have product ready to ship upon approval and reiterated its commitment to deliver 100 million doses (single-dose vaccine = 100 million fully vaccinated individuals) by the end of June. Although NVAX signed an agreement with the U.S. government as part of operation warp speed, the company is not expected to begin shipping doses here until later this year. 
Figure 1: Vaccinations offer hope for return to "normal"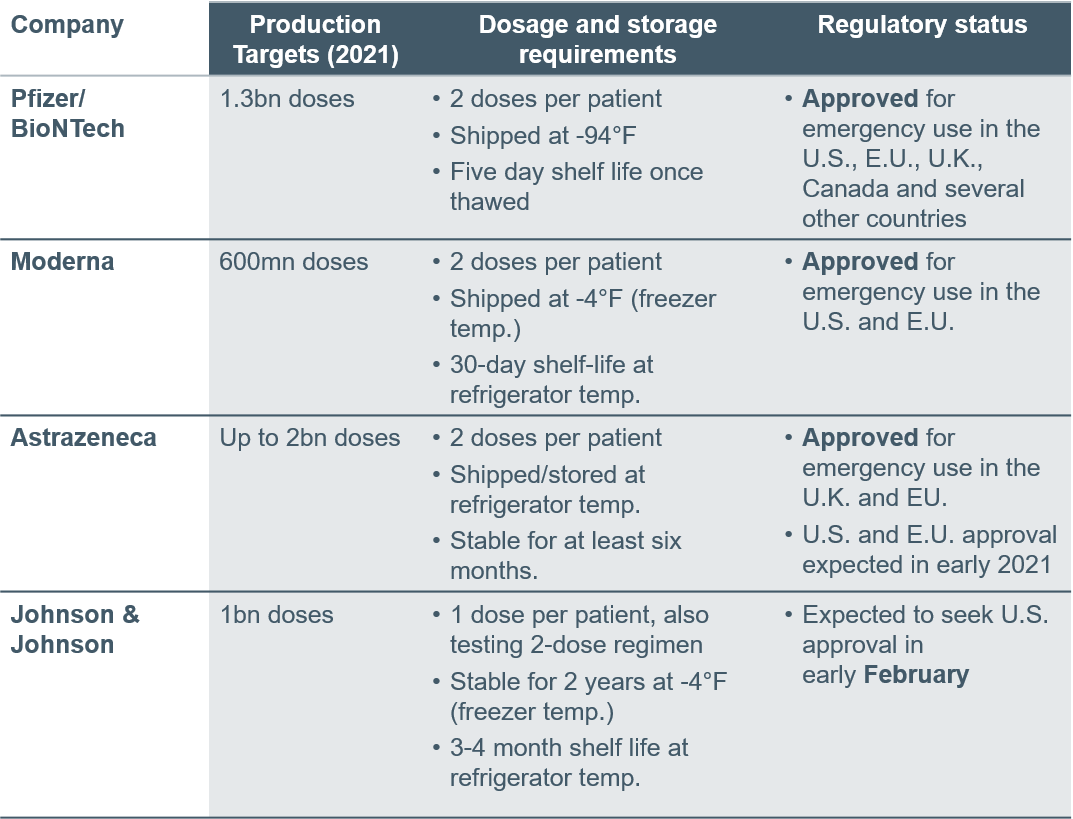 Sources: Financial Times, New York Times, STAT News. Data as of January 29, 2021.
Figure 2: The race to herd immunity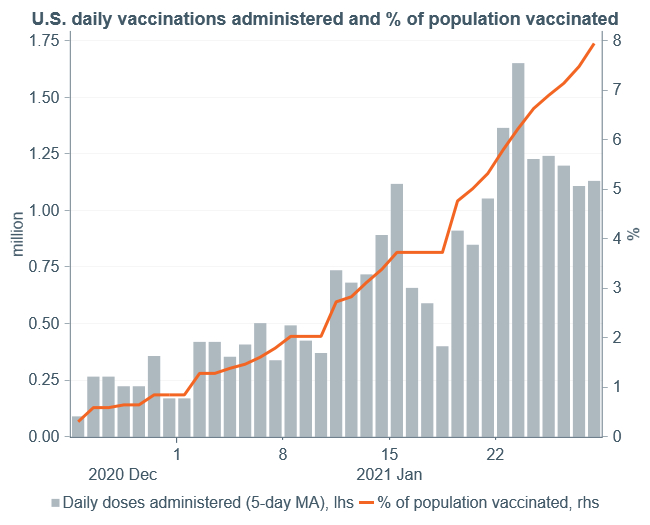 Data as of January 29, 2021. Source: The COVID Tracking Project.
Core narrative
Today's vaccine updates coupled with the news earlier in the week that the U.S government is working to secure additional vaccine doses to be delivered through the summer support our view that the domestic economy remains on track for the return-to-"normal" timeline. Notwithstanding the recent market correction and volatility, we have turned more constructive on equities as the outlook for vaccines, fiscal stimulus, and monetary policy are all creating a positive backdrop for risk assets over a 9- to 12-month investment horizon. We have the highest conviction in U.S. small-cap and emerging markets equities. Short-term risks remain, and volatility is picking up, but we expect equities to outperform over a one-year timeframe. For more, see our recent Wilmington Wire post. We would encourage investors to ride through volatility and use any pullbacks to put excess cash to work.
Disclosures
Wilmington Trust is a registered service mark used in connection with various fiduciary and non-fiduciary services offered by certain subsidiaries of M&T Bank Corporation including, but not limited to, Manufacturers & Traders Trust Company (M&T Bank), Wilmington Trust Company (WTC) operating in Delaware only, Wilmington Trust, N.A. (WTNA), Wilmington Trust Investment Advisors, Inc. (WTIA), Wilmington Funds Management Corporation (WFMC), and Wilmington Trust Investment Management, LLC (WTIM). Such services include trustee, custodial, agency, investment management, and other services. International corporate and institutional services are offered through M&T Bank Corporation's international subsidiaries. Loans, credit cards, retail and business deposits, and other business and personal banking services and products are offered by M&T Bank, member FDIC. 
Facts and views presented in this report have not been reviewed by, and may not reflect information known to, professionals in other business areas of Wilmington Trust or M&T Bank who may provide or seek to provide financial services to entities referred to in this report. M&T Bank and Wilmington Trust have established information barriers between their various business groups. As a result, M&T Bank and Wilmington Trust do not disclose certain client relationships with, or compensation received from, such entities in their reports.
The information on Wilmington Wire has been obtained from sources believed to be reliable, but its accuracy and completeness are not guaranteed. The opinions, estimates, and projections constitute the judgment of Wilmington Trust and are subject to change without notice. This commentary is for informational purposes only and is not intended as an offer or solicitation for the sale of any financial product or service or a recommendation or determination that any investment strategy is suitable for a specific investor. Investors should seek financial advice regarding the suitability of any investment strategy based on the investor's objectives, financial situation, and particular needs. Diversification does not ensure a profit or guarantee against a loss. There is no assurance that any investment strategy will succeed.
Past performance cannot guarantee future results. Investing involves risk and you may incur a profit or a loss.
Reference to the company names mentioned in this example is merely for explaining the market view and should not be construed as investment advice or investment recommendations of those companies.
Indexes are not available for direct investment.
©2021 M&T Bank Corporation and its subsidiaries. All rights reserved.
ACCESS THE WILMINGTON WIRE
Discover perspectives on timely wealth and investment management topics, authored by subject matter experts.
Explore Articles