Back
September 25, 2019—Despite nearly a year and a half of simmering (and at times boiling) trade tensions, the U.S. economy has continued to grow, albeit at a slower pace compared to 2018. Much of the economy's resilience has stemmed from the strength of consumer spending, which accounts for nearly 70% of GDP growth. Though businesses have pared back investment in the face of ongoing uncertainty around trade policy, consumers have so far remained largely unfazed by the trade war. One of the key drivers of the consumer's undeterred appetite to spend has been the strength of the labor market. The unemployment rate is at multiyear lows, and wages continue to grow at a steady pace, helping to keep consumer wallets open.
However, since the start of 2019, we have started to see signs that some of the bright spots in the labor market are beginning to fade, in part as a natural result of conditions created by a tight labor market late in the economic cycle, but also due to the trade war. Signals from the labor market do not yet point to recession, but they do suggest potential for a deceleration in consumer spending if they deteriorate further, particularly if uncertainty on the trade front begins to weigh more heavily on business employment decisions going forward. We expect GDP growth to decelerate to 1.75%–2.0% in 2019, from 2.9% in 2018, but think the risks for GDP growth remain to the downside if the trade war lingers.
Some reasons for caution
A number of indicators on our watch list have been flagging in recent months relative to strength seen in 2018:
Nonfarm payrolls and BLS benchmark revisions: 2018 had been notable for the reacceleration in the pace of job growth seen during the course of the year (after having decelerated from 2015 through 2017), boosted in part because of the impacts of tax reform on business activity. However, the Bureau of Labor Statistics (BLS) revealed in its annual preliminary benchmark revision

[i]

that the economy created 501,000 fewer jobs than originally estimated between March 2018 and March 2019. While the revision is modest relative to the overall level of jobs (0.3% of total employment), it is still large relative to history (the largest downward revision since 2010).

[ii]

The exact month-by-month revisions will only be reflected in the official data in early 2020, but on average, 41,750 fewer jobs were created each month during the period; and monthly average job growth during the period slipped to 168,000 compared to the roughly 210,000 per month estimated previously. Distributing the lower employment numbers evenly across the period points to year-over-year job growth now at its lowest since 2011, suggesting that the slowdown in the labor market in late 2018 and early 2019 was more pronounced than originally thought (Figure 1).
Figure 1: BLS revisions suggest that job growth was lower than originally estimated in late 2018 and early 2019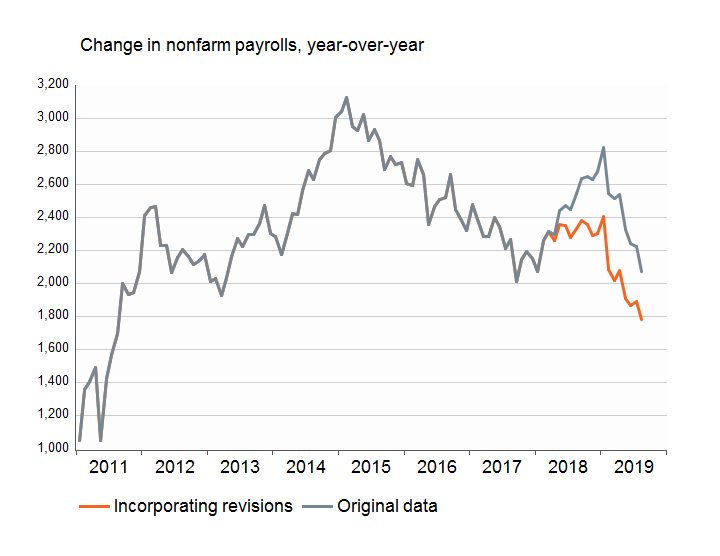 Source: Bureau of Labor Statistics, WTIA. Data as of August 21, 2019.
Manufacturing sector employment: The manufacturing sector was the first to show signs of slowing employment growth, having been hit hardest by the trade war and global growth deceleration. Measures of manufacturing employment and hours worked in the sector have come down notably since peaking in mid-to-late 2018, as seen in regional purchasing manager indices (PMIs) that measure manufacturing sector activity. The national ISM manufacturing PMI measure of employment suggests contraction in manufacturing employment as of August 2019 for the first time since 2016.
Spillover into service sector jobs: Service sector jobs have been more resilient, but data now point to slowing in job growth in the broader economy as well. The ISM non-manufacturing employment index has weakened from its peaks in 2018. The labor diffusion index, an indicator of the breadth of industries experiencing job gains vs. losses, has been declining since mid-2018 as well, and suggests that the slowing of payroll growth has become broader based across industries. Over the past six months, for example, only 20% more industries (of the 258 surveyed) had increasing employment than had decreasing employment as of August, compared to 58% back at its peak in September 2018.
Small business hiring: A private sector measure of job growth, the ADP employment report showed that hiring by small firms (up to 49 employees) and very small firms (up to 19 employees), saw two consecutive months of job declines in May and June (and also in July for very small firms); this occurred only twice before since 2011. Hiring by small firms recovered to positive territory again in August, but we are watching small business hiring closely as small firms may find it more difficult than large firms to absorb the dual pressures of rising costs due to tariffs—along with the steady creep up in wages—and would likely be the first firms to have to cut costs by reducing hiring if these cost pressures mount. The more sluggish pace of small business hiring has also been reflected in the Paychex small business jobs index and the National Federation of Independent Business (NFIB) measure of small business employment changes in the second quarter of 2019.
Job openings: While the level of job openings remains elevated relative to history, their pace of growth suggests labor demand may be softening. After rising in every year since 2010, with a surge of 1.3 million job openings in 2018, the number of job openings according to the Job Openings and Labor Turnover Survey (JOLTS) have declined so far year to date in 2019 (down by 260,000 openings). The trend in job openings has been decelerating since late 2018, with the pace of job openings falling year over year as of July 2019 (-3% y/y, from +24% y/y in November 2018).
Part-time employment for economic reasons: The number of workers who would like to work full time but could only find part time work because of economic conditions still remain low, but has crept toward the higher end of the range seen during this cycle.
Composite measure of employment growth: The Conference Board Leading Employment Trends Index is an aggregate index of eight indicators[iii] meant to track the number of jobs created by firms. This index fell into negative territory in year-over-year terms for only the second time during this expansion (the last time was in 2016). While the index does not yet suggest job declines, it does point to a slower pace of job growth going forward.
But no alarm bells ringing yet
Though the list of indicators noted above suggest reasons to remain vigilant about the cooling jobs market (and its impact on the consumer), other indicators on our watch list still remain robust. Some of the cooling was to be expected as the result of tight labor market conditions, where demand for workers was outstripping the number of available workers, making it difficult for firms to find qualified workers to hire, and leading to a natural slowdown in the pace of job growth. Average hourly earnings have gradually crept higher as a result, as firms increased wages to attract and retain workers. These higher wages help support consumer spending (but also add to costs for firms).
These higher wages have also helped draw more workers into the labor force, with the labor force participation rate for prime-age workers (25-54 years old) continuing to recover from post-recession lows. The underemployment rate, which includes discouraged workers who have stopped looking for work, and those who are seeking full-time work but can only find part-time work, is sitting near cycle lows.
The pace of average monthly job growth for the past 12 months sits at 148,479,[iv] still above estimates of the breakeven monthly rate of job growth (100,000 jobs) needed to keep the unemployment rate stable. Initial jobless claims for unemployment insurance also remain at multi-decade lows, suggesting the pace of layoffs remains low. The JOLTS survey points to a high quits rate, indicating that workers are confident enough in their ability to find new jobs that they are willing to quit existing jobs, and the hiring rate remains elevated as well. Consumer perceptions of job availability remain strong, with the labor differential (perceptions of whether "jobs are plentiful" vs. "jobs are hard to get") now at a cycle high.
Figure 2: Labor market indicators suggest vigilance but not panic

Source: WTIA. Data as of September 12, 2019.
Core narrative
While the labor market still remains healthy, a number of signals suggest it is starting to cool, due in part to the expected effects of being in the late stages of the economic cycle, in addition to impacts from the trade war. Recent data revisions reveal that the job growth was not as robust as originally estimated for much of 2018. We are mindful of downside risks to consumer spending, and in turn GDP growth, in the event of a deeper labor market softening, which could occur if the impact of a prolonged or escalated trade war begins to spill over from business investment decisions to business hiring decisions, as firms contend with higher costs due to tariffs along with rising wages. But we also recognize that any alleviation of uncertainty on the trade front could remove some of the current drags on the labor market, particularly in the manufacturing sector. We currently maintain a neutral position to equities as we wait for further clarity on trade negotiations.
[i] The Bureau of Labor Statistics undertakes an annual benchmark revision to update its estimates of the number of jobs in the economy with the most complete data available. The annual benchmark revision uses data from the Unemployment Insurance program which covers nearly 97% of all employment across the nation. This is compared to the monthly employment situation report, which is more timely, but where the sample used to estimate the data covers about 30% of all employees on payrolls in the nonfarm sector across the nation.
[ii] https://www.bls.gov/web/empsit/cestn.htm#t22f2
[iii] Conference Board "Jobs Hard to Get" index, initial jobless claims for unemployment insurance, NFIB percentage of small business firms with jobs not able to fill right now, number of temporary employees, ratio of involuntary part time workers to all part-time workers, job openings, industrial production, real manufacturing and trade sales.
[iv] This estimate includes the BLS benchmark revision to nonfarm payrolls, assuming that the downward revision to payrolls was distributed evenly to the months affected by the revision (monthly payroll growth is estimated to be 41,750 lower than published in each of the months from September 2019 to March 2019). The 12-month average of nonfarm payrolls unadjusted for the revision was 172,833 jobs per month).
Disclosures
Wilmington Trust is a registered service mark. Wilmington Trust Corporation is a wholly owned subsidiary of M&T Bank Corporation. Wilmington Trust Company, operating in Delaware only, Wilmington Trust, N.A., M&T Bank and certain other affiliates, provide various fiduciary and non-fiduciary services, including trustee, custodial, agency, investment management and other services. International corporate and institutional services are offered through Wilmington Trust Corporation's international affiliates. Loans, credit cards, retail and business deposits, and other business and personal banking services and products are offered by M&T Bank, member FDIC.
Facts and views presented in this report have not been reviewed by, and may not reflect information known to, professionals in other business areas of Wilmington Trust or M&T Bank who may provide or seek to provide financial services to entities referred to in this report. M&T Bank and Wilmington Trust have established information barriers between their various business groups. As a result, M&T Bank and Wilmington Trust do not disclose certain client relationships with, or compensation received from, such entities in their reports.
The information on Wilmington Wire has been obtained from sources believed to be reliable, but its accuracy and completeness are not guaranteed. The opinions, estimates, and projections constitute the judgment of Wilmington Trust and are subject to change without notice. This commentary is for information purposes only and is not intended as an offer or solicitation for the sale of any financial product or service or a recommendation or determination that any investment strategy is suitable for a specific investor. Investors should seek financial advice regarding the suitability of any investment strategy based on the investor's objectives, financial situation, and particular needs. Diversification does not ensure a profit or guarantee against a loss. There is no assurance that any investment strategy will succeed.
Past performance cannot guarantee future results. Investing involves risk and you may incur a profit or a loss.
ACCESS THE WILMINGTON WIRE
Discover perspectives on timely wealth and investment management topics, authored by subject matter experts.
Explore Articles