Back
March 8, 2019— The February jobs report was just plain awful. With a Bloomberg median expectation of 180,000 jobs added, and our own higher expectation of 200,000, the shockingly low figure of just 20,000 had many of us thinking we were looking at a typo. Along with some other weak data on retail sales and business spending, the weak jobs figure will certainly drive discussions of whether we are coming up on the end of the expansion. We think the jobs figure is reason enough to be cautious, but do not take it as the proverbial nail in the coffin of this cycle. We remain overweight to risk, including U.S. Large Cap Equities, but are watching closely for any other warning signs.
Oh so low
Job growth was weak across the board in all sectors, and with a decline of 32,000 jobs in the construction sector. Other sectors remained in positive territory but with sharply slower job additions except for one: professional and business services. Slightly more encouraging was the "household survey" side of the report (the jobs report is derived from two separate surveys, one that surveys businesses and the other surveys households). The household survey gives us estimates of the unemployment rate, which dropped from 4.0% in January back down to 3.8%.
As can be seen in Figure 1, the weak figure follows two very strong months of gains, so some of the weakness was likely "give back" for gains that were artificially high in December and January. When you know you have statistical volatility, it's good to look at moving averages, and the 3-month average is 186,000 per month with this report, which is still very strong. It's also worth noting several items that may have thrown off the February figure, including a large winter storm on the East Coast during the "reference week" (the week of the month when the data is gathered). The reference week also coincided with the end of the longest government shutdown in history. We also note in Figure 1 that this is not the first time we've had an aberration during this recovery. It happened twice before and both instances proved to be anomalies.
Figure 1: U.S. job growth (thousands)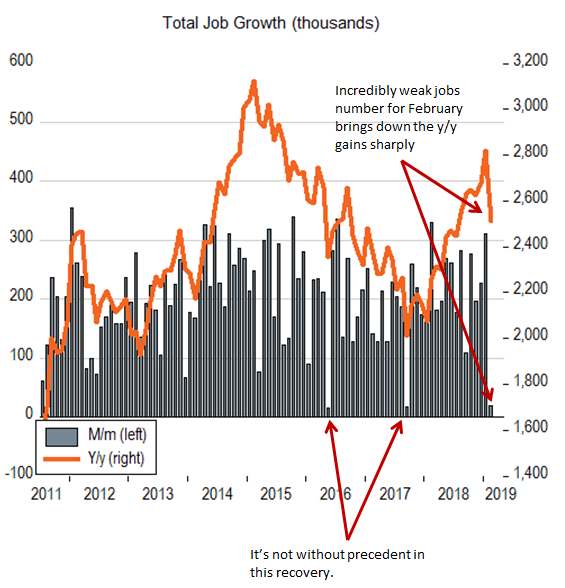 Source: Bureau of Labor Statistics. Data as of February 28, 2019.
Wages keep rising
One major item in the report that was not a surprise was a continued upward push in wages. Firms continue to struggle to find workers in an expanding economy and multi-decade lows for the unemployment rate. Average hourly earnings pushed up to a new cycle high of 3.4% year-over-year, shown in Figure 2. Higher wages typically draw the attention of Federal Reserve officials who fret about inflation, and by extension investors watch wages closely too. But in this cycle we have yet to see the wage gains push through to higher inflation. As we note in our 2019 Capital Markets Forecast (CMF), we think productivity gains are helping firms to deal with higher labor costs without raising prices very quickly. This means the Fed can continue with its new "patient" stance until inflation actually shows up in a meaningful way. That patience is helpful to equities and other risk assets.
Figure 2: Average hourly earnings (Y/Y%)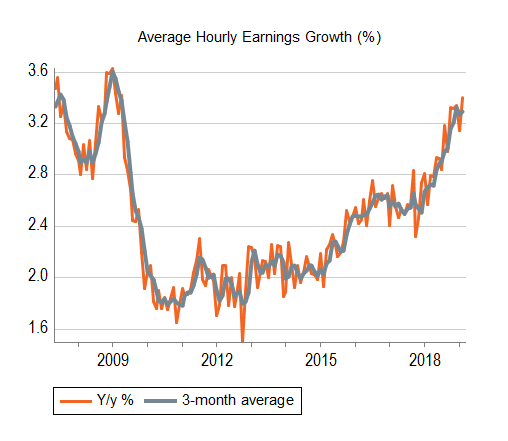 Source: Bureau of Labor Statistics. Data as of February 28, 2019.
Core narrative
The jobs report for February was shockingly low and a significant disappointment. That said, there are more reasons to believe this is a blip than there are to believe it is signaling a downturn for the heretofore strong labor market. The unemployment rate moved down a bit and wages moved up. Importantly, the wage growth is not enough to pull the Fed out of its patient stance, and that will be supportive to equities. We don't want to be accused of whistling past the graveyard, but we continue to believe the economy is on a strong footing, and that includes the labor market. We are watching closely for more signs to the contrary.
Disclosures
Wilmington Trust is a registered service mark. Wilmington Trust Corporation is a wholly owned subsidiary of M&T Bank Corporation. Wilmington Trust Company, operating in Delaware only, Wilmington Trust, N.A., M&T Bank and certain other affiliates, provide various fiduciary and non-fiduciary services, including trustee, custodial, agency, investment management and other services. International corporate and institutional services are offered through Wilmington Trust Corporation's international affiliates. Loans, credit cards, retail and business deposits, and other business and personal banking services and products are offered by M&T Bank, member FDIC. Wilmington Trust Investment Advisors, Inc. is an SEC-registered investment advisor providing investment management services to Wilmington Trust and M&T Bank affiliates and clients.
These materials are based on public information. Facts and views presented in this report have not been reviewed by, and may not reflect information known to, professionals in other business areas of Wilmington Trust or M&T Bank who may provide or seek to provide financial services to entities referred to in this report. M&T Bank and Wilmington Trust have established information barriers between their various business groups. As a result, M&T Bank and Wilmington Trust do not disclose certain client relationships with, or compensation received from, such entities in their reports.
The information on Wilmington Wire has been obtained from sources believed to be reliable, but its accuracy and completeness are not guaranteed. The opinions, estimates, and projections constitute the judgment of Wilmington Trust and are subject to change without notice. This commentary is for information purposes only and is not intended as an offer or solicitation for the sale of any financial product or service or a recommendation or determination that any investment strategy is suitable for a specific investor. Investors should seek financial advice regarding the suitability of any investment strategy based on the investor's objectives, financial situation, and particular needs. Diversification does not ensure a profit or guarantee against a loss. There is no assurance that any investment strategy will succeed.
Any investment products discussed in this commentary are not insured by the FDIC or any other governmental agency, are not deposits of or other obligations of or guaranteed by M&T Bank, Wilmington Trust, or any other bank or entity, and are subject to risks, including a possible loss of the principal amount invested. Some investment products may be available only to certain "qualified investors"—that is, investors who meet certain income and/or investable assets thresholds. Past performance cannot guarantee future results. Investing involves risk and you may incur a profit or a loss.
Any positioning information provided does not include all positions that were taken in client accounts and may not be representative of current positioning. It should not be assumed that the positions described are or will be profitable or that positions taken in the future will be profitable or will equal the performance of those described. Positions described are illustrative and not intended as a recommendation outside of a managed account.
Indices are not available for direct investment. Investment in a security or strategy designed to replicate the performance of an index will incur expenses, such as management fees and transaction costs that would reduce returns.
Third-party trademarks and brands are the property of their respective owners.
ACCESS THE WILMINGTON WIRE
Discover perspectives on timely wealth and investment management topics, authored by subject matter experts.
Explore Articles