Back
October 17, 2018— In case 2017 let you be lulled into thinking that markets only go up, surely the recent turbulence served to remind you otherwise. Stock market corrections—even brief ones—are like a bumpy plane ride. What can be terrifying to the novice can be of little consequence to the seasoned flier who understands the mechanics of flight. Similarly, we understand the mechanics and risks of shepherding client assets through countless (bull and bear) markets and (robust and recessionary) economies and feel confident of two things. First, there will be another recession; and second, we do not believe it is imminent. Whenever it comes, it will bring portfolio downside that runs deeper and lasts longer than recent events. So the question becomes one of whether you are prepared to withstand a severe level of discomfort in order to reap the eventual rewards—or will you need "sell low" to the potential detriment of your long-term goals? Enter "drawdown exposure."
What is drawdown exposure—and why it matters
We strive to mitigate risk by focusing on a measure called drawdown exposure—which refers to the maximum pullback you may see in your portfolio from the peak of the market to its trough during a bear market correction or recession. It is a differentiator in that most of the industry relies mainly on "standard deviation"—another measure we feel is less precise. Our experience has taught us that looking through a drawdown lens provides a more nuanced, pragmatic way of managing risk and recovering from loss. An analysis of drawdown exposure answers the question, "How bad can it get for my portfolio when markets experience a correction or even recession?" Understanding drawdown is important because it can provide an understanding of the amount of money you could lose at any given time, which—along with long-term portfolio values or statistics—is a powerful metric for gauging your appropriate risk profile.
In addition to using drawdown as a tool for determining the correct risk profile, minimizing drawdown is a key goal in allocating assets to help investors stay the course when things get rocky and significantly shorten the post-drawdown recovery period, thus enhancing the potential wealth accumulation over time. This is critical for those investors who are spending from their portfolio, since a draw on a portfolio to meet spending or giving goals can mean selling at market lows and locking in losses.
See drawdown's potential effects on portfolios
We agonize over economic data on a daily basis, trying to discern when we could enter the next recession, and we tactically position portfolios accordingly. However, we recognize the difficulty in timing the market and the two-way risk that comes with deviating too much from a long-term, or strategic, asset allocation. (For more on this, read our recent Capital Perspectives "In Focus.")
See Figure 1, which shows two portfolios with different risk profiles; one is a "Growth & Income" portfolio with about 60% stocks/40% bonds and the other is a "Growth" portfolio with about 75% stocks/25% bonds (appropriate for someone who is willing to bear a greater amount of risk than the Growth & Income portfolio and accept the long-term trade-off of that additional risk in terms of potentially greater cumulative wealth):
Overall stock market (represented by the S&P 500)—Fell by about 51% during the 2008–2009 financial crisis and took a total of 37 months to recover to its starting point
Growth portfolio—Fell by 45% with a recovery of 26 months
Growth & Income portfolio—Fell by just 36% with a recovery time of 24 months
The goal is not to perfectly predict the next recession or correction, in scope or timing, but rather to appreciate realistic expectations for different portfolio risk levels under a range of negative scenarios.
Core narrative and next steps
Drawdown is an unpleasant but necessary reality of investing, and it could continue into the end of the cycle. Analyzing and managing for drawdown is just one tool in an arsenal to understand risk in a given portfolio. In building portfolios, we also use enhanced diversification across a series of factors and managers to help mitigate drawdown.
Our job is to help you weather the inevitable storm and position yourselves for long-term success. Your job is to help ensure that you are comfortable with the drawdown that is likely headed our way at some point. Our intention is always to protect and prepare, not to frighten, you. In that vein, we feel it would be prudent to talk to your advisor to reaffirm or revise your current risk profile—and perhaps discuss ways to meet your goals with less risk. Our proprietary sophisticated planning software is available to show you the potential drawdown of various portfolio scenarios, based on both hypothetical and historical events. Pullbacks like we just experienced, along with our forecasted recession, should provide starting points for a fruitful conversation.
Figure 1: Maximum drawdown analysis of model portfolios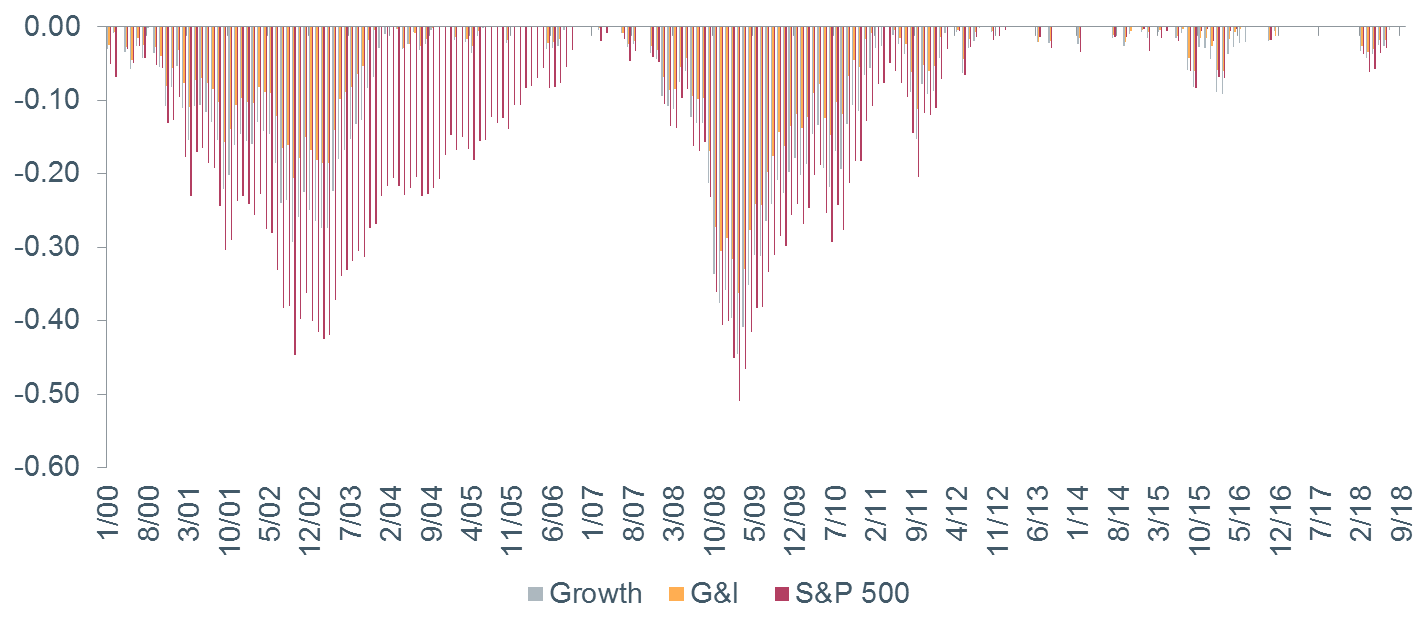 Sources: WTIA, Paragon Maximum Drawdown Analysis.
Growth represents a roughly 75/25 mix of stocks and bonds. G&I represents a Growth & Income portfolio with a roughly 60/40 mix of stocks and bonds. MDD is the date of the maximum drawdown shown in this example.
The maximum drawdown for Growth and G&I model portfolios is compared to the broad market S&P 500, using data from January 2000. The Growth and G&I model portfolios have been well diversified across underlying macroeconomic and style factors. The graphic shows that the two hypothetical model portfolios would have reacted better to market shocks in 2008–2009 and thus would have experienced less drawdown, and recovered more quickly.
Disclosures
Details on Drawdown Analysis of Model Portfolios
There is no representation that these results could, or would, have been achieved had the allocations been used over the period presented. It is provided solely as a general picture of market behavior and the interactions produced across asset classes. Actual results for securities investments would be expected to vary, sometimes materially, from the index assigned. There is no assurance that a given index will accurately reflect the past or future performance of any strategy or asset class for which it serves as a proxy.
These illustrations use backtested index performance. Backtested results are calculated by the retroactive application of a model constructed on the basis of historical data, and are therefore hypothetical in nature. Changes in these model's assumptions could have a material impact on the backtested returns presented. Certain assumptions have been made for modeling purposes and are unlikely to be realized. No representations and warranties are made as to the reasonableness of the assumptions.
Backtested performance is developed with the benefit of hindsight and has inherent limitations. Specifically, backtested results do not reflect actual trading or the effect of material economic and market factors on the decision-making process. Since trades have not actually been executed, results may have under- or overcompensated for the impact, if any, of certain market factors, such as lack of liquidity, and may not reflect the impact that certain economic or market factors may have had on the decision-making process. Further, backtesting allows the security selection methodology to be adjusted until past returns are maximized.
These backtested performance data assume a single investment and involve no subsequent cash balance or cash flows in relevant calculations. Variable cash flows resulting from actual implementation of the model over time will create a material distortion from the backtested performance data as represented herein.
Optimized and Baseline portfolio allocation data reflect index returns and do not represent the results of actual management of client assets. Fees, costs, and expenses would reduce the returns shown—and have a compounded effect over time.
Wilmington Trust is a registered service mark. Wilmington Trust Corporation is a wholly owned subsidiary of M&T Bank Corporation. Wilmington Trust Company, operating in Delaware only, Wilmington Trust, N.A., M&T Bank and certain other affiliates, provide various fiduciary and non-fiduciary services, including trustee, custodial, agency, investment management and other services. International corporate and institutional services are offered through Wilmington Trust Corporation's international affiliates. Loans, credit cards, retail and business deposits, and other business and personal banking services and products are offered by M&T Bank, member FDIC. Wilmington Trust Investment Advisors, Inc. is an SEC-registered investment adviser providing investment management services to Wilmington Trust and M&T Bank affiliates and clients.
These materials are based on public information. Facts and views presented in this report have not been reviewed by, and may not reflect information known to, professionals in other business areas of Wilmington Trust or M&T Bank who may provide or seek to provide financial services to entities referred to in this report. M&T Bank and Wilmington Trust have established information barriers between their various business groups. As a result, M&T Bank and Wilmington Trust do not disclose certain client relationships with, or compensation received from, such entities in their reports.
The information on Wilmington Wire has been obtained from sources believed to be reliable, but its accuracy and completeness are not guaranteed. The opinions, estimates, and projections constitute the judgment of Wilmington Trust and are subject to change without notice. This commentary is for information purposes only and is not intended as an offer or solicitation for the sale of any financial product or service or a recommendation or determination that any investment strategy is suitable for a specific investor. Investors should seek financial advice regarding the suitability of any investment strategy based on the investor's objectives, financial situation, and particular needs. Diversification does not ensure a profit or guarantee against a loss. There is no assurance that any investment strategy will succeed.
Any investment products discussed in this commentary are not insured by the FDIC or any other governmental agency, are not deposits of or other obligations of or guaranteed by M&T Bank, Wilmington Trust, or any other bank or entity, and are subject to risks, including a possible loss of the principal amount invested. Some investment products may be available only to certain "qualified investors"—that is, investors who meet certain income and/or investable assets thresholds. Past performance cannot guarantee a profit or ensure against a loss. Investing involves risk and you may incur a profit or a loss.
Any positioning information provided does not include all positions that were taken in client accounts and may not be representative of current positioning. It should not be assumed that the positions described are or will be profitable or that positions taken in the future will be profitable or will equal the performance of those described. Positions described are illustrative and not intended as a recommendation outside of a managed account.
Indices are not available for direct investment. Investment in a security or strategy designed to replicate the performance of an index will incur expenses, such as management fees and transaction costs that would reduce returns.
Third-party trademarks and brands are the property of their respective owners.
ACCESS THE WILMINGTON WIRE
Discover perspectives on timely wealth and investment management topics, authored by subject matter experts.
Explore Articles