Back
August 19, 2020—After a historically volatile first half, the S&P 500 is back in positive territory, up roughly 5% for the year, but gains have been far from equally distributed. The top five companies by market cap, or FAAMG (Facebook, Amazon, Apple, Microsoft, and Google), are up 48%,1 while the bottom 495 have yet to break even. The group's ballooning market cap share is the highest observed in at least three decades and has led many to question whether the dominance exerted by such a small group of companies leaves the broader market vulnerable. In addition, the elevated valuations across the group have fueled a flurry of comparisons to the tech bubble in 2000. In our view, given the substantial contribution of the top five to index earnings, resilient business models and current valuations, which look more reasonable when compared to the broader index, make the tech bubble an ill-suited comparison. Narrow market leadership, index concentration, and valuations are all risks worth monitoring but not reason enough to be bearish. Below we will walk through some supporting statistics and how we are thinking about the market's bifurcation going forward.
Market concentration: How did five companies absorb 22% of the index, and can it continue?
In order to consider the sustainability of the FAAMG cohort's outsized share of the market, it is vital to understand how they grew so large in the first place. Whether it be Apple's role in pioneering the widespread adoption of mobile phones, or Amazon spearheading the growth of e-commerce, all members of the group have been at the forefront of generational shifts in consumer behavior and pivotal technological developments. Further, not only have these companies established a multitude of profitable revenue streams, but their burgeoning scale and network of expertise have enabled them to maintain continuous pipelines of innovation, underpinning investors' high expectations for them in the future. The group's expansion has also been a product of long-term secular trends, such as increasing use of the cloud and the broad shift to work from home, that accelerated during the pandemic and are expected to remain key growth drivers in the years ahead.
Since 2015, the five tech titans gained roughly 323%, more than doubling their share of the index, while the bottom 495 returned a mere 30%1 over the same period. A key differentiator during this cycle is that earnings growth reflects a comparable divergence. Over the same period, the combined earnings of the FAAMG group have grown by 11.9% annualized, more than double the 5.2% growth rate for the bottom 495. This dynamic has remained the driver throughout the pandemic, with 2Q 2020 earnings reports handily beating expectations despite the economic turmoil weighing on the large bulk of companies. The FAAMG cohort delivered an astounding 19% revenue growth y/y in 2Q, while the index is on pace for a decline of -11% y/y.
Importantly, unlike the tech bubble, the dominant market share of the top five today is supported by a more proportionate earnings contribution. In 1999, the five largest S&P 500 companies (Microsoft, General Electric, Cisco, Walmart and Intel) comprised 17% of the index by market cap but contributed only 8% of earnings. In contrast, today's top five represent nearly 22% share but are on pace to deliver a more commensurate 17%2 of index earnings in 2Q 2020. Although market cap gains for the FAAMG group have outpaced earnings growth to some extent, their size today is far more justified by their contribution to index profitability. The potential for antitrust-related action from the federal government and a possible deceleration in growth rates relative to the broader market are important risks to monitor, but in the absence of larger scale industry disruption, we have little reason to believe that tech leadership shouldn't continue in the years ahead.
Valuations: Have they lost touch with reality?
Many have postulated that current valuations have started to lose touch with reality, particularly across mega-cap tech stocks. Considering the price-to-consensus forward earnings multiple, the S&P 500 is trading at 23x, near the highest we've seen since the tech bubble, while the top five are trading at an even loftier 38x. An important point to consider is that this elevated valuation is currently a market-wide phenomenon. The explanation for this is twofold.
First – The broad majority of companies have seen forward earnings estimates, the denominator in the price-to-earnings multiple, decline by a significant amount since the pandemic struck, while prices, the numerator, convey a more optimistic view. 12-month forward earnings estimates for the S&P 500 have been revised -14.9% lower since the beginning of the year, while prices for nearly half of all companies in the index returned to positive territory over the same period.
Second – Historically low yields on corporate and government bonds, a product of accommodative central banks across the globe, and low growth expectations have made stocks arguably more valuable on a relative basis, particularly of companies like the FAAMG group that can generate their own organic growth.
Since multiple expansion has been ubiquitous (though to varying degrees), the FAAMG group is not as expensive relative to the rest of the market, as the top five were during the tech bubble—particularly if we exclude Amazon, which has traded at a considerable premium to the market since going public. As illustrated in Figure 1 below, the forward earnings multiple for the top five mega-caps has risen to roughly 2.1x that of the bottom 495 S&P 500 companies, and only 1.4x if we exclude Amazon. Both are well below the nearly 3.6x reached during the tech bubble. Although the group's current multiple of 38x forward earnings is undoubtedly expensive and close to the highest we've seen in two decades, it is nowhere near the peak of the tech bubble, when the top five traded at an astounding 68x multiple with substantially less profit to show for it. Furthermore, the group's valuation looks considerably less extreme after adjusting for the upward skew from Amazon.
Figure 1: Price-to-forward-earnings multiple–S&P 500 top five companies by market cap vs. bottom 495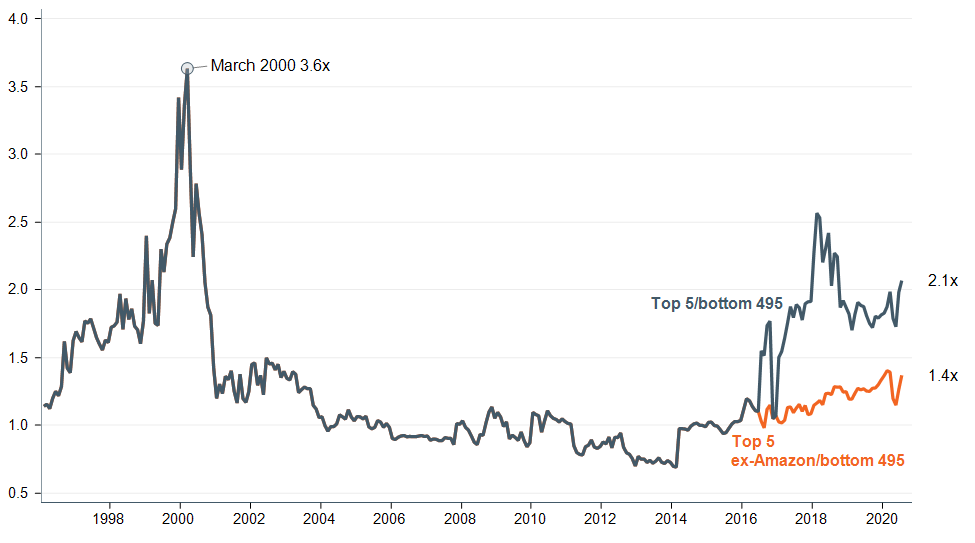 Shows the cap-weighted 12-month forward price-to-earnings ratio of the five largest S&P 500 companies by market capitalization divided by the same metric for the bottom 495 names. Sources: Bloomberg, Macrobond, WTIA.
Core narrative
The top five have run up significantly this year, and may be short-term overbought with a lot of optimism baked in to current prices, but valuations are nowhere near the excesses seen during the tech bubble. Current multiples and the high concentration of this group are a market risk, leaving them vulnerable to an abrupt turn in sentiment, but are not reason enough alone to be pessimistic on the market. In fact, the relatively narrow leadership of the market thus far this year may actually create an opportunity for further gains in the months ahead should the rest of the market pick up some of the "slack." As fast-growing, competitively positioned, and well-capitalized businesses, we like the mega-cap growth group long-term and believe they deserve to trade at a premium to the broader market. However, we continue to value diversification and, more broadly, are somewhat cautious on the market's near-term direction. As a result, we are positioning client portfolios with an underweight to equities.
1Captures increase in market capitalization for the top five and bottom 495 S&P 500 companies.
2According to Bloomberg analyst estimates.
Disclosures
Wilmington Trust is a registered service mark used in connection with various fiduciary and non-fiduciary services offered by certain subsidiaries of M&T Bank Corporation including, but not limited to, Manufacturers & Traders Trust Company (M&T Bank), Wilmington Trust Company (WTC) operating in Delaware only, Wilmington Trust, N.A. (WTNA), Wilmington Trust Investment Advisors, Inc. (WTIA), Wilmington Funds Management Corporation (WFMC), and Wilmington Trust Investment Management, LLC (WTIM). Such services include trustee, custodial, agency, investment management, and other services. International corporate and institutional services are offered through M&T Bank Corporation's international subsidiaries. Loans, credit cards, retail and business deposits, and other business and personal banking services and products are offered by M&T Bank, member FDIC. Wilmington Trust Investment Advisors, Inc. is an SEC-registered investment adviser providing investment management services to Wilmington Trust and M&T Bank affiliates and clients. Registration with the SEC does not imply a certain level of skill or training.
These materials are based on public information. Facts and views presented in this report have not been reviewed by, and may not reflect information known to, professionals in other business areas of Wilmington Trust or M&T Bank who may provide or seek to provide financial services to entities referred to in this report. M&T Bank and Wilmington Trust have established information barriers between their various business groups. As a result, M&T Bank and Wilmington Trust do not disclose certain client relationships with, or compensation received from, such entities in their reports.
The information on Wilmington Wire has been obtained from sources believed to be reliable, but its accuracy and completeness are not guaranteed. The opinions, estimates, and projections constitute the judgment of Wilmington Trust and are subject to change without notice. This commentary is for information purposes only and is not intended as an offer or solicitation for the sale of any financial product or service or a recommendation or determination that any investment strategy is suitable for a specific investor. Investors should seek financial advice regarding the suitability of any investment strategy based on the investor's objectives, financial situation, and particular needs. Diversification does not ensure a profit or guarantee against a loss. There is no assurance that any investment strategy will succeed.
Any investment products discussed in this commentary are not insured by the FDIC or any other governmental agency, are not deposits of or other obligations of or guaranteed by M&T Bank, Wilmington Trust, or any other bank or entity, and are subject to risks, including a possible loss of the principal amount invested. Some investment products may be available only to certain "qualified investors"—that is, investors who meet certain income and/or investable assets thresholds. Past performance is no guarantee of future results. Investing involves risk and you may incur a profit or a loss.
Any positioning information provided does not include all positions that were taken in client accounts and may not be representative of current positioning. It should not be assumed that the positions described are or will be profitable or that positions taken in the future will be profitable or will equal the performance of those described. Positions described are illustrative and not intended as a recommendation outside of a managed account.
Indices are not available for direct investment. Investment in a security or strategy designed to replicate the performance of an index will incur expenses, such as management fees and transaction costs that would reduce returns.
Third-party trademarks and brands are the property of their respective owners.
Any reference to company names mentioned in the blog should not be construed as investment advice or investment recommendations of those companies.
ACCESS THE WILMINGTON WIRE
Discover perspectives on timely wealth and investment management topics, authored by subject matter experts.
Explore Articles