Back
January 3, 2020 – With global growth showing signs of bottoming and trade tensions seemingly receding, we believe that the time is ripe to favor more cyclical sectors, poised to benefit from an upswing in economic activity. The energy sector falls under the cyclical umbrella, and with low valuations and a healthy 3.9% dividend yield versus the S&P 500's 1.8%, is the energy sector a good investment, or a value trap to be avoided? Not only is energy this year's laggard, up only 6% versus 27% for the S&P 500, but it is the worst performing sector of the decade, eking out just a 36% gain since 2010 relative to 252% for the S&P 500 and 392% for the tech sector. All the while, the weight of the energy sector in the S&P 500 has fallen from nearly 12% in 2010 to under 5% today, raising the question of whether the sector is still economically important and worth investors' time and money. While it might seem that beaten down energy shares are long overdue for a rebound, we carry a neutral position to the sector and believe there are reasons to be cautious moving forward.
First and foremost, energy has historically traded in tandem with the price of oil, as higher prices equate to wider margins throughout most of the energy value chain, and in our view, the supply/demand outlook for oil doesn't appear particularly compelling. Second, with limited access to capital markets and increasing demands from investors to boost cash flows, exploration and production companies, a linchpin of the energy sector, face an uphill battle. Lastly, pressures to reduce carbon emissions and the potential for elevated regulatory scrutiny for companies tied to fossil fuels are inarguable headwinds for the sector.
Figure 1. Performance of Energy versus S&P 500 and Information Technology (% total return)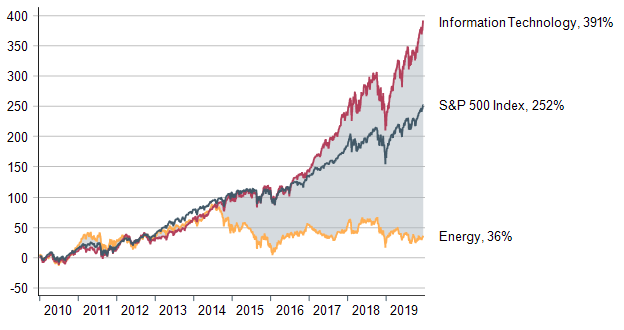 Data as of December 16, 2019. Source: Macrobond
Note: Compares total returns of the S&P 500 Index, S&P 500 Energy and S&P 500 Information Technology sector indices.
The Threat of Oversupply
Over the past decade the U.S. emerged as the world's top oil producer, thanks to a mix of innovative drilling techniques and technological advancements that unearthed hydrocarbons from pockets of rock once thought impenetrable, but the flood of crude coming online has kept a lid on oil prices. The threat of an impending supply glut aided OPEC's recent decision to deepen production cuts over the next three months. Even after considering the cartel's collective cuts of 2.1 million barrels per day, the International Energy Agency still expects oil supply to exceed demand in Q1 of 2020.
The possibility of higher oil prices can't be written off entirely. Receding geopolitical tensions and stabilization of global growth as of late have helped push the price of West Texas Intermediate (WTI), the US crude oil benchmark, to over $60/barrel. If the global expansion picks up steam, a recovery in oil consumption could lead to a more balanced market and higher prices. We believe that one factor that would curtail a rise in oil prices going forward is the abundance of idle production capacity worldwide. Since 2016, OPEC, under the direction of Saudi Arabia, removed barrels from the market to support prices and provide a hospitable backdrop for the long-awaited IPO of Saudi Aramco, all the while ceding market share to the US and non-compliant OPEC allies producing beyond agreed upon targets. If prices rise from here, we doubt that the entire OPEC+ cohort will resist the temptation to "cheat" as they have in the past, and in turn have trouble believing that Saudi Arabia will continue to forfeit market share for the benefit of others. Unlike the late-2000's, when oil rose to $100/barrel out of fears that "peak oil" supply was on the horizon, today peak oil demand is a more reasonable concern, which we believe effectively limits the extent to which prices can rise from here.
Figure 2. S&P 500 Energy % of S&P 500 and Number of Constituents Since 2010 (%, count)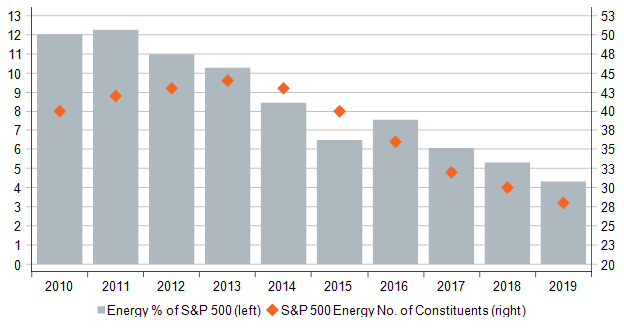 Data as of December 16, 2019. Source: Macrobond.
Difficult Operating Environment for US E&P's
Over the past few years, investors have been underwhelmed by the energy sector after enduring painful selloffs in 2015-2016 and in the fourth quarter of 2018, both byproducts of steep drops in oil prices magnified by fundamental weakness among exploration and production companies (E&P's). During the height of the shale boom in 2012-2013, E&P's, which handle the critical task of extracting oil and gas from the earth, adopted a "growth at any cost" business model, borrowing heavily at ultra-low interest rates as they sought to capitalize on rising oil prices with little concern for cost-efficiency. After surpassing $100/barrel in 2012, oil prices eventually came down to earth in 2015-2016 amidst an increasingly oversupplied market. Companies that spent beyond their means struggled under exorbitant debt loads. Credit and equity investors were punished by a precipitous drop in share prices and a series of bankruptcies, particularly among smaller, independent E&P's.
The painful experiences of 2015-2016 and a more recent collapse in late 2018 shaped the temperament of energy investors, now reluctant to provide debt and equity in the absence of increasing operational efficiency and positive free cash flow. A major structural shift is underway and fundamentals among E&P's have been improving, which is one reason that we remain neutral to the sector rather than underweight. Despite depressed valuations, return on invested capital and free cash flow yield (the cash generated after accounting for capital expenditures as a percentage of total revenue) have been trending upward over the last few years but still compare poorly with the broader market. Companies using cash in ways that directly benefit shareholders such as through share buybacks and dividend increases have been rewarded, leading us to believe that the energy sector can't be written off entirely.
Risk of Heightened Regulatory Scrutiny Amid Push to Combat Climate Change
Growing pressures to reduce carbon emissions and combat climate change, and the risk of heightened regulatory scrutiny for fossil fuel companies in the future, are headwinds that can't be ignored. Climate change is a unifying issue among Democratic candidates in the 2020 presidential election, and many have introduced environmental legislation that could put considerable strain on the energy sector if implemented. Most candidates support limiting oil and gas leases on federal land, curbing offshore drilling and introducing some form of a carbon tax, while a select few have suggested that they would work to ban fracking and the export of fossil fuels altogether if elected. The proposed policies threaten to significantly alter the way that oil and gas companies conduct business, raising the prospect of considerable uncertainty for the sector moving into 2020.
Core Narrative
With the announcement of a phase 1 trade deal between the U.S. and China, global economic data showing signs of stabilization, and supportive central banks worldwide, we believe that exogenous risks are receding and the time is appropriate to increase risk in portfolios. We are modestly overweight equities and tilted toward cyclical sectors, but we remain neutral to energy, as we judge the idiosyncratic risks of the sector to warrant a more cautious approach.
Disclosures
Wilmington Trust is a registered service mark. Wilmington Trust Corporation is a wholly owned subsidiary of M&T Bank Corporation. Wilmington Trust Company, operating in Delaware only, Wilmington Trust, N.A., M&T Bank and certain other affiliates, provide various fiduciary and non-fiduciary services, including trustee, custodial, agency, investment management and other services. International corporate and institutional services are offered through Wilmington Trust Corporation's international affiliates. Loans, credit cards, retail and business deposits, and other business and personal banking services and products are offered by M&T Bank, member FDIC. Wilmington Trust Investment Advisors, Inc. is an SEC-registered investment adviser providing investment management services to Wilmington Trust and M&T Bank affiliates and clients.
These materials are based on public information. Facts and views presented in this report have not been reviewed by, and may not reflect information known to, professionals in other business areas of Wilmington Trust or M&T Bank who may provide or seek to provide financial services to entities referred to in this report. M&T Bank and Wilmington Trust have established information barriers between their various business groups. As a result, M&T Bank and Wilmington Trust do not disclose certain client relationships with, or compensation received from, such entities in their reports.
The information on Wilmington Wire has been obtained from sources believed to be reliable, but its accuracy and completeness are not guaranteed. The opinions, estimates, and projections constitute the judgment of Wilmington Trust and are subject to change without notice. This commentary is for information purposes only and is not intended as an offer or solicitation for the sale of any financial product or service or a recommendation or determination that any investment strategy is suitable for a specific investor. Investors should seek financial advice regarding the suitability of any investment strategy based on the investor's objectives, financial situation, and particular needs. Diversification does not ensure a profit or guarantee against a loss. There is no assurance that any investment strategy will succeed.
Any investment products discussed in this commentary are not insured by the FDIC or any other governmental agency, are not deposits of or other obligations of or guaranteed by M&T Bank, Wilmington Trust, or any other bank or entity, and are subject to risks, including a possible loss of the principal amount invested. Some investment products may be available only to certain "qualified investors"—that is, investors who meet certain income and/or investable assets thresholds. Past performance cannot guarantee a profit or ensure against a loss. Investing involves risk and you may incur a profit or a loss.
Any positioning information provided does not include all positions that were taken in client accounts and may not be representative of current positioning. It should not be assumed that the positions described are or will be profitable or that positions taken in the future will be profitable or will equal the performance of those described. Positions described are illustrative and not intended as a recommendation outside of a managed account.
Indices are not available for direct investment. Investment in a security or strategy designed to replicate the performance of an index will incur expenses, such as management fees and transaction costs that would reduce returns.
Third-party trademarks and brands are the property of their respective owners.
ACCESS THE WILMINGTON WIRE
Discover perspectives on timely wealth and investment management topics, authored by subject matter experts.
Explore Articles