Back
July 22, 2020—Once the epicenter of the global coronavirus (COVID-19) outbreak, Europe is taking significant fiscal actions to support European Union (EU) efforts to climb out of a deep recession. These actions come on the heels of the European Central Bank's (ECB) emergency monetary initiatives.
Last night, EU heads of state approved a European Commission proposal for a maximum EUR 750 billion "Next Generation" program to fund EU member governments in support of clean energy, digital transformation, and other projects. This program can include up to EUR 390 billion in grants.
The program, which was already in the works before the COVID-19 outbreak, quickly had a bulk of its funds assigned to the EU's "Recovery and Resilience" initiative. Of the EUR 750 billion, EUR 560 billion has been allocated to this initiative. The remainder constitutes a permanent EU budget addition. The Recovery and Resilience initiative maintains a focus on clean energy and digital transformation, though only a portion of the resources must be directed toward these areas.
The Recovery and Resilience initiative uses an allocation formula that apportions funds toward countries confronting more severe labor market impacts and lower income levels. The largest beneficiaries would be the Italian and Spanish governments. Before disbursing funds, the European Commission must approve applications submitted by beneficiary governments.
In order to fund the initiative, the Commission will issue supranational bonds. The Commission will service these bonds from a significant increase to its regular budget. While the Commission plans to charge climate-related taxes, it will rely mostly on regular contributions from EU governments, which would be increased to handle the additional debt service.
Earlier, on May 29, the European Commission approved a maximum EUR 300 billion "Solvency Support" program to provide assistance, through 2024, otherwise solvent businesses could be adversely impacted by the virus. The Commission's funding will backstop equity investments extended through the existing European Investment Bank, which has intermediary lending relationships with financial institutions across the EU.
Political implications
The Next Generation and Solvency Support programs will help advance EU fiscal integration, shifting greater spending, taxation, and debt issuance authority from EU member states to the European Commission.
The effective size of intra-EU transfers from wealthier to less wealthy member states has always been a contentious issue in the EU, more so than in the United States. In fact, some EU member states resist giving greater authority and resources to EU authorities as they perceive the European Commission and the European Parliament to be less democratic than their own cabinets and parliaments. Thus, the size and design of the new programs represent a carefully constructed compromise. Such compromises have been necessary throughout the EU's history, most recently in the case of the eurozone debt crisis. One can imagine that, but for BREXIT, the UK might have insisted on a much less ambitious response.
Since EU member states must apply for Commission assistance under the Resilience and Recovery program, member states that are skeptical of EU fiscal integration may well insist on a "second bite at the apple" in terms of approving actual disbursements. During the eurozone debt crisis, it often took months if not years for the EU to approve specific national disbursement requests.
The programs are directed, in large part, to promoting clean energy and digital transformation. Politically, the EU has a much greater commitment to clean energy than the United States. For example, it already has its own Green New Deal. Various Green parties hold enough seats in national parliaments, as well as in the European Parliament, to advance their clean energy proposals. Digital transformation has the political aim of making sure that the EU can keep up, to some degree, with the United States and China on information technology. Many in the EU, as in the U.S., are concerned about China becoming dominant in various technologies.
Investment implications
The twin Next Generation foci of clean energy and digital transformation are likely to reinforce important trends that we have already seen with listed European stocks. For example, European utilities and industrials are much further along than U.S. companies in converting from fossil fuels to renewable energy sources and improving energy efficiency and emissions control. European stocks are also further along than U.S. stocks in the extent of climate-related and other ESG disclosures. While U.S. asset management firms are still ramping up their ESG and impact investing capabilities, European firms already represent the state of the art.
There are relatively few prominent European information technology stocks compared to the U.S. or certain countries in Asia, although several have conquered important niches. For example, German-domiciled SAP is a world leader in enterprise software and Netherlands-domiciled ASML is a world leader in producing lithography equipment for manufacturing semiconductors. The EU's focus on digital transformation could help spawn new European leadership in high technology.
The Solvency Support program would hold the most potential significance for equity markets. The European Investment Bank has an existing lending infrastructure, working with and through private-sector financial institutions. Presumably, most recipients would not be listed companies. Nevertheless, capital infusions could support small- and mid-cap stocks or help unlisted stocks in their transition to listing.
The greater EU fiscal integration embodied by the Next Generation program holds the most significance for sovereign and supranational fixed income markets. We will likely see the EU supranational proportion of European bond issuance and outstanding amounts gradually rise over the next few years. EU supranational bond issuance may well supplement member-state sovereign bond net issuance during the recovery, but thereafter member-state net issuance might decline or become negative. In the short term, as well as in the medium term, EU supranational borrowing will not crowd out either sovereign or corporate borrowing, in the economic sense that bond yields would rise. This is because the ECB is suppressing bond yields, even for long maturities.
Core narrative
Once the epicenter of the COVID-19 outbreak, Europe has brought the virus largely under control and is rapidly opening the regional economy.
We anticipate that the unusually aggressive EU fiscal response will be beneficial to European equities and by extension to broader international developed country equities. This development reaffirms our tactical allocation advice. We are neutral-weight to international developed equities, but modestly underweight to U.S. and emerging market equities.
Figure 1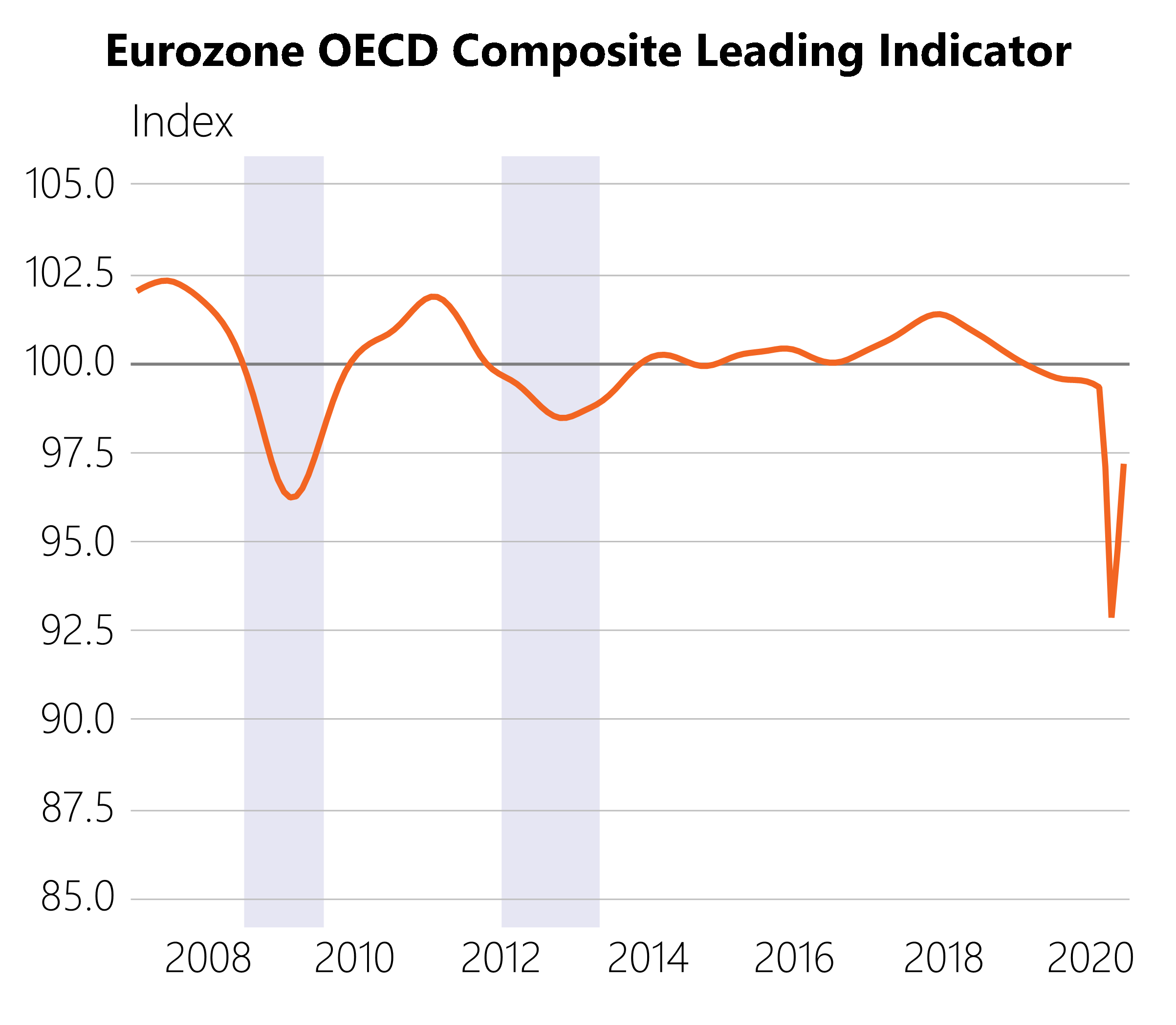 Data as of: June 2020. Sources: OECD, Macrobond.
Figure 2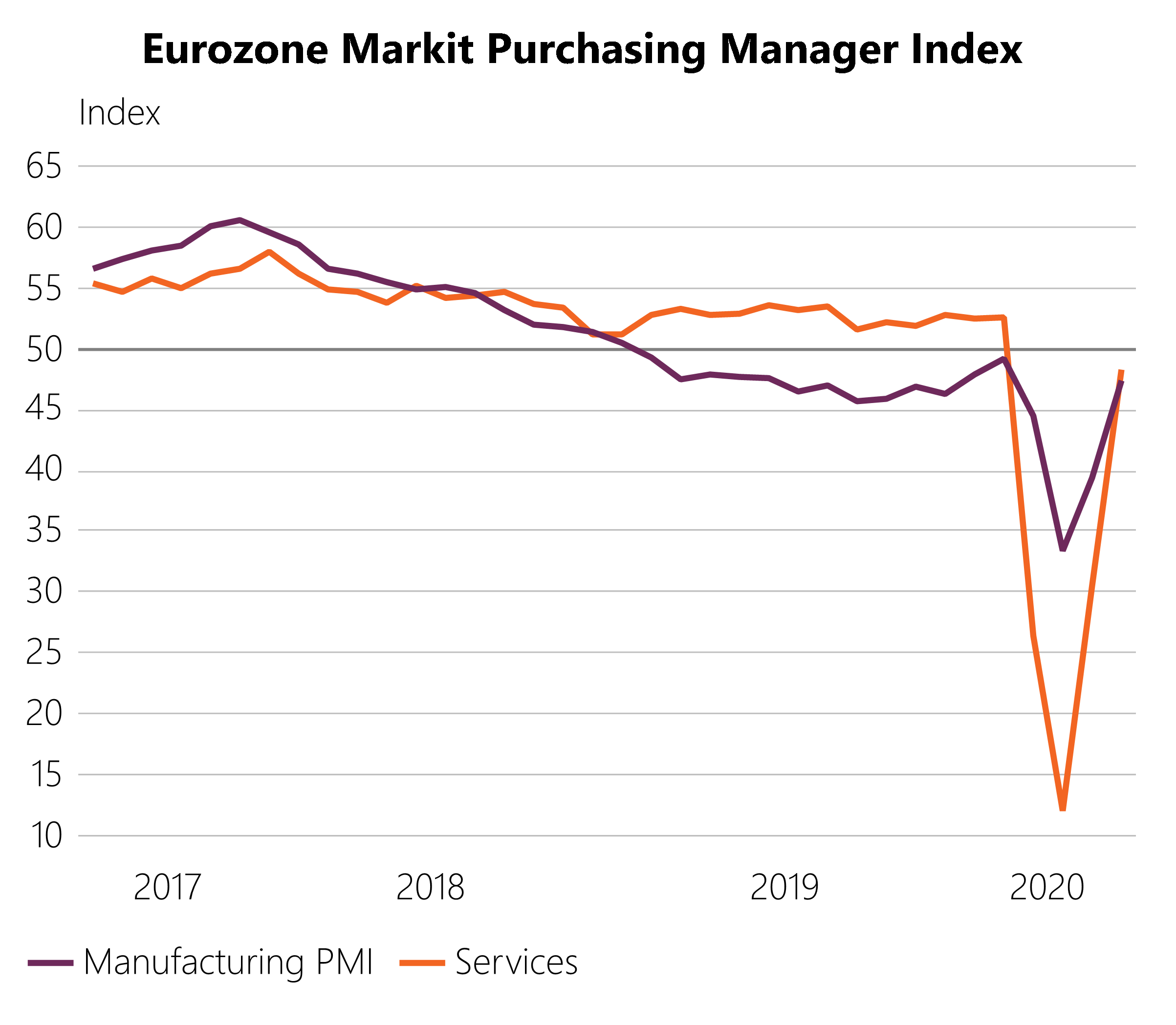 Data as of: June 2020. Sources: Markit, Macrobond.
Disclosures
Wilmington Trust is a registered service mark used in connection with various fiduciary and non-fiduciary services offered by certain subsidiaries of M&T Bank Corporation including, but not limited to, Manufacturers & Traders Trust Company (M&T Bank), Wilmington Trust Company (WTC) operating in Delaware only, Wilmington Trust, N.A. (WTNA), Wilmington Trust Investment Advisors, Inc. (WTIA), Wilmington Funds Management Corporation (WFMC), and Wilmington Trust Investment Management, LLC (WTIM). Such services include trustee, custodial, agency, investment management, and other services. International corporate and institutional services are offered through M&T Bank Corporation's international subsidiaries. Loans, credit cards, retail and business deposits, and other business and personal banking services and products are offered by M&T Bank, member FDIC.
Facts and views presented in this report have not been reviewed by, and may not reflect information known to, professionals in other business areas of Wilmington Trust or M&T Bank who may provide or seek to provide financial services to entities referred to in this report. M&T Bank and Wilmington Trust have established information barriers between their various business groups. As a result, M&T Bank and Wilmington Trust do not disclose certain client relationships with, or compensation received from, such entities in their reports.
The information on Wilmington Wire has been obtained from sources believed to be reliable, but its accuracy and completeness are not guaranteed. The opinions, estimates, and projections constitute the judgment of Wilmington Trust and are subject to change without notice. This commentary is for informational purposes only and is not intended as an offer or solicitation for the sale of any financial product or service or a recommendation or determination that any investment strategy is suitable for a specific investor. Investors should seek financial advice regarding the suitability of any investment strategy based on the investor's objectives, financial situation, and particular needs. Diversification does not ensure a profit or guarantee against a loss. There is no assurance that any investment strategy will succeed.
Past performance cannot guarantee future results. Investing involves risk and you may incur a profit or a loss.
©2020 M&T Bank Corporation and its subsidiaries. All rights reserved.
ACCESS THE WILMINGTON WIRE
Discover perspectives on timely wealth and investment management topics, authored by subject matter experts.
Explore Articles