Back
July 13, 2018— The slope of the yield curve has continued its relentless slide this month, with the yield differential between a 10-year and a 2-year Treasury bond falling below 0.27%. The closer this figure gets to zero, the more suspect investors become about whether the economy can withstand higher interest rates from the Fed. Historically, an aggressive Fed coupled with investors' tepid future growth outlook has led to the yield on a 2-year Treasury exceeding that of the 10-year—resulting in what is known as an "inverted" yield curve. In this month's Capital Perspectives, our In Focus outlined why we are cautious but not overly concerned about the yield curve.
One of the reasons for our outlook is that, while the yield curve has inverted prior to each of the last five recessions (the last seven if you look at the difference between a 10-year and 3-month Treasury yield), at surface level it has been a very poor timing tool. An inverted yield curve has led the pre-recession peak in equity markets by anywhere from 7 to 27 months. This represents a wide time range and often a significant opportunity cost in terms of stock market appreciation; on average, the S&P 500 has risen about 18% between the time the yield curve inverted and the peak in equity markets for the cycle.
While just one of many economic and market indicators we watch to gauge how much longer the bull market could continue, we have attempted to put a bit more precision around the yield curve's timing signal, and we are cautiously optimistic about what it is telling us.
Our investment philosophy is driven by economics, as most bull markets tend to coincide with economic cycles. (And it has historically not been profitable to try to position around the bear market corrections not driven by economic fundamentals.) Therefore, we analyzed the bull markets occurring during the last 3.5 economic expansions[1]: 1976–1979, 1982–1990, 1991–2001, and 2001–2007. Since bull markets are never the same length, we standardized each by slicing the S&P 500's appreciation from trough to peak into equal parts. We then looked at where the 10-2 year Treasury yield spread was 5% of the way through each bull market, 10% of the way through, and so on. The results give us a range of values for where we may expect to see the 10-2 year Treasury yield spread at various points in the bull market (Figure 1). For example, when we have been 5% of the way through historical bull markets, the 10-2 year Treasury yield spread has ranged from 0.13% to 1.6%, with a median of about 1.3%.
Figure 1: Yield curve suggesting we are 70%–80% of the way through bull market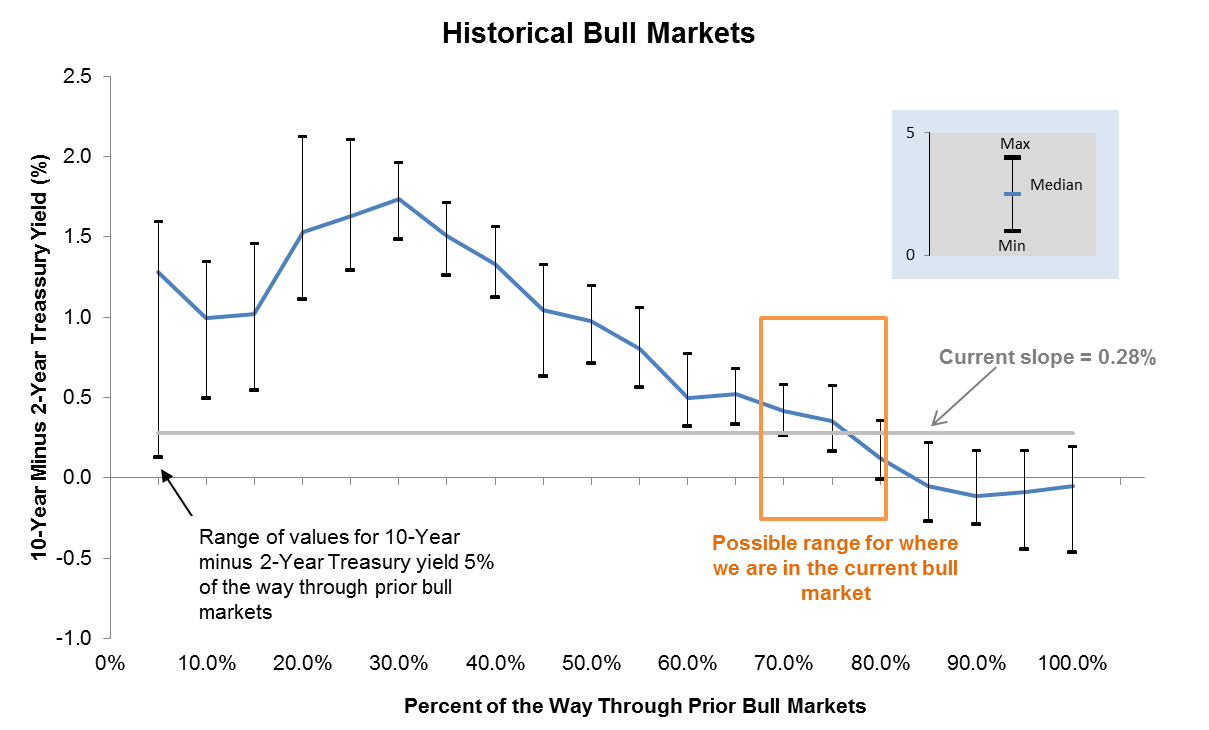 Data as of July 10, 2018.
Sources: Bloomberg, Standard & Poor's, WTIA.
We can then compare today's spread (0.28%, shown by the gray horizontal line) to take an educated guess at where we are in this current bull market. Based on where the gray line intersects the black range markers in Figure 1, it is reasonable to suggest that we are about 70%–80% of the way through the bull market. While an estimate based on one indicator alone, this would imply another roughly two years before the S&P 500 hits its peak.
Core narrative
This analysis is not meant to be a stock market forecasting tool, as there are many other factors we consider when positioning portfolios. Rather, this exercise helps put into perspective some of the concerns around the flattening yield curve and is supportive of our core narrative. We would never position around just the slope of the yield curve—or any other single indicator —by itself. We also acknowledge that no two bull markets are exactly the same, and we have a rather small sample size with which to work. Based on the multitude of economic and market indicators we monitor that together signal to us a recession is more than a year away, we continue to hold an overweight to stocks and an underweight to bonds.
However, market dynamics can change quickly, and we are far from complacent. Today's yield curve slope suggests the market has further to run, but there are growing risks on the horizon: valuations are elevated; there is risk of a Fed policy misstep; and, of course, there is trade-related uncertainty. While not yet weighing on economic data, escalating trade tensions could certainly start to materialize in the form of lower business confidence and capital expenditure expectations. We expect second quarter earnings to provide investors with a homing device of sorts, re-centering focus on earnings growth and corporate fundamentals. We are more cautious than we were to start the year but believe it is prudent to maintain exposure to risky assets and ride through the current volatility, as we do not think the show is yet over.
Disclosures
Wilmington Trust is a registered service mark. Wilmington Trust Corporation is a wholly owned subsidiary of M&T Bank Corporation. Wilmington Trust Company, operating in Delaware only, Wilmington Trust, N.A., M&T Bank and certain other affiliates, provide various fiduciary and non-fiduciary services, including trustee, custodial, agency, investment management and other services. International corporate and institutional services are offered through Wilmington Trust Corporation's international affiliates. Loans, credit cards, retail and business deposits, and other business and personal banking services and products are offered by M&T Bank, member FDIC. Wilmington Trust Investment Advisors, Inc. is an SEC-registered investment adviser providing investment management services to Wilmington Trust and M&T Bank affiliates and clients.
These materials are based on public information. Facts and views presented in this report have not been reviewed by, and may not reflect information known to, professionals in other business areas of Wilmington Trust or M&T Bank who may provide or seek to provide financial services to entities referred to in this report. M&T Bank and Wilmington Trust have established information barriers between their various business groups. As a result, M&T Bank and Wilmington Trust do not disclose certain client relationships with, or compensation received from, such entities in their reports.
The information on Wilmington Wire has been obtained from sources believed to be reliable, but its accuracy and completeness are not guaranteed. The opinions, estimates, and projections constitute the judgment of Wilmington Trust and are subject to change without notice. This commentary is for information purposes only and is not intended as an offer or solicitation for the sale of any financial product or service or a recommendation or determination that any investment strategy is suitable for a specific investor. Investors should seek financial advice regarding the suitability of any investment strategy based on the investor's objectives, financial situation, and particular needs. Diversification does not ensure a profit or guarantee against a loss. There is no assurance that any investment strategy will succeed.
Any investment products discussed in this commentary are not insured by the FDIC or any other governmental agency, are not deposits of or other obligations of or guaranteed by M&T Bank, Wilmington Trust, or any other bank or entity, and are subject to risks, including a possible loss of the principal amount invested. Some investment products may be available only to certain "qualified investors"—that is, investors who meet certain income and/or investable assets thresholds. Past performance is no guarantee of future results. Investing involves risk and you may incur a profit or a loss.
Any positioning information provided does not include all positions that were taken in client accounts and may not be representative of current positioning. It should not be assumed that the positions described are or will be profitable or that positions taken in the future will be profitable or will equal the performance of those described. Positions described are illustrative and not intended as a recommendation outside of a managed account.
Indices are not available for direct investment. Investment in a security or strategy designed to replicate the performance of an index will incur expenses, such as management fees and transaction costs that would reduce returns.
Third-party trademarks and brands are the property of their respective owners.
[1] Data for the 2-year Treasury begins in 1977, though a similar analysis could be performed using the 10-year and 3-month Treasury yields going back to the early 1960s.
ACCESS THE WILMINGTON WIRE
Discover perspectives on timely wealth and investment management topics, authored by subject matter experts.
Explore Articles