Back
February 14, 2018— The January inflation report surprised to the upside this morning, with the Core Consumer Price Index (CPI), the most widely used measure of inflation, coming in at 0.3% month-over-month (m/m) compared to the consensus expectation of 0.2% m/m. On an unrounded basis it was 0.349% m/m, just shy of being rounded up to +0.4% m/m. The initial market reaction was swift, pushing 10-year Treasury yields higher, bolstering the U.S. dollar, and weighing on S&P 500 futures on expectations of a faster pace of Fed rate hikes. The strong print on CPI supports our expectation of higher inflation this year, but in our view does not portend runaway inflation, nor does it change our expectation of three rate hikes from the Fed this year.
The details were indeed strong. Core CPI is now running at 2.9% on 3-month annualized basis, approaching the August 2011 cycle high (see chart), and the highest during the course of the recovery on a 6-month annualized basis, at 2.6%. The report showed continued robust gains in a number of categories, with rises in shelter, medical care services, and used cars and trucks. Motor vehicle insurance and transportation services showed a particularly large jump, continuing recent gains, while apparel prices spiked after months of declines.
On a year-over-year basis inflation remained tame, mostly due to a sharp, one-off decline driven by cell phone prices in March of last year. That impact will continue to weigh on the 12-month calculation until it rolls out of the calculation two months from now. In this report, year-over-year inflation was unchanged from last month, with headline CPI +2.1% y/y, and core CPI +1.8% y/y. When the cell phone impact rolls out two months from now, year-over-year core inflation is set to jump meaningfully, by nearly half a percent, confirming what this morning's report suggests, that inflation is very much back at the Fed's target.
Core Consumer Price Index (excluding food and energy, 3-month annualized %)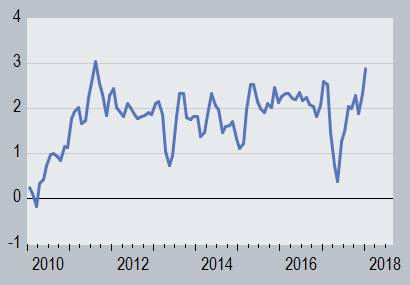 Data as of February 14, 2018
Source: Bloomberg, WTIA
Markets will likely react to the data. We have had a higher than consensus inflation outlook for some time (2.6% for 2018), which means that we are not surprised by readings like today's showing higher core inflation, as well as higher headline inflation (boosted by the recent rise in oil prices). Gains in inflation readings today are likely to give back somewhat in next month's report, but nonetheless this report supports our view that the macroeconomic environment of steady growth and low unemployment will push inflation higher this year.
As we wrote on January 30, we expect three rate hikes this year. This morning's report does not change the Fed's outlook in our view, or change their rate hike path, as it supports their expectations for higher inflation. Recall that the Fed held on to this expectation through 2017, despite months of soft inflation prints, with many in markets criticizing them for relying on a Phillips curve construct (a model which suggests that low rates of unemployment are correlated with higher inflation). This report might be a bit of vindication for them. We believe this inflation report supports their outlook and reinforces the expectation of three rate hikes in 2018. If inflation data continues to surprise to the upside and accelerates, however, that will force them, and us, to reevaluate.
Core Narrative
Today's inflation report confirms a path of stronger inflation we have been expecting, but does not suggest to us that inflation will rise at a pace that will alter our current expectation (and the Fed's current forecast) for three rate hikes in 2018. We will continue to watch the path of inflation data however, as the risk for inflation remains to the upside, particularly with the tax reform legislation and also the additional budget spending authorized by Congress, both likely to provide additional growth stimulus and possibly add to inflationary pressure. For now however, we continue to expect inflation to remain contained. We also, continue to be neutral on U.S. equities, overweight International Developed Markets and Emerging Market equities, and underweight U.S. fixed income.
Disclosures
Wilmington Trust is a registered service mark. Wilmington Trust Corporation is a wholly owned subsidiary of M&T Bank Corporation. Wilmington Trust Company, operating in Delaware only, Wilmington Trust, N.A., M&T Bank and certain other affiliates, provide various fiduciary and non-fiduciary services, including trustee, custodial, agency, investment management and other services. International corporate and institutional services are offered through Wilmington Trust Corporation's international affiliates. Loans, credit cards, retail and business deposits, and other business and personal banking services and products are offered by M&T Bank, member FDIC. Wilmington Trust Investment Advisors, Inc. is an SEC-registered investment adviser providing investment management services to Wilmington Trust and M&T Bank affiliates and clients.
These materials are based on public information. Facts and views presented in this report have not been reviewed by, and may not reflect information known to, professionals in other business areas of Wilmington Trust or M&T Bank who may provide or seek to provide financial services to entities referred to in this report. M&T Bank and Wilmington Trust have established information barriers between their various business groups. As a result, M&T Bank and Wilmington Trust do not disclose certain client relationships with, or compensation received from, such entities in their reports.
The information on Wilmington Wire has been obtained from sources believed to be reliable, but its accuracy and completeness are not guaranteed. The opinions, estimates, and projections constitute the judgment of Wilmington Trust and are subject to change without notice. This commentary is for information purposes only and is not intended as an offer or solicitation for the sale of any financial product or service or a recommendation or determination that any investment strategy is suitable for a specific investor. Investors should seek financial advice regarding the suitability of any investment strategy based on the investor's objectives, financial situation, and particular needs. Diversification does not ensure a profit or guarantee against a loss. There is no assurance that any investment strategy will succeed.
Any investment products discussed in this commentary are not insured by the FDIC or any other governmental agency, are not deposits of or other obligations of or guaranteed by M&T Bank, Wilmington Trust, or any other bank or entity, and are subject to risks, including a possible loss of the principal amount invested. Some investment products may be available only to certain "qualified investors"—that is, investors who meet certain income and/or investable assets thresholds. Past performance is no guarantee of future results. Investing involves risk and you may incur a profit or a loss.
Any positioning information provided does not include all positions that were taken in client accounts and may not be representative of current positioning. It should not be assumed that the positions described are or will be profitable or that positions taken in the future will be profitable or will equal the performance of those described. Positions described are illustrative and not intended as a recommendation outside of a managed account.
Indices are not available for direct investment. Investment in a security or strategy designed to replicate the performance of an index will incur expenses, such as management fees and transaction costs that would reduce returns.
Third-party trademarks and brands are the property of their respective owners.
ACCESS THE WILMINGTON WIRE
Discover perspectives on timely wealth and investment management topics, authored by subject matter experts.
Explore Articles