Back
January 22, 2021—On November 9, 16, and 23, three vaccine manufacturers announced surprisingly positive results in Phase-3 trials of their COVID-19 vaccines. Global equity markets quickly repriced "economic reopening" stocks on the back of this news. Once the immediate vaccine news was fully priced in—by the November 24 global trading day—the key questions were: Which industries would likely outperform in a future, vaccinated world? Would cyclical stocks finally enjoy a lengthy period of outperformance? Would markets favor the same technology-related industries that have outperformed over many years?
This Wilmington Wire surveys industry performance for international stocks from November 25 through January 21. This is an admittedly short timeframe and we are not assuming the same dynamic will continue, but the relative performance is informative. In Figure 1 below, we share total returns for the 30 largest GICS-3 industries, by market cap, in the MSCI ACWI ex-U.S. Index. The index itself returned 9.75% during the same period. 
Figure 1:International Equities
Returns between November 25, 2020—January 21, 2021
Largest 30 industries by market cap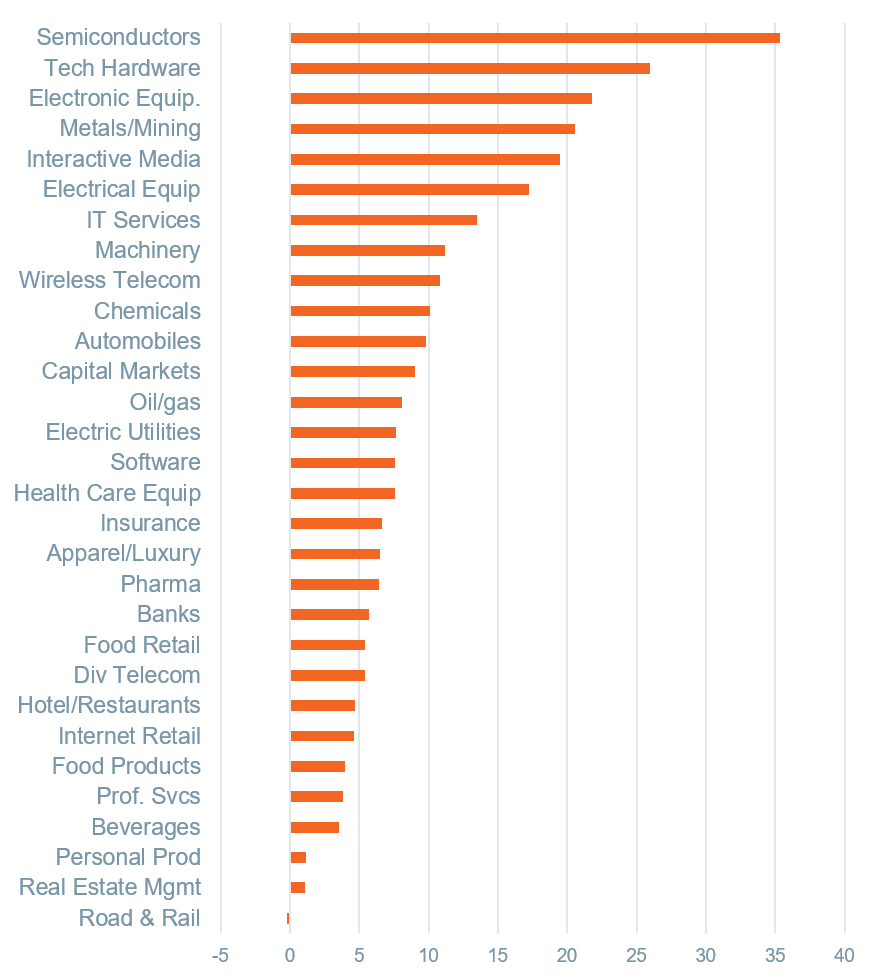 Data as of January 21, 2021. Source: Bloomberg.
Past performance cannot guarantee future results.
What we find striking is that returns for seven of the top nine best-performing industries were technology-related. These include semiconductors (35.4%), technology hardware (25.9%), electronic equipment and instrumentation (21.8%), interactive media (19.5%), software (14.3%), IT services (13.5%), and wireless telecom (10.8%). Only one technology-related industry performed poorly during this period, internet retail (4.6%), given idiosyncratic issues involving its two largest stock components, Alibaba and Rakuten.
As for cyclicals, metals/mining (20.5%) and machinery (11.2%) did well, on the back of expectations for fast-growing Chinese demand. Otherwise, the technology-related industries outperformed cyclicals, including chemicals (10.1%), automobiles (9.84%), oil/gas (8.1%), apparel/luxury goods (6.5%), banks (5.7%), and hotels/restaurants (4.7%). 
Many stocks in technology-related industries are domiciled in Asian emerging markets. These include Alibaba, Baidu, Hon Hai Engineering, Mediatek, Samsung Electronics, Samsung SDI, SK Hynix, Sunny Optical, Taiwan Semiconductor, and Tencent. These stocks also include Japanese firms such as Canon, Fujitsu, Hitachi, Keyence, Kyocera, Murata Manufacturing, and Tokyo Electron;  European firms such as ASML, Ayrden, CapGemini, Dassault Systemes, Hexagon, and SAP; as well as Canada's Shopify.
Core narrative
Performance of international stocks in the wake of extremely positive vaccine results does not indicate a massive shift away from tech stocks that were buoyed by the pandemic in 2020. Instead, the message from markets largely comports to our long-term secular growth themes surrounding technological innovation, particularly in areas such as 5G, the cloud, the Internet-of-Things, factory automation, electric vehicles, and renewable energy. It also aligns with our tactical allocation overweight to emerging markets. Cyclical industries may have occasional bursts of outperformance, as they did in November when markets first acted upon the vaccine news, and there is a higher probability of more durable outperformance in 2021. As we move to a more vaccinated global population in 2021 we believe life will move closer to "normal," increasing the likelihood of periods of strong performance for cyclicals and we have accordingly taken steps to reduce our style tilts to those growth stocks. But over the longer run, we believe technology will continue to have an advantage and outperform.
Disclosures
Wilmington Trust is a registered service mark used in connection with various fiduciary and non-fiduciary services offered by certain subsidiaries of M&T Bank Corporation including, but not limited to, Manufacturers & Traders Trust Company (M&T Bank), Wilmington Trust Company (WTC) operating in Delaware only, Wilmington Trust, N.A. (WTNA), Wilmington Trust Investment Advisors, Inc. (WTIA), Wilmington Funds Management Corporation (WFMC), and Wilmington Trust Investment Management, LLC (WTIM). Such services include trustee, custodial, agency, investment management, and other services. International corporate and institutional services are offered through M&T Bank Corporation's international subsidiaries. Loans, credit cards, retail and business deposits, and other business and personal banking services and products are offered by M&T Bank, member FDIC. 
Facts and views presented in this report have not been reviewed by, and may not reflect information known to, professionals in other business areas of Wilmington Trust or M&T Bank who may provide or seek to provide financial services to entities referred to in this report. M&T Bank and Wilmington Trust have established information barriers between their various business groups. As a result, M&T Bank and Wilmington Trust do not disclose certain client relationships with, or compensation received from, such entities in their reports.
The information on Wilmington Wire has been obtained from sources believed to be reliable, but its accuracy and completeness are not guaranteed. The opinions, estimates, and projections constitute the judgment of Wilmington Trust and are subject to change without notice. This commentary is for informational purposes only and is not intended as an offer or solicitation for the sale of any financial product or service or a recommendation or determination that any investment strategy is suitable for a specific investor. Investors should seek financial advice regarding the suitability of any investment strategy based on the investor's objectives, financial situation, and particular needs. Diversification does not ensure a profit or guarantee against a loss. There is no assurance that any investment strategy will succeed.
Past performance cannot guarantee future results. Investing involves risk and you may incur a profit or a loss.
Alternative assets, such as strategies that invest in hedge funds, can present greater risk and are not suitable for all investors
The gold industry can be significantly affected by international monetary and political developments as well as supply and demand for gold and operational costs associated with mining.
Indexes are not available for direct investment.
Reference to the company names is merely for explaining the market view and should not be construed as investment advice or investment recommendations of those companies.
©2020 M&T Bank Corporation and its subsidiaries. All rights reserved.
ACCESS THE WILMINGTON WIRE
Discover perspectives on timely wealth and investment management topics, authored by subject matter experts.
Explore Articles