Back
October 30, 2020 — Yes, like many others we're harkening back to James Carville's famous statement from the 1992 election of the importance of the economy to voters. The trite expression would likely have been retired by now were it not so accurate. Yet in 2020, it comes with the caveat that this year's recession was brought on by the most exogenous of events, a global pandemic, and less likely to be pinned on whoever is currently at the wheel.
Nevertheless, the economy matters deeply to voters, so we are giving an assessment of the major topics as we head toward Election Day. With such a vast topic a succinct summary proves challenging, but at the highest level we have three main conclusions: the rebound from the initial shutdowns has been very encouraging and exceeded most expectations; the rebound is losing steam well before recouping pre-pandemic levels; and the recovery is strikingly uneven across sectors with stark winners and even starker losers.
Our assessment is that financial markets have priced in continuing improvement for the economy, albeit at slower rates. We also conclude the economy is not ready to stand on its own and would require more fiscal stimulus to meet the market's expectations. Our baseline expectation is for more stimulus either post-election or at the start of 2021 that will further support the economic recovery and risk assets. Lastly, that expectation is fraught with risks both to the downside and upside, and relies heavily on the path of the virus and the election. We remain cautious and continue to recommend a slight underweight to risk assets in portfolios heading into the election. We are assessing the economic, policy, and market environment in real time and stand ready to adjust.
The importance of the economy
As shown in Figure 1, the economy matters for elections. The incumbent party has lost every election since the mid-1960s when the unemployment rate rose more than 0.25% in the preceding 12 months. The 1956 election (Eisenhower) is the only instance when an incumbent won when the unemployment rate rose at all in the year leading up to the election, and that was hardly an increase at all. As we head into the vote on November 3, the unemployment rate stands at 7.9%, up 4.4% from a year ago, not shown on Figure 1 as it would have forced a major rescaling of the x-axis. Note the two worst experiences for the labor market were 1980 and 2008, both of which proved to be watershed moments for American politics. Today's environment comes with the caveat that the unemployment rate has fallen from its peak more quickly than ever before due to the nature of temporary layoffs and rehiring.
Figure 1: The economy and the vote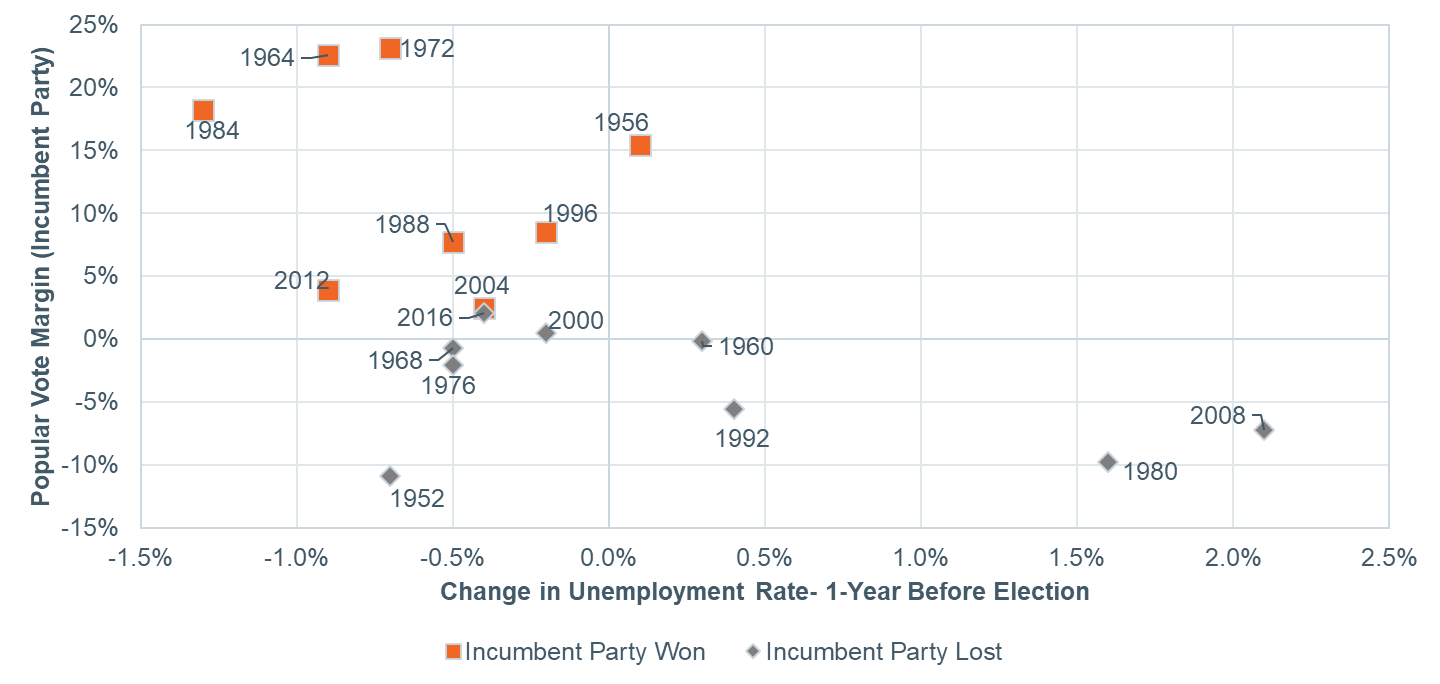 Sources: Macrobond, Bureau of Labor Statistics.
Gross domestic product
Just yesterday we found out the economy bounced back robustly as expected in the third quarter, growing at an annualized rate of 33%. The annualized rate is a bit misleading, though, especially when the swings are large. Removing that calculation, the economy contracted by a total of 10.1% in the first half of the year and then expanded by 7.4% in the third quarter. As shown in Figure 2, the economy was still down -3.5% compared to before the pandemic, exceeded in previous experiences only by the global financial crisis in 2008—2010. Furthermore, the encouraging growth we've had was aided greatly by nearly $3 trillion of stimulus, without which we calculate the economy would still be down 10%. We see the impacts of stimulus currently fading in the early days of 4Q 2020 and believe the economy would stall out or even contract again without more government aid. We expect another package, but handicapping it is fraught with uncertainty. We project a package of $1 trillion would prompt enough growth to have GDP return to pre-pandemic levels in early 2022.
Figure 2: Percent change in GDP after the start of recessions (%)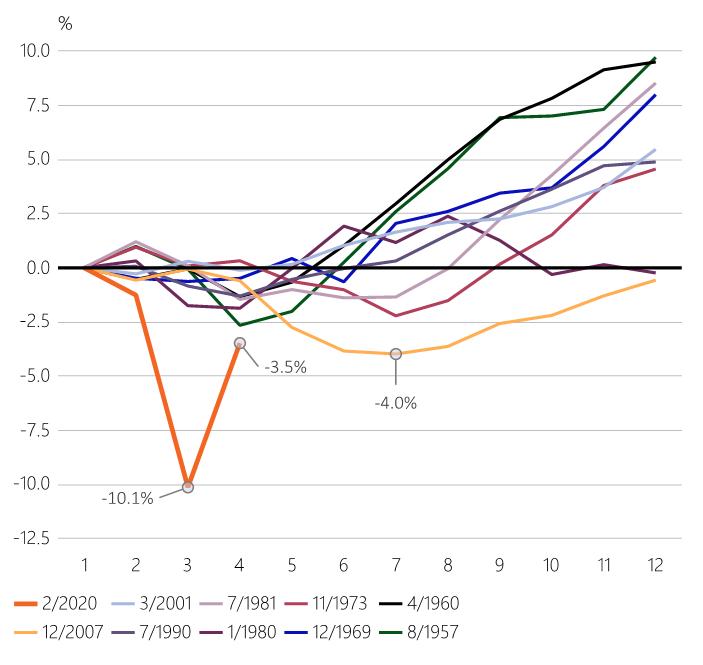 Source: Bureau of Economic Analysis. Data as of: September 30, 2020.
Labor market
As described above, the labor market is a key consideration for voters, and for obvious reasons. The job loss during the shutdowns totaled a stunning 22 million. As shown in Figure 3, a bit more than half of those jobs has been regained, mostly from the rehiring of temporarily laid-off workers. The 11.4 million job gains are encouraging but looking below the surface we have concerns. The rate of growth is slowing sharply from a 4.8 million gain in June to 661,000 in September. (The next update will be on Friday, November 6.) Other concerns come from the still–high rate of workers filing for unemployment insurance each week as well as the millions of permanently lost jobs. Many sectors appear to have plateaued well below their pre-pandemic peaks. With the virus spreading again and businesses exercising caution, we expect job growth to slow sharply in the months ahead, complicating further economic growth.
Figure 3: Total nonfarm payrolls (millions)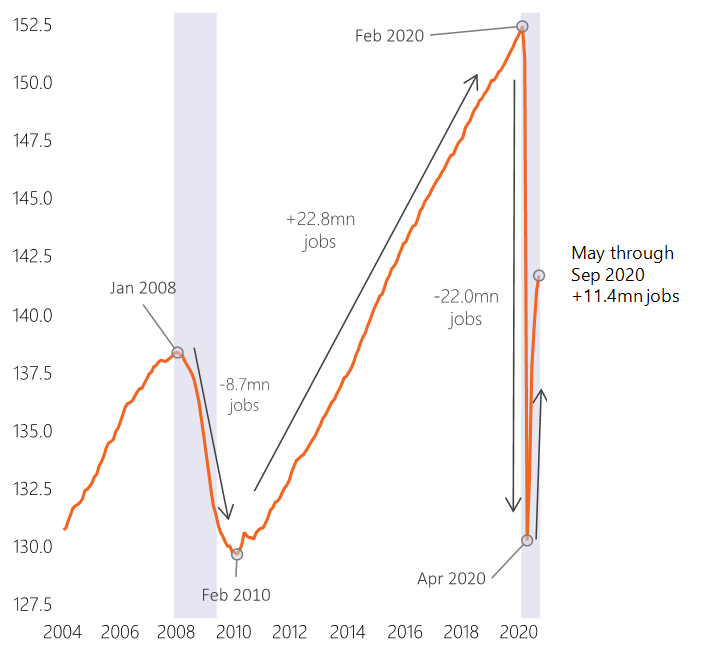 Source: Bureau of Labor Statistics. Data as of: September 30, 2020.
Consumer spending
Most people know the importance of consumer spending (Figure 4) as they've heard countless times that it is two-thirds of the U.S. economy. Here the story is quite mixed. Spending on retail goods shows a true, V-shaped recovery whereas spending on services is mired in the dumps. Some of this is easily explained by the realities of a pandemic. It's hard to spend on services (restaurants, hotels, salons, amusement parks, movie theaters) when they're shut down or highly restricted, and it makes more sense to buy goods such as groceries if you're not going out for meals. Additionally, people appear to have fortified their homes for quarantine as shown by surges in spending at sporting goods stores (home gyms) and home improvement stores (pools, decks, patios). On the more pessimistic side, much of that boost in spending was driven by stimulus with nearly $1 trillion going direct to consumers' pockets by way of checks, boosted unemployment insurance, and funneled through small businesses by the Paycheck Protection Program. Encouragingly, consumers built up a cushion of savings that could last several months according to our calculations. Additionally, many sectors are still well below pre-pandemic levels, even on the goods side, as clothing and electronics brick-and-mortar stores have given way to an understandable surge in online shopping. We assess financial markets have priced in continued improvement for total spending, and we don't expect that is possible without more stimulus given the stalling labor market.
Figure 4: Consumer spending by category (cumulative % change since February)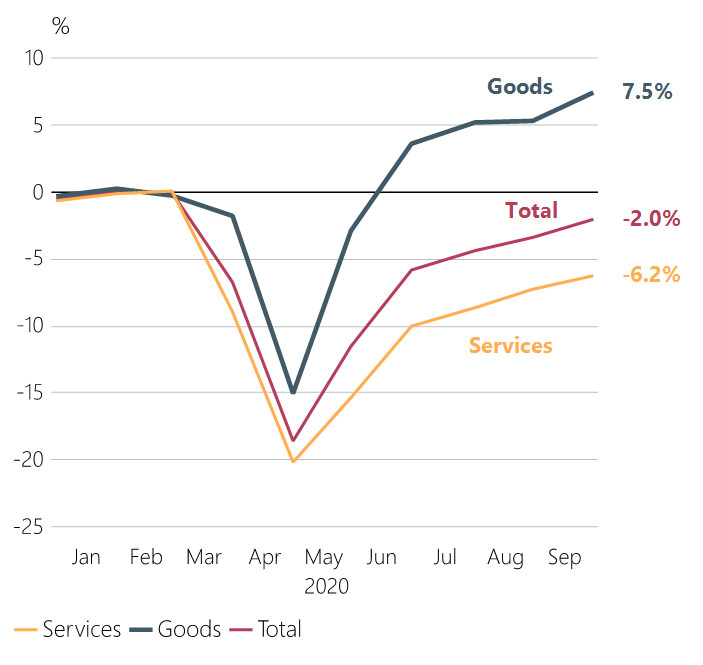 Source: Bureau of Economic Analysis. Data as of: September 30, 2020.
Manufacturing
Like most sectors, manufacturing experienced a sharp drop in activity during the shutdowns and have seen a strong bounce since. The automobile sector has fared the best, with sales nearly returning to pre-pandemic levels as of September and monthly orders for new cars running higher than a year ago. Computers and electronics makers are booming as the pandemic has moved us to a more virtual environment than ever before, including for schools. But other corners of the manufacturing sector that rely more on non-residential construction and other forms of business CapEx are lagging. The airline sector is understandably in the doldrums as travel remains suppressed. Boeing, which entered the year with its own issues even before the virus arrived, announced another round of layoffs this week. With a mix of good news and bad for the sector, the most cautionary sign is a continued decline in the backlog of work, or "unfilled orders," continues to decline and is highly correlated with employment in the sector. Unfilled orders reached -6% y/y in September, the largest decline since 2010 (Figure 5).
Figure 5: Durable Goods Unfilled Orders (percent change, year-over-year)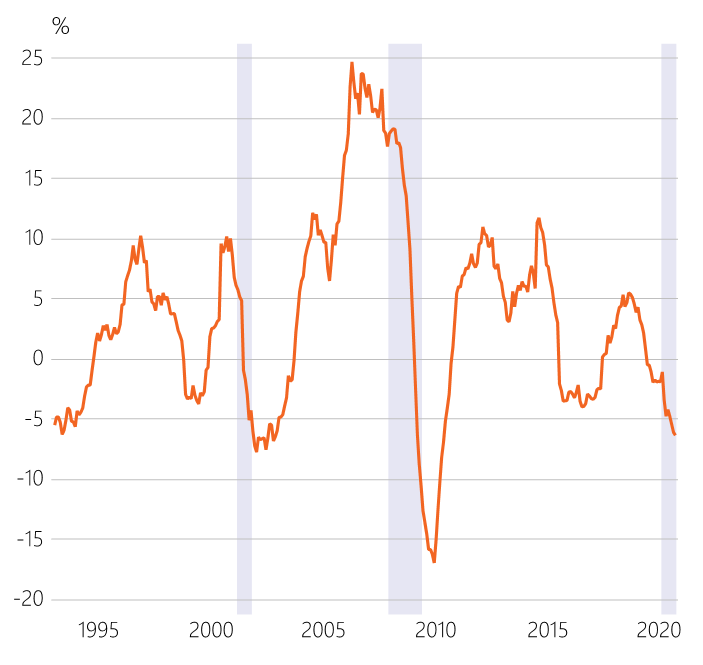 Source: Census Bureau. Data as of: September 30, 2020.
Housing market
If you're looking for a bit of optimism you can find it in the housing market. Nearly every indicator surged after the initial declines. Sales of existing homes, sales of new homes, construction of new homes, mortgage applications for purchase, and mortgage applications for refinance have all skyrocketed in an apparent dash to the suburbs with extra fuel from low interest rates (Figure 6). Although a relatively small sector by itself, we learned (in horrific fashion) in 2007—2008 just how extensive the spillover effects are to the rest of the economy. The converse of the experience from the previous crash is we now see a housing sector providing support to an economy that badly needs it. There is one bit of caution associated with the booming housing sector because it may be at the cost of city real estate. In the past month we started to see evidence of rapidly falling rents in major cities. While some of that may be attributed simply to the ongoing problems in the labor market, it could also be from the same flight to the suburbs that is helping home sales so much.
Figure 6: Housing market indicators (cumulative % change since February)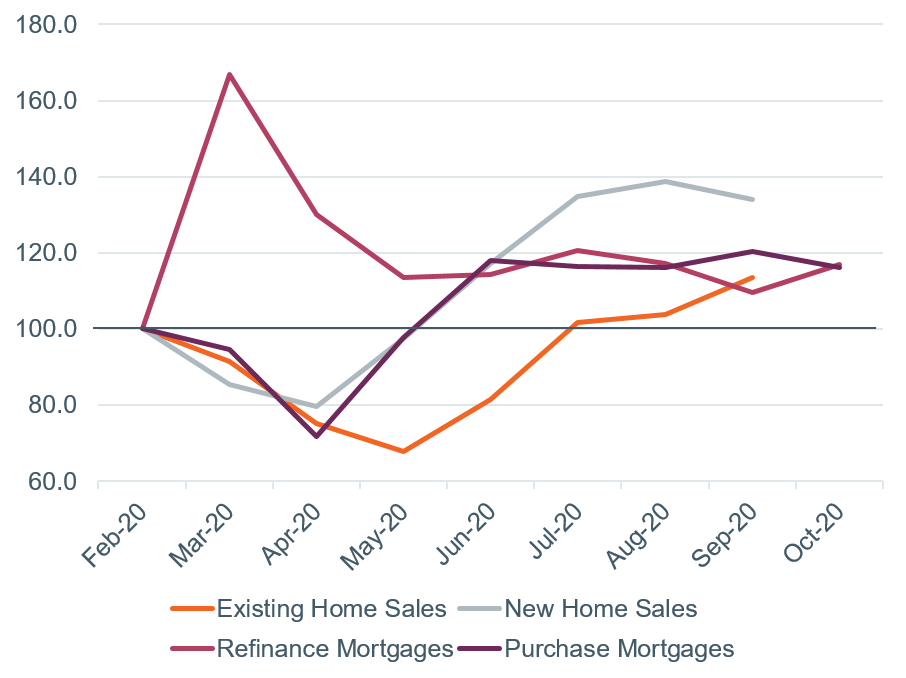 Source: National Association of Realtors, Census Bureau, Mortgage Bankers Association. Data as of: September 30, 2020 for new and existing home sales, October 23, 2020 for Mortgage Bankers Association.
Core narrative
Our roundup of the economy finds wide -ranging experiences for the many components, but also some common themes. The initial bounce from the shutdowns in the spring have been swift and encouraging, but for nearly all parts of the economy there is a long way to go. Disturbingly, the most important components of the labor market and consumer spending are slowing well before reaching pre-pandemic levels. Financial markets have, in our view, priced in continued improvement, and we conclude such improvement is contingent on further fiscal stimulus, and even then, will not be assured. The uneven recovery has benefited some sectors and companies greatly, while others still face current challenges and possibly more in the future. In addition to stimulus, the path of the virus is highly unpredictable and important. We remain cautious about the pace of further improvements and continue to recommend a slight underweight to equities heading into the U.S. election, which will deliver a new set of impacts. We are assessing the economic, policy, and market environment in real-time and stand ready to adjust.
Disclosures
Wilmington Trust is a registered service mark used in connection with various fiduciary and non-fiduciary services offered by certain subsidiaries of M&T Bank Corporation including, but not limited to, Manufacturers & Traders Trust Company (M&T Bank), Wilmington Trust Company (WTC) operating in Delaware only, Wilmington Trust, N.A. (WTNA), Wilmington Trust Investment Advisors, Inc. (WTIA), Wilmington Funds Management Corporation (WFMC), and Wilmington Trust Investment Management, LLC (WTIM). Such services include trustee, custodial, agency, investment management, and other services. International corporate and institutional services are offered through M&T Bank Corporation's international subsidiaries. Loans, credit cards, retail and business deposits, and other business and personal banking services and products are offered by M&T Bank, member FDIC. 
Facts and views presented in this report have not been reviewed by, and may not reflect information known to, professionals in other business areas of Wilmington Trust or M&T Bank who may provide or seek to provide financial services to entities referred to in this report. M&T Bank and Wilmington Trust have established information barriers between their various business groups. As a result, M&T Bank and Wilmington Trust do not disclose certain client relationships with, or compensation received from, such entities in their reports.
The information on Wilmington Wire has been obtained from sources believed to be reliable, but its accuracy and completeness are not guaranteed. The opinions, estimates, and projections constitute the judgment of Wilmington Trust and are subject to change without notice. This commentary is for informational purposes only and is not intended as an offer or solicitation for the sale of any financial product or service or a recommendation or determination that any investment strategy is suitable for a specific investor. Investors should seek financial advice regarding the suitability of any investment strategy based on the investor's objectives, financial situation, and particular needs. Diversification does not ensure a profit or guarantee against a loss. There is no assurance that any investment strategy will succeed.
Past performance cannot guarantee future results. Investing involves risk and you may incur a profit or a loss.
The gold industry can be significantly affected by international monetary and political developments as well as supply and demand for gold and operational costs associated with mining.
Indexes are not available for direct investment.
©2020 M&T Bank Corporation and its subsidiaries. All rights reserved.
ACCESS THE WILMINGTON WIRE
Discover perspectives on timely wealth and investment management topics, authored by subject matter experts.
Explore Articles