Back
May 23, 2019 – Financial system stress comprises an important set of variables that we continually track. While not always indicative of where or when the next recession will start, we do believe it helps us find pockets of the market that may be more prone to breaking down. Importantly, the Federal Reserve now produces a biannual study, named the "Financial Stability Report," and its second issue was released two weeks ago. The stated goals of the study are to assess the resilience of the U.S. financial system:
A stable financial system, when hit by adverse events, or "shocks," continues to meet the demands of households and businesses for financial services, such as credit provision and payment services. Shocks, such as sudden changes to financial or economic conditions, are typically surprises and are inherently difficult to predict. Vulnerabilities tend to build up over time and are the aspects of the financial system that are most expected to cause widespread problems in times of stress.[1]
Significantly, the objective of the report is not to be predictive, but to assess the financial system and any risks. The report focuses on four areas of potential vulnerability within the financial system:
Asset valuations across real estate, equities, and debt markets
Borrowing levels and trends across corporations and the U.S. consumer
Leverage within the financial system
Funding risks (e.g., asset/liability mismatch)
This is not to claim that vulnerabilities will cause a recession, but rather that they can amplify downside potential in certain portions of the financial system that present higher risk.
One topic that received additional attention in this most recent report was a discussion about potential risks from elevated business debt, with the credit market and leveraged loans receiving specific observations. As a reminder, leveraged loans (also known as bank loans or floating rate loans) are a close cousin of the high-yield bond market as they both represent below-investment-grade credit risk. The Fed highlighted that covenant quality for leveraged loans has deteriorated meaningfully over the past few years as issuers have received greater flexibility due to robust investor demand. Covenants are terms and conditions within the legal documents that require maintenance of certain financial ratios and/or prevent certain activities (e.g., a firm taking on more debt). In an earlier blog post, we had commented on this persistent trend, which may increase downside risk in the event of an economic downturn or other shock.
Additionally, the report highlights a greater proportion of the new issuance in leveraged loans has been made to firms with higher debt-to-EBITDA (earnings before interest, taxes, depreciation, and amortization) ratios which brings heightened risk but again indicates robust market appetite and is reflective of the healthy economy.
Lastly, the report points out that there has been a meaningful increase in the portion of the investment-grade credit universe that is rated at the lowest investment-grade rating of BBB/Baa. As we pointed out in our 2019 Capital Markets Forecast, this trend could persist for years and is reflective of the healthy economy, low interest rates, and low default rates. To reinforce this point, we have included a chart of high-yield spreads, which are broadly indicative of market appetite for riskier credit exposure. Higher spreads would indicate investors believe risk is higher and thus need more yield to compensate for the risk. As one can see, despite the market selloff late in 2019, spreads have largely retraced those losses and are now generally back to levels realized over most of 2017 and 2018.
High-yield option adjusted spread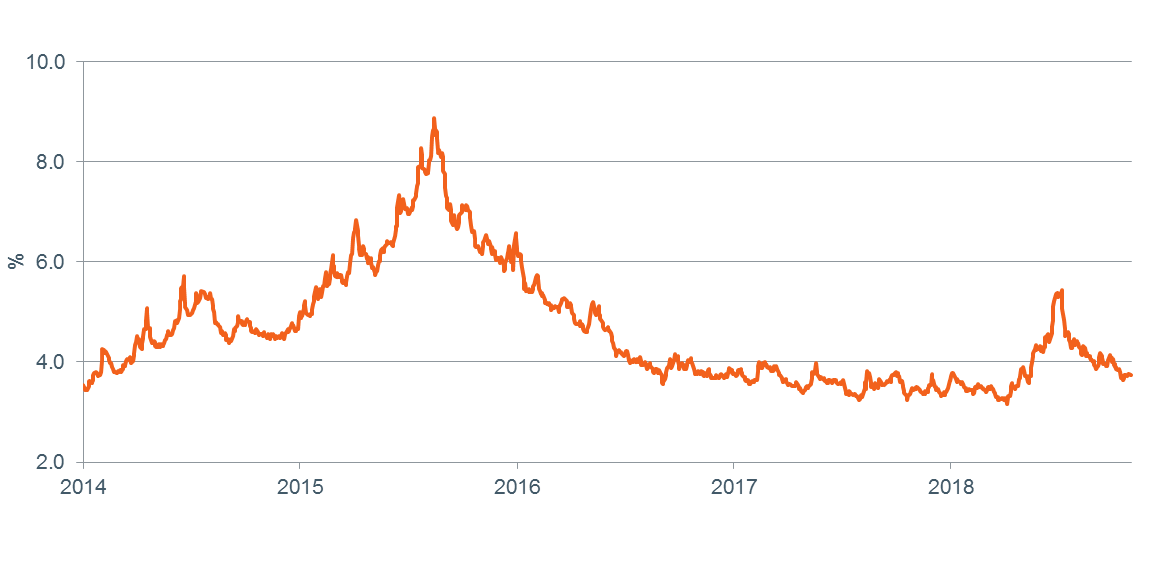 Sources: Federal Reserve Economic Data, ICE BofAML US High Yield Master II Option-Adjusted Spread, Percent, Daily, Not Seasonally Adjusted.
Data as of April 30, 2019
Core narrative
Both Wilmington Trust and the Federal Reserve are closely monitoring a steady increase in the vulnerability of the financial system, due in part to trends within the credit markets. Credit markets are broadly indicating that there are no impending signs of recession, but we have had zero exposure to leveraged loans for some time. Additionally, while we believe the U.S. economy is healthy, we have recently trimmed our U.S. Large-Cap Equities exposure to reduce risk as a result of the China trade situation.
[1] Board of Governors of the Federal Reserve System, "Financial Stability Report," May 2019.
Disclosures
Wilmington Trust is a registered service mark. Wilmington Trust Corporation is a wholly owned subsidiary of M&T Bank Corporation. Wilmington Trust Company, operating in Delaware only, Wilmington Trust, N.A., M&T Bank and certain other affiliates, provide various fiduciary and non-fiduciary services, including trustee, custodial, agency, investment management and other services. International corporate and institutional services are offered through Wilmington Trust Corporation's international affiliates. Loans, credit cards, retail and business deposits, and other business and personal banking services and products are offered by M&T Bank, member FDIC. Wilmington Trust Investment Advisors, Inc. is an SEC-registered investment adviser providing investment management services to Wilmington Trust and M&T Bank affiliates and clients.
These materials are based on public information. Facts and views presented in this report have not been reviewed by, and may not reflect information known to, professionals in other business areas of Wilmington Trust or M&T Bank who may provide or seek to provide financial services to entities referred to in this report. M&T Bank and Wilmington Trust have established information barriers between their various business groups. As a result, M&T Bank and Wilmington Trust do not disclose certain client relationships with, or compensation received from, such entities in their reports.
The information on Wilmington Wire has been obtained from sources believed to be reliable, but its accuracy and completeness are not guaranteed. The opinions, estimates, and projections constitute the judgment of Wilmington Trust and are subject to change without notice. This commentary is for information purposes only and is not intended as an offer or solicitation for the sale of any financial product or service or a recommendation or determination that any investment strategy is suitable for a specific investor. Investors should seek financial advice regarding the suitability of any investment strategy based on the investor's objectives, financial situation, and particular needs. Diversification does not ensure a profit or guarantee against a loss. There is no assurance that any investment strategy will succeed.
Any investment products discussed in this commentary are not insured by the FDIC or any other governmental agency, are not deposits of or other obligations of or guaranteed by M&T Bank, Wilmington Trust, or any other bank or entity, and are subject to risks, including a possible loss of the principal amount invested. Some investment products may be available only to certain "qualified investors"—that is, investors who meet certain income and/or investable assets thresholds. Past performance cannot guarantee future results. Investing involves risk and you may incur a profit or a loss.
Any positioning information provided does not include all positions that were taken in client accounts and may not be representative of current positioning. It should not be assumed that the positions described are or will be profitable or that positions taken in the future will be profitable or will equal the performance of those described. Positions described are illustrative and not intended as a recommendation outside of a managed account. Indices are not available for direct investment. Investment in a security or strategy designed to replicate the performance of an index will incur expenses, such as management fees and transaction costs that would reduce returns.
Third-party trademarks and brands are the property of their respective owners.
ACCESS THE WILMINGTON WIRE
Discover perspectives on timely wealth and investment management topics, authored by subject matter experts.
Explore Articles