Back
December 7, 2018 - The continued volatility in equity markets along with several other market signals have whipsawed the expectations for another Fed rate hike at their final meeting of the year on December 19. The probability of that hike as measured by fixed income traders in the Fed Funds Futures market has in recent weeks been as high as 80%, but as recently as this past Tuesday, December 4, when the S&P 500 fell 3.25% and the Dow fell 799 points, the probability of that hike fell to an intraday low of 67%. With this morning's jobs report showing a solid 155,000 jobs added to the U.S. economy in November and continued wage growth, we believe the Fed is very much on track to raise their benchmark rate by 25 basis points at this last meeting of 2018, marking the 4th hike of the year and a cumulative 1% increase in the rate. But there are many signals coming through that the Fed will need to slow down in 2019.
The market is clearly continuing its volatile ride, which started at the beginning of October and has seen its fair share of sharp declines and subsequent jumps. As Meghan Shue discussed two weeks ago and CIO Tony Roth will cover in the December issue of Capital Perspectives, we continue to believe the two main culprits for the volatile market are the trade tensions with China—where every machination and every tweet seem to swing the market—and investor nervousness about the Fed's future path for rates. Chairman Powell amped up that angst in an interview on October 3, but then attempted to soothe markets, with some apparent success, in a speech last week.
Solid jobs growth
The jobs report released this morning showed continued sturdiness for the single most important monthly indicator of the health of the U.S. economy. Employers added 155,000 jobs in the month of November, which were well distributed across sectors, with 27,000 added in manufacturing and 132,000 service jobs. The job growth was a bit less than expected but is nevertheless strong, and brings the 12-month gain to 2.4 million (Figure 1). The unemployment rate held steady at 3.7%. By any measure, the job gains and unemployment rate signal continued strength in the economy.
The wage growth figures were also encouraging. Average hourly earnings posted a year-over-year pace of 3.1% (Figure 2), the same as a month earlier. The tight labor market continues to push wages upward as employers are facing challenges in filling positions, but the advances are not yet at so rapid a pace that would stoke fears of a burst in inflation and the need for an acceleration of rate hikes.
Fed to hike again soon and then slow down in 2019
The Fed is most likely to take advantage of the markets' expectations (72.5% as of this morning) that they hike again on December 19 in this still-strong economic environment. In fact, even if they thought it best to postpone such an action, doing so when expectations are high might be costly in that it could spook markets into thinking they saw economic weakness, or were perhaps caving to President Trump's recent comments.
We believe that rate hikes will be slower in 2019 for several reasons. The first is that we expect the economy to decelerate. After posting roughly 3% growth in 2018, we expect it to slow to 2.25% next year. We also expect inflation to remain contained thanks to productivity increases. And, importantly, there are other signals coming from the market that the Fed will heed. We don't believe the Fed is concerned with equity market declines alone. Indeed the correction in February 2018 did not lead to any dovish talk from the main Fed decision makers. There are two other market signals which are likely getting their attention:
Yield Curve: The slope of the yield curve continues to flatten, and even inverted at some of the shorter maturities this week. The widely watched 10-year/2-year slope has inverted (with the 2-year yield moving higher than the 10-year yield) ahead of every recession over the past half century. It flattened sharply again this week to a cycle low. While previous Fed chairs have dismissed concerns about this indicator, we believe Powell will give it more credence, especially without any looming threat of inflation.
Inflation Expectations: The bond market's implicit prediction of long-term inflation, observable through the relative returns on nominal Treasury securities and those that have inflation protection, have dropped sharply since early October. Although some of this may be attributed to the slump in oil prices, the Fed gets concerned when those long term views of inflation are too low. The best example of this is when Janet Yellen's Fed dramatically altered the path of rate hikes in early 2016 in response to weak expectations.
Core narrative
We still view the economy as quite strong, with this jobs report being just the most recent indicator. We view the risks to the economy as coming from the trade situation with China, and the chance that the Fed might hike too quickly. As discussed above, we think the latter is not likely, as the Fed will slow their pace of hikes in 2019. We currently expect them to hike at this upcoming December 2018 meeting, but then only twice in 2019, supporting an ongoing economic expansion. That should prove supportive of equity markets.
Figure 1 – Total Job Growth (thousands)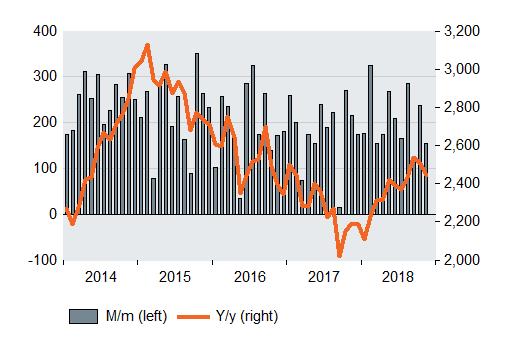 Data as of November 30, 2018.
Sources: Bureau of Labor Statistics, WTIA.
Figure 2 – Average Hourly Earnings Growth (%)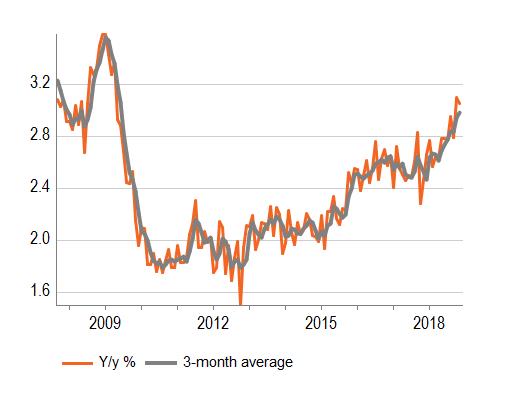 Data as of November 30, 2018.
Source: Bureau of Labor Statistics
Disclosures
Wilmington Trust is a registered service mark. Wilmington Trust Corporation is a wholly owned subsidiary of M&T Bank Corporation. Wilmington Trust Company, operating in Delaware only, Wilmington Trust, N.A., M&T Bank and certain other affiliates, provide various fiduciary and non-fiduciary services, including trustee, custodial, agency, investment management and other services. International corporate and institutional services are offered through Wilmington Trust Corporation's international affiliates. Loans, credit cards, retail and business deposits, and other business and personal banking services and products are offered by M&T Bank, member FDIC. Wilmington Trust Investment Advisors, Inc. is an SEC-registered investment adviser providing investment management services to Wilmington Trust and M&T Bank affiliates and clients.
These materials are based on public information. Facts and views presented in this report have not been reviewed by, and may not reflect information known to, professionals in other business areas of Wilmington Trust or M&T Bank who may provide or seek to provide financial services to entities referred to in this report. M&T Bank and Wilmington Trust have established information barriers between their various business groups. As a result, M&T Bank and Wilmington Trust do not disclose certain client relationships with, or compensation received from, such entities in their reports.
The information on Wilmington Wire has been obtained from sources believed to be reliable, but its accuracy and completeness are not guaranteed. The opinions, estimates, and projections constitute the judgment of Wilmington Trust and are subject to change without notice. This commentary is for information purposes only and is not intended as an offer or solicitation for the sale of any financial product or service or a recommendation or determination that any investment strategy is suitable for a specific investor. Investors should seek financial advice regarding the suitability of any investment strategy based on the investor's objectives, financial situation, and particular needs. Diversification does not ensure a profit or guarantee against a loss. There is no assurance that any investment strategy will succeed.
Any investment products discussed in this commentary are not insured by the FDIC or any other governmental agency, are not deposits of or other obligations of or guaranteed by M&T Bank, Wilmington Trust, or any other bank or entity, and are subject to risks, including a possible loss of the principal amount invested. Some investment products may be available only to certain "qualified investors"—that is, investors who meet certain income and/or investable assets thresholds. Past performance cannot guarantee future results. Investing involves risk and you may incur a profit or a loss.
Any positioning information provided does not include all positions that were taken in client accounts and may not be representative of current positioning. It should not be assumed that the positions described are or will be profitable or that positions taken in the future will be profitable or will equal the performance of those described. Positions described are illustrative and not intended as a recommendation outside of a managed account. Indices are not available for direct investment. Investment in a security or strategy designed to replicate the performance of an index will incur expenses, such as management fees and transaction costs that would reduce returns.
Third-party trademarks and brands are the property of their respective owners.
ACCESS THE WILMINGTON WIRE
Discover perspectives on timely wealth and investment management topics, authored by subject matter experts.
Explore Articles