Back
August 11, 2020—Over the past few months, the labor market has started the process of recovery after a sharp downward lurch in the aftermath of pandemic-induced shutdowns. The July employment report showed a third month of job gains, but at a slower pace relative to May and June, and was the first of a number of speed bumps we expect in the months ahead. We look for the recovery to continue, but not necessarily in a straight line. Some high-frequency indicators on the labor market are encouraging, pointing to ongoing hiring as economies reopen and companies adapt to the post-COVID-19 economy. Other indicators, however, suggest that downward pressures still remain in play, as firms make employment decisions in an environment of persistent uncertainty about when demand will fully return. The unprecedented level of labor market churn, with massive numbers of workers moving into and out of employment at the same time, makes the underlying trend in employment harder to discern than in the past.
What is clear, though, is that the virus will remain firmly in the driver's seat. A faster containment of the virus could allow for swifter healing of the labor market, minimizing the need for a massive reallocation of workers to new jobs in different industries. However, the longer the pandemic drags on, the greater the potential for more permanent labor market scarring. The fate of future fiscal support for small businesses and the unemployed will also be crucial, given how important these government transfers were in cushioning the loss of employment income and sustaining the bounce in consumer spending in recent months. While the President's executive orders issued on August 8 may provide a short-term patch for consumer incomes, Congressional action is still needed to provide more durable support, as well as to address small businesses' struggles. We remain cautious about the risks going forward, maintaining a modest underweight position in equities, and we recently added an allocation to gold to the portfolio.
A glance in the rearview mirror
Following a record plunge in employment in March and April, stronger-than-expected job gains followed in May (+2.8 million) and June (+4.8 million) as rehires outstripped layoffs. July's report showed further gains, but at a more modest pace, with 1.8 million jobs added, still leaving the labor market with a deficit of 12.9 million jobs since the start of the pandemic. The unemployment rate also continued to move in the right direction, edging down to 10.2% in July (from 11.1% in June). It is important to remember that even with these three months of improvement, the unemployment rate has only now come down toward the 10.0% peak seen during the Great Recession (down from 14.7% in April). In addition, a potential understatement of the unemployment rate (by anywhere from one to four percentage points) remains an ongoing issue due to the possible misclassification of workers who are employed but absent from work, or those who are not in the labor force but want a job, according to the Bureau of Labor Statistics (BLS)—please see our June Wilmington Wire post for details on this potential understatement.
Despite the gains we have seen in the labor market so far, of particular note is the pace at which permanent job losses have been rising during this recession (orange line, Figure 1 below) relative to past recessions. Nearly 1.6 million job losses since February have been permanent, roughly three times the increase in the five months after permanent layoffs began rising ahead of the 2001 recession, and roughly 10 times the increase at this stage prior to the Great Recession. Optimists point out that most unemployed workers still report themselves as temporarily laid off (56% of the total as of July) and the unemployment rate could fall quickly if they are rehired, but a look at the underlying number of permanent job losses is eye-opening given the sheer scale of overall job losses.
Figure 1: Increase in permanent job losses
(cumulative, millions, in the months after pre-recession trough)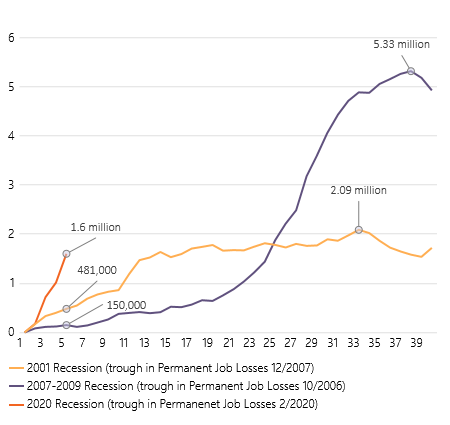 Sources: Bureau of Labor Statistics, WTIA, Macrobond. Data as of July 31, 2020.
Businesses shuttering amidst still-limited visibility about the timing of virus containment and the full return of consumer spending may be driving some of these permanent job losses. Data from Yelp, an online local business directory and review platform, suggests that while the pace of total business closures has been slowing since April as lockdown restrictions were lifted, the share of those that are permanent, rather than temporary, has been creeping up, reaching about 55% on July 10. That is up from 50% in mid-June and 41% in early June. Restaurants and retail stores were the hardest hit, with permanent closures accounting for 60% and 48%, respectively, of total closures in those industries since March 1, 2020, according to Yelp.
The number of permanent job losers held relatively steady from June to July, which is encouraging. But in our view, this upward creep in the number of permanent business closures and job cuts could persist unless medical advances are able to help contain concerns about the virus. Fiscal support for businesses could also help offset jobs losses for the time being but would not solve the underlying problem of softer demand from consumers. That is particularly true for services that require close contact (travel, dining out, gym memberships, salons, retail), leaving these sectors vulnerable to permanent layoffs going forward. Job losses in these sectors (including leisure and hospitality, retail, and other services (for example fitness, salons)) account for just over 40% of total job losses seen since the start of the pandemic, though the BLS does not provide a breakdown of whether these are permanent or temporary (Figure 2). Professional and business services, another category that has been hard hit since the outbreak, also remain vulnerable, and account for another 13% of total job losses so far. Demand for jobs that fall under this area, such as administrative support, waste services, and services to buildings, may remain dampened as long as in-person school and office reopening remain delayed, potentially keeping job losses elevated.
Figure 2: Change in nonfarm payrolls by industry, February to July 2020
Sources: Bureau of Labor Statistics, WTIA, Macrobond. Data as of July 31, 2020.
Long road ahead: prepared to turn on fog lights
Typically during a recession, the number of job losses gradually mounts over time, and markets focus on looking for a bottom in the level of employment. In the current recession, the bottom abruptly fell out due to lockdowns right at the outset of the recession in March and April, and employment has already bounced from the lows (Figure 3). Instead of the traditional looking for a bottom, concerns about other factors, such as the permanent business closures noted above, puts the focus on looking for a possible ceiling on the number of job gains in the short term.
Figure 3: Level of employment (millions)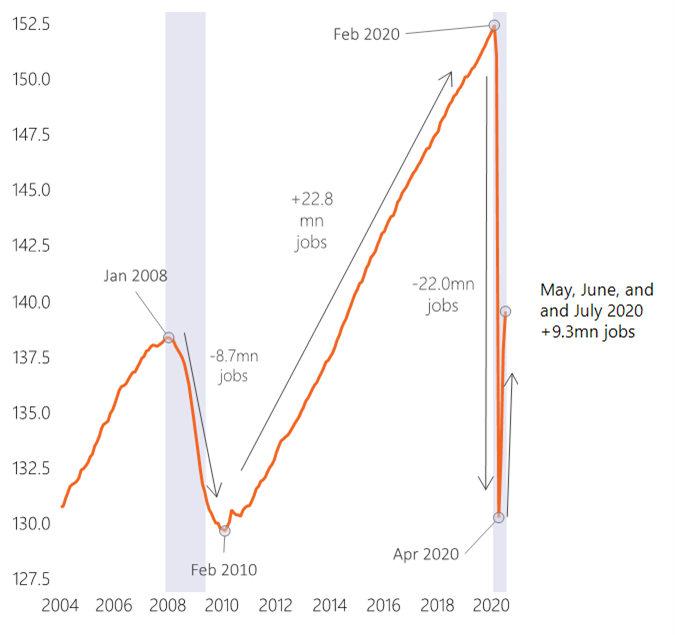 Sources: Bureau of Labor Statistics, WTIA, Macrobond. Data as of July 31, 2020.
The massive amount of churn makes it all the more challenging to discern the underlying trend, with large numbers of workers being rehired as economies reopen (restaurant and hotel workers, for example), while workers in sectors that are lagging continue to be laid off. Many brick and mortar retail stores have laid off workers as demand shifts toward online sales. This contrasts with the Great Recession, which was dominated primarily by workers losing their jobs as the impacts of the financial and housing market crises gradually rippled through the labor market. This means it will be important to watch both inflows and outflows into employment to gauge the direction of the labor market.
We look at a number of high-frequency indicators on this front, including data on unemployment insurance claims, small business employment, and household employment surveys. These are sending mixed signals, but on net suggest a slower pace of job gains in the near term. In the months to follow, the path of the labor market will continue to be driven by many of the same factors we noted in our June labor market outlook: 1) medical advances and the path of the virus, with an earlier containment of the virus and development of a vaccine likely to lead to a swifter return to pre-COVID-19 levels of employment, and less permanent job loss; 2) prospects for further fiscal support for businesses, which could help maintain existing levels of employment and possibly additional rehiring, even in the absence of a return of demand; 3) changes to unemployment benefits, with a move toward less generous benefits likely to be a double-edged sword for the economy in potentially increasing incentives for workers to return to work, but at the same time dampening the pace of consumer spending that has been seen in recent months. The uncertainty regarding positive outcomes on each of these key factors, however, leads to us to remain cautious about a seamless and continued bounce in the labor market at the same pace we saw in the early months of the recovery, absent a change in the outlook toward faster containment of the virus.
Core narrative
Elevated levels of unemployment could deal a heavy blow to consumption in the months ahead if Congress does not come to an agreement soon to provide fiscal support for the jobless, as the President's recent executive orders will only be able to provide a temporary and partial patch. This could potentially set the stage for the initial signs of rebound in the economy, particularly consumer spending, to falter. On the other hand, an abatement of the virus and a more positive outcome on fiscal support negotiations could help propel the recovery forward. We remain cautious in the midst of the uncertainty but believe the best course of action is to remain invested. We maintain our recommendation of a modest underweight to equities. We recently added an allocation to gold in portfolios, funded by a previously-held overweight to cash.
Disclosures
Wilmington Trust is a registered service mark used in connection with various fiduciary and non-fiduciary services offered by certain subsidiaries of M&T Bank Corporation including, but not limited to, Manufacturers & Traders Trust Company (M&T Bank), Wilmington Trust Company (WTC) operating in Delaware only, Wilmington Trust, N.A. (WTNA), Wilmington Trust Investment Advisors, Inc. (WTIA), Wilmington Funds Management Corporation (WFMC), and Wilmington Trust Investment Management, LLC (WTIM). Such services include trustee, custodial, agency, investment management, and other services. International corporate and institutional services are offered through M&T Bank Corporation's international subsidiaries. Loans, credit cards, retail and business deposits, and other business and personal banking services and products are offered by M&T Bank, member FDIC.
Facts and views presented in this report have not been reviewed by, and may not reflect information known to, professionals in other business areas of Wilmington Trust or M&T Bank who may provide or seek to provide financial services to entities referred to in this report. M&T Bank and Wilmington Trust have established information barriers between their various business groups. As a result, M&T Bank and Wilmington Trust do not disclose certain client relationships with, or compensation received from, such entities in their reports.
The information on Wilmington Wire has been obtained from sources believed to be reliable, but its accuracy and completeness are not guaranteed. The opinions, estimates, and projections constitute the judgment of Wilmington Trust and are subject to change without notice. This commentary is for informational purposes only and is not intended as an offer or solicitation for the sale of any financial product or service or a recommendation or determination that any investment strategy is suitable for a specific investor. Investors should seek financial advice regarding the suitability of any investment strategy based on the investor's objectives, financial situation, and particular needs. Diversification does not ensure a profit or guarantee against a loss. There is no assurance that any investment strategy will succeed.
Past performance cannot guarantee future results. Investing involves risk and you may incur a profit or a loss.
Indexes are not available for direct investment.
©2020 M&T Bank Corporation and its subsidiaries. All rights reserved.
ACCESS THE WILMINGTON WIRE
Discover perspectives on timely wealth and investment management topics, authored by subject matter experts.
Explore Articles