Back
June 19, 2020—It's official. The longest economic expansion in U.S. history back to 1854 ended in February 2020, according to the National Bureau of Economic Research (NBER).[i] The coronavirus pandemic ended an expansion that chugged along for ten years and eight months, as business closures and social-distancing measures to contain the outbreak brought economic output to a screeching halt in the span of just two months. Massive job losses followed, though the May employment report pointed to some encouraging signs of individuals getting back to work again. Unfortunately, in our view, the speed and scale of the disruption to employment suggest that a full recovery in the labor market will be an arduous process, as firms balance rehiring with an uncertain outlook for consumer demand and structural shifts in the economic landscape that have accelerated due to the outbreak. As a result, we expect that elevated unemployment will weigh heavily on consumer spending, the key engine of economic growth, and by extension lead to a bumpy rather than a smooth rebound in economic activity.
Figure 1: Employment faces a steep climb on the road to recovery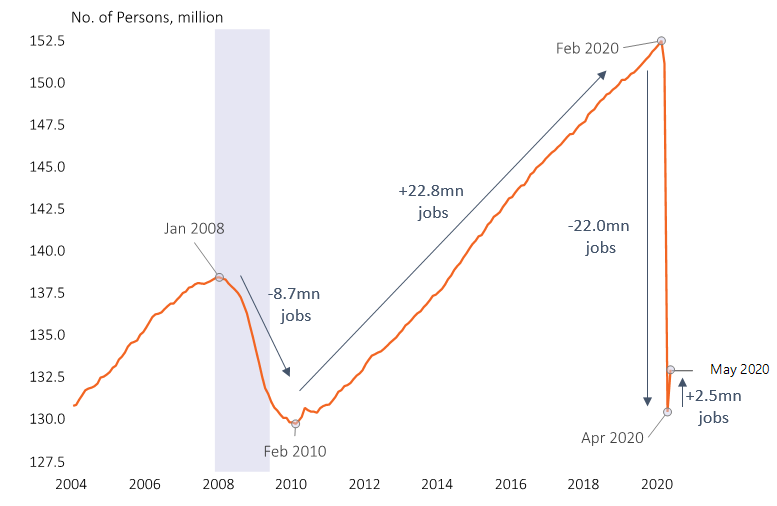 Data as of May 31, 2020. Sources: Bureau of Labor Statistics, Macrobond, WTIA.
Unemployment: uncertain path going forward
The labor market has seen the largest collateral economic damage of the pandemic, with the loss of 22 million jobs by April, nearly fully offsetting the 23 million jobs created during the prior 10 years over the course of just two months, and more than doubling the 9 million jobs lost in the aftermath of the Great Recession. The unemployment rate more than quadrupled, from a near-50-year low of 3.5%, to 14.7% in April, the highest since the Great Depression.
Since then, the labor market has seen some welcome, though modest, first signs of improvement, with a net 2.5 million jobs created in May, and the unemployment rate moving down to 13.3% as fiscal and monetary stimulus began to work their way into the economy and firms started to recall some workers back to their jobs earlier than expected as states started to reopen. However, even with the jobs gained in May, the labor market has a deep ditch to climb out of, with a net 19.5 million jobs still lost since February (Figure 1).
Though signs of rehiring and the move lower in the unemployment rate in May are encouraging, the path of the unemployment rate from here is far from certain and it may not necessarily move in a straight line, in our view. It will depend on a number of factors:
Medical advances and the path of the virus: A speedier medical solution (in the form of a combination of increased testing and viable therapeutics, or an effective vaccine) and lack of a second round of infections would allow consumers to be more confident about returning fully to pre-COVID activities, and enable firms to accelerate rehiring. However, slow progress on this front or another flare-up in infections could delay the return of consumers making firms reluctant to rehire (15.3 million workers are still on temporary layoff as of May) or take on new hiring.
Success of Paycheck Protection Program (PPP) for small businesses and other programs aimed at helping keep businesses afloat: The trajectory of employment will also depend in part on the success of PPP, which provides forgivable loans to small businesses to help keep employees on payrolls as demand gradually recovers. Restaurants for example may need this extra support to keep doors open until enough patrons feel comfortable dining in again. Other programs such as the Main Street Lending Program from the Federal Reserve are aimed at providing loans to help bridge the gap for medium-sized businesses, though these are not forgivable. Small businesses are particularly important because they account for roughly 50% of total employment and are also especially vulnerable as they tend to have lower cash buffers to withstand sharp drops in revenue.
Congress recently approved changes to the PPP that may allow more businesses to remain open until demand can recover fully, which could in turn help reduce the unemployment rate.[ii] Effectiveness remains to be seen though, and timing of employee rehires over the course of the next few months remains uncertain, given the extension of the deadline for employee rehiring to December 31 (from June 30) to qualify for loan forgiveness.
The 2.5 million job surge in May suggests that some firms have started to rehire, perhaps in part due to the PPP program and economies reopening, but we are cautious about the ability of firms to keep workers if demand does not recover fully before these loan funds run out. In addition, firms may have a difficult time remaining profitable if they are only able to run at less than 100% capacity due to social-distancing requirements, but costs have increased as well (think of a hotel running well-below capacity that must spend on vigorous and expensive cleaning protocols). These latter concerns would suggest a slower decline in the unemployment rate, or even the possibility of a further bump higher in unemployment if firms find themselves unable to remain open and having to lay off workers again if demand fails to pick up in coming months.
Potential changes to unemployment insurance benefits: The $600/week supplemental unemployment insurance benefits provided by the CARES Act are set to expire on July 31. These make unemployment benefits significantly more generous relative to past recessions. The precise numbers differ by state, but in most places a worker who had been making less than $60,000 a year is taking home more income on unemployment than before. House Democrats have sought an extension of these benefits in its HEROES Act proposal, though administration officials and many Republicans oppose an extension given potential disincentives to return to work. A number of reports, including the Fed's May Beige Book, noted firms were having difficulty hiring workers back, in part because of generous benefits (along with health and child care concerns). However, an extension at potentially reduced levels could be a possibility. The generosity of any potential extended supplement could impact the trajectory of the unemployment rate if workers prefer and are able to remain at home and keep collecting. The more generous these benefits are, the higher the unemployment rate could remain, and vice versa.
Unemployment rate is understating the true degree of damage: While it is typically one of the best, consistent indicators of labor market conditions, the official unemployment rate is currently significantly understating the percent of those unemployed, given some of the nuances of the data. To be counted in the official unemployment rate a person must be jobless, actively seeking work, and available to take a job if offered.
In the May employment report, Bureau of Labor Statistics (BLS) noted two categories of workers, which are currently not being included in the unemployment rate, that we believe lead to the understatement. The first involves workers who are "employed but absent from work" a category intended for those who are on vacation, sick, taking care of a loved one, and one last catch-all of "other." The last category (other) has surged since the pandemic, by 4.9 million. The BLS believes these workers were mostly mis-categorized, and should likely be included, which would raise the unemployment rate to 16.4%.
The second category involves workers that are "not in the labor force, but want a job," which nearly doubled since February, rising by 4 million to a total of 9 million workers. These workers are not included because they did not meet the criteria of actively seeking work. The sudden and drastic nature of the rise though suggests that many of these workers would have been looking for a job if the economy had not been shut down nearly across the board. The BLS estimated that including all of these 9 million workers would raise the unemployment rate to 17.9%. While it is not clear exactly how many of these workers should be included in the unemployment rate (as there were roughly 5 million workers already in this category before the pandemic started in February), it seems reasonable that at least some of these workers should be counted. Including just the incremental surge of 4 million would still raise the unemployment rate to 15.4%. compared to the 13.3% as currently reported in May.
If both categories of workers above were included, we estimate the unemployment rate could range from 18% to as high as 21%, with up to 30 to 35 million unemployed workers, compared to 21 million unemployed in the official unemployment rate (depending on how many workers not in the labor force are included in the unemployment rate as noted above).
Figure 2: Unemployment rate understating the true extent of labor market damage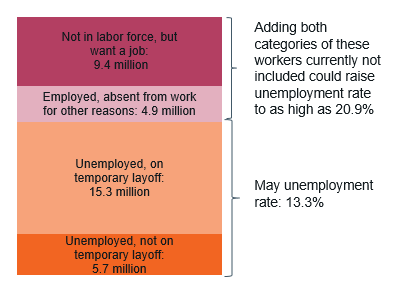 Data as of May 31, 2020. Sources: Bureau of Labor Statistics, Macrobond, WTIA.
Massive dislocations in the labor market have already likely caused some permanent scarring
Even if medical advances were to eradicate the virus tomorrow, some of the damage to businesses and jobs has already likely become permanent. While it is too early to get a sense of how many businesses will shutter as result of the outbreak, it is likely we will see bankruptcies edge up in the months ahead, resulting in some permanent job losses at those firms.
In addition, some jobs will likely be lost simply as a result of firms choosing not to hire back workers laid off during the downturn. Out of the total 21 million individuals officially counted as unemployed, roughly 15 million consider themselves on "temporary layoff," which means they expect to return to their jobs within six months. However, a recent academic study suggested that roughly 40% of temporary layoffs could turn into permanent employment losses, as jobs are reallocated to more productive sectors, or due to shifting demand as a result of the downturn. For example, consumers have embraced online shopping, in part due to necessity during the stay-at-home orders, and will likely continue to make more use of this option to shop in the post-COVID world. As a result, retail stores may accelerate the already ongoing trend of reducing brick and mortar footprints while shifting more of their efforts to online sales that require fewer employees per sale. Diane von Furstenberg, the designer fashion brand, recently laid off 75% of its 400 staff, closing all but one of its 19 retail stores and announced a digital-only sales strategy, with a focus on China. A recent shift in approach at Starbucks provides another example of how the outbreak has changed the nature of demand. The coffee chain announced the closure of a number of its standard dine-in stores, but is choosing to expand pick-up and drive-through locations, which may require fewer employees per location to operate given smaller physical footprints and fewer in-store customers to serve. While these may be productivity-enhancing strategies for businesses, these shifts can lead to lasting scarring on the economy in the form of permanent job loss in the near term, as it will take time for laid-off workers to find new jobs.
Core narrative
Our economic scenarios published in April looked for an unemployment rate that could reach as high as 18%–24% given the current duration and extent of mitigation measures put in place, which is roughly in line with what we are currently seeing when the full scale of potential unemployment is taken into account. While a number of factors could influence the direction of the labor market in coming months, on the whole, we expect the unemployment rate to remain elevated into year end and into early 2021 (likely remaining near 10%), unless new information comes to light. In our view, the massive dislocations in the labor market will not be easy to repair quickly, even with the scale of fiscal stimulus in place. While 15 million people are currently officially on temporary layoff, it is unlikely in our view that all of them will return to work by year end given the potential for a slow return and the shifting nature of demand, particularly in industries hard hit by the outbreak, such as hotels, restaurants, travel, sporting and other entertainment, and fitness. In addition, there is the likelihood that some businesses will not survive. Again, depending on the factors above, the precise level of the unemployment rate could vary greatly. But in our view, it is still clear that a loss of 20–-30 million jobs is massive, no matter how the unemployment rate is measured. Our overall view on the trajectory of the labor market remains one of continued labor market challenges that will weigh on the economic recovery as we head into 2021.


---
[i] The Business Cycle Dating Committee of the NBER is an organization that determines start and end dates of expansions and recessions typically used as official reference dates by economists.
[ii] These changes include an extension of the time period during which the funds must be used (from 8 weeks to 24 weeks) as well as the date by which employees must be rehired to qualify for loan forgiveness (from June 30, 2020 to December 31, 2020). The new provisions also provide increased flexibility for usage of funds. Only 60% of funds have to be used for payroll, rather than 75%, allowing for more of the loan to be used for other fixed costs like rent, utilities, or mortgage interest. The loan term has also been extended from two years to five years.
Disclosures
Wilmington Trust is a registered service mark used in connection with various fiduciary and non-fiduciary services offered by certain subsidiaries of M&T Bank Corporation including, but not limited to, Manufacturers & Traders Trust Company (M&T Bank), Wilmington Trust Company (WTC) operating in Delaware only, Wilmington Trust, N.A. (WTNA), Wilmington Trust Investment Advisors, Inc. (WTIA), Wilmington Funds Management Corporation (WFMC), and Wilmington Trust Investment Management, LLC (WTIM). Such services include trustee, custodial, agency, investment management, and other services. International corporate and institutional services are offered through M&T Bank Corporation's international subsidiaries. Loans, credit cards, retail and business deposits, and other business and personal banking services and products are offered by M&T Bank, member FDIC.
Facts and views presented in this report have not been reviewed by, and may not reflect information known to, professionals in other business areas of Wilmington Trust or M&T Bank who may provide or seek to provide financial services to entities referred to in this report. M&T Bank and Wilmington Trust have established information barriers between their various business groups. As a result, M&T Bank and Wilmington Trust do not disclose certain client relationships with, or compensation received from, such entities in their reports.
The information on Wilmington Wire has been obtained from sources believed to be reliable, but its accuracy and completeness are not guaranteed. The opinions, estimates, and projections constitute the judgment of Wilmington Trust and are subject to change without notice. This commentary is for informational purposes only and is not intended as an offer or solicitation for the sale of any financial product or service or a recommendation or determination that any investment strategy is suitable for a specific investor. Investors should seek financial advice regarding the suitability of any investment strategy based on the investor's objectives, financial situation, and particular needs. Diversification does not ensure a profit or guarantee against a loss. There is no assurance that any investment strategy will succeed.
Past performance cannot guarantee future results. Investing involves risk and you may incur a profit or a loss.
©2020 M&T Bank Corporation and its subsidiaries. All rights reserved.
ACCESS THE WILMINGTON WIRE
Discover perspectives on timely wealth and investment management topics, authored by subject matter experts.
Explore Articles