Back
January 4, 2019 - The past year has no doubt been challenging for investors in light of the difficulty of assessing political risks, conflicting economic signals, and swift reversals in equity market sentiment. Like many investors, we were caught off guard by the violent market correction in the fourth quarter—a drop of almost 20% between September and December. However, despite continued risks, at this point we think the equity market is set up to deliver stronger returns in 2019. We are reaffirming our slight overweight to equities, with a preference for emerging markets and the U.S. over non-U.S. developed. Most importantly, we are advising our clients to ride through the current volatility, rather than to succumb to it by making any drastic changes in their portfolios.
Of the three concerns that primarily accounted for the market sell-off, we believe two of them are largely misplaced and the third, while valid, is likely to resolve itself. The first two—if the trajectory of Federal Reserve tightening will trigger a recession and whether we are already experiencing an acute deceleration in global growth—are generally not supported by the economic data. Tellingly, this morning's monthly job's data—a very strong increase of approximately 312,000 new nonfarm payrolls accompanied by an increase of some 400,000 new entrants into the labor force—would seem to strongly belie any view that a recession is just around the corner (Figure 1). In addition, reports on the strength of the holiday retail season have been broadly positive, establishing that the American consumer remains in good health.
Figure 1: Strong labor report suggests recession not imminent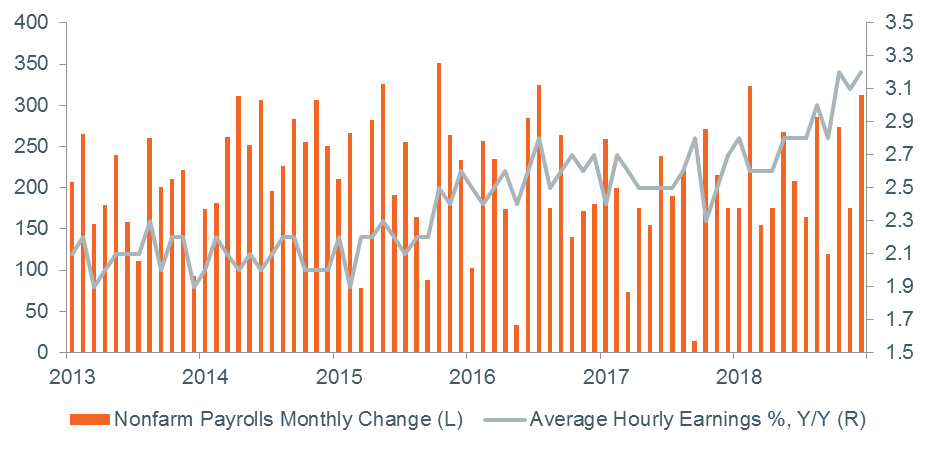 As of December 31, 2018.
Source: Bloomberg, Bureau of Labor Statistics
To be sure, recent economic data have shown recent slowing across the economy, but this is from the very high levels of earlier in 2018 and was to be expected as the impacts of fiscal stimulus roll off. As important, in our view, numerous forces have gathered recently in further support of the consumer. First, long-term interest rates have fallen, which supports the housing and auto segments of the economy. In addition, gasoline prices have fallen by 23% since October. And as also reflected in this morning's labor report, wages are increasing. All of these are extremely supportive of consumer spending, which, coupled with healthy consumer balance sheets, bodes very well for one of the most important drivers of U.S. economic growth.
The third principal market concern has revolved around the U.S.–China trade dispute. The trade discussions between the U.S. and China seem to be moving in the right direction. Make no mistake: the progression of trade negotiations could continue to be non-linear. We also acknowledge the likelihood that heightened competitive tensions between the two largest economies in the world are here to stay. But important concessions from Chinese policymakers regarding intellectual property protection, joint venture requirements, and communication around their Made in China 2025 initiative—as well as what we regard as heavy pressure on President Trump—suggest both countries would like to reach an agreement that avoids further tariffs. We believe we will get clarity on trade in coming months if not weeks, which would remove a significant overhang on business confidence, valuations, and overall global economic activity.
In terms of exogenous risks, we must acknowledge the inherent uncertainty surrounding the durability of this presidential administration and the market anxiety that will continue to accompany the various investigations and other legal activity impacting the president. These risks have grown since the November 6 U.S. midterm elections, when it became clear that we would return to a divided government. Specifically, we recognize the distinct possibility that Democratic control of the House of Representatives leads to heightened tensions and perhaps even more unpredictable actions from the president as it relates to trade, budget and debt ceiling negotiations, and legal investigations. Predicting these political outcomes and quantifying the impact on financial markets is nearly impossible, but we attempt to weigh these risks against the slew of economic and market data that we can quantify.
Regarding non-U.S. markets, the international picture is more clouded, both in developed and emerging markets, but it is our expectation that Chinese growth will stabilize from a combination of receding trade risks and policy support. Chinese policymakers have announced a number of supportive policies, including a 1% reduction in the amount of reserves that banks are required to hold, made public just this morning. Some measures like easier lending standards or personal tax cuts have yet to be formalized, and many will take time to materialize in the economic data, but we believe they will help the Chinese economy manage its gradual slowdown and transition to a more consumer-led economy.
Core narrative
The market's recent pain is imprinted clearly into our minds as we look forward. In our assessment, U.S. and international equity markets have discounted much slower growth in 2019 than we expect to experience, and valuations are now below historical averages across regions. Absent an intervening exogenous event such as failure to resolve the China trade conflict or deeper tumult around the presidency, we expect the economic expansion to continue beyond 2019, and stocks to offer more attractive value than they have for years, particularly in the U.S. and emerging markets.
Our view that the economic cycle will continue is leading us to hold a modest overweight to equities in client portfolios, with slightly more exposure than our strategic benchmark to U.S. large-cap and emerging markets equities. Volatility has increased and is likely here to stay, but sustained bear markets or back-to-back years of negative equity returns are rare outside of a recession (Figure 2), which we do not see on the horizon. We encourage our clients to maintain a level head and avoid drastic changes to their portfolios, as we expect equities to recover from a very challenging few months and move higher on the back of continued economic momentum.
Figure 2: Rare to see back-to-back years of negative returns for equity markets

As of December 31, 2018.
Source: Bloomberg, Standard & Poor's
A big-picture glimpse of our overall positioning, as of January 4, 2019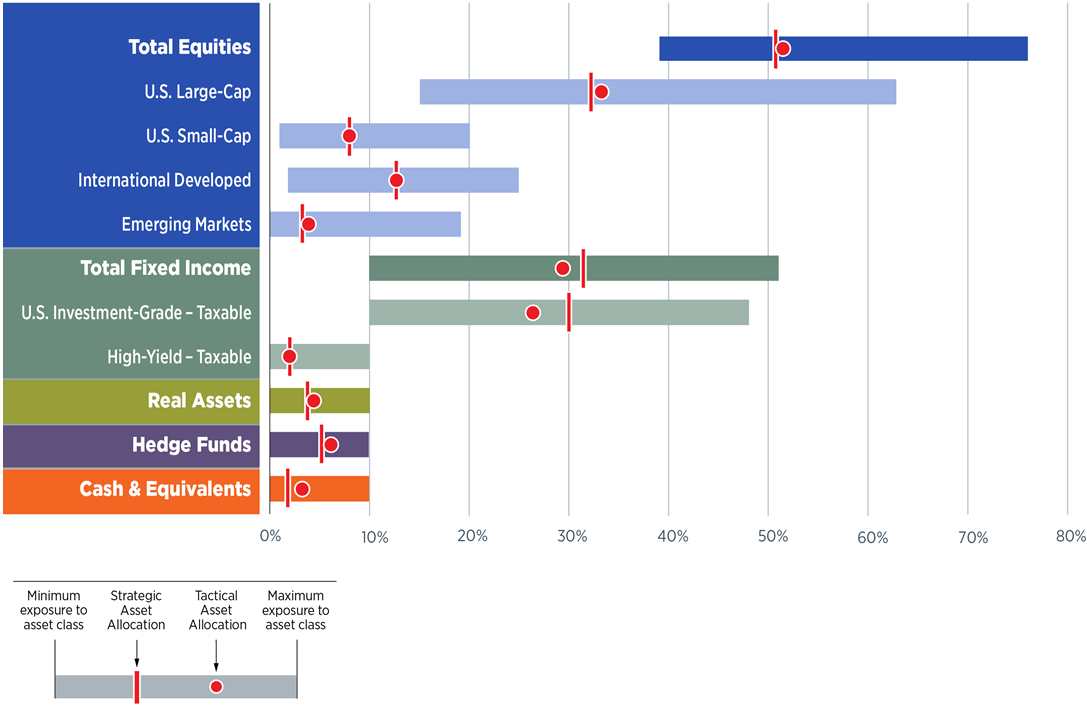 Based on current Growth & Income Strategy for High-Net-Worth with Hedge Funds, this chart represents current weights relative to our strategic asset allocations, with high and low boundaries reflecting our maximum and minimum weightings.
This material is for informational purposes only and is not intended as an offer or solicitation for the sale of any financial product or service or a recommendation or determination that any investment strategy is suitable for a specific investor. Opinions, estimates, and projections constitute the judgment of Wilmington Trust and are subject to change without notice. There is no assurance that any investment strategy will be successful. Investing involves risks and you may incur a profit or a loss. Source: WTIA.
Disclosures
Wilmington Trust is a registered service mark. Wilmington Trust Corporation is a wholly owned subsidiary of M&T Bank Corporation. Wilmington Trust Company, operating in Delaware only, Wilmington Trust, N.A., M&T Bank and certain other affiliates, provide various fiduciary and non-fiduciary services, including trustee, custodial, agency, investment management and other services. International corporate and institutional services are offered through Wilmington Trust Corporation's international affiliates. Loans, credit cards, retail and business deposits, and other business and personal banking services and products are offered by M&T Bank, member FDIC. Wilmington Trust Investment Advisors, Inc. is an SEC-registered investment adviser providing investment management services to Wilmington Trust and M&T Bank affiliates and clients.
These materials are based on public information. Facts and views presented in this report have not been reviewed by, and may not reflect information known to, professionals in other business areas of Wilmington Trust or M&T Bank who may provide or seek to provide financial services to entities referred to in this report. M&T Bank and Wilmington Trust have established information barriers between their various business groups. As a result, M&T Bank and Wilmington Trust do not disclose certain client relationships with, or compensation received from, such entities in their reports.
The information on Wilmington Wire has been obtained from sources believed to be reliable, but its accuracy and completeness are not guaranteed. The opinions, estimates, and projections constitute the judgment of Wilmington Trust and are subject to change without notice. This commentary is for information purposes only and is not intended as an offer or solicitation for the sale of any financial product or service or a recommendation or determination that any investment strategy is suitable for a specific investor. Investors should seek financial advice regarding the suitability of any investment strategy based on the investor's objectives, financial situation, and particular needs. Diversification does not ensure a profit or guarantee against a loss. There is no assurance that any investment strategy will succeed.
Any investment products discussed in this commentary are not insured by the FDIC or any other governmental agency, are not deposits of or other obligations of or guaranteed by M&T Bank, Wilmington Trust, or any other bank or entity, and are subject to risks, including a possible loss of the principal amount invested. Some investment products may be available only to certain "qualified investors"—that is, investors who meet certain income and/or investable assets thresholds. Past performance cannot guarantee future results. Investing involves risk and you may incur a profit or a loss.
Any positioning information provided does not include all positions that were taken in client accounts and may not be representative of current positioning. It should not be assumed that the positions described are or will be profitable or that positions taken in the future will be profitable or will equal the performance of those described. Positions described are illustrative and not intended as a recommendation outside of a managed account. Indices are not available for direct investment. Investment in a security or strategy designed to replicate the performance of an index will incur expenses, such as management fees and transaction costs that would reduce returns.
Third-party trademarks and brands are the property of their respective owners.
ACCESS THE WILMINGTON WIRE
Discover perspectives on timely wealth and investment management topics, authored by subject matter experts.
Explore Articles