Back
January 16, 2018— December inflation, as measured by the Consumer Price Index (CPI), held steady on a year-over-year basis at 2.1%. However, the "core" measure, which excludes the volatile food and energy components, had a 1.8% year-over-year increase. Some of this was due to firming across categories, including prices in the housing and medical care categories, while an additional boost was received from some transitory price impacts including drug prices and used vehicles (which saw a pop in demand in 4Q 2017 following the destructive string of hurricanes in parts of the U.S.).
Financial markets reacted to the data, particularly in the bond market, with the confirmation of firmer inflation, capping an already-volatile week for interest rates. Key levels were reached for U.S. Treasury yields, with the 10-year yield rising above 2.5% last week—the first time since March 2017—and the yield on the 2-year yield touching 2% for the first time since before the financial crisis.
The evidence of inflation momentum building aligns with our core narrative and actually does not surprise us. We expect price measures to increase further in March of this year as a dramatic one-time decline in cell phone service pricing in March of 2017 will roll out of the year-over-year calculations. While it is common to analyze inflation compared to the same time the prior year, in fact, inflation has already returned to target on a shorter timeframe. The annualized CPI based on the prior three months of data is now 2.5%, and the 6-month annualized figure is 2.2%. For 2018, we are forecasting headline CPI inflation of around 2.5%. With that, we expect to see a rise across the Treasury yield curve, as evidence of building inflationary pressures should allow the Federal Reserve to hike its target rate three times this year, while signs of healthy growth and inflation are likely to keep elevated the yield on longer maturities.
To be clear, while the bond markets seem to be alarmed by inflation, we do not see the recent data as alarming. Yes, we may finally see the Core Personal Consumption Expenditures (PCE) price index—different from the CPI but the Fed's preferred inflation measure—reach the Fed's 2% target in 2018, but we do not expect inflation to increase fast enough to elicit a more hawkish response from the Fed than has thus far been telegraphed by voting members.
The U.S. price index for core personal consumption expenditures, minus the Fed's 2% target (y/y %)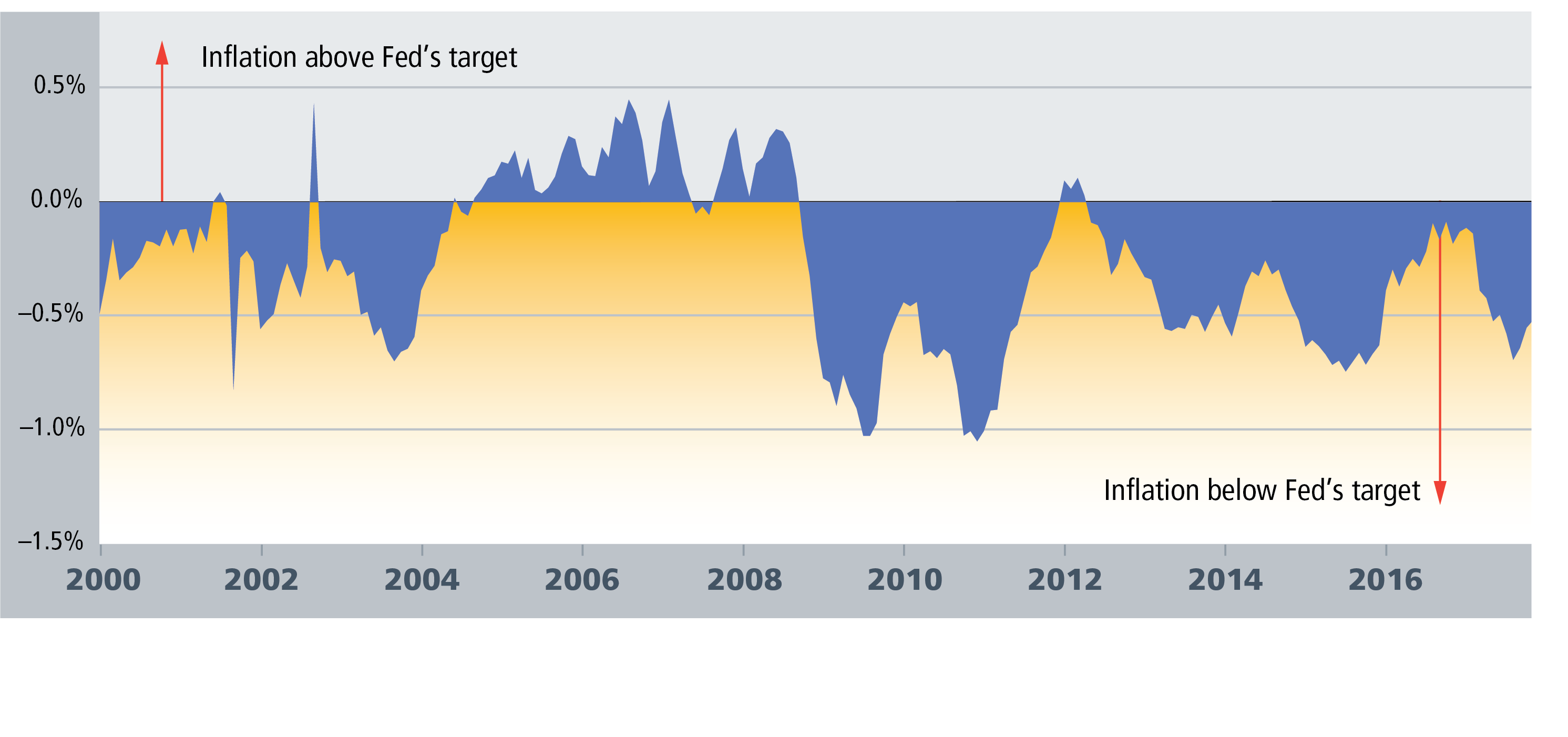 As of November 30, 2017. Source: Bloomberg, Bureau of Economic Analysis
In our view, there are three important structural causes of the low inflation we have observed during this economic recovery, none of which is going away any time soon: 1) demographics—an aging population is putting downward pressure on wages and prices; 2) global disinflation—trade has shrunk the global footprint, meaning low inflation in one part of the world is increasingly being "imported" to another part of the world; and 3) technology—difficult to quantify but hard to ignore, the Internet and companies like Amazon and Uber are disrupting the supply chain in new ways every day. We discuss the causes and importance of low inflation in greater detail in the first theme of our 2018–2019 Capital markets Forecast, Global Positioning Systems: Recalculating in light of detours, bumps, and blind spots.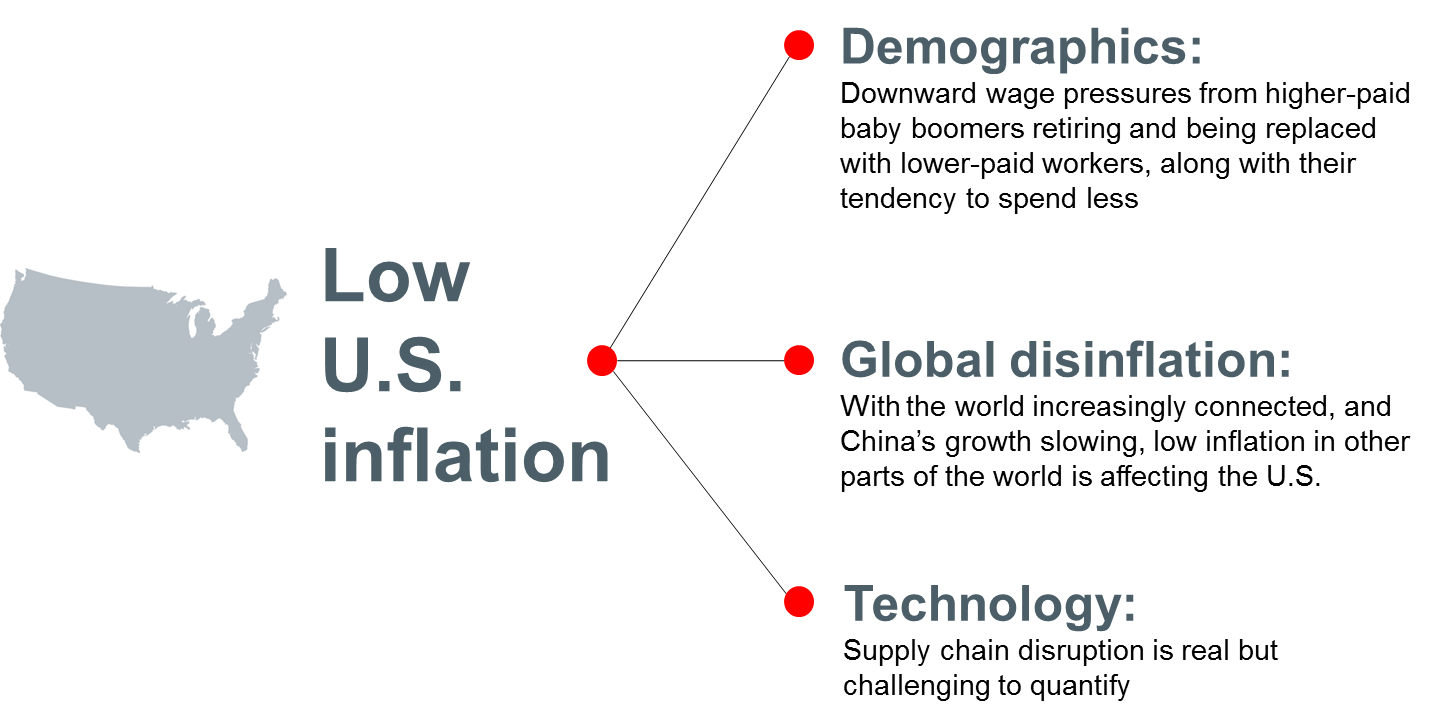 Source: WTIA
Core narrative
We expect these structural forces to keep inflation from "running away" from the Fed, and to keep the Fed from hiking more than three times in 2018, even if economic growth receives a much-anticipated boost from tax reform. This shapes our view that the yield curve is unlikely to invert in the near term and the U.S. economic cycle has further to run, though we recognize the risk of lofty valuations at this point in the cycle. Our expectation of a continued "goldilocks" backdrop—firming inflation and solid economic growth, with a Fed that continues to move gradually—is a key reason for our overweight to equities. For more on key themes influencing our 2018 market outlook, please see our 2018–2019 Capital markets Forecast, Global Positioning Systems: Recalculating in light of detours, bumps, and blind spots.
Disclosures
Wilmington Trust is a registered service mark. Wilmington Trust Corporation is a wholly owned subsidiary of M&T Bank Corporation. Wilmington Trust Company, operating in Delaware only, Wilmington Trust, N.A., M&T Bank and certain other affiliates, provide various fiduciary and non-fiduciary services, including trustee, custodial, agency, investment management and other services. International corporate and institutional services are offered through Wilmington Trust Corporation's international affiliates. Loans, credit cards, retail and business deposits, and other business and personal banking services and products are offered by M&T Bank, member FDIC.
These materials are based on public information. Facts and views presented in this report have not been reviewed by, and may not reflect information known to, professionals in other business areas of Wilmington Trust or M&T Bank who may provide or seek to provide financial services to entities referred to in this report. M&T Bank and Wilmington Trust have established information barriers between their various business groups. As a result, M&T Bank and Wilmington Trust do not disclose certain client relationships with, or compensation received from, such entities in their reports.
The information on Wilmington Wire has been obtained from sources believed to be reliable, but its accuracy and completeness are not guaranteed. The opinions, estimates, and projections constitute the judgment of Wilmington Trust and are subject to change without notice. This commentary is for information purposes only and is not intended as an offer or solicitation for the sale of any financial product or service or a recommendation or determination that any investment strategy is suitable for a specific investor. Investors should seek financial advice regarding the suitability of any investment strategy based on the investor's objectives, financial situation, and particular needs. Diversification does not ensure a profit or guarantee against a loss. There is no assurance that any investment strategy will succeed.
Any investment products discussed in this commentary are not insured by the FDIC or any other governmental agency, are not deposits of or other obligations of or guaranteed by M&T Bank, Wilmington Trust, or any other bank or entity, and are subject to risks, including a possible loss of the principal amount invested. Some investment products may be available only to certain "qualified investors"—that is, investors who meet certain income and/or investable assets thresholds. Past performance is no guarantee of future results. Investing involves risk and you may incur a profit or a loss.
Any positioning information provided does not include all positions that were taken in client accounts and may not be representative of current positioning. It should not be assumed that the positions described are or will be profitable or that positions taken in the future will be profitable or will equal the performance of those described. Positions described are illustrative and not intended as a recommendation outside of a managed account.
Indices are not available for direct investment. Investment in a security or strategy designed to replicate the performance of an index will incur expenses, such as management fees and transaction costs that would reduce returns.
Third-party trademarks and brands are the property of their respective owners.
ACCESS THE WILMINGTON WIRE
Discover perspectives on timely wealth and investment management topics, authored by subject matter experts.
Explore Articles