Back
January 30, 2018— As the Federal Reserve's Open Market Committee (FOMC) meets this week to discuss interest rate policy, it will mark a changing of the guard in several significant ways. Most obvious is the end of Janet Yellen's tenure as chair (which formally goes into effect on February 3) and the start of Jay Powell's leadership. Yellen served just one term as chair, but she came into the position with very similar experience as her predecessor Ben Bernanke; both were academic economists who had spent most of their careers in academia. Prior to Bernanke, the central bank was run first by Paul Volcker and then Alan Greenspan; both were professional economists having worked in business and government. The fact that Powell will be running a board in Washington that will soon be made up almost entirely of Trump appointees is fueling speculation that Fed policy may undergo a significant shift. We are skeptical.
Powell is a new face in the chair's seat but he is of course not new to the Fed. He has been a governor since 2012 and has never cast a dissenting vote. President Trump's pending appointment of Carnegie Mellon Marvin Goodfriend has been viewed by many as a hawkish influence (meaning he would tend to want to raise rates more quickly), but in our view is no more hawkish than Stan Fischer, who was Yellen's vice chair until last October. Goodfriend has a long history with the Fed as the research director for the Fed bank in Richmond, frequently coauthors papers with Fed economists, serves on an advisory panel to the New York Fed, and has spoken at enough Fed conferences (including the preeminent Jackson Hole event) that he has been influencing the FOMC as a pseudo-member for more than a decade. John Williams of the San Francisco Fed is rumored to be high on Trump's list to be vice chair, and would mark another source of continuity. In short, Powell is an established Fed veteran who will be surrounded by familiar faces and backed by a well-entrenched research staff that holds as much if not more sway than some members of the committee.
What does it mean for interest rates?
In our view, the outlook for Fed rate hikes remains the same in 2018 as it would have been if Yellen were still at the helm. The important questions are about the economy and inflation. With fourth-quarter GDP coming in at 2.6% annualized, it marked a solid, yet not stellar, full year of growth in 2017 of 2.3%. That is a couple tenths higher than the average rate during the recovery, but importantly comes in the context of a very tight labor market. Low unemployment should lead to faster wage growth in 2018, and could contribute to higher inflation.
The outlook for inflation is quite positive, in our view. Core PCE inflation (the most important measure to the Fed) was running up close to its 2% target in late 2016 and early 2017 before a one-off shock to wireless telecommunications prices brought down the overall inflation measures in March of last year. That one-month shock of course also sharply brought down the year-over-year calculations (seen in early-2017 in the chart below), and of course will continue to do so until it rolls out of the calculation in March of 2018.
Core inflation has been solid in the time since that one-off impact from wireless, averaging month-over-month gains of 0.175%. If that would continue going forward, the year-over-year change would jump by nearly half a percent and then march steadily toward 2%.
U.S. consumer inflation and 2018 extrapolation (% year over year)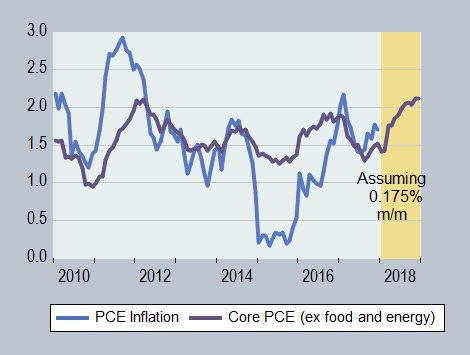 Data as of December 31, 2017
Source: Bureau of Economic Analysis, WTIA
The Fed is currently projecting three interest rate hikes in increments of 0.25% in 2018, and we expect the same. That would be the same as occurred last year. (It's worth noting that 2017 was the first time the Fed matched its rate hikes to the expectation it held at the start of the year.) The possibility of higher inflation as discussed above and the recent growth figures are pushing some to raise their expectations to four hikes with upside risk for more. We are skeptical there, too.
Four hikes a real possibility?
In short, yes, four hikes are certainly within the realm of reason. But there are several reasons to expect the Fed will be reluctant to accelerate too much. They include:
An aversion to upending financial markets. The Fed is quite aware of the "gradual" message it has been sending for quite some time. Accelerating rate hikes this year could bring about fears of inverting the yield curve, a selloff in equity markets, or a spike in credit risk premiums.
There's another "hike" on the long end. The Fed is also tightening monetary conditions a bit at the longer end of the curve as it winds down the balance sheet. Currently, the central bank is reducing its holdings of longer-dated Treasuries and mortgage-backed securities by a combined $20 billion per month. That is slated to accelerate to $30 billion in 2Q, $40 billion in 3Q, and ultimately $50 billion per month starting in October. Although this is not the same as rate hikes at the short end, this is a very new policy for the Fed and we believe the new chair will be careful not to act quickly in rate hikes while the impact of the balance sheet normalization is still unknown.
There's still room for higher inflation. Even if inflation is moving higher this year, the Fed knows it has been well below its 2% target for most of the current recovery. While it doesn't have a stated policy of "making up for lost inflation" per se, the 2% goal is stated formally as "over the longer run." We expect the Fed will welcome the higher inflation later this year and not be too quick to change policy. It will only get concerned if longer-term inflation expectations appear to be moving upward in a significant way. As it stands now, long-term expectations remain quite muted. As shown in the chart below, the bond market is pricing in just above 2% inflation over the next 10 years. That is a welcome recovery from worrisomely low levels registered in 2016 (when the Fed not-coincidentally abandoned its rate hike plans), but still well below what we view as the Fed's comfort zone.
Long-term inflation compensation for Treasury inflation-protected securities (%)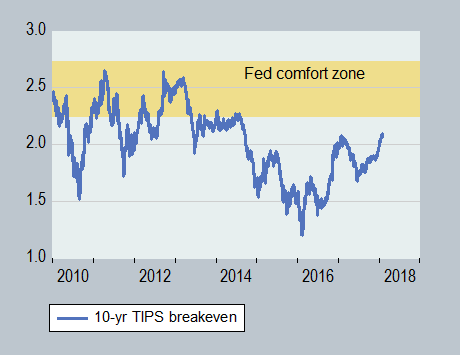 Data through January 26, 2018
Source: Bloomberg, WTIA
Core narrative
The Fed is on the verge of going through major changes with Jay Powell taking over as chair and a near-complete remake of the governor seats by President Trump. However, we don't expect major changes to policy as a result. Powell has a view of policy similar to outgoing Chair Yellen, and will be using the same staff. In our view, other new board members will have an impact on the margin, but not enough to significantly change the trajectory of policy. We expect rate hike decisions to be governed by the incoming data, and that there will be three in 2018, with little risk of more than three. With yields rising across the curve, we remain underweight to core fixed income.
Disclosures
Wilmington Trust is a registered service mark. Wilmington Trust Corporation is a wholly owned subsidiary of M&T Bank Corporation. Wilmington Trust Company, operating in Delaware only, Wilmington Trust, N.A., M&T Bank and certain other affiliates, provide various fiduciary and non-fiduciary services, including trustee, custodial, agency, investment management and other services. International corporate and institutional services are offered through Wilmington Trust Corporation's international affiliates. Loans, credit cards, retail and business deposits, and other business and personal banking services and products are offered by M&T Bank, member FDIC.
These materials are based on public information. Facts and views presented in this report have not been reviewed by, and may not reflect information known to, professionals in other business areas of Wilmington Trust or M&T Bank who may provide or seek to provide financial services to entities referred to in this report. M&T Bank and Wilmington Trust have established information barriers between their various business groups. As a result, M&T Bank and Wilmington Trust do not disclose certain client relationships with, or compensation received from, such entities in their reports.
The information on Wilmington Wire has been obtained from sources believed to be reliable, but its accuracy and completeness are not guaranteed. The opinions, estimates, and projections constitute the judgment of Wilmington Trust and are subject to change without notice. This commentary is for information purposes only and is not intended as an offer or solicitation for the sale of any financial product or service or a recommendation or determination that any investment strategy is suitable for a specific investor. Investors should seek financial advice regarding the suitability of any investment strategy based on the investor's objectives, financial situation, and particular needs. Diversification does not ensure a profit or guarantee against a loss. There is no assurance that any investment strategy will succeed.
Any investment products discussed in this commentary are not insured by the FDIC or any other governmental agency, are not deposits of or other obligations of or guaranteed by M&T Bank, Wilmington Trust, or any other bank or entity, and are subject to risks, including a possible loss of the principal amount invested. Some investment products may be available only to certain "qualified investors"—that is, investors who meet certain income and/or investable assets thresholds. Past performance is no guarantee of future results. Investing involves risk and you may incur a profit or a loss.
Any positioning information provided does not include all positions that were taken in client accounts and may not be representative of current positioning. It should not be assumed that the positions described are or will be profitable or that positions taken in the future will be profitable or will equal the performance of those described. Positions described are illustrative and not intended as a recommendation outside of a managed account.
Indices are not available for direct investment. Investment in a security or strategy designed to replicate the performance of an index will incur expenses, such as management fees and transaction costs that would reduce returns.
Third-party trademarks and brands are the property of their respective owners.
ACCESS THE WILMINGTON WIRE
Discover perspectives on timely wealth and investment management topics, authored by subject matter experts.
Explore Articles