Back
May 31, 2019 – On Thursday May 30, President Trump unexpectedly announced new tariffs on imports from Mexico, tying the policy to illegal immigration. Specifically, he indicated that on June 10 the administration would begin assessing a 5% tariff on all imports that would gradually increase by 5 percentage points each month until they reach 25% in October, and will remain at 25% until illegal immigrants ceased coming into the United States across the southern border, "at which time the [T]ariffs will be removed." This potential action only adds more risk to the economy and markets, which led us to recently decrease domestic equity exposure in portfolios earlier in May. Just earlier this week we adjusted portfolios moving some incremental cash into core munis, which we believe will benefit from the risk-off sentiment emanating from ongoing trade tensions.
This move from President Trump was quite a surprise, as his ire on trade issues has recently been sharply focused on China. In May, the administration punted a decision on whether to levy tariffs on automobile imports from the European Union (EU), Japan, and other countries, an indication that it was leery of fighting multiple trade fights at once because of the damage such a fight does to the economy and markets. Trade relations with Mexico had appeared to be in good shape, as both countries were looking forward to implementing the revised NAFTA agreement. Additionally, although the president has clearly been very focused on illegal immigration problems, he only very recently indicated a plan to use trade policy as a lever to effect change on this separate issue, with little indication the administration was ready to move this quickly.
If the tariffs are implemented, they could significantly affect the economy and markets. In 2018, the U.S. imported $345 billion worth of goods from Mexico. If trade volumes did not change, a 5% tariff would be a tax hike of $17 billion. If it rose to 25%, it would be a tax bill of $86 billion. All evidence from the recent tariffs on imports from China indicates U.S. consumers and firms are paying the tax, in the form of higher prices for the consumer or lower margins for firms. Importantly for markets, much of the trade with Mexico is a supply chain for the automobile industry that has been built up over the past several decades under NAFTA. These tariffs would hit those auto companies directly and supply chains are not easily moved. There is also the very real possibility of retaliation. The total trade relationship with Mexico is nearly as large as with China so many U.S. exporters would be put at risk (Figure 1).
Figure 1: Bilateral trade with U.S. partners (goods & services)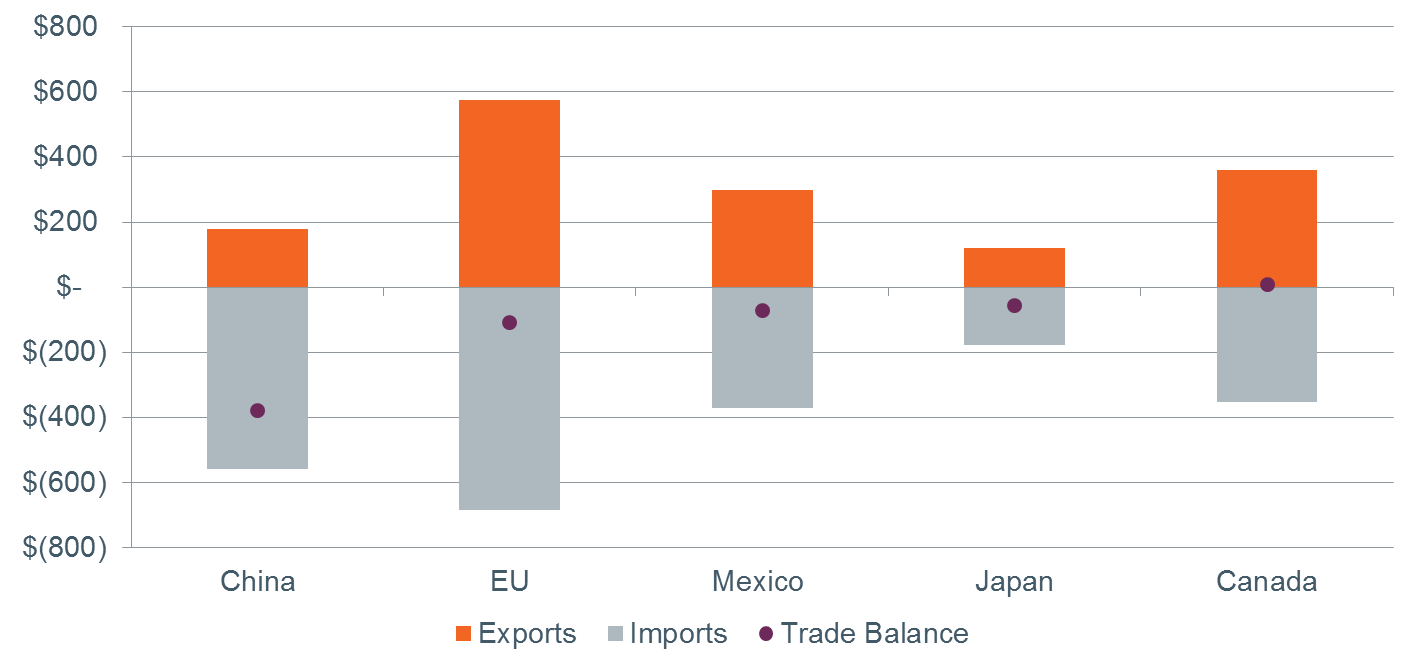 Data as of May 15, 2019.
Source: Macrobond.
If these tariffs were fully implemented, it would only add to an already-daunting tax bill. Our recent decision to reduce equity exposure is significantly tied to our expectation that the administration is more likely than previously expected to implement a 25% tariff on the full slate of goods from China. Those would amount to a tax hike on U.S. consumers and businesses of roughly $150 billion. A tariff on autos and parts would bring the tax hike up to $200 billion. A 25% tariff on all imports from Mexico would bring the tax hike to nearly $300 billion (Figure 2). To put that in perspective, the December 2017 tax legislation that boosted growth in 2018 was estimated to deliver $260 billion in tax cuts for American households in 2019. The sum total of proposed tariffs would more than wipe that out.
Figure 2: Values of U.S. tariffs proposed and imposed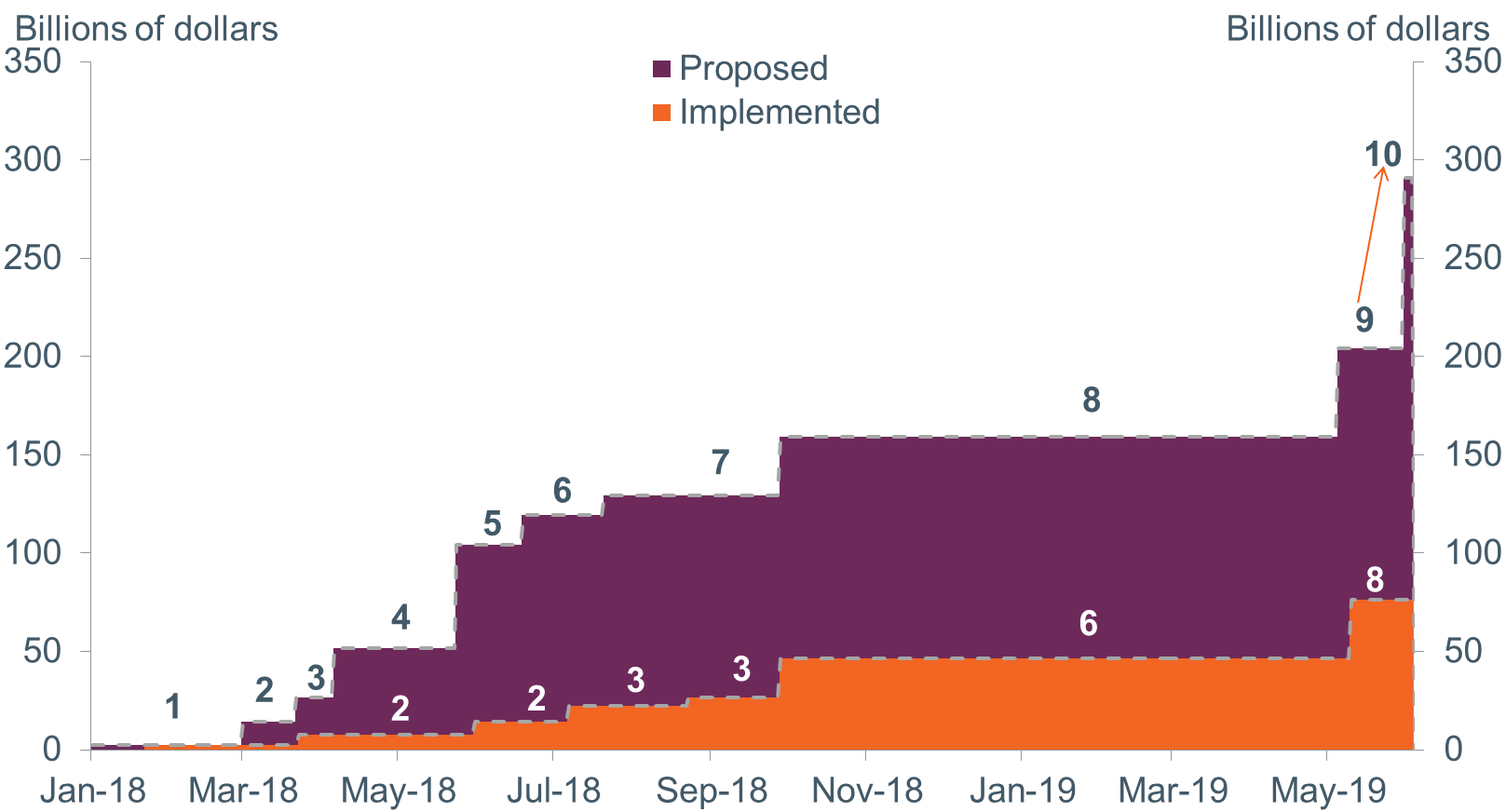 Solar panels and washing machines
Section 232 steel and aluminum tariffs
25% tariffs on first $50bn from China
Additional tariffs on $100bn further from China
Section 232 auto tariffs
Tariffs on $200bn further from China (10%)
Tariffs on all remaining imports from China (10%)
Step-up to 25% rate on $200bn from China
Step-up to 25% rate on remaining ~$300bn imports from China
5% on all imports from Mexico, stepping up by 5% each month until reaching 25%
Data as of May 31, 2019.
Sources: Goldman Sachs and Wilmington Trust Investment Advisors, Inc.
It is important to note that these newly proposed tariffs may never actually be implemented, or at least not progress very far. First, in these early days, it is not clear the administration has the legal authority to implement the tariffs under the same laws used for China and auto tariffs. Second, and probably more significantly, there was immediate pushback from Trump's own party. Senator Chuck Grassley (R-IA), an important power broker for the party, pushed back immediately and forcefully on Thursday after President Trump made his announcement. If the president does not have the support of his party, he will find it challenging to pursue this course of action. Nonetheless, markets and companies are clearly worried and we expect conditions to further deteriorate before they improve.
Core narrative
The possible implementation of tariffs on all imports from Mexico only add to the economic and market risk that recently contributed to our decision to reduce equity exposure in portfolios. We also recently reallocated some cash to core munis that we expect would benefit this year as trade issues continue to weigh on risk sentiment. Although the proposed tariffs on imports from Mexico may never be implemented, it is clear that the president intends to use tariffs as a tool to pursue his policies, and we do not expect swift resolution of these issues, especially with China. Tariffs are damaging to the economy and markets, leading us to favor a neutral position on equities and our recent higher allocation to core munis. Last, we continue to monitor economic data closely, looking specifically for signals of a recession. We are not there yet, but we now seem to be headed there faster than expected just a short time ago.
Disclosures
Wilmington Trust is a registered service mark. Wilmington Trust Corporation is a wholly owned subsidiary of M&T Bank Corporation. Wilmington Trust Company, operating in Delaware only, Wilmington Trust, N.A., M&T Bank and certain other affiliates, provide various fiduciary and non-fiduciary services, including trustee, custodial, agency, investment management and other services. International corporate and institutional services are offered through Wilmington Trust Corporation's international affiliates. Loans, credit cards, retail and business deposits, and other business and personal banking services and products are offered by M&T Bank, member FDIC. Wilmington Trust Investment Advisors, Inc. is an SEC-registered investment adviser providing investment management services to Wilmington Trust and M&T Bank affiliates and clients.
This blog post is based on public information. Facts and views presented here have not been reviewed by, and may not reflect information known to, professionals in other business areas of Wilmington Trust or M&T Bank who may provide or seek to provide financial services to entities referred to in this blog post. M&T Bank and Wilmington Trust have established information barriers between their various business groups. As a result, M&T Bank and Wilmington Trust do not disclose certain client relationships with, or compensation received from, such entities.
The information on Wilmington Wire has been obtained from sources believed to be reliable, but its accuracy and completeness are not guaranteed. The opinions, estimates, and projections constitute the judgment of Wilmington Trust and are subject to change without notice. This commentary is for information purposes only and is not intended as an offer or solicitation for the sale of any financial product or service or a recommendation or determination that any investment strategy is suitable for a specific investor. Investors should seek financial advice regarding the suitability of any investment strategy based on the investor's objectives, financial situation, and particular needs. Diversification does not ensure a profit or guarantee against a loss. There is no assurance that any investment strategy will succeed.
Any investment products discussed in this commentary are not insured by the FDIC or any other governmental agency, are not deposits of or other obligations of or guaranteed by M&T Bank, Wilmington Trust, or any other bank or entity, and are subject to risks, including a possible loss of the principal amount invested. Some investment products may be available only to certain "qualified investors"—that is, investors who meet certain income and/or investable assets thresholds. Past performance cannot guarantee future results. Investing involves risk and you may incur a profit or a loss.
Any positioning information provided does not include all positions that were taken in client accounts and may not be representative of current positioning. It should not be assumed that the positions described are or will be profitable or that positions taken in the future will be profitable or will equal the performance of those described. Positions described are illustrative and not intended as a recommendation outside of a managed account. Indices are not available for direct investment. Investment in a security or strategy designed to replicate the performance of an index will incur expenses, such as management fees and transaction costs that would reduce returns.
Third-party trademarks and brands are the property of their respective owners.

ACCESS THE WILMINGTON WIRE
Discover perspectives on timely wealth and investment management topics, authored by subject matter experts.
Explore Articles