Back
The latest employment report showed softer-than-expected job gains in March while wage growth edged up. This raised concerns about the possibility of the Fed having to hike rates in the face of a softening job market if upward wage pressures persist. In our view, however, there is no cause for alarm on this front. The data shows what we would expect from a maturing labor market, one in which job growth slows and wages rise gradually. And despite last month's softer reading, the underlying details of the employment report suggest a labor market still on solid footing. Average monthly job growth this year is still outpacing that of 2017, and the official and broader measures of unemployment are holding at or below pre-recession levels.
What has been somewhat surprising is a recent sign of improvement in the workforce participation rate, in particular for "prime-age" workers (25-54 years of age). Notably, prime-age participation for men has shown some signs of life in the past few months, after decades of steady decline. This is important because new entrants to the workforce can serve as a potential release valve in an otherwise tight labor market by keeping wage growth from accelerating too rapidly. While the improvement is not likely to be substantial enough to fully offset the impact of a tightening labor market, it could help the Fed to keep its pace of rate hikes gradual.
What is the workforce participation rate and why is it important?
The overall workforce participation rate is defined as the number of people either employed or looking for work, as a percent of the total population,[i] and is often used as a measure of labor market slack. A low workforce participation rate with the potential to increase should be a positive driver of potential growth, as well as help keep wage growth tame (as the rising supply of labor keeps the price of labor in check), and vice versa. This of course has implications for monetary policy, which is why it is a closely watched measure of labor market health.
In recent years, the workforce participation rate has received quite a bit of attention, as it is one of the few labor market indicators that have failed to return to pre-recession levels. The overall participation rate, currently 62.9%, has been languishing close to its post-recession lows (62.3%, down from its early 2000 peak of 67.3%), with little response to the recovery (Figure 1). This has led many to believe that there is little room for improvement.
Major drivers of the participation rate
Movement in the participation rate is driven by myriad factors, some cyclical and some structural. On the cyclical side, recessions and periods of lackluster growth tend to keep the participation rate low as workers become discouraged about the prospects of finding work in a weak labor market and drop out of the workforce (while periods of strong growth tend to draw people back into the workforce).
On the structural side, demographics tend to be a dominant force. For example, the steady rise in the participation rate from the mid-1960s through the early 2000s was driven largely by women entering the workforce in ever-larger numbers as societal norms shifted (Figure 2). This contrasts sharply with the consistent decline in male workforce participation rate over those same years. Reasons for the deterioration in male participation are less clear, despite extensive academic research on the topic, though the skills mismatch of workers not trained for an increasingly globalized, technology focused economy, as well as higher rates of disability and increased drug use, have been cited as some rationale for the move. Changes in federal policies (in areas such as social assistance, tax, and healthcare) also impact incentives for individuals to join or exit the workforce.
What has been holding the participation rate back in the most recent recovery?
Though the Great Recession, a cyclical factor, did play a large part in accelerating the decline in the participation rate, it is useful to note that the participation had in fact peaked well ahead of the recession, in the early 2000s (Figure 1). This suggests that the decline in the overall participation rate has been driven by influences outside of the recession, namely, structural factors. Demographic impacts are thought to be the prominent factor having driven the decline, as increasing numbers of baby boomers retire and exit the workforce. This factor is likely to be a persistent weight on the participation rate. In addition, rising education levels among those aged 16-24 has kept this group of potential workers out of the workforce for longer compared to previous generations with lower levels of educational attainment, further depressing the overall participation rate. Structural factors like these suggest prospects for a significant improvement in overall workforce participation are slim in the near term.
Prime-age participation—potential for recovery to pre-recession levels?
Unlike the overall participation rate, the prime-age participation rate (25-54 years) has seen a pickup since late 2015, as individuals have moved back into the workforce, enticed by higher wages in a tightening labor market (Figure 4). It currently sits at 82.1%, up from its post-recession lows of 80.6%, but still below its pre-recession high of 84.6%. In particular, the renewed jump in the male prime-age participation rate since late 2017 is notable, though still small relative to the massive downtrend over the past few decades (Figure 3). Wages are expected to continue to rise as the economic expansion matures. If more people continue to enter the workforce, this could have an ameliorating effect on the rate of wage increases, which could help keep the Fed's pace of rate hikes gradual.
Core narrative
We find the recent rise in the prime-age workforce participation rate worth watching, as it can help prevent the labor market from overheating and help stave off the need for the Fed to hike more rapidly than expected. We believe the Fed will hike two additional times this year. Our continued expectation of a gradual pace of hikes supports our current overweight to equities within our portfolios.
Figure 1: Prime-age participation has shown some improvement, while overall participation has stagnated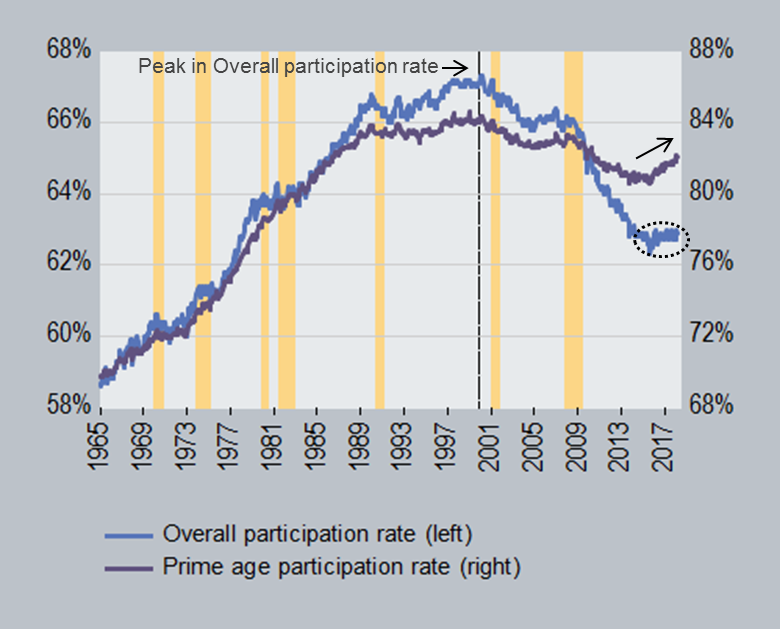 Source: Bureau of Labor Statistics
Data as of April 6, 2018
Figure 2: Overall labor force participation by gender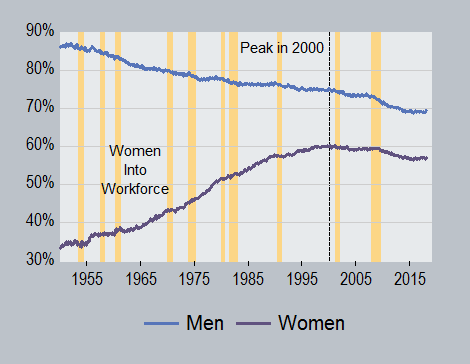 Source: Bureau of Labor Statistics
Data as of April 6, 2018
Figure 3: Prime-age participation has improved for both men and women, with a bounce for men since late 2017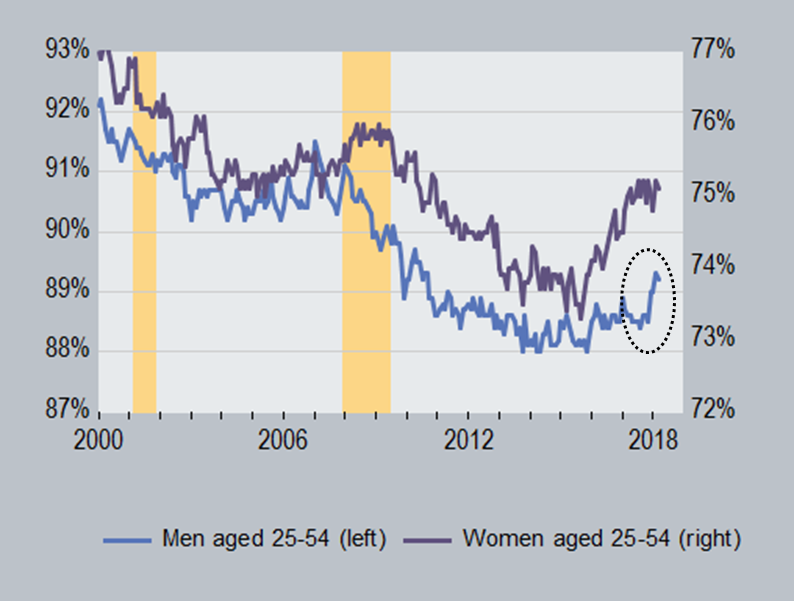 Source: Bureau of Labor Statistics
Data as of April 6, 2018
Figure 4: Prime-age participation rate grinding higher along with wages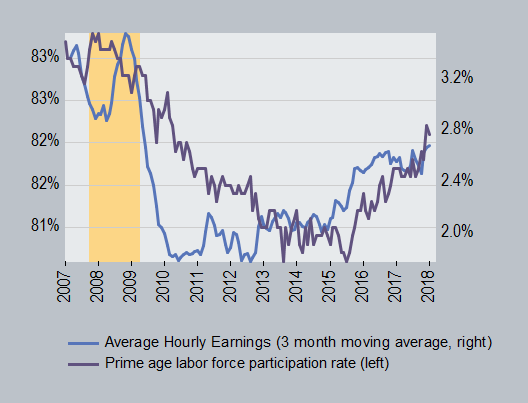 Source: Bureau of Labor Statistics
Data as of April 6, 2018
Disclosures
Wilmington Trust is a registered service mark. Wilmington Trust Corporation is a wholly owned subsidiary of M&T Bank Corporation. Wilmington Trust Company, operating in Delaware only, Wilmington Trust, N.A., M&T Bank and certain other affiliates, provide various fiduciary and non-fiduciary services, including trustee, custodial, agency, investment management and other services. International corporate and institutional services are offered through Wilmington Trust Corporation's international affiliates. Loans, credit cards, retail and business deposits, and other business and personal banking services and products are offered by M&T Bank, member FDIC. Wilmington Trust Investment Advisors, Inc. is an SEC-registered investment adviser providing investment management services to Wilmington Trust and M&T Bank affiliates and clients.
These materials are based on public information. Facts and views presented in this report have not been reviewed by, and may not reflect information known to, professionals in other business areas of Wilmington Trust or M&T Bank who may provide or seek to provide financial services to entities referred to in this report. M&T Bank and Wilmington Trust have established information barriers between their various business groups. As a result, M&T Bank and Wilmington Trust do not disclose certain client relationships with, or compensation received from, such entities in their reports.
The information on Wilmington Wire has been obtained from sources believed to be reliable, but its accuracy and completeness are not guaranteed. The opinions, estimates, and projections constitute the judgment of Wilmington Trust and are subject to change without notice. This commentary is for information purposes only and is not intended as an offer or solicitation for the sale of any financial product or service or a recommendation or determination that any investment strategy is suitable for a specific investor. Investors should seek financial advice regarding the suitability of any investment strategy based on the investor's objectives, financial situation, and particular needs. Diversification does not ensure a profit or guarantee against a loss. There is no assurance that any investment strategy will succeed.
Any investment products discussed in this commentary are not insured by the FDIC or any other governmental agency, are not deposits of or other obligations of or guaranteed by M&T Bank, Wilmington Trust, or any other bank or entity, and are subject to risks, including a possible loss of the principal amount invested. Some investment products may be available only to certain "qualified investors"—that is, investors who meet certain income and/or investable assets thresholds. Past performance is no guarantee of future results. Investing involves risk and you may incur a profit or a loss.
Any positioning information provided does not include all positions that were taken in client accounts and may not be representative of current positioning. It should not be assumed that the positions described are or will be profitable or that positions taken in the future will be profitable or will equal the performance of those described. Positions described are illustrative and not intended as a recommendation outside of a managed account.
Indices are not available for direct investment. Investment in a security or strategy designed to replicate the performance of an index will incur expenses, such as management fees and transaction costs that would reduce returns.
Third-party trademarks and brands are the property of their respective owners.
[i] The total population measure includes those who are aged 16 years or older, noninstitutionalized, and not on active duty in the Armed Forces.
ACCESS THE WILMINGTON WIRE
Discover perspectives on timely wealth and investment management topics, authored by subject matter experts.
Explore Articles