Back
October 14, 2019—The overall direction of the U.S.–China trade conflict is so central to our economic outlook that waiting to hear the outcome of last week's trade negotiations felt a lot like the acute anticipation of waiting for a new baby to arrive. Now that the news of a major "Phase 1" agreement has indeed been delivered, I couldn't resist invoking a second metaphor, hopefully appreciated by those of you old enough to recall the classic Heinz® Ketchup "Anticipation" commercial. The question now, after a weekend of reflection, is whether the significance of Friday's announcement is more along the lines of ketchup coming out of a bottle. The short answer—taking a page from our president's playbook—is that we will have to see what happens.
What we know
Most importantly, the tariffs scheduled to take effect this week will be at worst delayed and at best avoided all together. We continue to believe the uncertainty caused by the trade conflict has had a chilling impact on business investment and that, coupled with the direct impacts of the tariffs themselves, has largely accounted for the sharper-than-forecasted deceleration in global and U.S. growth. As we have articulated previously, we believe the domestic economy is close to its breaking point in terms of the repercussions that the trade dispute has had on manufacturing and business spending. We feel that any further escalation is likely to lead to a recession. So it is within that context that any events leading to the deferral or avoidance of additional tariff escalation represent a positive development.
Figure 1: Global growth forecasts revised lower since start of trade war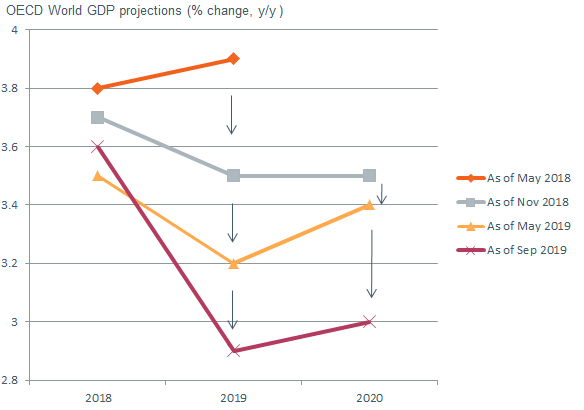 As of September 30, 2019. Source: The Organization for Economic Co-operation and Development.
Beyond this week's scheduled tariffs, the next flash point would be the scheduled December U.S. tariff increase of 15% on an incremental $156 billion of Chinese imports. Furthermore, if in fact a major Phase 1 agreement is reached in approximately five weeks at the Asia-Pacific Economic Cooperation (APEC) summit in Chile, where President Trump and President Xi Jinping are set to meet, then we would expect the U.S. to forgo imposition of these additional December tariffs. In fact, the Chinese appeared to be indicating through the state-controlled media over the weekend and Monday morning that they would require the U.S. to eliminate those tariffs as a condition of any Phase 1 agreement. The Chinese have also expressed that further talks will be necessary in order to finalize the details of the announced Phase 1 agreement.
Figure 2: Breakdown by type of goods for each round of tariffs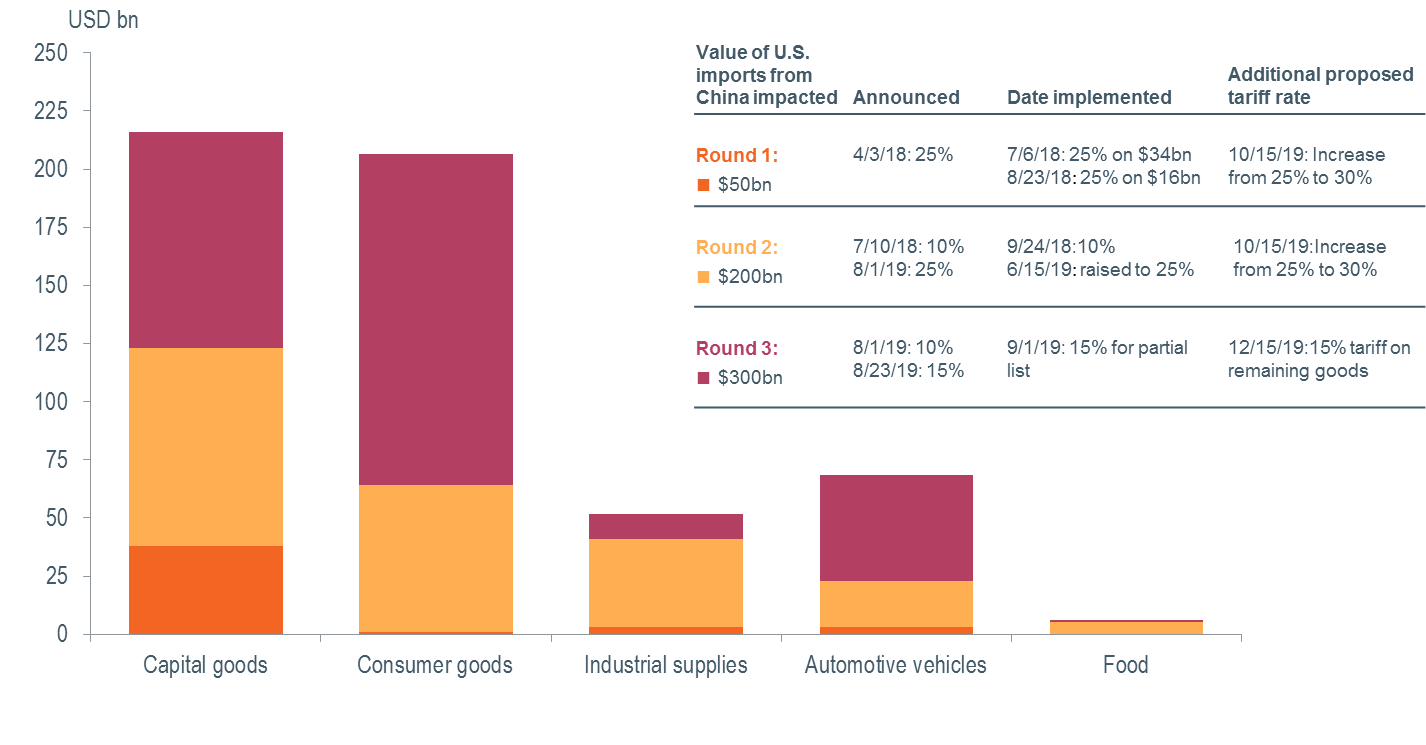 Shows the total dollar value of imports from China to the US affected by tariffs by category of goods and a color-coded breakdown of each category by tariff round.
Data as of September 30, 2019. Sources: Citi Research, USTR, Census Bureau.
What we don't know
Details of the Phase 1 agreement are scant. According to the U.S., the Chinese have agreed to purchase $40–$50 billion of U.S. agricultural products, though the timeframe and whether or not this is a one-time or recurring commitment has not been confirmed. In addition, although the U.S. administration has stated that the Phase 1 agreement will provide some measure of protection for intellectual property rights, no details have been provided. There are also references to opening the Chinese financial industry more broadly to U.S. institutions, but again without concrete details.
Core narrative
Overall, last Friday's announcement follows the broader pattern that has been established in these ongoing trade negotiations, namely the U.S. indicating significant progress toward specific written agreements, with the Chinese expressing more caution and less commitment than the U.S. side seems to imply. Past patterns would suggest that indeed there is no deal unless and until Presidents Trump and Xi put pen to paper, which of course has yet to occur. The enthusiasm apparent on the American side provides a measure of hope that this time may indeed be different. Unfortunately, we just don't know and believe it would be imprudent at this stage to put too many eggs in the "deal getting done" basket. Instead we believe the smarter course of action at this time remains circumspection, maintaining a neutral allocation to risk assets with a somewhat defensive positioning across U.S. equity portfolios. Potential completion of this Phase 1 deal may well represent the peak in trade tensions and usher in another leg to the bull market cycle, but we are unwilling to increase risk in portfolios ahead of reasonable assurance that this is the case. That may mean forgoing some upside in equity markets, which we are willing to do in order to protect against what we view as still-significant downside should talks collapse again and tariffs increase from here. As President Trump is fond of proclaiming, we will have to wait and see what happens. In the meantime, however, we are pleased that the October tariffs have been deferred and hope that, at a minimum, the same can be achieved for the previously announced forthcoming December tariffs. But like waiting for the ketchup to come out of the bottle, significant patience is required in this exercise and we are intent on managing our portfolios with the concerted discipline for which the current circumstances call.
Disclosures
Wilmington Trust is a registered service mark. Wilmington Trust Corporation is a wholly owned subsidiary of M&T Bank Corporation. Wilmington Trust Company, operating in Delaware only, Wilmington Trust, N.A., M&T Bank and certain other affiliates, provide various fiduciary and non-fiduciary services, including trustee, custodial, agency, investment management and other services. International corporate and institutional services are offered through Wilmington Trust Corporation's international affiliates. Loans, credit cards, retail and business deposits, and other business and personal banking services and products are offered by M&T Bank, member FDIC.
Facts and views presented in this report have not been reviewed by, and may not reflect information known to, professionals in other business areas of Wilmington Trust or M&T Bank who may provide or seek to provide financial services to entities referred to in this report. M&T Bank and Wilmington Trust have established information barriers between their various business groups. As a result, M&T Bank and Wilmington Trust do not disclose certain client relationships with, or compensation received from, such entities in their reports.
Diversification does not ensure a profit or guarantee against a loss. There is no assurance that any investment strategy will succeed.
Past performance cannot guarantee future results. Investing involves risk and you may incur a profit or a loss.
Indexes are not available for direct investment. Investment in a security or strategy designed to replicate the performance of an index will incur expenses such as management fees and transaction costs which would reduce returns. Third-party trademarks and brands are the property of their respective owners.
ACCESS THE WILMINGTON WIRE
Discover perspectives on timely wealth and investment management topics, authored by subject matter experts.
Explore Articles