Back
March 1, 2019— On March 2, the specter of the country's swollen debt levels (the accumulation of budget deficits and surpluses over history) will return to the forefront of market attention once again, as the federal government approaches the deadline for reinstatement of the debt ceiling (the limit on government borrowing set by Congress). Since the government is running a budget deficit this year (spending more money than it receives, as it has for all but four years out of the last 50 (Figure 1), it has to borrow money from the public (by issuing new debt) to fund that spending. Technically, a reinstatement of the debt ceiling would curtail the Treasury's ability to borrow the money it needs to pay government bills after March 2. In reality, the Treasury will be able to use various accounting measures to continue making payments beyond that date. The specific date is hard to pinpoint because of uncertainties around exact timing of tax revenues and refunds, but estimates for the "drop dead" deadline range from mid-July to early October, after which the Treasury is expected to run out of cash unless Congress acts before then to suspend or raise the debt limit.
What does this mean for investors? For one thing, it raises potential for a period of brinksmanship between Democrats and Republicans until they negotiate a suspension or increase in the debt limit, which could elevate near-term uncertainty and market volatility. We would expect this to be temporary as long as an agreement is reached, though if the prospect of government default materializes in any way, we would expect more severe market reactions. The debt ceiling crisis of 2011, which raised the credible threat of a default, resulted in the first downgrade in history of U.S. credit by a major rating agency, along with a 17% tumble in the S&P 500 over the course of just two weeks. We place an extremely low probability on default, but if a true government default were to occur due to inaction on the part of Congress, the consequences would be catastrophic in our view, for the U.S. as well as global financial markets. Our base case is that Congress will come to an agreement to suspend or raise the debt ceiling, to avoid putting the Treasury on a path to potential default, but the road to that agreement could be bumpy for investors given the political environment.
Figure 1: Total deficits and surpluses (% of GDP)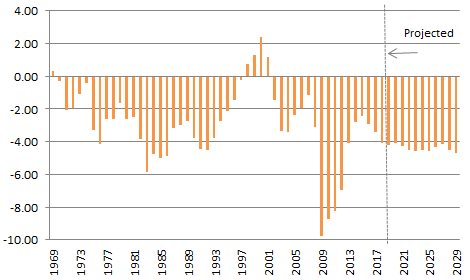 Source: Congressional Budget Office. Data as of January 2019.
Debt ceiling details
As mentioned above, the debt ceiling is the limit set by Congress on how much debt the government can hold, similar to the credit limit on a credit card. Currently, there is no limit in place because it was suspended until today, as part of the Bipartisan Budget Act passed in February 2018. On March 2, however, the debt ceiling will be reinstated at the current amount of outstanding debt as of that date (roughly $22 trillion). The technical implication is that until the debt limit is suspended or increased by Congress, the Treasury will no longer be able to issue additional debt to pay for the nearly $900 billion of projected deficit spending in 2019, and could in theory be unable to pay its bills as of March 2.
In reality, the Treasury can utilize what are known as "extraordinary measures," a set of accounting tools that would allow the Treasury to hold off on making certain payments (such as those for select federal worker investment funds) in order to continue paying its essential bills for longer (similar to a household not paying some less important bills in order make sure it has enough to cover rent and groceries). The nonpartisan Congressional Budget Office, in a report released earlier this week, estimated that the Treasury would likely run out of cash near around October 1, but also noted that this could change depending on timing and size of revenues and payments. Uncertainty about the timing of payments is higher than usual this year because of the changes in tax law that went into effect last year. As a result, there is no specific deadline that can be pinpointed yet as to when the Treasury will run out of cash. Current estimates suggest this date could fall somewhere between mid-July to early October.
Congress will additionally have to deal with an October 1 deadline to come to an agreement on spending levels for 2020 in order to avoid another government shutdown. October 1 is also the deadline after which automatic budget cuts to reduce the deficit (sometimes referred to as sequestration) will kick in unless Congress takes action. These measures were put in place by the Budget Control Act of 2011, (but have been modified by various acts since then). Sequestration measures would reduce the amount of discretionary spending in 2020 by approximately $126 billion, or about 10%, though given the upcoming 2020 elections, we would expect that neither Democrats nor Republicans would allow this to occur.
Negotiations likely to bring near-term temporary volatility, but any prospect of default would be cause for serious concern
The impact of political uncertainty on markets is still fresh in our minds, given the recent government shutdown. However, we would point out that the risks around debt ceiling negotiations are significantly different than those around a government shutdown. The government shutdown resulted in government employees and contractors not being paid during the course of the shutdown, and while this had very real impacts on market volatility, consumer sentiment, business confidence, and growth, these impacts largely subsided once the government reopened.
The debt ceiling deadline differs because the consequences of not suspending or raising the debt limit in a timely manner are much more severe and would result in the Treasury defaulting on its existing debt. This would have disastrous implications, not just for financial markets in the U.S., but also around the world. The U.S. Treasury market and U.S. dollar together have a unique role as an anchor and backbone of the U.S. and entire international financial system. They serve as a benchmark for pricing and as collateral for many other securities, are among the most liquid financial assets, and also serve as safe haven assets for investors across the globe, as there has been no precedent for default. If default were to occur, it would be such a monumental event that no one really knows what would happen. However, it is likely that interest rates could spike sharply (which would increase borrowing costs), credit markets could seize up, and the dollar's value could plunge, with these impacts reverberating across the world's financial markets. The massive and severe consequences of default explain why expectations for U.S. default are typically so low.
Debt ceiling negotiations need not necessarily lead to worries about default. Since it was established by Congress in 1939, the debt ceiling has been raised nearly 100 times, and since 2013 it has been suspended six times. While there may have been uncertainty around many of these negotiations, most have resolved themselves without major concerns about default. However, it is useful to understand the potential impact of the threat of default on markets. The 2011 debt ceiling episode stands out most clearly as an example for what might occur in such a situation, as it was the first time that members of Congress had suggested the real possibility of default as a potential outcome if negotiations around the debt ceiling were unsuccessful. Though it is difficult to parse out the specific impacts of the debt ceiling crisis—given that Europe was experiencing a debt crisis at the time as well, and U.S. economic data at the time was choppy—measures of stock market volatility spiked, credit spreads widened, and consumer and business confidence declined. There was a notable fall in the S&P 500 (-17%) in late July at the height of the tensions in negotiations until August 2, 2011, when the debt limit was finally increased. The Government Accountability Office estimated that the crisis increased the Treasury's borrowing costs by $1.3 billion during the 2011 fiscal year. The episode culminated in the first downgrade of U.S. sovereign credit by a major credit agency (S&P), from AAA to AA+ due to concerns about longer-term debt sustainability, but also due to instability of the political process. It took nearly nine months for the equity market to revert to pre-debt ceiling crisis levels.
Figure 2: S&P 500 reaction during 2011 debt ceiling crisis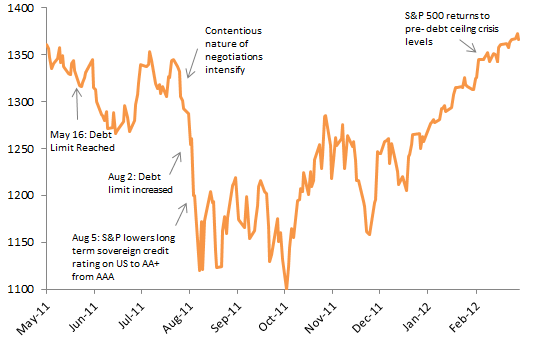 Sources: Macrobond, Government Accountability Office, WTIA. Data as of February 27, 2019.
With regard to the upcoming debt ceiling deadline, we would brace for some potential turbulence in markets, and would expect that consumer and business confidence could be dampened if negotiations are contentious and prolonged. Our base case expectation, however, is that lawmakers will move forward to eventually lift the debt ceiling without raising serious concerns about the threat of default given the experience of 2011. We expect an extremely low probability of default given the grave consequences for financial markets and the fact that neither party would want to be held responsible for such a catastrophe ahead of the 2020 elections, but would be vigilant for any signs of the threat of default.
Core narrative
Volatility has not been a stranger to markets since 2018, and upcoming debt ceiling negotiations suggest that uncertainty and volatility will continue to be a key market driver as Congress negotiates an agreement on the debt ceiling in the coming weeks, and possibly months. Our base case is that the debt ceiling will be raised in a timely manner prior to any concerns about potential default, which would become more acute if negotiations were to drag on into the estimated timeframe for when the Treasury is expected to run out of funds to pay its debt without a debt ceiling increase (mid-summer to mid-fall).
We remain overweight U.S. large cap equities despite our expectations for potentially elevated uncertainty and volatility. We believe still-solid U.S. growth indicators, the Fed's "patient" approach to monetary policy, and potential upside for markets related to a possible trade deal between China and the U.S. should outweigh the risks of volatility during the process of debt ceiling negotiations, barring any real threat of default. However, we will be vigilant for any prospects of Congress failing to act and allowing even the possibility of default. An actual U.S. government default on debt would upend the entire international financial system, and result in severe dislocations across financial markets around the globe, though we would place a very low probability on this outcome.
Disclosures
Wilmington Trust is a registered service mark. Wilmington Trust Corporation is a wholly owned subsidiary of M&T Bank Corporation. Wilmington Trust Company, operating in Delaware only, Wilmington Trust, N.A., M&T Bank and certain other affiliates, provide various fiduciary and non-fiduciary services, including trustee, custodial, agency, investment management and other services. International corporate and institutional services are offered through Wilmington Trust Corporation's international affiliates. Loans, credit cards, retail and business deposits, and other business and personal banking services and products are offered by M&T Bank, member FDIC. Wilmington Trust Investment Advisors, Inc. is an SEC-registered investment adviser providing investment management services to Wilmington Trust and M&T Bank affiliates and clients.
These materials are based on public information. Facts and views presented in this report have not been reviewed by, and may not reflect information known to, professionals in other business areas of Wilmington Trust or M&T Bank who may provide or seek to provide financial services to entities referred to in this report. M&T Bank and Wilmington Trust have established information barriers between their various business groups. As a result, M&T Bank and Wilmington Trust do not disclose certain client relationships with, or compensation received from, such entities in their reports.
The information on Wilmington Wire has been obtained from sources believed to be reliable, but its accuracy and completeness are not guaranteed. The opinions, estimates, and projections constitute the judgment of Wilmington Trust and are subject to change without notice. This commentary is for information purposes only and is not intended as an offer or solicitation for the sale of any financial product or service or a recommendation or determination that any investment strategy is suitable for a specific investor. Investors should seek financial advice regarding the suitability of any investment strategy based on the investor's objectives, financial situation, and particular needs. Diversification does not ensure a profit or guarantee against a loss. There is no assurance that any investment strategy will succeed.
Any investment products discussed in this commentary are not insured by the FDIC or any other governmental agency, are not deposits of or other obligations of or guaranteed by M&T Bank, Wilmington Trust, or any other bank or entity, and are subject to risks, including a possible loss of the principal amount invested. Some investment products may be available only to certain "qualified investors"—that is, investors who meet certain income and/or investable assets thresholds. Past performance is no guarantee of future results. Investing involves risk and you may incur a profit or a loss.
Any positioning information provided does not include all positions that were taken in client accounts and may not be representative of current positioning. It should not be assumed that the positions described are or will be profitable or that positions taken in the future will be profitable or will equal the performance of those described. Positions described are illustrative and not intended as a recommendation outside of a managed account.
Indices are not available for direct investment. Investment in a security or strategy designed to replicate the performance of an index will incur expenses, such as management fees and transaction costs that would reduce returns.
Third-party trademarks and brands are the property of their respective owners.
ACCESS THE WILMINGTON WIRE
Discover perspectives on timely wealth and investment management topics, authored by subject matter experts.
Explore Articles