Back
June 28, 2018—One of the much-heralded benefits of tax reform enacted at the end of last year was the expectation of a boost to GDP due to strong incentives for companies to increase capital expenditures, or "capex." With companies now having had nearly six months to digest the tax reform package, economists and markets have been eagerly awaiting signs of a pickup in the data. What is the verdict? So far, indications are positive, with capex spending as reported in S&P 500 company filings up 22% year over year (y/y) as of 1Q 2018 (compared to 5% y/y on average in the first quarter since 1999). Nonresidential fixed investment—the official, economy-wide measure of capex in the GDP data—refers to spending by companies on buildings, equipment (such as computers, industrial machinery, or transport), and intellectual property (such as research and development or software). This measure is up 7.1%y/y in 1Q 2018 (compared to 2.7% y/y on average in the first quarter since 1999). Excluding the volatile energy- related investment category, the data show a pickup as well, with figures up 5.9% y/y (compared to 2.1% y/y on average in the first quarter since 1999). This increased capex due to tax reform is positive for near-term GDP, and is one reason our 2018 GDP forecast was boosted to 3.0% from 2.25% (along with an expectation of increased consumer spending).
Figure 1: Capex indicators perking up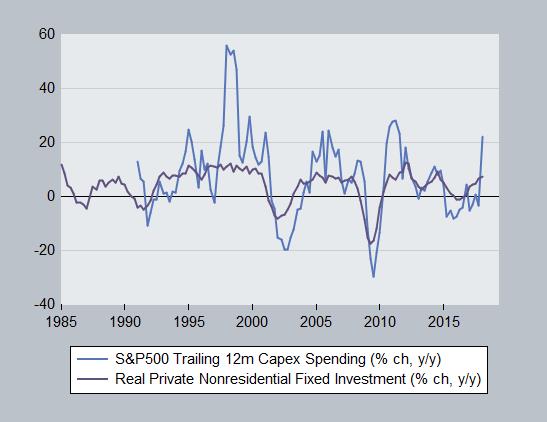 Source: Strategas Research, Bureau of Economic Analysis.
Data as of March 31, 2018.
Capex pickups take time to translate into productivity gains
While tax reform may be behind the recent burst of capex, the uptrend in capex actually began back in early 2016 on a y/y basis. We attribute this to a labor market that was beginning to tighten at the time. When labor is cheap, as it was in the early stages of the recovery when unemployment was high, firms can hire workers inexpensively, so they have less incentive to spend money on investments to boost output. Tight labor markets like we've had in more recent years, in contrast, tend to prompt rising wages, which in turn encourages firms to invest in labor-saving technologies to reduce costs. Firms can then boost output with less impact on margins.
As increasing numbers of companies invest and adopt new technologies, this should result in an increase in economy-wide productivity, a measure of an economy's efficiency. Productivity in the U.S. is typically measured by labor productivity, defined as the amount of output produced (GDP) per hour worked.[i] Labor productivity in the U.S. has been notably low, with an average growth rate during this business cycle of 1.2% y/y (and currently sitting at 1.3% y/y as of 1Q 2018)—compared to an average growth rate of 2.3% y/y during the past 10 business cycles since 1948, according to the Bureau of Labor Statistics. Any prospect of rising productivity for the broader economy would be welcome, because it would boost output in the long run and keep inflationary pressures at bay (since firms minimize the impact of rising wages by utilizing new technologies instead), which in turn should allow the Fed to maintain its gradual pace of rate hikes.
The relationship between capex and productivity tends to show a lag however, as it takes time for firms to adopt and utilize their new investments before the impacts can be seen within their firms, and then spillover to the broader economy. Figure 2 below shows the relationship between the 5-year annualized growth rate in capex (lagged, or pushed forward in the chart), and the 5-year annualized growth rate of productivity. This suggests there is a delay in the response of productivity to rising capex. For example, the chart suggests that the big boost in productivity in the mid-2000's was actually the result in a surge of capex five years earlier. Interestingly, the chart also suggests that even without tax reform, productivity appears poised to pick up in the years ahead in response to the rising capex we have seen over the past few years. The additional boost to capex due to the recent tax reform also bodes well for productivity going forward.
Figure 2: Productivity poised for a pickup?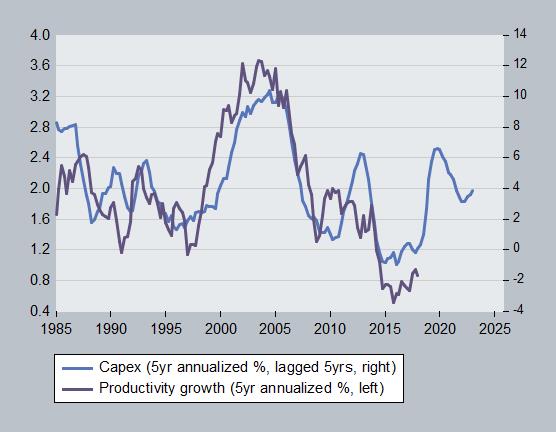 Sources: Bureau of Economic Analysis, WTIA.
Data as of March 31, 2018.
Core narrative
The boost to capex from tax reform measures enacted this year should help boost productivity, though these gains will likely take some time to materialize. In the near term though, productivity should experience a lift as a result of the uptrend in capex that was already under way due to labor market tightening in prior years. Rising productivity should support growth and keep inflation at bay, allowing the Fed to pursue a moderate path of hikes. This should continue to support our current overweight to equities in our portfolios.
We are mindful however of the potential for recent rising trade tensions to dampen confidence and derail the current capex recovery. While U.S. business confidence indicators (such as purchasing manager indices and business optimism indicators) have remained resilient thus far, we will be watchful for any sharp escalation in trade tensions, along with any signs of a significant dent in capex, which would bode poorly for the prospects of a pickup in productivity in the longer run.
Disclosures
Wilmington Trust is a registered service mark. Wilmington Trust Corporation is a wholly owned subsidiary of M&T Bank Corporation. Wilmington Trust Company, operating in Delaware only, Wilmington Trust, N.A., M&T Bank and certain other affiliates, provide various fiduciary and non-fiduciary services, including trustee, custodial, agency, investment management and other services. International corporate and institutional services are offered through Wilmington Trust Corporation's international affiliates. Loans, credit cards, retail and business deposits, and other business and personal banking services and products are offered by M&T Bank, member FDIC. Wilmington Trust Investment Advisors, Inc. is an SEC-registered investment adviser providing investment management services to Wilmington Trust and M&T Bank affiliates and clients.
These materials are based on public information. Facts and views presented in this report have not been reviewed by, and may not reflect information known to, professionals in other business areas of Wilmington Trust or M&T Bank who may provide or seek to provide financial services to entities referred to in this report. M&T Bank and Wilmington Trust have established information barriers between their various business groups. As a result, M&T Bank and Wilmington Trust do not disclose certain client relationships with, or compensation received from, such entities in their reports.
The information on Wilmington Wire has been obtained from sources believed to be reliable, but its accuracy and completeness are not guaranteed. The opinions, estimates, and projections constitute the judgment of Wilmington Trust and are subject to change without notice. This commentary is for information purposes only and is not intended as an offer or solicitation for the sale of any financial product or service or a recommendation or determination that any investment strategy is suitable for a specific investor. Investors should seek financial advice regarding the suitability of any investment strategy based on the investor's objectives, financial situation, and particular needs. Diversification does not ensure a profit or guarantee against a loss. There is no assurance that any investment strategy will succeed.
Any investment products discussed in this commentary are not insured by the FDIC or any other governmental agency, are not deposits of or other obligations of or guaranteed by M&T Bank, Wilmington Trust, or any other bank or entity, and are subject to risks, including a possible loss of the principal amount invested. Some investment products may be available only to certain "qualified investors"—that is, investors who meet certain income and/or investable assets thresholds. Past performance is no guarantee of future results. Investing involves risk and you may incur a profit or a loss.
Any positioning information provided does not include all positions that were taken in client accounts and may not be representative of current positioning. It should not be assumed that the positions described are or will be profitable or that positions taken in the future will be profitable or will equal the performance of those described. Positions described are illustrative and not intended as a recommendation outside of a managed account.
Indices are not available for direct investment. Investment in a security or strategy designed to replicate the performance of an index will incur expenses, such as management fees and transaction costs that would reduce returns.
Third-party trademarks and brands are the property of their respective owners.
[i] Multifactor (or total factor) productivity, is another more comprehensive measure of productivity, because it looks at output produced divided by all inputs (labor, capital, materials, energy, purchased services). However, there is a significant lag in the publication of this data, and it is published on annual rather than quarterly basis, so markets tend to focus on labor productivity.
ACCESS THE WILMINGTON WIRE
Discover perspectives on timely wealth and investment management topics, authored by subject matter experts.
Explore Articles