Back
September 5, 2018—At the end of September, the S&P 500 index is getting a makeover. Below we answer the four most pressing questions related to the changes.
1) What is happening?
On September 30, 2018 Standard & Poor's is reshuffling their sector schematic, which will include redefining the existing technology, consumer discretionary, and telecommunications sectors. The current telecom sector will be converted to a new communications services sector, which will now include internet services (e.g., Google, Facebook) and home entertainment software stocks from the current tech sector (e.g., Activision Blizzard, Electronic Arts), as well as media (e.g., Disney, Comcast) and digital streaming and internet services (e.g., Netflix, TripAdvisor) from the current consumer discretionary sector. Verizon, CenturyLink, and AT&T—the only three stocks in the current telecom sector—will remain in the new communications Services sector. The tech and discretionary sectors will continue to operate with the exception of those stocks peeled out and added to the new communications services sector.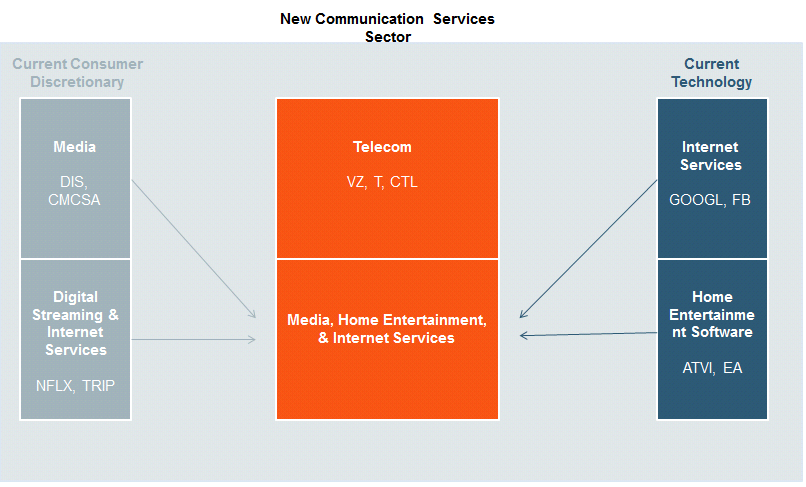 Source: WTIA
2) What do I, as an investor, need to do?
No action is required for anyone holding any of the affected names as individual securities in a separately managed account. The same is true for anyone holding an individual sector exchange-traded fund (ETF) like the Vanguard Consumer Discretionary ETF (ticker: VCR). The ETF providers are automatically taking the necessary steps to move stocks to their new sectors. For those clients utilizing a sector allocation strategy, the weights of the different sectors would need to be adjusted, as the tech sector's weight in the S&P 500 will be decreasing from 26% to 21%, the consumer discretionary sector from 13% to 10%, and the new communications services sector from 2% (the old telecom weight) to 10%. Such an adjustment would not necessarily constitute a change in view on any of these sectors, but rather an acknowledgment of the new weights in the overall index. The estimated tax impact can vary depending on the holding period.
3) How will the new sectors compare to the old sectors?
The sector changes outlined above will have the most dramatic impact on the current telecom sector, which has historically been a highly concentrated sector with value characteristics but a very small weight in the overall index, limiting its influence. While equity investors will be losing a bond proxy, the new communications services sector will offer a much more diversified and growth-oriented collection of companies. Whereas the old telecom sector traded at a price-to-earnings ratio of 10x next-12-month earnings estimates, the new communications services sector will trade at a multiple of almost 18x. As you may imagine, given the inclusion of well-performing names like Google, Facebook, and Netflix, had the new communications sector existed over the last five years, it would have outperformed the S&P 500 by 3% per year, compared to the telecom sector which underperformed the index by about 13% per year. Going forward, sector performance could be different, given that the communications services sector will be more evenly distributed between investing styles (growth vs. value and cyclical vs. defensive).
The new tech and discretionary will not look all that different in terms of valuation or historical performance. The new tech sector will generate slightly lower revenue growth (estimates for 2018 revenue growth of 9% versus over 11% under the old classification) and earnings growth.
4) What are the implications for portfolios?
One of the biggest differences will be adjusting to thinking about names like Google and Facebook no longer as tech plays but rather as part of the new way we communicate in the age of the internet. There will also be a slight adjustment to how investors utilize different sectors to express views in their portfolios. The new tech sector, for example, may not generate the same degree of organic growth that it did in recent years. Also, tactically tilting portfolios toward telecom was a blunt but effective way of protecting portfolios and getting more defensive. The communications sector may no longer serve that purpose and could instead act more like the industrials or consumer discretionary sectors, which provide a diverse array of industries and companies, some with cyclical characteristics and others more defensive.
Core narrative
These changes ultimately reflect the view that technology is much more pervasive today than it has been historically—a view we expanded upon in the May issue of Capital Perspectives, "Technology: Going where no sector has gone before." Technology is utilized by nearly every business model regardless of sector, and technology companies are a key beneficiary of capital expenditure growth by non-tech businesses. The S&P reclassification is one illustration of the view that, going forward, we will need to adjust how we think about technology and its role in the economy.
Disclosures
Wilmington Trust is a registered service mark. Wilmington Trust Corporation is a wholly owned subsidiary of M&T Bank Corporation. Wilmington Trust Company, operating in Delaware only, Wilmington Trust, N.A., M&T Bank and certain other affiliates, provide various fiduciary and non-fiduciary services, including trustee, custodial, agency, investment management and other services. International corporate and institutional services are offered through Wilmington Trust Corporation's international affiliates. Loans, credit cards, retail and business deposits, and other business and personal banking services and products are offered by M&T Bank, member FDIC. Wilmington Trust Investment Advisors, Inc. is an SEC-registered investment adviser providing investment management services to Wilmington Trust and M&T Bank affiliates and clients.
These materials are based on public information. Facts and views presented in this report have not been reviewed by, and may not reflect information known to, professionals in other business areas of Wilmington Trust or M&T Bank who may provide or seek to provide financial services to entities referred to in this report. M&T Bank and Wilmington Trust have established information barriers between their various business groups. As a result, M&T Bank and Wilmington Trust do not disclose certain client relationships with, or compensation received from, such entities in their reports.
The information on Wilmington Wire has been obtained from sources believed to be reliable, but its accuracy and completeness are not guaranteed. The opinions, estimates, and projections constitute the judgment of Wilmington Trust and are subject to change without notice. This commentary is for information purposes only and is not intended as an offer or solicitation for the sale of any financial product or service or a recommendation or determination that any investment strategy is suitable for a specific investor. Investors should seek financial advice regarding the suitability of any investment strategy based on the investor's objectives, financial situation, and particular needs. Diversification does not ensure a profit or guarantee against a loss. There is no assurance that any investment strategy will succeed.
Any investment products discussed in this commentary are not insured by the FDIC or any other governmental agency, are not deposits of or other obligations of or guaranteed by M&T Bank, Wilmington Trust, or any other bank or entity, and are subject to risks, including a possible loss of the principal amount invested. Some investment products may be available only to certain "qualified investors"—that is, investors who meet certain income and/or investable assets thresholds. Past performance is no guarantee of future results. Investing involves risk and you may incur a profit or a loss.
Any positioning information provided does not include all positions that were taken in client accounts and may not be representative of current positioning. It should not be assumed that the positions described are or will be profitable or that positions taken in the future will be profitable or will equal the performance of those described. Positions described are illustrative and not intended as a recommendation outside of a managed account.
Indices are not available for direct investment. Investment in a security or strategy designed to replicate the performance of an index will incur expenses, such as management fees and transaction costs that would reduce returns.
Third-party trademarks and brands are the property of their respective owners.
ACCESS THE WILMINGTON WIRE
Discover perspectives on timely wealth and investment management topics, authored by subject matter experts.
Explore Articles