Back
July 31, 2020—As we head into the weekend, Congress is facing some self-imposed deadlines and increasing pressure to pass a new fiscal stimulus package to support the still-weak economy. The most often cited technical deadline is today, July 31, the official end date of the $600 per week boost to unemployment insurance (U/I) recipients. In truth that deadline has passed, as the Department of Labor and state U/I programs operate on a "week-ending" framework so the last week of the boost ended July 25. The real impetus is the slowing economy as seen in high-frequency labor and spending data. Should the July jobs report disappoint when released on Friday, August 7, financial markets could be in for a shock. We believe the size and makeup of this next package to be paramount for the near-term outlook of the economy and to fulfill the optimism that we see as already priced into markets.
Despite the yawning gap between the House-passed $3.5 trillion and Senate-proposed $1 trillion plans, sharp public disagreement, and short timeline, we are accustomed to such brinksmanship. We believe a deal of some kind will pass both chambers of Congress and be signed into law in the next two weeks. It will likely come in around $1.5 trillion with each side giving a little. But the details matter significantly to the path of the economic recovery and markets. Combining the uncertainty of the package with the unknown path of the virus spread, lethality, treatments, and degree of permanent economic damage, we remain cautious on the near-term outlook for equity markets and continue to recommend a slight underweight to equities. We also recently added an allocation to gold to help strengthen portfolios (Read: Building Resilient Portfolios by Head of Investment Strategy Meghan Shue)
Note: We feel it important to state from the outset that we do not take a political or policy position in this matter, and do not advocate for either bill nor any specific component. As with all matters of policy, we take an objective approach, form an expectation of what is likely to be included, and then use that expectation to make judgments about the likely impact on the economy and markets.
The importance of the stimulus
Regardless of whether the previous rounds of stimulus should be judged as "good" or "bad" policy, the impact they have had on recent economic data and the performance of financial markets cannot be ignored. In recessions, when jobs and wages are lost it leads to a decline in total income and, in turn, weigh on spending. Total income is the sum of wages, salaries, proprietor income, investment income, and various forms of government support. This recession is like no other, and the government response is unprecedented too. The massive fiscal stimulus, primarily in the form of $300 billion in direct stimulus payments to households, broadened eligibility to U/I, and a $600 per week boost to all U/I recipients led to total personal income leaping by 12.1% in April, a previously unheard-of surge. The direct stimulus payments hit mostly in April, so total income in May and June declined, but the generous U/I benefits continue. Along with some job gains they all translate to total income in June that is 4% higher than the pre-pandemic level in February.
Figure 1 shows how consumer spending has fared over the course of the crisis. The rebound in spending on goods has been astounding, now 3.4% above pre-pandemic levels. The surge in spending was driven mainly by the stimulus checks and U/I benefits. Spending on services has been much weaker because so many of them require close personal contact (nail salons, hair salons) or remain very restricted (hotels, entertainment, movie theaters).
Figure 1: Consumer spending by category (cumulative % chg. in months since start of recession)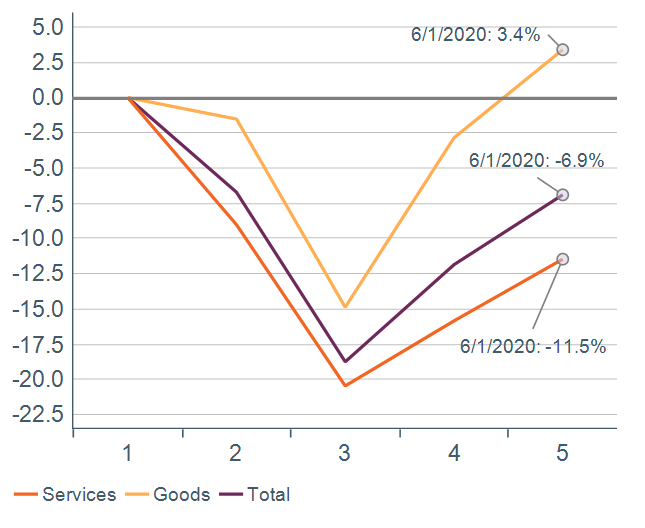 Sources: Bureau of Economic Analysis, WTIA. Data as of June 30, 2020.
As is shown in Figure 2, the breakdown of the encouraging rebound in spending on goods has not been uniform. The best-performing sectors include sporting goods and home improvement due to consumers fortifying their homes with gym equipment and nicer backyards while stuck at home. That kind of spending is made easy for workers who kept their jobs and also received a stimulus check. Online shopping and grocery stores have understandably surged as well.
Figure 2: Change in retail sales by sector (February 2020 to June 2020)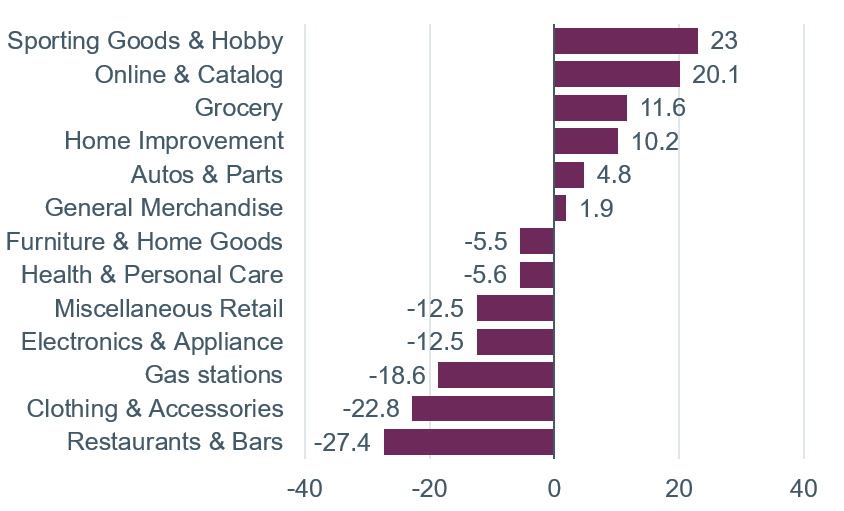 Sources: U.S. Census Bureau, WTIA. Data as of June 30, 2020.
The importance of the stimulus to this spending is easy to see if we scale it to spending levels. The $300 billion in stimulus checks is about 25% the size of a single month of total consumer spending. Most of that money is spent already, but a good chunk was saved too. To scale the $600 per week boost to U/I, that amounted to $95 billion of income in June, or about 8% of total spending. Put another way, if Congress fails to reach a deal and the full boost to U/I disappears, we would expect consumer spending to fall sharply in August creating a monumental challenge to economic recovery.
Again, we are not advocating for any particular aspect of the proposed stimulus nor the sizing. We are merely observing that the sharp recovery in spending has relied heavily on previous stimulus, and if it disappears entirely or is sharply reduced quickly, we believe spending would fall. But there are obvious downsides to the stimulus that is creating a main flashpoint for the negotiations, which we discuss below.
Haggling over $2.5 trillion
The obvious difference between the two main stimulus bills is the size. The House plan that passed on May 15, 2020, would cost an estimated $3.5 trillion, while the Senate plan introduced earlier this week is much lower at $1 trillion. Table 1, below, compares major aspects with a focus on the most costly items and the most divisive. (The table is not comprehensive. Both sides propose similarly sized loans to badly hurt sectors as well as litanies of other legislative and programmatic changes. Table 1 highlights the major points.)
One commonality is the desire to send more stimulus checks to taxpayers with less than $99,000 of income. Both would send $1,200 to individuals and $2,400 for couples, but sharply different amounts for other dependents. We expect this to be an easily agreed-upon item that would then help boost spending again as described above.
Another area of likely agreement is the extension of the Small Business Administration's (SBA) Paycheck Protection Program (PPP). That program extended loans to small businesses based on their payroll costs to keep workers employed and help defray other overhead costs. So long as businesses spent a specified amount keeping workers employed, the loans were forgiven and converted to grants. Both sides would like to give businesses another round of such support, though with differing amounts and eligibilities. We also expect this to be resolved and enacted, but at smaller amounts than the first round and restricted to smaller businesses.
The main points of disagreement are U/I benefits and liability protections. On the former, the two plans differ drastically. The House plan would extend the extra $600 per week for another six months to January 2021. That would support spending as we described above but comes at a high dollar cost and could forestall improvement in the labor market. The generous, flat-rate of $600 per week in addition to the regular U/I benefit translates to many unemployed workers taking home more while at not working than they did when working. For some, that is enough incentive to refuse job offers or even start looking.
The Senate plan would reduce the boost to $200 per week for August and September, then move to a total benefit of 70% of lost income. That would indeed incentivize workers to search out and accept job offers more than the current benefit. The key question is how quickly the labor market will heal and generate enough job openings. We expect a slow labor market recovery. Reducing the benefit over time is a desirable outcome, but we do expect the timeline in the Senate plan would reduce consumer spending in the near-term and weigh on economic recovery.
Liability protection is another key point of disagreement. The Senate plan provides protections for businesses, schools, and other institutions from COVID-19-related lawsuits if they can show they followed health guidance to maintain safety. The House plan does not address this issue.
Lastly, an important difference is aid to state and local governments included in the House plan but not the Senate, and at $875 billion is one of the biggest reasons for the difference in cost. State and local governments are facing significant revenue shortfalls and have cut more than one million jobs. They have received support in previous fiscal stimulus rounds as well as from the Federal Reserve. This is an important issue that we will deal with in a subsequent post, likely after a deal is struck.
Core narrative
The economic and market outlook is highly uncertain, and the path forward for each depends heavily on myriad factors including the spread of the virus, medical advancements, and the fiscal stimulus discussed above. We expect the stimulus package to be agreed upon in the next week or two and include another round of direct stimulus checks to households and another boost to U/I benefits. But the uncertainty of the final package along with the unpredictable nature of the virus keeps us cautious. We maintain our recommendation of a slight underweight to equities in portfolios. We also recently added an allocation to gold to build resilience in portfolios.
Table 1: HEROES1 and HEALS Acts2 – Comparison of major components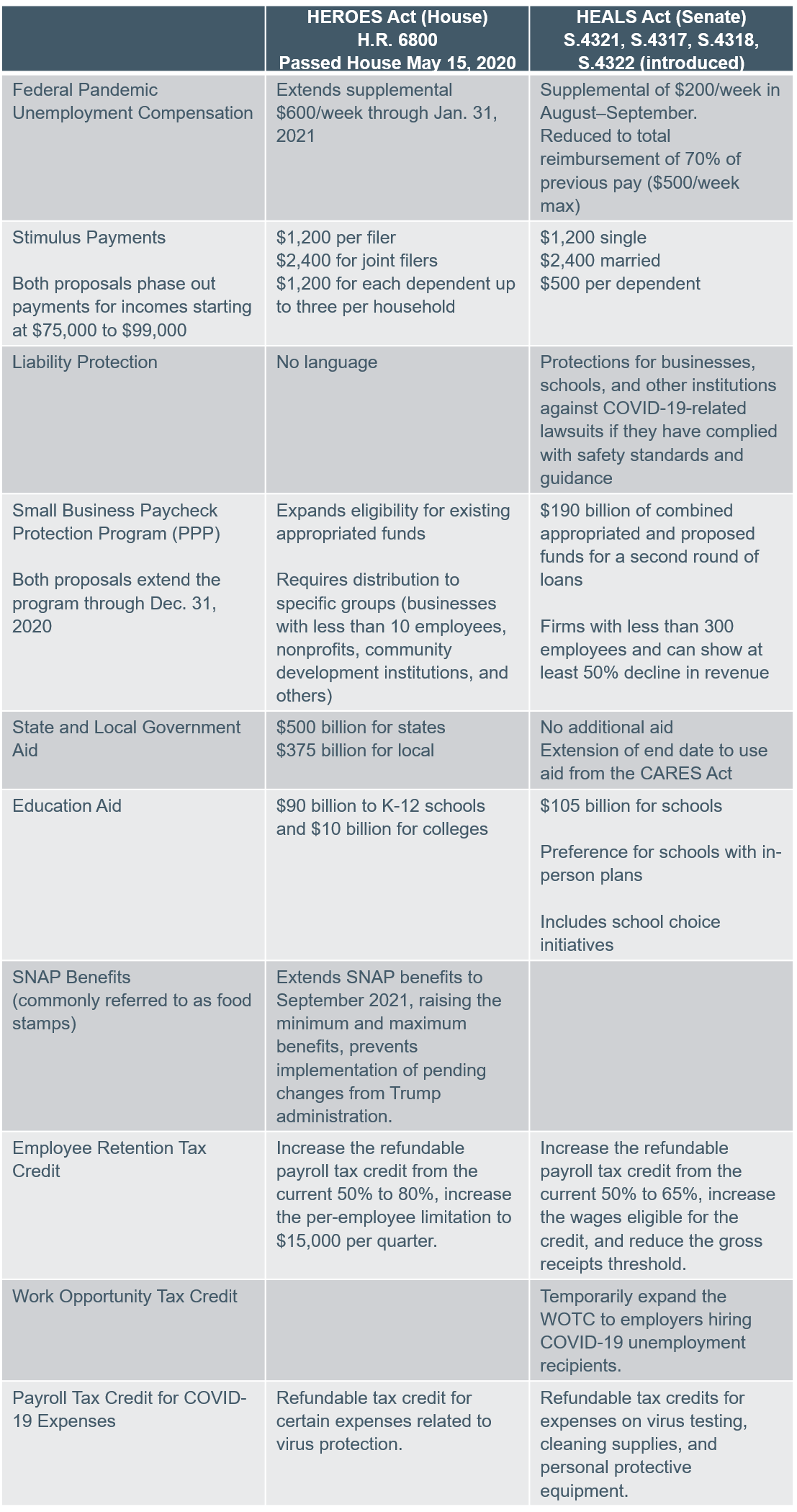 Sources: Akin Gump, Grant Thornton, Arnold & Porter, Tax Foundation, Congressional Research Service, Strategas, WTIA.
1 Health and Economic Recovery Omnibus Emergency Solutions Act (HEROES) Act.
2 The Health, Economic Assistance, Liability Protections & Schools (HEALS) Act.
Disclosures
Wilmington Trust is a registered service mark used in connection with various fiduciary and non-fiduciary services offered by certain subsidiaries of M&T Bank Corporation including, but not limited to, Manufacturers & Traders Trust Company (M&T Bank), Wilmington Trust Company (WTC) operating in Delaware only, Wilmington Trust, N.A. (WTNA), Wilmington Trust Investment Advisors, Inc. (WTIA), Wilmington Funds Management Corporation (WFMC), and Wilmington Trust Investment Management, LLC (WTIM). Such services include trustee, custodial, agency, investment management, and other services. International corporate and institutional services are offered through M&T Bank Corporation's international subsidiaries. Loans, credit cards, retail and business deposits, and other business and personal banking services and products are offered by M&T Bank, member FDIC.
Facts and views presented in this report have not been reviewed by, and may not reflect information known to, professionals in other business areas of Wilmington Trust or M&T Bank who may provide or seek to provide financial services to entities referred to in this report. M&T Bank and Wilmington Trust have established information barriers between their various business groups. As a result, M&T Bank and Wilmington Trust do not disclose certain client relationships with, or compensation received from, such entities in their reports.
The information on Wilmington Wire has been obtained from sources believed to be reliable, but its accuracy and completeness are not guaranteed. The opinions, estimates, and projections constitute the judgment of Wilmington Trust and are subject to change without notice. This commentary is for informational purposes only and is not intended as an offer or solicitation for the sale of any financial product or service or a recommendation or determination that any investment strategy is suitable for a specific investor. Investors should seek financial advice regarding the suitability of any investment strategy based on the investor's objectives, financial situation, and particular needs. Diversification does not ensure a profit or guarantee against a loss. There is no assurance that any investment strategy will succeed.
Past performance cannot guarantee future results. Investing involves risk and you may incur a profit or a loss.
Indexes are not available for direct investment.
©2020 M&T Bank Corporation and its subsidiaries. All rights reserved.
ACCESS THE WILMINGTON WIRE
Discover perspectives on timely wealth and investment management topics, authored by subject matter experts.
Explore Articles