Back
August 7, 2018— Now that the S&P 500 earnings calendar has seen the second quarter come and go, most companies have reported results that reflect another stellar earnings season. More companies—over 80%—beat earnings in the second quarter than during any point since the mid '90s, when data started being tracked. On average, earnings beat analysts' estimates by about 5%. Earnings season is normally a bit of a game we don't get overly caught up in, as the tendency is for companies to guide analysts' expectations lower throughout the quarter only to "surprise" by beating those lower estimates. But this year we have seen estimates revised up throughout the quarter, making the positive surprises that much more impressive.
Tax cuts have certainly helped earnings so far this year, accounting for approximately 7%–8% of the S&P 500's 25% earnings growth in the second quarter. (Companies this year have enjoyed a lower tax rate, which improves after-tax earnings compared to this time last year when they were paying a higher rate.) This will not be repeated next year, but we are encouraged by organic growth on both the top and bottom line. U.S. large-cap companies have been posting revenue growth of about 10% versus last year, reflecting the solid domestic macroeconomic backdrop.
S&P Earnings and Revenue Growth: 2Q 2018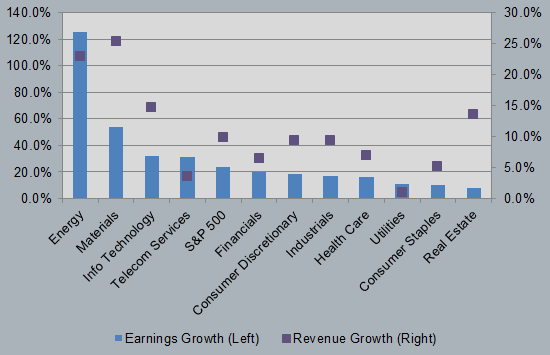 Second-quarter earnings results for those companies reporting before August 3
Source: FactSet. Data as of August 3, 2018.
Aside from the strength of the overall earnings growth, there are a few other takeaways that leave us encouraged about the prospects for equities going forward:
1) Companies are weathering the trade storm. So far the U.S. has imposed tariffs on steel and aluminum and $34 billion of Chinese goods. (For a complete rundown of escalating trade tensions, see our recent post, "Playing a game of chicken with tariffs.") Trade partners have retaliated in kind. While there is no shortage of anecdotal evidence from companies denouncing the use of tariffs, management is indicating the ability to pass through price increases—which has thus far protected and in some cases even expanded their lofty operating margins. Going forward, pricing power will be key, as additional rounds of tariffs will not only be greater in magnitude but also more broad-based in the goods included. When combined with rising wages, we could see additional pressure on margins throughout the supply chain. For now, both of these seem manageable but bear monitoring.
2) Cash going toward buybacks and capex. The tax windfall is being put to use in a variety of ways, two of which are helpful to investors in the short and long term. In the short term, 2018 could be a record year for U.S. companies buying back their own stock. Goldman estimates that U.S. corporate share buyback activity could reach $1 trillion this year. The largest dollar amount to date occurred in 2007, when U.S. companies repurchased shares worth about $750 billion. This type of financial engineering is not terribly helpful to the average American hoping for a pay raise, but it does provide a support to the stock market in the short term. More constructive for the longer term, companies are making capital expenditures (e.g., upgrading machinery, investing in new real estate, or converting data systems to the cloud). The second quarter is tracking roughly a 19% increase in corporate capital expenditures compared to a year ago, and that was after a robust capex showing in the first quarter, as well. Typically, stock prices for companies that spend a lot on investment are not rewarded by investors, and today is no different, but longer term, this sets up companies and the economy to be more productive.
3) Too early to call a market rotation. The last few weeks have seen a bit of a shift in stock market leadership. Strong performance of tech and consumer discretionary names has been handed off to industrials, financials, and stocks that tend to trade at a deeper discount to the broader market. We think it is too early to call the peak in performance of technology stocks; after all, we find tech companies compelling from a longer, more structural point of view (see "Technology: going where no sector has gone before" in our May issue of Capital Perspectives). We would not rule out the possibility that tech stocks take a much-needed breather, though, while those sectors that have been grossly out of favor play a bit of catch-up. Our overweight positions to financials and industrials leave us well positioned for this scenario.
Core narrative
Second-quarter earnings season has provided reassurance that economic and corporate fundamentals remain intact. Trade tensions are likely to continue bubbling under the surface, but with a fairly high degree of two-way risk tied to trade uncertainty, we find it important to focus on the fact that consumer demand remains healthy, companies are putting cash to use in ways that will benefit investors over the short and long term, and market leadership may finally be broadening beyond just a few names. At this time we believe the fundamental backdrop warrants an overweight position to equities, while we are monitoring the major impediment to market sentiment: trade.
Disclosures
Wilmington Trust is a registered service mark. Wilmington Trust Corporation is a wholly owned subsidiary of M&T Bank Corporation. Wilmington Trust Company, operating in Delaware only, Wilmington Trust, N.A., M&T Bank and certain other affiliates, provide various fiduciary and non-fiduciary services, including trustee, custodial, agency, investment management and other services. International corporate and institutional services are offered through Wilmington Trust Corporation's international affiliates. Loans, credit cards, retail and business deposits, and other business and personal banking services and products are offered by M&T Bank, member FDIC. Wilmington Trust Investment Advisors, Inc. is an SEC-registered investment adviser providing investment management services to Wilmington Trust and M&T Bank affiliates and clients.
These materials are based on public information. Facts and views presented in this report have not been reviewed by, and may not reflect information known to, professionals in other business areas of Wilmington Trust or M&T Bank who may provide or seek to provide financial services to entities referred to in this report. M&T Bank and Wilmington Trust have established information barriers between their various business groups. As a result, M&T Bank and Wilmington Trust do not disclose certain client relationships with, or compensation received from, such entities in their reports.
The information on Wilmington Wire has been obtained from sources believed to be reliable, but its accuracy and completeness are not guaranteed. The opinions, estimates, and projections constitute the judgment of Wilmington Trust and are subject to change without notice. This commentary is for information purposes only and is not intended as an offer or solicitation for the sale of any financial product or service or a recommendation or determination that any investment strategy is suitable for a specific investor. Investors should seek financial advice regarding the suitability of any investment strategy based on the investor's objectives, financial situation, and particular needs. Diversification does not ensure a profit or guarantee against a loss. There is no assurance that any investment strategy will succeed.
Any investment products discussed in this commentary are not insured by the FDIC or any other governmental agency, are not deposits of or other obligations of or guaranteed by M&T Bank, Wilmington Trust, or any other bank or entity, and are subject to risks, including a possible loss of the principal amount invested. Some investment products may be available only to certain "qualified investors"—that is, investors who meet certain income and/or investable assets thresholds. Past performance cannot guarantee future results. Investing involves risk and you may incur a profit or a loss.
Any positioning information provided does not include all positions that were taken in client accounts and may not be representative of current positioning. It should not be assumed that the positions described are or will be profitable or that positions taken in the future will be profitable or will equal the performance of those described. Positions described are illustrative and not intended as a recommendation outside of a managed account.
Indices are not available for direct investment. Investment in a security or strategy designed to replicate the performance of an index will incur expenses, such as management fees and transaction costs that would reduce returns.
Third-party trademarks and brands are the property of their respective owners.
©2018 Wilmington Trust Corporation and its affiliates. All rights reserved.
ACCESS THE WILMINGTON WIRE
Discover perspectives on timely wealth and investment management topics, authored by subject matter experts.
Explore Articles