Back
March 13, 2018 – President Trump formally announced on March 8 the introduction of a 25% tariff on U.S. steel imports, and a 10% tariff on aluminum imports, to be enacted in 15 days. This follows the surprise March 1 informal announcement that these tariffs were to be applied to all trading partners with no exemptions, which set off worries about potential trade wars, adding to recent market volatility. So far, the market reaction to the March 8 announcement has been more subdued, as President Trump's formal announcement appears to allow for exemptions for Canada and Mexico "at least at this time"(subject to satisfactory agreements being reached in NAFTA talks), and potential for flexibility with other countries that are allies on trade and military matters.
On net, we believe the direct impact of the tariffs on the economy as announced should be fairly muted. As we outline below, the steel and aluminum sectors of the economy are relatively small, and exemptions made for Canada and Mexico should help mitigate some of the potential impacts on inflation. A look at the closest historical example, the 2002 Bush steel tariffs, also showed limited direct impact on the overall economy.
However, the tariff announcement brings to the fore trade policy uncertainty, one of the key risks to the economic outlook outlined in our 2018 Capital Markets Forecast. The impact of future unpredictability around trade policy, coupled with possible retaliation from U.S. trade partners, raises the specter of downside growth risks. For now we are not overly concerned, but we will be watching closely for further developments on this front. Below are some facts and figures to provide an overview of the impact of the tariffs.
Overview:
Imports make up approximately 30% of steel and 90% of primary aluminum used in the U.S.[i]
The top 10 sources of steel imports and aluminum imports for the U.S. are shown in Figure 1. Canada is the top source of U.S. imports for both steel and aluminum.[ii]
China is often thought to be one of the main targets of the steel tariff, since it is the world's largest steel producer, accounting for nearly 50% of production (while the U.S. produces about 5%).[iii] However, China is currently a relatively small source of U.S. steel imports (2% by volume, the 11th largest source). This is largely because of earlier trade restrictions which already cover over 90% of steel imports from China.[iv]
However, a number of other non- exempt key U.S. allies are likely to be impacted, notably South Korea, Japan, and Germany (in the European Union).
Direct impact of the tariffs on the economy should be muted, given the relatively small size of the aluminum and steel sectors in the economy:
Aluminum and steel imports account for just 2% of total U.S. imports.[v]
The iron and steel industry employs roughly 140,000 workers (0.1% of nonfarm payrolls), while the aluminum industry employs about 60,000 workers (0.04% of nonfarm payrolls).[vi]
Aluminum along with iron and steel production combined account for only about 1.3% of industrial production in the U.S.[vii]
Inflationary pressures stemming from the tariffs should also be subdued given potential tariff exemptions for steel and aluminum imports from two of the U.S.'s major import sources, Canada and Mexico (though these exemptions are not set in stone, as President Trump's language suggests they are tied to NAFTA negotiations):
As mentioned earlier, Canada is the top source of U.S. imports for both steel (17%) and aluminum (45%). Mexico accounts for 9% of steel imports and 3% of total aluminum imports.[viii] Exemptions for these countries should help keep inflationary pressures at bay, as these imports should be free of tariffs assuming the exemptions remain in place.
President Trump mentioned he is open to negotiating with other countries as well, so there may be room for further exemptions.
The experience of the 2002 Bush steel tariffs also suggests a small direct impact on the economy:
The 2002 steel tariffs of up to 30% imposed by President Bush offer the easiest historical comparison, as these tariffs were similar in that they also exempted Canada and Mexico.
A 2003 study by the U.S. International Trade commission, a non-partisan government body, estimated that the 2002 tariffs resulted in a negligible decline in GDP of $30 million (0.0003% of GDP).[ix]
Figure 2 below shows that producer prices for iron and steel had a fairly muted response after the tariffs were imposed in March 2002 until they were ended in December 2003 (due to a World Trade Organization ruling against them).
However, potential for retaliation from non-exempted trade partners creates further uncertainty, and could create potential downside risks for growth.
Currently, the U.S.'s top five export markets (on a goods basis) are the eurozone, Canada, Mexico, China, and Japan.[x]
Non-exempted trade partners have already begun saber rattling, with threats to impose retaliatory tariffs on U.S. exports to their home countries. The president of the European Commission has already suggested targeted tariffs on bourbon, Harley Davidson motorcycles, and blue jeans. China's foreign minister has stated that actions aimed at Beijing would result in a "justified and necessary response."
Escalation of trade tensions could threaten U.S. exports (which would weigh on GDP), and slow the overall positive momentum in global growth we have seen in recent months.
Core narrative:
We currently hold a neutral position in U.S. equities. On a relative basis, we would expect small-cap equities to benefit more in an environment of escalating trade tensions since they have lower exposure to international markets compared to large-cap equities. However, we remain neutral to both U.S. small-cap and large-cap equities. We believe tax reform benefits have largely been priced in, the U.S. is at a later stage of the economic cycle, and also has higher relative valuations compared to international equity markets. We remain overweight Developed International equities, where economies are in earlier stages of the cycle. We also continue to hold our overweight to Emerging Markets (EM) equities. Though there are worries that elevated trade tensions could hurt these markets, metals comprise only a small part of the EM equity market, and most of EM trade is in intermediate goods.
The current tariff announcement with exemptions for Canada and Mexico (if they remain in place), and potential for negotiations with other key trade partners such as the eurozone and Japan should mitigate the direct impacts on both the U.S. and global economies. However, missteps on this front as well as the potential for further uncertainty could pose additional downside risks to the economic outlook, as we highlighted in our 2018 Capital Markets Forecast, and we remain watchful of further developments.
Figure 1: Top 10 sources of U.S. steel and aluminum imports (% of total by value)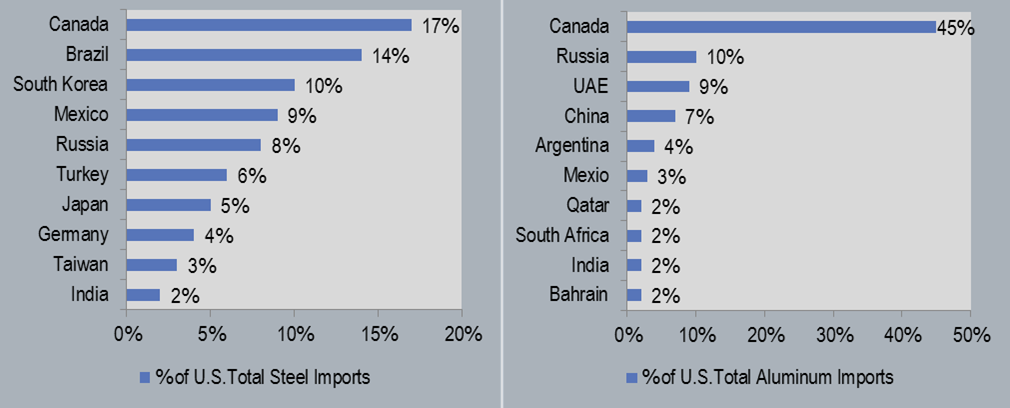 Source: United States Census Bureau
Data as of January 31, 2018
Figure 2: Iron and steel producer price index (% change, year-over-year)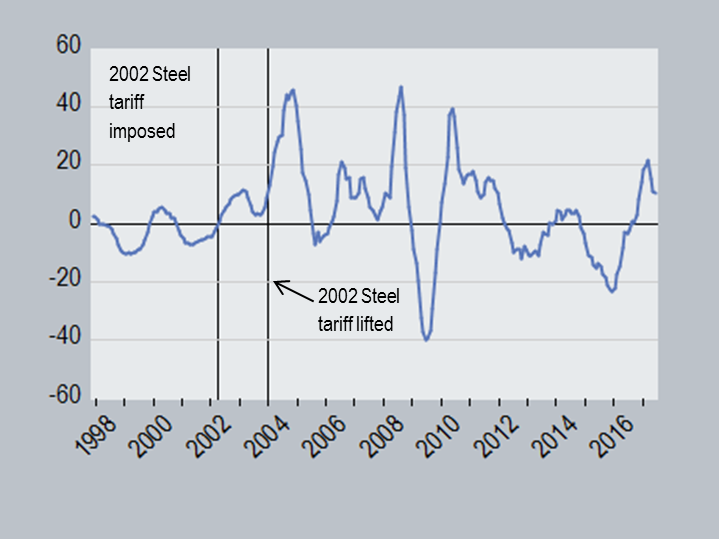 Source: Bureau of Labor Statistics
Data as of January 31, 2018
Disclosures
Wilmington Trust is a registered service mark. Wilmington Trust Corporation is a wholly owned subsidiary of M&T Bank Corporation. Wilmington Trust Company, operating in Delaware only, Wilmington Trust, N.A., M&T Bank and certain other affiliates, provide various fiduciary and non-fiduciary services, including trustee, custodial, agency, investment management and other services. International corporate and institutional services are offered through Wilmington Trust Corporation's international affiliates. Loans, credit cards, retail and business deposits, and other business and personal banking services and products are offered by M&T Bank, member FDIC. Wilmington Trust Investment Advisors, Inc. is an SEC-registered investment adviser providing investment management services to Wilmington Trust and M&T Bank affiliates and clients.
These materials are based on public information. Facts and views presented in this report have not been reviewed by, and may not reflect information known to, professionals in other business areas of Wilmington Trust or M&T Bank who may provide or seek to provide financial services to entities referred to in this report. M&T Bank and Wilmington Trust have established information barriers between their various business groups. As a result, M&T Bank and Wilmington Trust do not disclose certain client relationships with, or compensation received from, such entities in their reports.
The information on Wilmington Wire has been obtained from sources believed to be reliable, but its accuracy and completeness are not guaranteed. The opinions, estimates, and projections constitute the judgment of Wilmington Trust and are subject to change without notice. This commentary is for information purposes only and is not intended as an offer or solicitation for the sale of any financial product or service or a recommendation or determination that any investment strategy is suitable for a specific investor. Investors should seek financial advice regarding the suitability of any investment strategy based on the investor's objectives, financial situation, and particular needs. Diversification does not ensure a profit or guarantee against a loss. There is no assurance that any investment strategy will succeed.
Any investment products discussed in this commentary are not insured by the FDIC or any other governmental agency, are not deposits of or other obligations of or guaranteed by M&T Bank, Wilmington Trust, or any other bank or entity, and are subject to risks, including a possible loss of the principal amount invested. Some investment products may be available only to certain "qualified investors"—that is, investors who meet certain income and/or investable assets thresholds. Past performance is no guarantee of future results. Investing involves risk and you may incur a profit or a loss.
Any positioning information provided does not include all positions that were taken in client accounts and may not be representative of current positioning. It should not be assumed that the positions described are or will be profitable or that positions taken in the future will be profitable or will equal the performance of those described. Positions described are illustrative and not intended as a recommendation outside of a managed account.
Indices are not available for direct investment. Investment in a security or strategy designed to replicate the performance of an index will incur expenses, such as management fees and transaction costs that would reduce returns.
Third-party trademarks and brands are the property of their respective owners.
---
ACCESS THE WILMINGTON WIRE
Discover perspectives on timely wealth and investment management topics, authored by subject matter experts.
Explore Articles