Back
May 16, 2018— Technology has always been one of the most exciting industries in the global economy, and not just because it is fun to imagine its futuristic applications. More than ever, technology and data are integrated into every good and service that is produced. It is impossible to analyze a company or business model in any industry without giving careful consideration to how technology will force its evolution over the coming years through artificial intelligence, big data, and cloud computing.
That said, it does not necessarily qualify technology companies as prudent investments in today's financial markets. After all, technology stocks have already had quite a run, and the largest gains of this cycle may be behind us. The sector1 has returned 66% over the past three years, nearly double the 34% total return for the overall stock market. The top eight stocks in the S&P 500—six of which comprise the top-tier technology group known as "FAANG"2—have accounted for over a third of the market's gains over the past year through April 24 (Figure 1). There are also burgeoning risks to technology companies, including regulation and protectionism. We turn to our analysis of the sector's investment potential, including the risks that could "cloud" its near-term return prospects.
Figure 1
Top contributors to 12-month return of the S&P 500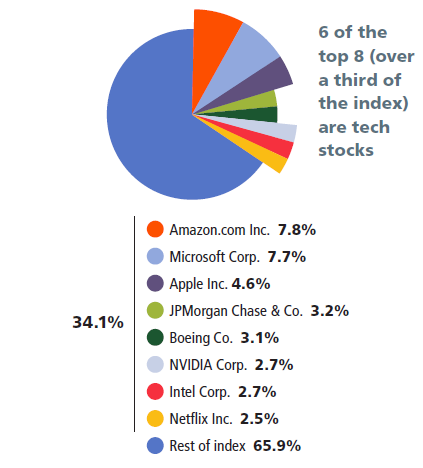 Data as of April 24, 2018. Source: Bloomberg
Opportunities abound
Our view that technology is a very interesting space from a long-term investment perspective is not exactly contrarian, but we identify three key drivers of growth that we believe will provide structural support to the sector:
1. Capital expenditures.The rate of growth of capital expenditures, or capex (which has lagged during this cycle), should increase, and technology companies are set to benefit as investments are made to update equipment and make processes and operations more efficient. In fact, U.S. nonresidential investment as a percent of gross domestic product (GDP) has averaged the lowest during this economic cycle of any recovery since the 1970s (while of course acknowledging that the current cycle is not yet over), and average capex spending has declined in each of the prior three expansions. We believe this to be a key contributor to the decline in U.S. productivity growth, which the Organization for Economic Cooperation and Development (OECD) estimates averaged 0.7% between 2006 and 2016, compared to 2.3% the decade prior (Figure 2), though some of this measurement may be failing to accurately capture the impact of new technologies. We expect the Tax Cuts and Jobs Act and a tight labor market (Figure 3) to act as material cyclical tailwinds for capex. From a longer, more structural point of view, aging demographics mean certain job openings will get increasingly more difficult to fill; this is already well documented in the construction and trucking industries, and is another reason for companies to invest in technology.
Figure 2
U.S. productivity growth

Reflects latest data available as of April 25, 2018. Source: Organization of Economic Cooperation and Development
One example of the transformative potential of technology and capital investment is the emerging use of "cobots." We know that many processes already use robots to automate manufacturing and assembly, but the practice of robots working collaboratively with humans is still an emerging use of technology. There are still many tasks that are more efficient and cheaper for humans to perform than their robotic counterparts, including operations requiring manual dexterity. While technology will surely develop these skills over time, the ability for humans to work collaboratively and safely with cobots to perform joint tasks could increase efficiency while lowering overall costs. By some estimates, the cobots market could grow at a rate of 25% per year, from today's market of less than $200 million to around $7 billion by 2025.
Another major industrial application of technology is within autos, specifically self-driving cars. There is every indication that automobiles are moving in the direction of being more autonomous and electrified (i.e., not utilizing gasoline). A fully electrified self-driving car will more than triple the technology content in the automobile, which will serve to make the auto industry more dependent on the technology sector.
Figure 3
Single most important problem small businesses face (%)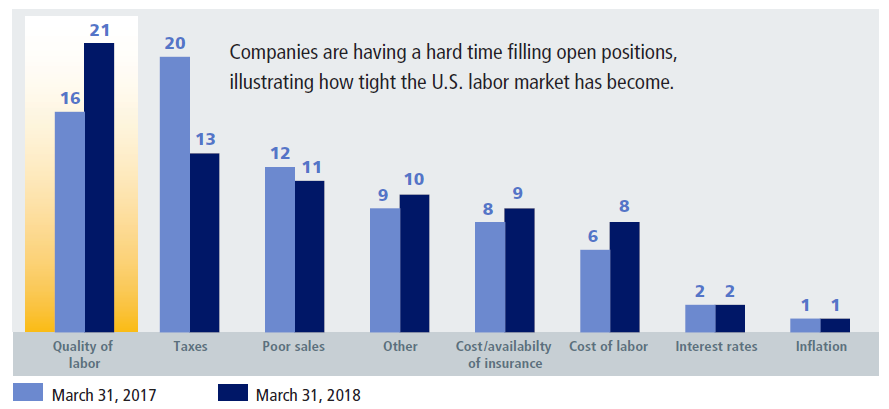 Data as of March 31, 2018. Source: National Federation of independent Businesses
2. Big data. With its endless potential, big data puts technology companies square in the middle of myriad industries. Peeking into the future to see what may be in store for this space, we see:
The "Internet of Things"

(IoT) has been around for a number of years, but companies are taking the concept of connecting, measuring, and communicating data among appliances, vehicles, and homes one step further: to the payment process. There are already, for example, sensors on truck engines that proactively perform diagnostic tests, search for issues, and send relevant information to repair shops. Increasingly, we could see these devices shop for the best deal on a replacement part and facilitate the order, thereby cutting down on idle time and monetizing the IoT to increase the value proposition.
The healthcare space

continues to ripen with opportunities for more efficient use of data to reduce costs and errors, and Forrester Research estimates healthcare organizations will increase their Internet technology spending by about 10% in 2018. Data collection and machine learning will allow robots to perform more surgeries and diagnose more diseases. Collection of medical data through computer applications and wearable devices will permit individuals to self-diagnose everything from arrhythmias to cancers to depression, putting consumers in control of their own health. Also revolutionary is the potential for a consumer to house all of his or her personal medical information and history in a single repository, which can easily be shared with medical professionals—and is sure to reduce the potential for error as providers are added to a patient's chain of care.
Bitcoin

, the volatile virtual currency, has received significant media attention of late, but it's the technology embedded in the currency's underlying infrastructure, known as blockchain, that could play a role in transforming a variety of business models (for more on the basics, see our paper, The ABCs of Bitcoin

)

. For example, in the future, we could see blockchain implemented to decentralize electricity distribution so individuals can efficiently purchase from—or even return energy to—the grid. Or, blockchain could be used to streamline the trading of commodities or other financial securities. The possibilities are literally endless, and companies are investing significant capital in an effort to realize the potential of this technology.
3. Cloud computing. Still in its infancy, the growth potential for cloud computing is far from pie in the sky. The rapid reduction in data storage costs (Figure 4) allows companies to collect and utilize data on virtually everything we do today, and that data will increasingly be serviced by the cloud. The market for platforms that help manage businesses' use of the cloud is expected to have grown from $500 million in 2015 to $1.25 billion in 20193 (an annualized growth rate of 25% per year). Nearly half of large companies and about 38% of small businesses plan to expand investment in public clouds,4 which only begins to hint at the nebula-sized potential of cloud computing. But there are big implications for consumers also, as the movement to 5G networks—albeit years away—will provide faster speeds needed for consumers to do much more "on the go" with their devices, including streaming content and communicating across different platforms.
Figure 4
Data storage cost per gigabyte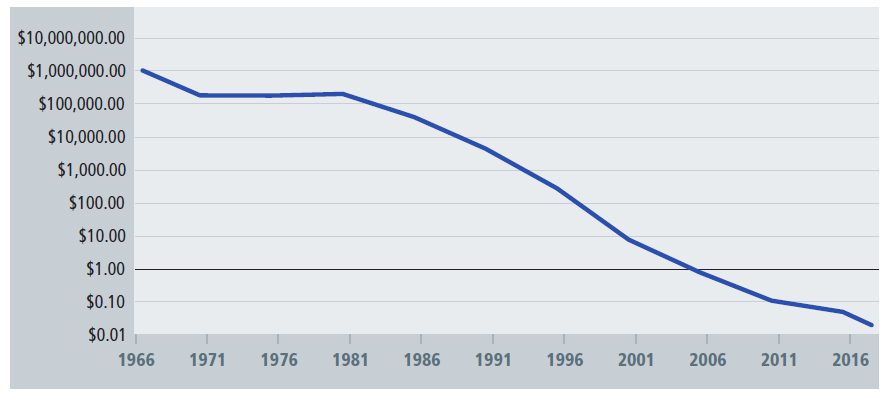 Data as of December 31, 2017. Reflects cost for disk drive storage, with graph shown using a logarithmic scale. Source: Computerworld, International Data Corporation
Headwinds on the horizon
These long-term structural supports for the technology sector are very encouraging, but we must also consider some potential headwinds that bear monitoring in the short term. First, Facebook's data privacy troubles and CEO Mark Zuckerberg's congressional testimony are likely just the beginning of increased public scrutiny on data security and monopolies in this space. The European Union is ahead of the curve in data protection and privacy regulations, but the regulatory vultures are circling over Washington. Second, elevated trade tensions also pose a risk to the technology sector. Though tariffs implemented thus far by the Trump administration have been focused on washing machines, steel, and aluminum, we believe technology supply chains could be at risk of disruption from sanctions or tariffs. The U.S. ban on selling technology to ZTE Corp, one of China's biggest state-owned technology companies, is one example of sanctions and/or tariffs being used as negotiating chips between the two countries. Lastly, the length of the business cycle detracts from the sector's medium-term attractiveness. While business optimism and fiscal tailwinds are expected to encourage capex and technology investment by companies, this area is one of the first for cutbacks in an economic slowdown. We do not believe the U.S. is nearing a recession, but it's impossible to ignore inflationary and labor market signals that suggest we are closer to the end of the cycle than the beginning.
Core narrative: Technology in our portfolios
Technology will continue to transcend business lines and become more interconnected with all industries; as such, it is the one sector that has the most long-term potential but also significant short-term vulnerability. We are continually gauging the balance of short-term risks with our long-term constructive view. At this time, client portfolios are overweight the technology sector, and we stand to adjust this position should regulatory, trade, or recessionary pressures either recede or become more oppressive. For those with very long investment horizons, we ultimately believe that the structural tailwinds for technology will outweigh the risks, making this sector one of the most exciting and lucrative areas of investment.
FOOTNOTES
1 As measured by the total return of the S&P 500 Information Technology Index from April 24, 2015 through April 24, 2018, and compared to the S&P 500 index.
2 Term used to reference Facebook, Amazon, Apple, Netflix, and Google.
3 Sources: Gartner, RightScale
4 According to a RightScale 2016 State of the Cloud Report survey.
Disclosures
Wilmington Trust is a registered service mark. Wilmington Trust Corporation is a wholly owned subsidiary of M&T Bank Corporation. Wilmington Trust Company, operating in Delaware only, Wilmington Trust, N.A., M&T Bank and certain other affiliates, provide various fiduciary and non-fiduciary services, including trustee, custodial, agency, investment management and other services. International corporate and institutional services are offered through Wilmington Trust Corporation's international affiliates. Loans, credit cards, retail and business deposits, and other business and personal banking services and products are offered by M&T Bank, member FDIC. Wilmington Trust Investment Advisors, Inc. is an SEC-registered investment adviser providing investment management services to Wilmington Trust and M&T Bank affiliates and clients.
These materials are based on public information. Facts and views presented in this report have not been reviewed by, and may not reflect information known to, professionals in other business areas of Wilmington Trust or M&T Bank who may provide or seek to provide financial services to entities referred to in this report. M&T Bank and Wilmington Trust have established information barriers between their various business groups. As a result, M&T Bank and Wilmington Trust do not disclose certain client relationships with, or compensation received from, such entities in their reports.
The information on Wilmington Wire has been obtained from sources believed to be reliable, but its accuracy and completeness are not guaranteed. The opinions, estimates, and projections constitute the judgment of Wilmington Trust and are subject to change without notice. This commentary is for information purposes only and is not intended as an offer or solicitation for the sale of any financial product or service or a recommendation or determination that any investment strategy is suitable for a specific investor. Investors should seek financial advice regarding the suitability of any investment strategy based on the investor's objectives, financial situation, and particular needs. Diversification does not ensure a profit or guarantee against a loss. There is no assurance that any investment strategy will succeed.
Any investment products discussed in this commentary are not insured by the FDIC or any other governmental agency, are not deposits of or other obligations of or guaranteed by M&T Bank, Wilmington Trust, or any other bank or entity, and are subject to risks, including a possible loss of the principal amount invested. Some investment products may be available only to certain "qualified investors"—that is, investors who meet certain income and/or investable assets thresholds. Past performance is no guarantee of future results. Investing involves risk and you may incur a profit or a loss.
Any positioning information provided does not include all positions that were taken in client accounts and may not be representative of current positioning. It should not be assumed that the positions described are or will be profitable or that positions taken in the future will be profitable or will equal the performance of those described. Positions described are illustrative and not intended as a recommendation outside of a managed account.
Indices are not available for direct investment. Investment in a security or strategy designed to replicate the performance of an index will incur expenses, such as management fees and transaction costs that would reduce returns.
Third-party trademarks and brands are the property of their respective owners.
ACCESS THE WILMINGTON WIRE
Discover perspectives on timely wealth and investment management topics, authored by subject matter experts.
Explore Articles