Back
September 21, 2018— The high cost of tuition, room and board, etc. (much of which falls under the student loan debt umbrella) is top of mind all year long for students and their parents alike—particularly when you consider that it's the largest form of non-mortgage debt held by households.
Household debt—which, in addition to student loans, includes mortgages and home equity loans as well as credit card and auto debt—is significant from an economic standpoint because of its potential impact on consumer spending (which represents roughly 70% of gross domestic product, or GDP). While household debt levels have risen above 2008 highs, they are less sensitive to rising interest rates than during the financial crisis. Also, household debt payments as a proportion of after-tax income have declined relative to 2008 peaks and are below long-term averages.
In our view, this suggests current levels of household debt are not likely to be a near-term threat to consumer spending. We continue to expect the consumer to be one of the primary drivers of GDP growth during the remainder of 2018, supported by a robust labor market and the tax cuts that took effect in January. The impact of rising interest rates on new household debt may yet temper consumer spending, but overall, we do not expect household debt to be a major headwind for economic growth.
Economic implications of household debt
It's important to monitor household debt for indicators of current and future economic activity. This debt level can rise as consumers borrow money to fund current spending (e.g., homes, cars, education) and a lift might suggest a more optimistic view on the part of households that future income will be high enough to support debt repayment. The additional consumer spending on goods and services (that would not be possible without borrowing) would bode well for economic growth.1
Of course, it's critical that households' income growth be able to support debt repayments, so spending may have to be reduced, if debt loads disproportionately outweigh income. And if businesses fear diminishing consumer demand as a result of debt levels, this could in turn lead to a decline in businesses' willingness to invest. Such a reduction in consumer spending and business investment could potentially weigh heavily on economic growth.
Figure 1
Student loans make up the largest share of total non-mortgage household debt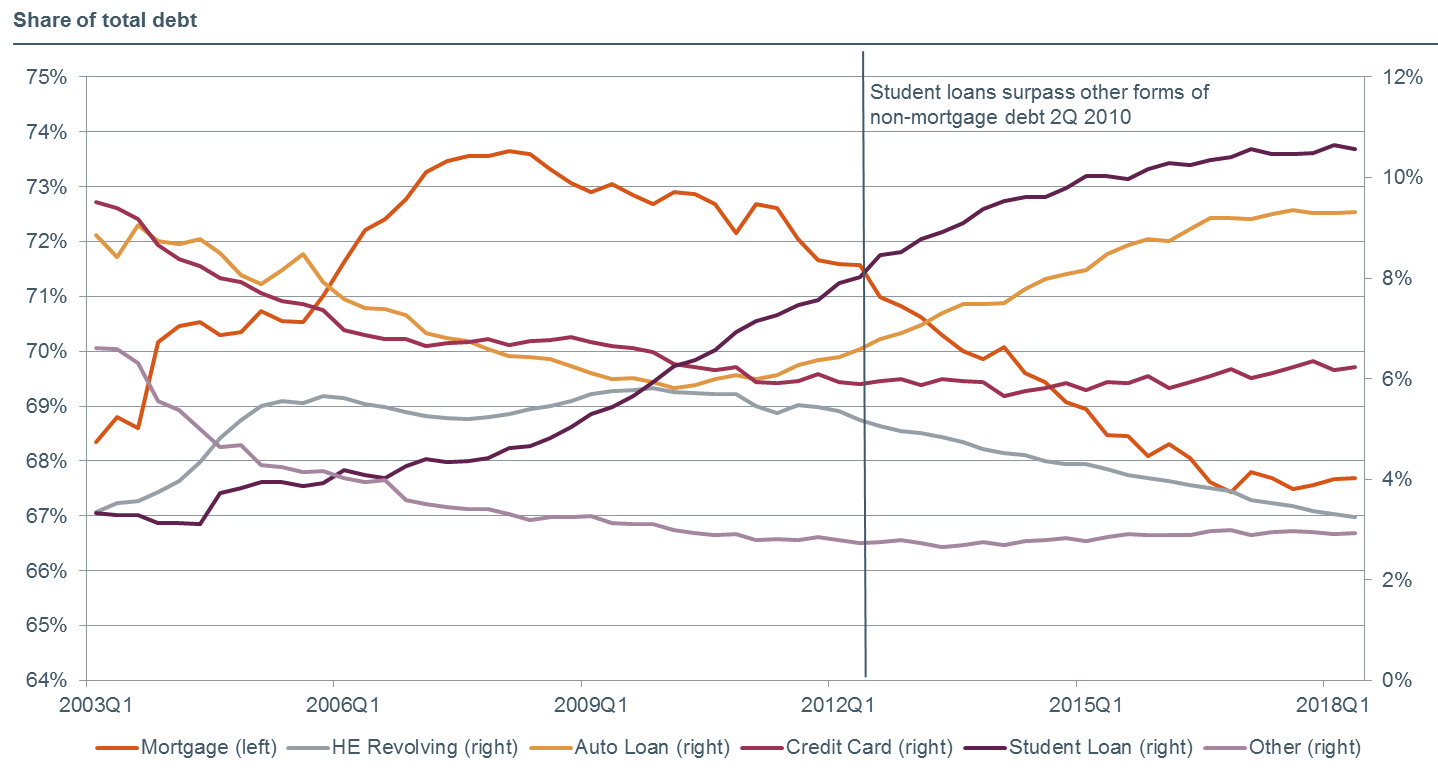 Data as of 2Q 2018.
Source: Federal Reserve bank of New York.
Household debt levels have surpassed pre-recession highs
In the wake of the Great Recession, households significantly pared back on debt but it has been creeping up in recent years. In fact, household debt has risen to $13.3 trillion as of 2Q 2018, nearly 5.0% above its peak in 3Q 2008 during the recession—and 19% above its post-recession low in 2Q 2013, with the increase being driven by a rise in student and auto loans.2 Mortgages still account for the largest share (at 68%) of household debt, but have fallen from a peak of 74% in 2007 (Figure 1). After mortgages comes student loans at 11%—which surpassed auto loan (9%) and credit card debt (6%) for the first time in 2Q 2010.
How sensitive is household debt to interest rates?
The aforementioned data look at debt levels without regard to the impact of interest rates associated with this debt. One measure that does account for the associated interest rates on debt payments is the household debt service ratio (DSR), which measures minimum required monthly mortgage and consumer debt3 payments as a percent of disposable (after-tax) income. This has improved substantially, now down to 10.2% from 13.2% at the height of the financial crisis, and below its long-term average of 11.3% (Figure 2). The financial obligations ratio (FOR) broadens the DSR measure to include other regular household financial commitments, such as rent, auto lease installments, homeowners' insurance premiums, and property tax bills. This measure shows regular debt obligations are currently 15.8% of disposable income, also an improvement relative to its recession high of 18.1%, and its long-term average of 16.5%.
Figure 2
Debt service and financial obligation ratios remain below long-term averages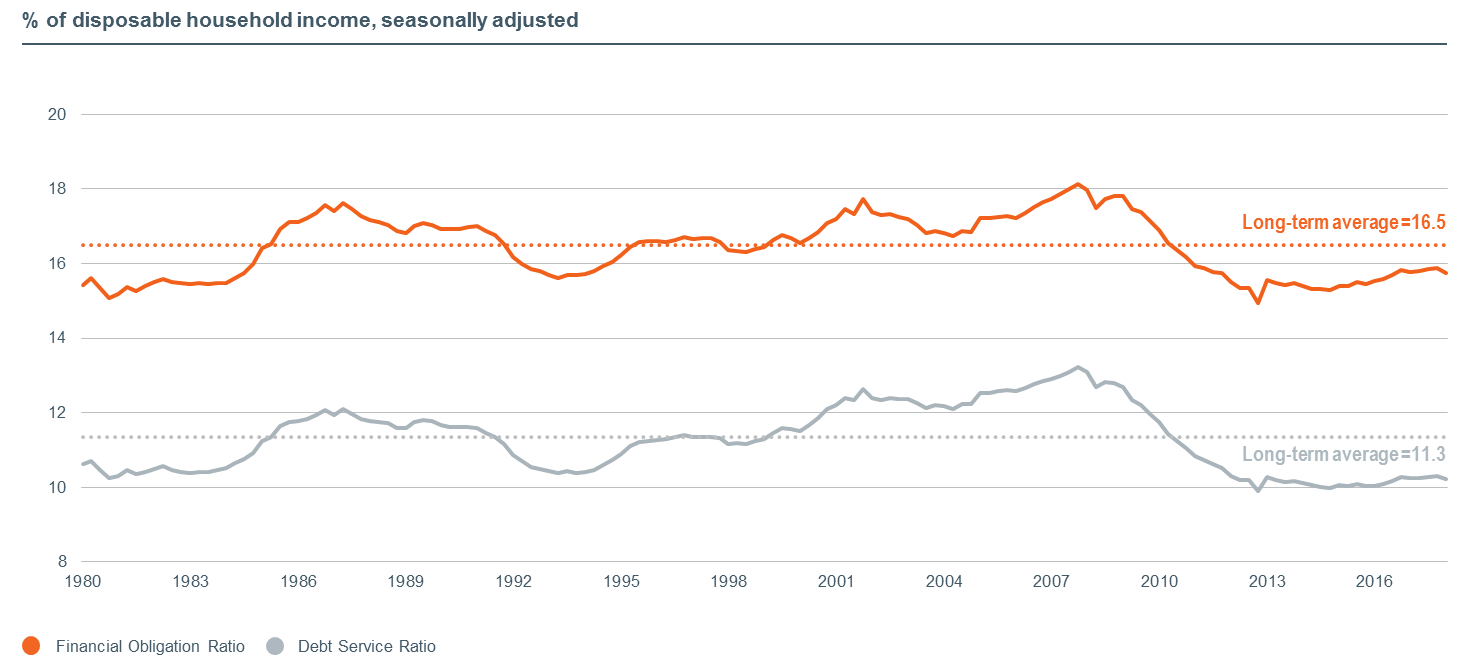 Data as of 1Q 2018
Source: Federal Reserve Board.
A primer on student debt
The 130% increase in student loans since 3Q 2008 may appear alarming at first glance, but a look at some of the details suggests the picture is not as worrying as the figure would imply. The rise was driven in part by more people choosing to go back to school in a tough labor market environment during the early post-recession years. In addition, as households faced lower income and wealth levels, and were less able to access other forms of credit (such as mortgages and home equity loans) amid tightening credit standards, those going back to school may have had to resort to student loans to finance their educations.
Individuals incurring student debt should benefit in the long run, as gains in the income from additional schooling are expected to outpace the amount of debt repaid. Questions about whether these income gains were materializing came to a crescendo in 2012, when student loans became the debt category with the highest percentage of balances in serious delinquency (90+ days or default).4 While student loans still hold that title, the percent of loans in serious delinquency (as well as transitions of new student loans into this category) has stabilized along with a strengthening labor market, and these numbers have improved over the past year in particular. In addition, broader risks to financial institutions are contained, as the federal government guarantees roughly 90% of outstanding student debt. Research by the Fed suggests individuals with student loans that are either subprime or have debt payments over 90 days past due, hold fairly small proportions of other types of debt.5 Another advantage of federal student loan debt relative to other types is that borrowers can apply for deferment or forbearance, which would allow for a temporary pause or reduction in payments during periods of unemployment or other economic hardship.6
A logical next question is how sensitive household balance sheets are to rising interest rates. One way to assess this is to look at how much of this debt is subject to fixed interest rates vs. variable interest rates (which move along with market interest rates, and are expected to rise in tandem with Fed rate hikes). Roughly 90% of household mortgages have a fixed interest rate, and the current effective interest rate on outstanding mortgage debt is low relative to history, at 3.8%. The share of mortgages with variable rates has fallen sharply, down to just under 10%,7 from close to 40% in the run-up to the housing market bubble.8 The vast majority of auto loans are fixed rate. Same with student debt, as federal loans (which are all fixed rate) account for about 90% of all student loans.9 The percent of total household debt with variable interest rates (such as adjustable rate mortgages, home equity loans, credit card, and other forms of debt) remains low, hovering just near 12%, sharply lower than the roughly 37% at the height of the financial crisis.
Core narrative
Looking ahead, if the Fed continues to hike short-term interest rates as markets expect, debt from new mortgages, student, and auto loans—in addition to current and new credit card debt and home equity loans—will become more expensive. This could weigh on potential consumer spending, as a larger proportion of income will have to be used to pay off debt.
Near term, we expect the labor market will continue to exert a steady pace of wage growth and additional help from tax cuts to further offset the rising cost of new debt for households. We also expect the Fed's pace of hikes to remain gradual, and as a result do not expect the impact of climbing interest rates on household balance sheets to significantly slow consumer spending in 2018.
1 Households may also incur debt due to unforeseen circumstances, that force them to borrow to cover unanticipated expenses (in the case of loss of employment, or medical emergencies). This in turn would have fewer positive implications for economic growth.
2 Federal Reserve Bank of New York, Quarterly Report on Household Debt and Credit. Data history goes back to 2003.
3 Includes student, auto, personal, RV, marine, and mobile home loans.
4 As noted by the Federal Reserve Bank of New York, delinquency rates are likely to be roughly twice as high as reported because about half of the loans are in deferment, grace periods, or forbearance, and not currently in the repayment cycle, so may not be counted in the official data.
5 Feiveson, Laura, Alvaro Mezza, and Kamila Sommer (2018). "Student Loan Debt and Aggregate Consumption Growth," FEDS Notes. Washington: Board of Governors of the Federal Reserve System, February 21, 2018.
6 Federal Student Aid Office, U.S. Department of Education.
7 MBA Weekly Mortgage Applications Survey, Ellie Mae Origination Insight Report, July 2018.
8 Moench, Emanual, James Vickery, and Diego Aragon (2010), "Why Is the Market Share of Adjustable-Rate Mortgages so Low?" Federal Reserve Bank of New York, December 2010.
9 Federal student loan interest rates are set each spring for the life of the loan, based on the 10-year interest rate, plus a fixed percentage based on the type of loan.
Disclosures
Wilmington Trust is a registered service mark. Wilmington Trust Corporation is a wholly owned subsidiary of M&T Bank Corporation. Wilmington Trust Company, operating in Delaware only, Wilmington Trust, N.A., M&T Bank and certain other affiliates, provide various fiduciary and non-fiduciary services, including trustee, custodial, agency, investment management and other services. International corporate and institutional services are offered through Wilmington Trust Corporation's international affiliates. Loans, credit cards, retail and business deposits, and other business and personal banking services and products are offered by M&T Bank, member FDIC. Wilmington Trust Investment Advisors, Inc. is an SEC-registered investment adviser providing investment management services to Wilmington Trust and M&T Bank affiliates and clients.
These materials are based on public information. Facts and views presented in this report have not been reviewed by, and may not reflect information known to, professionals in other business areas of Wilmington Trust or M&T Bank who may provide or seek to provide financial services to entities referred to in this report. M&T Bank and Wilmington Trust have established information barriers between their various business groups. As a result, M&T Bank and Wilmington Trust do not disclose certain client relationships with, or compensation received from, such entities in their reports.
The information on Wilmington Wire has been obtained from sources believed to be reliable, but its accuracy and completeness are not guaranteed. The opinions, estimates, and projections constitute the judgment of Wilmington Trust and are subject to change without notice. This commentary is for information purposes only and is not intended as an offer or solicitation for the sale of any financial product or service or a recommendation or determination that any investment strategy is suitable for a specific investor. Investors should seek financial advice regarding the suitability of any investment strategy based on the investor's objectives, financial situation, and particular needs. Diversification does not ensure a profit or guarantee against a loss. There is no assurance that any investment strategy will succeed.
Any investment products discussed in this commentary are not insured by the FDIC or any other governmental agency, are not deposits of or other obligations of or guaranteed by M&T Bank, Wilmington Trust, or any other bank or entity, and are subject to risks, including a possible loss of the principal amount invested. Some investment products may be available only to certain "qualified investors"—that is, investors who meet certain income and/or investable assets thresholds. Past performance is no guarantee of future results. Investing involves risk and you may incur a profit or a loss.
Any positioning information provided does not include all positions that were taken in client accounts and may not be representative of current positioning. It should not be assumed that the positions described are or will be profitable or that positions taken in the future will be profitable or will equal the performance of those described. Positions described are illustrative and not intended as a recommendation outside of a managed account.
Indices are not available for direct investment. Investment in a security or strategy designed to replicate the performance of an index will incur expenses, such as management fees and transaction costs that would reduce returns.
Third-party trademarks and brands are the property of their respective owners.
ACCESS THE WILMINGTON WIRE
Discover perspectives on timely wealth and investment management topics, authored by subject matter experts.
Explore Articles