Back
September 27, 2019—The equity risk premium (ERP) refers to the (expected) return of a broad equity index in excess of some fixed income alternative. The ERP plays a critical role for any investor in that it affects savings and spending behavior as well as the all-important allocation decision between equities and bonds. In that sense, it is an equilibrium concept that looks beyond any given period's specific circumstances to develop a fundamental, medium- to long-term estimate of return trends. The ERP is a very important tool in the investor's toolkit and is helpful in signaling whether the market is under or overpriced. It is also a useful way to estimate medium to long run returns of equities.
Over the past 36 months or so, we have experienced episodes of high volatility that have been short but brutal. The question on everyone's mind today is this: Given that some market and economic indicators are flashing orange or even red, and the yield on a 30-year U.S. Treasury Bond is as low as 2.12% (as of this writing), are our portfolios positioned the right way? One of the key features of this turbulent period is renewed uncertainty about the ERP.
There are two common approaches used in estimating the equity risk premium, a historical (realized) approach and a forward-looking approach. The historical ERP is calculated simply by taking the average differences between the total return of a broad equity market index, such as the S&P 500, and the return of a government bond or bill, such as U.S. 10-year treasuries, over a specified time frame. The historical ERP is easy to calculate, but it reflects the realized spread between equities and bonds, including unexpected repricing gains, inflation, changing dividend yields, etc.
Another method of estimating the ERP is through an earnings-based approach, which is forward looking and accounts for projected risks in earnings, cash flows, and interest rates. Most practitioners use this forward-looking implied ERP, which is the more appropriate methodology. We conducted a study of the distribution of the implied ERP over the last 19 years, along with subsequent equity returns over the following 12 and 60 months, and our results are shown in Figure 1.
Figure 1: Implied ERP and subsequent equity returns

Data as of August 30, 2019. Source: Bloomberg.
Figure 2: Distribution of equity returns over next 12 and 60 months when ERP is above average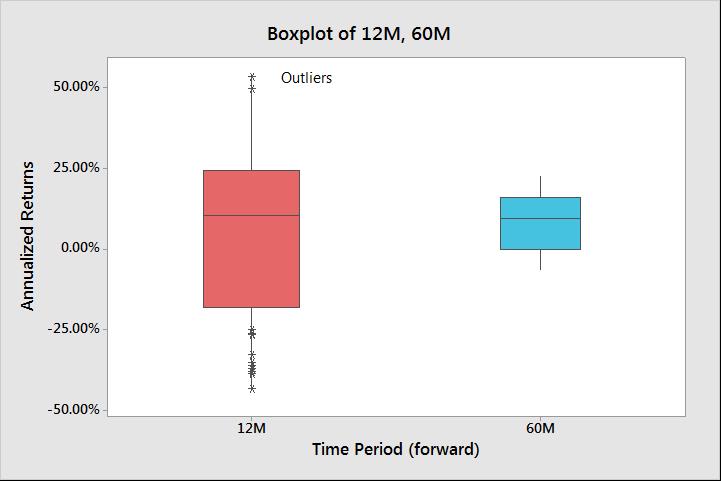 (Note: Dispersion of subsequent 12m S&P 500 returns is 2.5 times wider than that of subsequent 60m S&P 500 returns; tighter dispersion indicates higher reliability)
Data as of August 30, 2019. Source: Bloomberg.
As is evident from the above, a higher implied ERP normally implies higher equity returns in the subsequent 12 months as well as the subsequent 60 months over the sample period we studied. However, given that risk premia take time to be realized, the expected 60-month return distribution is more robust in that it has a much tighter distribution around the mean than the 12-month distribution, which is very dispersed and has quite a few outliers (see Figure 2). Over the sample period, when the ERP is above its long-term average, subsequent 1-year returns have been positive 82% of the time. However, around 18% of the time, the subsequent 1-year return has been strongly negative, driven clearly by other factors such as repricing losses, for example. The trend is stronger in subsequent 5-year S&P 500 returns, which have been positive 100% of the time.

Data as of August 30, 2019. Source: Bloomberg.
Core narrative
Our estimated average implied ERP over this 19-year period has been around 3.5%, which puts it right in line with the long run average from academic research, which ranges between 3 to 5%. The most recent (as of this writing) estimated implied ERP is around 3.9%. This is slightly higher than the average, but is still within 1 standard deviation from its mean (Standard Deviation = 0.9%), which portends a higher probability for positive but moderate equity returns in the future. It is also observed that the implied ERP has continued to increase over the last few months, and this trend suggests equity returns going forward are expected to be modestly positive. As discussed, the implied equity risk premium is a potential indicator of expected returns over the medium to long term. Hence, there is an argument to be made that, all else held constant, being neutral to equities versus a long-term strategic asset allocation (which reflects our current portfolio positioning) is prudent.
Implied Equity Risk Premium

Data as of August 31, 2019. Source: Bloomberg.
Note: Calculations for Implied ERP = S&P 500 Expected Earning to price ratio ‒ 10 year U.S. Treasury Bond Yield
Where expected earning to price ratio = Earning Yield (inverse of P/E) * (1+Earning growth)
Approximately ERP= E/P+ g - 10 yr Yield
Disclosures
Wilmington Trust is a registered service mark. Wilmington Trust Corporation is a wholly owned subsidiary of M&T Bank Corporation. Wilmington Trust Company, operating in Delaware only, Wilmington Trust, N.A., M&T Bank and certain other affiliates, provide various fiduciary and non-fiduciary services, including trustee, custodial, agency, investment management and other services. International corporate and institutional services are offered through Wilmington Trust Corporation's international affiliates. Loans, credit cards, retail and business deposits, and other business and personal banking services and products are offered by M&T Bank, member FDIC.
Facts and views presented in this report have not been reviewed by, and may not reflect information known to, professionals in other business areas of Wilmington Trust or M&T Bank who may provide or seek to provide financial services to entities referred to in this report. M&T Bank and Wilmington Trust have established information barriers between their various business groups. As a result, M&T Bank and Wilmington Trust do not disclose certain client relationships with, or compensation received from, such entities in their reports.
The information on Wilmington Wire has been obtained from sources believed to be reliable, but its accuracy and completeness are not guaranteed. The opinions, estimates, and projections constitute the judgment of Wilmington Trust and are subject to change without notice. This commentary is for information purposes only and is not intended as an offer or solicitation for the sale of any financial product or service or a recommendation or determination that any investment strategy is suitable for a specific investor. Investors should seek financial advice regarding the suitability of any investment strategy based on the investor's objectives, financial situation, and particular needs. Diversification does not ensure a profit or guarantee against a loss. There is no assurance that any investment strategy will succeed.
Past performance cannot guarantee future results. Investing involves risk and you may incur a profit or a loss.
Indexes are not available for direct investment. Investment in a security or strategy designed to replicate the performance of an index will incur expenses such as management fees and transaction costs which would reduce returns.



ACCESS THE WILMINGTON WIRE
Discover perspectives on timely wealth and investment management topics, authored by subject matter experts.
Explore Articles