Back
March 8, 2019— The European Central Bank (ECB) surprised markets yesterday with an earlier-than-expected announcement of policies intended to support growth in the face of persistent downside risks to the eurozone economy. The ECB's actions might suggest the possibility of reacceleration in the eurozone economy after a marked slowdown in 2018. In our view however, they are not enough to substantially reignite growth momentum yet, given the fairly modest nature of the actions, and still-looming external risks, which remain beyond the control of ECB monetary policy actions. Along with a lackluster outlook for other major International Developed economies, including Japan and the UK, we expect the outlook for the eurozone to remain sluggish, and maintain our underweight to International Developed Equities.
Eurozone growth slowdown in 2018: a series of unfortunate events
Eurozone growth in 2017 benefited strongly from the first synchronized global growth pickup since the Great Recession, which provided a large boost to net exports for most of the year, and allowed the region to reach a heady 2.5% annual rate of growth (Figure 1 below). Growth in 2018 of just 1.9% was a stark disappointment, after expectations of continued strong momentum were dashed by a series of unforeseen events over the course of the year.
Growth was initially hampered in 2018 by harsher-than-expected weather conditions in the first quarter of the year, followed by concerns about tariffs and trade policies, slowing Chinese growth due to prior deleveraging policies, and Italian political turmoil in the second quarter. The debt and currency crisis in Turkey soon followed, along with rising uncertainty regarding the Brexit outcome, the Italy–European Union budget standoff, and a sharp decline in German auto production due to a change in emission standards in the third quarter. The slowing of German growth due to the reduced auto sector production did not fade as expected in the fourth quarter, and the rise of the "Yellow Vest" protest movement in France added to the eurozone's economic woes. Though most of the downside impacts were transitory in nature, many of them were quickly replaced by a new set of short-term risks, while other risks did not abate as expected (e.g., trade and tariff concerns, slowing Chinese and global growth, Italian budget issues, Brexit).
Figure 1: Slowing eurozone growth momentum in 2018, dragged down by net exports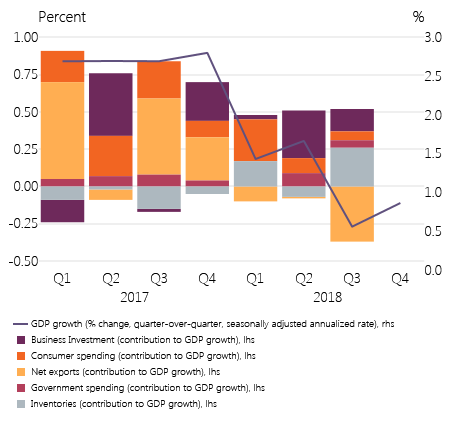 Sources: Macrobond, Eurostat. Data as of 3Q 2018 for contributions to growth, and 4Q 2018 for GDP growth (quarterly seasonally annualized rate).
The ECB's March 2019 meeting actions: Are they enough to spark renewed growth momentum?
Given this loss of growth momentum over the course of 2018, the notable reduction in the ECB's GDP and inflation forecasts for 2019 should have come as no surprise (Figure 2). What did come as a surprise to markets though was an earlier-than-expected extension of the ECB's guidance on the potential timing of its first rate increase, which was pushed out to "the end of 2019" at the earliest, from its previous guidance of "through the summer of 2019." The ECB has "chained" the timing of its balance sheet reduction[1] to the timing of its first rate hike, so by extension, has pledged to maintain the size of the balance sheet until at least the end of 2019 (in contrast to the Federal Reserve Bank in the U.S., which began tapering its balance sheet in October 2017, and has recently indicated it may be nearing the end of the process). The surprise element, along with the unanimity of the ECB's decision, should have some positive "signaling" impacts, as it indicates that the central bank is aware of the downside risks to growth and is ready to act to shore up growth should further threats arise. However, this impact should be fairly modest, as markets had already pushed expectations for the first ECB hike into 2021.
Figure 2: ECB GDP growth and inflation projection revisions as of March 2019 compared to December 2018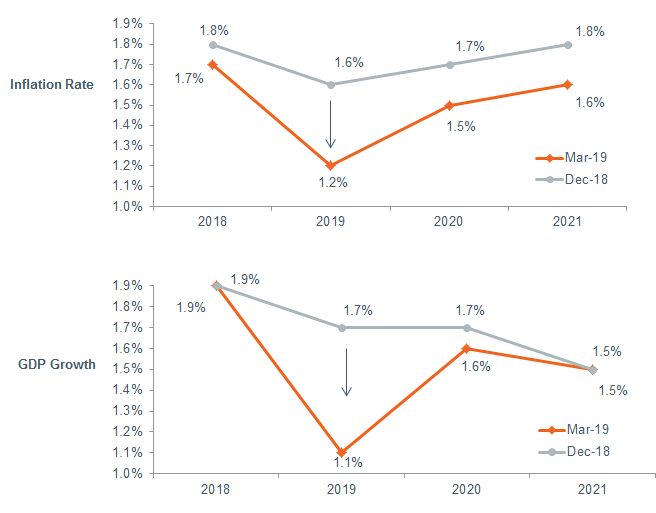 Source: European Central Bank. Data as of March 7, 2019.
The earlier-than-expected announcement of a third round of targeted long-term refinancing operations (TLTRO-III) was another key surprise. This would be the third round of a policy that allows banks to borrow from the ECB at a lower rate than available in the market, with the aim of encouraging banks to lend to eurozone businesses and consumers. In theory, this should support consumer spending and business investment, both of which have been propping up what little growth the economy has seen in recent quarters, in contrast to net exports, which have been a drag due to slowing global growth (see Figure 1). Consumer demand has held up, supported by a solid labor market, as the unemployment rate sits at its lowest since 2008, and wages continue to rise gradually. However, growth in bank loans to businesses has moderated in the past two quarters, as has expected demand for these loans in the future, both of which do not bode well for business investment (Figure 3).
Figure 3: Slowing bank loans to businesses and waning demand for loans do not bode well for business investment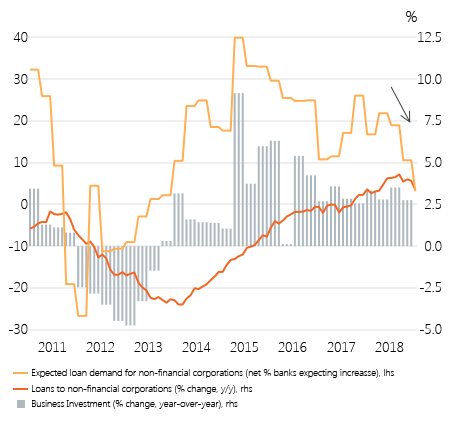 Source: Macrobond. Data as of 4Q 2018 for business investment, January 2019 for loans to non-financial corporations, March 2019 for expected loan demand.
While the full details on TLTRO-III have yet to be announced, this type of policy may have a less immediate and muted impact in stimulating the economy in our view. TLTRO-III in part replaces a previous round of TLTROs due to mature in 2020, but would have begun to have net tightening effects starting in June 2019 if allowed to mature without being replaced. The current round of loans would only start in September 2019 as well, which may be too late to counteract the threat to momentum in eurozone growth that is very real right now. In addition, this type of policy is a bit like "pushing on a string." Even if banks are encouraged to make new loans to consumers and businesses, the impact on the economy will only be felt if demand for these loans exists. If consumers and businesses are not confident in the prospects for growth, they may not take out these loans to provide the "pull" effect needed for the policy to be effective.
Finally, we are less optimistic about the potential for yesterday's actions to provide a jumpstart to eurozone growth, in part because we agree with a key point ECB President Draghi himself highlighted during the press conference. He noted that the ECB, in a rare act, did not upgrade the assessment of risks after taking policy action, as it typically does with the expectation that the policy action taken would improve the balance of risks. Instead, the ECB maintained the risk assessment as "tilted to the downside." While Draghi believed that the actions would "increase the resilience" of the eurozone domestic economy, he emphasized that the actions would not be able to fully address many of the risks that are external, including protectionism, geopolitical risks such as Brexit, slowing growth in China, and potential for slowing U.S. growth due to a waning fiscal boost. All of these risks are beyond the ECB's control, but their persistence present a real threat to eurozone economic momentum.
Core narrative
Yesterday's ECB policy actions were a dovish surprise to markets, but we expect that these actions will have limited ability to rejuvenate growth momentum in the eurozone. We remain underweight International Developed Equities, as we expect external factors to continue to weigh on growth in the region along with country-specific issues. In addition, the outlook for Japan and the UK remain lackluster. Economic indicators in Japan have been softening in recent readings with: the manufacturing PMI having fallen below the 50 threshold, suggesting contraction in the sector; negative recurring corporate profit growth for the first time since 2Q 2016; and falling consumer confidence as the unemployment rate appears to have troughed, though at still-low levels. The upcoming October 2019 consumption tax is likely to further weigh on growth in Japan. The UK's outlook remains cloudy with uncertainty continuing to loom large around the final prospects for Brexit. We retain a modest overweight to U.S. Large-Cap Equities, where we expect a more patient Fed, and better underlying growth momentum to be supportive. We also hold a modest overweight to Emerging Markets Equities, where we expect recent policy easing measures to support growth in China, along with our expectation for a benign resolution to trade negotiations.
[1] The size of the ECB balance sheet nearly doubled in size to 4.7 trillion euros between 2015 and 2018 under the ECB's quantitative easing policy. The policy, also known as the asset purchase program, was implemented in March 2015 to support an economy struggling to recover from the weight of the European debt crisis.
Disclosures
Wilmington Trust is a registered service mark. Wilmington Trust Corporation is a wholly owned subsidiary of M&T Bank Corporation. Wilmington Trust Company, operating in Delaware only, Wilmington Trust, N.A., M&T Bank and certain other affiliates, provide various fiduciary and non-fiduciary services, including trustee, custodial, agency, investment management and other services. International corporate and institutional services are offered through Wilmington Trust Corporation's international affiliates. Loans, credit cards, retail and business deposits, and other business and personal banking services and products are offered by M&T Bank, member FDIC. Wilmington Trust Investment Advisors, Inc. is an SEC-registered investment advisor providing investment management services to Wilmington Trust and M&T Bank affiliates and clients.
These materials are based on public information. Facts and views presented in this report have not been reviewed by, and may not reflect information known to, professionals in other business areas of Wilmington Trust or M&T Bank who may provide or seek to provide financial services to entities referred to in this report. M&T Bank and Wilmington Trust have established information barriers between their various business groups. As a result, M&T Bank and Wilmington Trust do not disclose certain client relationships with, or compensation received from, such entities in their reports.
The information on Wilmington Wire has been obtained from sources believed to be reliable, but its accuracy and completeness are not guaranteed. The opinions, estimates, and projections constitute the judgment of Wilmington Trust and are subject to change without notice. This commentary is for information purposes only and is not intended as an offer or solicitation for the sale of any financial product or service or a recommendation or determination that any investment strategy is suitable for a specific investor. Investors should seek financial advice regarding the suitability of any investment strategy based on the investor's objectives, financial situation, and particular needs. Diversification does not ensure a profit or guarantee against a loss. There is no assurance that any investment strategy will succeed.
Any investment products discussed in this commentary are not insured by the FDIC or any other governmental agency, are not deposits of or other obligations of or guaranteed by M&T Bank, Wilmington Trust, or any other bank or entity, and are subject to risks, including a possible loss of the principal amount invested. Some investment products may be available only to certain "qualified investors"—that is, investors who meet certain income and/or investable assets thresholds. Past performance cannot guarantee future results. Investing involves risk and you may incur a profit or a loss.
Any positioning information provided does not include all positions that were taken in client accounts and may not be representative of current positioning. It should not be assumed that the positions described are or will be profitable or that positions taken in the future will be profitable or will equal the performance of those described. Positions described are illustrative and not intended as a recommendation outside of a managed account.
Indices are not available for direct investment. Investment in a security or strategy designed to replicate the performance of an index will incur expenses, such as management fees and transaction costs that would reduce returns.
Third-party trademarks and brands are the property of their respective owners.
ACCESS THE WILMINGTON WIRE
Discover perspectives on timely wealth and investment management topics, authored by subject matter experts.
Explore Articles