Back
September 28, 2018— As was fully expected and fully priced in, the Federal Reserve hiked interest rates again on September 26, and signaled that it expects to keep doing so over the next couple of years. The federal funds rate range increase of 25 basis points, or bps (0.25%), brought its target up to 2.00%–2.25%. It was the eighth such hike, for a cumulative increase of 200bps from the zero level that had persisted for many years during the early part of the recovery. We expect the Fed to hike once more this year in December, barring any significant economic or market shocks between now and then. However, there is downside risk to the current projections of three more hikes in 2019. Additionally, we have three main takeaways from the Fed's updated projections and Chair Powell's press conference.
The details of the hike and our expectations
This week's hike was fully expected and the signal about another hike in December was not a surprise, so the action had very little impact on longer-term interest rates farther out the curve. The 3-month Treasury bill, which essentially moves in lockstep with Fed policy as well as the expectations three months ahead, hardly moved at all after the announcement. The 2-year yield has moved down just 2bps, and the closely watched 10-year Treasury, which is affected by Fed policy but also by longer-term expectations of growth and inflation, actually moved down about 3bps on Wednesday, when the hike was announced, reflecting that at least some investors were expecting the Fed to be a bit more hawkish.
In terms of future hikes, the Fed mostly reinforced its existing guidance. In the last round of projections from June 2018, the FOMC's median expectation was for two more rate hikes this year, but only by a small margin. With this week's update, there are now 12 out of 16 members of the committee who think a fourth rate hike this year, in December, is the appropriate path for policy. Looking into 2019, the median expectation was unchanged, expecting three more rate hikes next year, which would bring the federal funds rate to a target range of 3.00%–3.25%. (See the second orange dot in Figure 1.)
Figure 1
Federal funds rate—Federal Reserve and market projections

Data as of September 26, 2018.
Sources: Federal Reserve, Bloomberg.
While we don't quibble with that as a baseline expectation, we think there is a greater chance of them moving slower than that baseline than there is of them picking up the pace. Items that may push the Fed to hike faster than projected next year include: a further tightening of the labor market and meaningful acceleration in wage growth; an acceleration of current inflation readings; and, a significant increase in expected future inflation. While any of those things are possible, it is more likely that some of the downside risks will materialize. They include: a moderation of current inflation data and economic growth; a continued flattening of the yield curve that approaches the point of inversion (which we think would make the Fed reassess); and, significant (domestic or international) equity market weakness, that would rekindle worries about global economic growth. To be clear, we are not calling for any of those items to transpire, but place a higher likelihood on the downside risks than the upside ones.
Three observations from the press conference
The Fed is optimistic that the labor market will not overheat. This is important because an overheating labor market—one that has extremely low unemployment and is pushing wage growth inexorably higher—is something that has in past cycles pushed the Fed to hike quickly and kill the recovery. The Fed's updated forecasts show an expectation of the unemployment rate pushing down from the current 3.9% to 3.5% over the next two years, but not prompting higher inflation. And during the press conference Powell noted the labor force participation rate—which had been declining—has flattened out in recent years. We amplify that point by adding the so-called "prime age" participation rate (for workers aged 25–54) has actually increased over the past couple of years, a sign that more workers are moving back into the workforce (Figure 2). This is important because flows into the workforce act as a release valve of sorts for a pressured labor market. If this continues it provides some relief from what would be even stronger wage pressure.
Not a single member of the Fed committee believes the 2017 tax reform package will have an impact on long-term growth. For 2018, the median GDP growth forecast is 3.1%, acknowledging the stronger growth so far this year and the expectation it will continue in the second half. But the forecast is for decelerations to 2.5%, 2.0%, and 1.8% in 2019, 2020, and 2021, respectively. Most importantly, the expectation for longer term growth is 1.8%, completely unchanged from a year ago, before the tax legislation was passed. This has implications for the path of rate hikes. If growth was permanently higher, the Fed's longer-run "terminal rate" for interest rate policy would be higher.
Corporate debt is likely the Fed's biggest concern. Powell was asked a few times about debt levels and the possible risk they pose to the economy and the financial system. It's fairly clear a Fed chair would not sound an alarm about corporate debt unless he was certain, as such an alarm would likely amount to a self-fulfilling prophecy. But that doesn't mean it's not receiving scrutiny, and Powell's cursory comments on the subject make us think it's a point of focus. At one point when asked about financial stability, Powell gave a detailed assessment of household debt conditions, which are not worrisome, as well as an allusion to "high asset prices." But on corporate debt he was incredibly brief, stopping his comments almost as soon as he began, as if to avoid talking about it at all. He went back to the assessment of overall financial conditions as "moderate." In a subsequent question about leveraged lending, he again only spoke lightly about the topic and then reverted to his previous statement about overall financial conditions being moderate.
Figure 2
Overall participation rate vs. prime age participation rate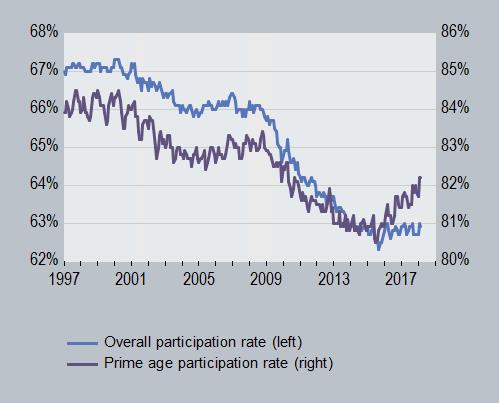 Data as of March 31, 2018.
Sources: Bureau of Labor Statistics, Bloomberg.
Core narrative
The Fed has hiked rates for the eighth time this cycle, bringing the target to 2.00%–2.25%, a marked departure from the zero level that had endured for so long after the crisis. Barring a surprise in financial markets or sharply weaker economic data, it is highly likely to hike again in December. The central bank's projections of three more hikes in 2019 are a good baseline, and there is the possibility of a rate pace that is either faster or slower. In our view, there is a greater likelihood of the latter.
Disclosures
Wilmington Trust is a registered service mark. Wilmington Trust Corporation is a wholly owned subsidiary of M&T Bank Corporation. Wilmington Trust Company, operating in Delaware only, Wilmington Trust, N.A., M&T Bank and certain other affiliates, provide various fiduciary and non-fiduciary services, including trustee, custodial, agency, investment management and other services. International corporate and institutional services are offered through Wilmington Trust Corporation's international affiliates. Loans, credit cards, retail and business deposits, and other business and personal banking services and products are offered by M&T Bank, member FDIC. Wilmington Trust Investment Advisors, Inc. is an SEC-registered investment adviser providing investment management services to Wilmington Trust and M&T Bank affiliates and clients.
These materials are based on public information. Facts and views presented in this report have not been reviewed by, and may not reflect information known to, professionals in other business areas of Wilmington Trust or M&T Bank who may provide or seek to provide financial services to entities referred to in this report. M&T Bank and Wilmington Trust have established information barriers between their various business groups. As a result, M&T Bank and Wilmington Trust do not disclose certain client relationships with, or compensation received from, such entities in their reports.
The information on Wilmington Wire has been obtained from sources believed to be reliable, but its accuracy and completeness are not guaranteed. The opinions, estimates, and projections constitute the judgment of Wilmington Trust and are subject to change without notice. This commentary is for information purposes only and is not intended as an offer or solicitation for the sale of any financial product or service or a recommendation or determination that any investment strategy is suitable for a specific investor. Investors should seek financial advice regarding the suitability of any investment strategy based on the investor's objectives, financial situation, and particular needs. Diversification does not ensure a profit or guarantee against a loss. There is no assurance that any investment strategy will succeed.
Any investment products discussed in this commentary are not insured by the FDIC or any other governmental agency, are not deposits of or other obligations of or guaranteed by M&T Bank, Wilmington Trust, or any other bank or entity, and are subject to risks, including a possible loss of the principal amount invested. Some investment products may be available only to certain "qualified investors"—that is, investors who meet certain income and/or investable assets thresholds. Past performance cannot guarantee of future results. Investing involves risk and you may incur a profit or a loss.
Any positioning information provided does not include all positions that were taken in client accounts and may not be representative of current positioning. It should not be assumed that the positions described are or will be profitable or that positions taken in the future will be profitable or will equal the performance of those described. Positions described are illustrative and not intended as a recommendation outside of a managed account. Indices are not available for direct investment. Investment in a security or strategy designed to replicate the performance of an index will incur expenses, such as management fees and transaction costs that would reduce returns.
Third-party trademarks and brands are the property of their respective owners.
ACCESS THE WILMINGTON WIRE
Discover perspectives on timely wealth and investment management topics, authored by subject matter experts.
Explore Articles