Back
March 3, 2020—The Federal Reserve cut their short-term interest rate target by 50 basis points to a target range of 1.0–1.25%, the lowest since December 2017, in response to the economic risk coming from the spread of the new coronavirus and the disease it causes, COVID-19. The next scheduled Fed meeting was not until two weeks from now, on March 17-18, so this was done as an emergency meeting, most likely via conference call. Emergency meetings like this are rare, but not unprecedented. They are clearly reacting to the possible economic downside risk, but also to the swift moves in financial markets over the past week. Notably, the vote was unanimous, with some of the voting members having stated in interviews just a week ago that they were not supportive of any rate moves. Clearly the sharp movements in markets last week had some impact. The move from the Fed should be somewhat supportive to equity markets, but does not remove the risks that remain.
Figure 1: Federal Reserve target rate upper bound (%)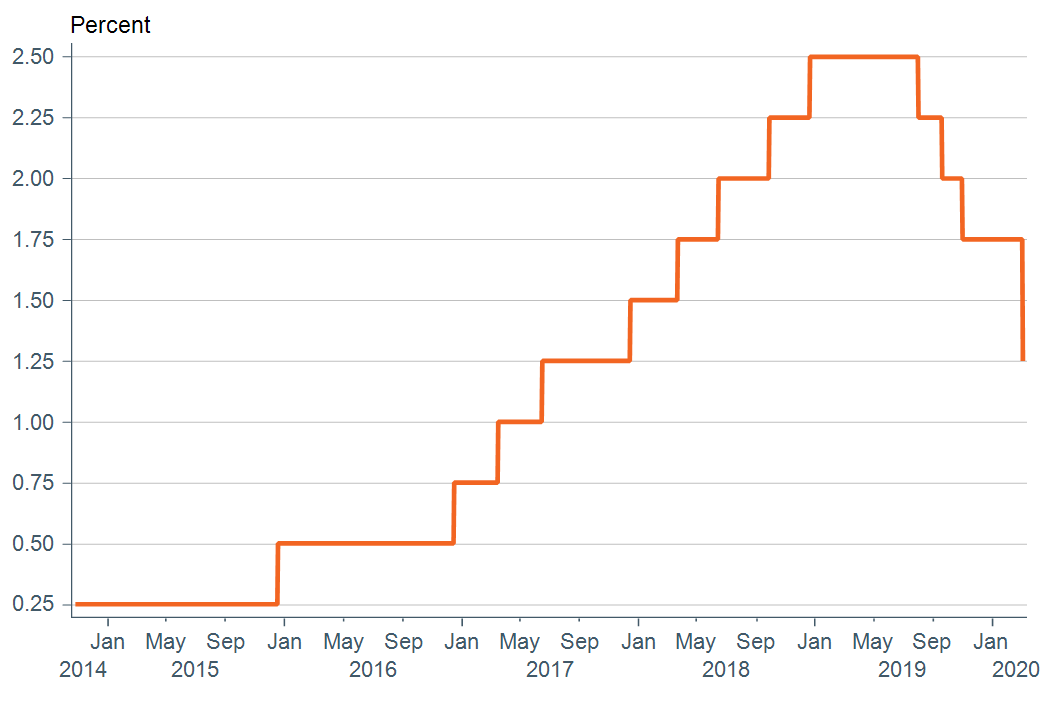 Data as of March 3, 2020. Source: Federal Reserve.
An update on the virus and markets
The spread of the virus moved quickly in the past week from a possibly contained, China-centric problem to a truly global issue. The number of new cases outside of China leapt, especially in South Korea, Italy, and Iran. This, in turn, prompted governments to issue travel restrictions, private organizations to cancel mass public events, and investors to sell. There was a massive selloff in equity markets, prompting the fastest U.S. stock market correction (a downward move of 10%) in history. Early in the week we decided to derisk portfolios, moving to an underweight to equities. We continue to believe the underweight is appropriate given the risk of further downward moves, and our effort to protect against losses.
Although Monday, March 2, witnessed a massive bounce for equities with the Dow up 1,293 points (5.1%) and the S&P 500 up 4.6%, the risks remain. As of Tuesday morning, the number of cases in the U.S. was up to 105 with six deaths. And as Dr. Amesh Adalja told us on our February 28 client call with regards to the spread of the virus, what we're seeing "in many countries is the tip of the iceberg" and "no country is really going to be spared." That is not to say he is, or we are, predicting deaths on a massive scale or trying to create fear; it is merely the recognition that we are likely to see the number of cases grow, and that brings economic and market risk.
The risks to growth are real
The Fed is always willing to adjust policy if there is a change to the economic outlook or the risks surrounding the outlook. It is a standard refrain that is included in every statement and press conference. The most recent instance of the committee releasing forecasts was the December 2019 meeting when the median expectation for GDP growth in 2020 was 2.0%. There is now clear downside risk to that expectation. We don't have new forecasts from the Fed, but most forecasters have cut their outlook. The OECD released a multiple scenario analysis where the best-case includes a sharp slowdown in global growth for 2020 relative to 2019, saying this is the "gravest threat" since the financial crisis more than a decade ago. Earlier this morning, the G7 group of countries were more circumspect in their assessment, saying there are "potential impacts" and that the nations are ready to act as needed. Many Fed officials have acknowledged in public speeches that the spread of the virus poses a downside risk. Last week's wild ride in the markets culminated with a rare press release from Chairman Powell officially acknowledging the risk and indicating the Fed would "act as appropriate to support the economy." And now they have made the decision that lower rates are appropriate.
The market is sending a clear signal
As equity markets tumbled last week, so did interest rates on U.S. Treasuries, as investors piled into safe-haven assets. That pushed all maturities down below the Fed's target rate at the time of 1.50–1.75%. That is a very uncomfortable position for the Fed, and quite different from the pre-virus, upward-sloping shape of the curve at the end of last year. Today's move does not get all of the way to an upward-sloping curve, but it's pretty close.
Figure 2: U.S. Treasury yields by maturity (%)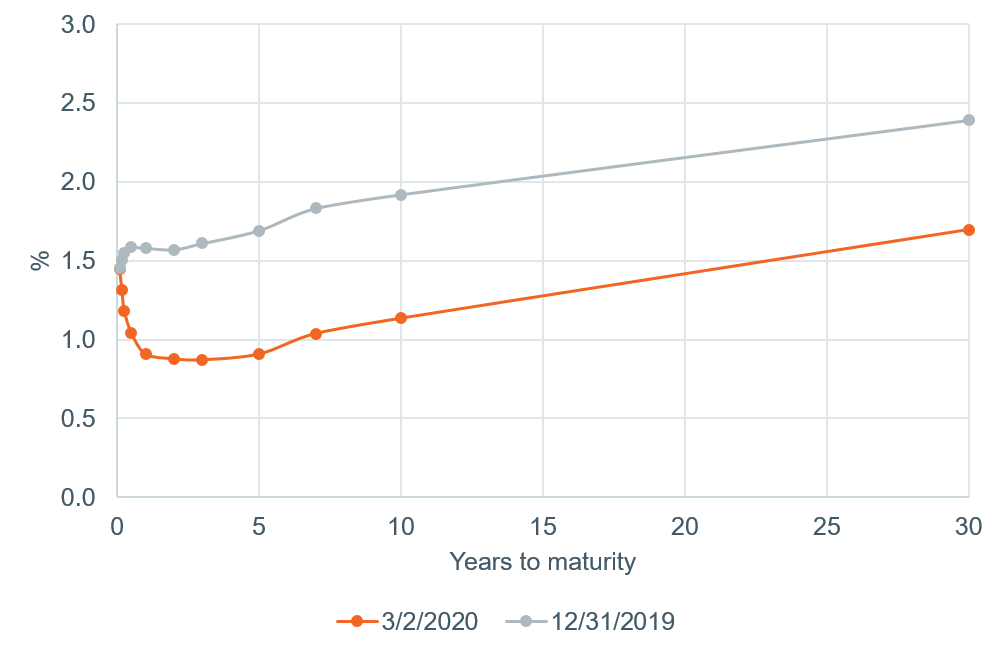 Data as of March 3, 2020. Source: Bloomberg.
There is little risk of inflation
Lastly, all decisions are of course a weighing of costs and benefits. The Fed decided cutting rates was for the benefit of the economy, and it must have outweighed the costs. The cost of lowering interest rates is the possibility of stoking inflation. The risk of that happening has clearly moved to the back burner. While the supply chain issues coming from China's quarantine could in principle lead to some inflation for some goods, the risk of slower global growth pushes inflation and inflation expectations lower. The bond market's indicators for inflation expectations, the breakeven rates on Treasury Inflation-Protected Securities (TIPS), have fallen and remain at low levels. This is also unnerving to the Fed and pushes them in the direction of lower rates if they believe the weakness will be sustained.
Core narrative
The risk of economic weakness and more market volatility has increased sharply over the past week. As we indicated when we derisked portfolios last week, the science of the risk includes many unknowns, but points toward the likelihood of further spread that brings on the prospect of more economic disruptions and market volatility. The Fed clearly thinks the risks are large enough to merit more accommodative policy, but the committee was also pushed into this position by the market.
We think that the move will be somewhat supportive of equity markets. Clearly, rate cuts cannot do anything to heal the sick or stop the spread of the virus, but they can make equities more attractive simply by making Treasuries more expensive. Additionally, lower rates at the shorter end of the curve can be helpful to any firms that need to refinance for short-term funding. Lastly, at the highest level, the Fed is signaling that it will be supportive in times of stress and not be detrimental to markets. Despite their action, we remain wary of the risks to growth, we expect disruptions to economic growth, and further volatility in markets, and we continue to recommend an underweight to equities.
Disclosures
Wilmington Trust is a registered service mark. Wilmington Trust Company, operating in Delaware only, Wilmington Trust, N.A., M&T Bank and certain other subsidiaries of M&T Bank Corporation, provide various fiduciary and non-fiduciary services, including trustee, custodial, agency, investment management and other services. International corporate and institutional services are offered through M&T Bank Corporation's international subsidiaries. Loans, credit cards, retail and business deposits, and other business and personal banking services and products are offered by M&T Bank, member FDIC.
Facts and views presented in this report have not been reviewed by, and may not reflect information known to, professionals in other business areas of Wilmington Trust or M&T Bank who may provide or seek to provide financial services to entities referred to in this report. M&T Bank and Wilmington Trust have established information barriers between their various business groups. As a result, M&T Bank and Wilmington Trust do not disclose certain client relationships with, or compensation received from, such entities in their reports.
The information on Wilmington Wire has been obtained from sources believed to be reliable, but its accuracy and completeness are not guaranteed. The opinions, estimates, and projections constitute the judgment of Wilmington Trust and are subject to change without notice. This commentary is for information purposes only and is not intended as an offer or solicitation for the sale of any financial product or service or a recommendation or determination that any investment strategy is suitable for a specific investor. Investors should seek financial advice regarding the suitability of any investment strategy based on the investor's objectives, financial situation, and particular needs. Diversification does not ensure a profit or guarantee against a loss. There is no assurance that any investment strategy will succeed.
Past performance cannot guarantee future results. Investing involves risk and you may incur a profit or a loss.
Indexes are not available for direct investment. Investment in a security or strategy designed to replicate the performance of an index will incur expenses such as management fees and transaction costs which would reduce returns.


ACCESS THE WILMINGTON WIRE
Discover perspectives on timely wealth and investment management topics, authored by subject matter experts.
Explore Articles