Back
June 20, 2019 – The Federal Reserve left rates unchanged at its meeting this week, but as we expected it would, it hinted that rate cuts may be coming soon. The Federal Open Market Committee (FOMC) kept an optimistic stance, saying it still expects economic growth to continue, the labor market to remain strong, and for inflation to remain subdued, but that the "uncertainties around this outlook have increased." Federal Reserve Chair Jay Powell expanded on the committee's discussion and stance during the press conference, saying the uncertainty comes from weaker global growth and the prospect of escalating trade wars. The official projections from the FOMC as well as the press conference discussion made it clear that the group is leaning towards cutting rates sometime later this year. Equity markets cheered the message, moving up a bit on the day and then jumping to new all-time highs (as measured by the S&P 500) at the start of trading on Thursday. This is on top of strong moves earlier in the week on the heels of a similar dovish stance by the European Central Bank's (ECB) president, Mario Draghi. While we are encouraged by the Federal Reserve's messaging and believe it to be an appropriate move, we caution against getting too excited about equities until there is more clarity on the path of the economy, as well as the biggest risk: the trade war.
The justification for cutting rates sometime soon
As we described in a recent post, the economy does not appear to be in contraction but has shown enough slowing for the Fed to legitimately consider cutting rates (See Will Markets Get Some "Summer Loving" from the Fed?, June 6, 2019). In addition to the economic data, there are clear signals from the market, especially from Treasury yields and inflation breakevens,that argue strongly for a cut.
We will add another argument that has likely gotten the Fed's attention: that its current rate stance is actually more restrictive than they want or ever intended it to be. Although the Fed has not hiked rates in 2019, its policy has gotten more restrictive because the so-called "natural rate of interest" (alternatively called the "neutral rate") has drifted down by some estimates this year (Figure 1). That natural rate, often referred to as "r-star" or "r*" is meant to show the interest rate that would neither be restrictive nor accommodative for the economy. Generally, r* is higher when growth is stronger, inflation is higher, and demand for credit is higher. When the Fed sets the Fed funds rate below r*, it stimulates the economy, and when it sets the Fed funds rate above r*, it is putting on the brakes. As the Fed has been hiking rates for several years, it was doing so with the belief that r* would be drifting up slowly as well. But the economic weakness in 2019 caused r* to drift down, as can be seen at the far right of Figure 1. This simply means that with the current Fed funds rate at 2.25-2.50, the Fed is pressing on the brakes harder than they intend to.
Figure 1: Fed policy rate and the neutral rate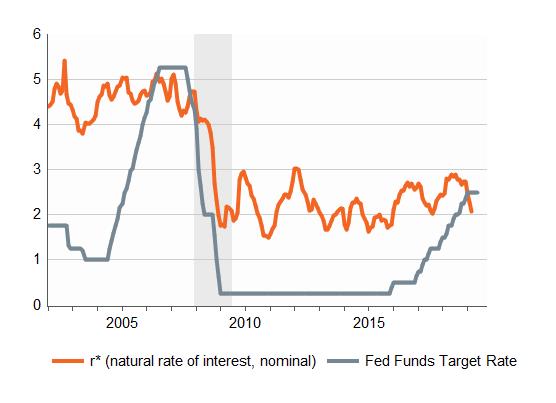 Source: Federal Reserve, Bloomberg, WTIA. Data as of June 19, 2019.
Party like it's 1998?
With the Fed likely to cut rates in the coming months, the key question for investors is of course the impact on equities and markets. Many in financial markets and the press have taken to discussing the Fed's possible rate reductions as "insurance cuts," in the sense that they are cutting rates not because they see a recession coming, but because risks have mounted and the lower rates provide some "insurance" against a bad outcome. The experiences of 1995 and 1998 are held out as examples of successful "insurance cuts," when the Fed cut rates by 75 basis points in each instance in the face of financial market stress and some mildly decelerating economic data, no recession followed, and equity markets performed quite well. This would appear to be a comforting analog to today's environment.
The trouble with that comparison is that when the Fed first cuts rates, it always thinks that it is making insurance cuts. For example, when the Fed initially cut rates in September 2007, most members of the committee were also thinking it was "insurance," not that the economy was headed toward the calamity from which we're still arguably recovering. Equity markets initially reacted quite positively, jumping 2.9% on the day of the announcement, and by a total of 6% over three weeks, only to be followed the multi-year bear market. In another example that argues to not get too excited by initial market reactions, when the Fed first cut rates in 1998, the S&P dropped by 8.5% over the ensuing week before reversing course, and ended up delivering +19% in 1999.
More generally, the impact on equity markets over the longer term are not determined by whether the Fed cuts or not, per se. They are determined by how the economy performs. Figure 2 shows the performance of the S&P 500 with the index normalized to 1.0 on the day of the first Fed rate cut over the past five experiences. The day of the first rate cut is shown by the grey line. In three of the instances, equities went higher over the ensuing year, and in two instances, equities declined. It should come as no surprise that the two instances of decline, 2000 and 2007, are the two instances where the U.S. experienced a recession.
Figure 2: Equity market performance following Fed rate cuts (S&P 500, normalized to 1.0 on the day of the first cut)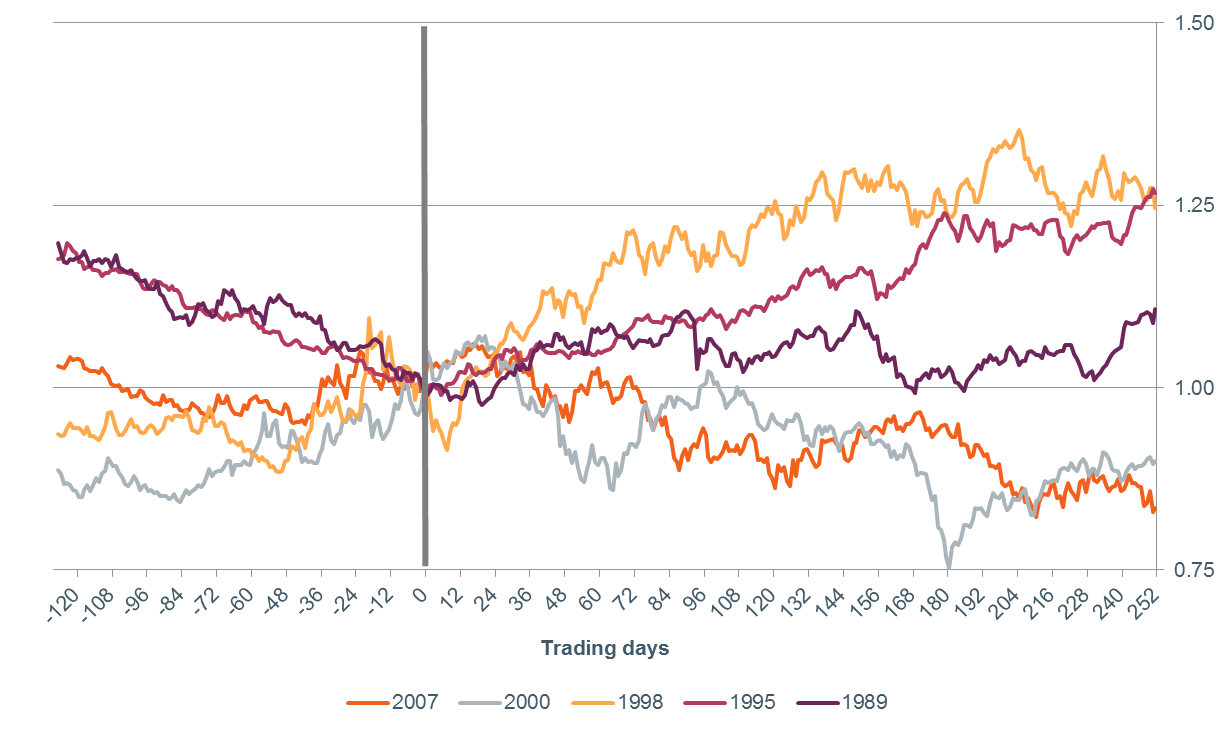 Source: S&P, Bloomberg, WTIA. Data as of June 19, 2019.
Core narrative
We think the move by the Fed to lean toward rate cuts later this year is justified by the economic data, the financial market signals, and that inflation is unlikely to move sharply higher in the near term. Although the move is pushing equity markets higher and may continue to do so until the next Fed meeting, we caution about getting too exuberant until there is more clarity on the trade and tariff situation. As we have said for quite some time, a continuing escalation of the trade war would bring real damage to the economy and the profitability of companies, and by extension to the performance of financial markets. We still believe the U.S. economy to be on fairly good footing, despite the obvious pain being endured by the manufacturing sector in a global slowdown that is being amplified by tariffs. Should the trade situation be resolved we would be more optimistic. But the risks remain and we recommend a neutral positioning.
Disclosures
Wilmington Trust is a registered service mark. Wilmington Trust Corporation is a wholly owned subsidiary of M&T Bank Corporation. Wilmington Trust Company, operating in Delaware only, Wilmington Trust, N.A., M&T Bank and certain other affiliates, provide various fiduciary and non-fiduciary services, including trustee, custodial, agency, investment management and other services. International corporate and institutional services are offered through Wilmington Trust Corporation's international affiliates. Loans, credit cards, retail and business deposits, and other business and personal banking services and products are offered by M&T Bank, member FDIC. Wilmington Trust Investment Advisors, Inc. is an SEC-registered investment adviser providing investment management services to Wilmington Trust and M&T Bank affiliates and clients.
These materials are based on public information. Facts and views presented in this report have not been reviewed by, and may not reflect information known to, professionals in other business areas of Wilmington Trust or M&T Bank who may provide or seek to provide financial services to entities referred to in this report. M&T Bank and Wilmington Trust have established information barriers between their various business groups. As a result, M&T Bank and Wilmington Trust do not disclose certain client relationships with, or compensation received from, such entities in their reports.
The information on Wilmington Wire has been obtained from sources believed to be reliable, but its accuracy and completeness are not guaranteed. The opinions, estimates, and projections constitute the judgment of Wilmington Trust and are subject to change without notice. This commentary is for information purposes only and is not intended as an offer or solicitation for the sale of any financial product or service or a recommendation or determination that any investment strategy is suitable for a specific investor. Investors should seek financial advice regarding the suitability of any investment strategy based on the investor's objectives, financial situation, and particular needs. Diversification does not ensure a profit or guarantee against a loss. There is no assurance that any investment strategy will succeed.
Any investment products discussed in this commentary are not insured by the FDIC or any other governmental agency, are not deposits of or other obligations of or guaranteed by M&T Bank, Wilmington Trust, or any other bank or entity, and are subject to risks, including a possible loss of the principal amount invested. Some investment products may be available only to certain "qualified investors"—that is, investors who meet certain income and/or investable assets thresholds. Past performance cannot guarantee future results. Investing involves risk and you may incur a profit or a loss.
Any positioning information provided does not include all positions that were taken in client accounts and may not be representative of current positioning. It should not be assumed that the positions described are or will be profitable or that positions taken in the future will be profitable or will equal the performance of those described. Positions described are illustrative and not intended as a recommendation outside of a managed account. Indices are not available for direct investment. Investment in a security or strategy designed to replicate the performance of an index will incur expenses, such as management fees and transaction costs that would reduce returns.
Third-party trademarks and brands are the property of their respective owners.

ACCESS THE WILMINGTON WIRE
Discover perspectives on timely wealth and investment management topics, authored by subject matter experts.
Explore Articles