Back
July 24, 2019 – Expectations for Federal Reserve action have been on quite a rollercoaster since late 2018 when equity markets fell sharply and interest rates plummeted. This year has been no different and swings in expectations continue this week, and will likely continue until they make their announcement next Wednesday, July 31. The most recent swing over the past week has been in the direction of "Do they even need to cut rates at all?" following a handful of more positive U.S. economic releases last week. We recognize that data did surprise to the upside and is encouraging, but we do not think it materially changes the case for an easing of policy. We expect the Federal Reserve to cut rates next week by either 25 or 50 basis points (bps). The move will likely be supportive of equities in the short term, but we continue to look for any indication of true strength in the economy as well as an amelioration of risks (principally trade) before getting more optimistic about equities.
Not much has changed since June
Over the past couple of months we have noted deterioration in economic data, in particular in the manufacturing sector, as well as signals from the market, as bolstering a growing case for cutting rates. (See Will Markets Get Some Summer Loving From the Fed?, June 6, 2019) Additionally, that economic weakness translated to their current rate stance becoming increasingly restrictive over the first half of 2019, even though they have not raised rates this year. (See The Federal Reserve Hints at Rate Cuts to Come, June 20, 2019). Chair Powell took the opportunity at the June press conference to outline the case for cutting rates, highlighting 1) weaker domestic growth, 2) "crosscurrents" of weaker international growth, and 3) stubbornly low current and expected future inflation. This argument seemed to resonate with markets, giving a boost to equities and roughly keeping Treasury yields steady, endorsing the views expressed in fixed income markets. The expectation for rate cuts was given further credence on July 10 and 11 when Powell testified to the U.S. House and Senate, respectively, giving a prepared statement that, to us, made it clear he was likely looking to reduce interest rates, citing the same reasons from the June press conference.
The swings in expectations over the past week have come from a string of stronger data releases. Retail sales, a timely and important indicator of consumer behavior, surprised strongly to the upside in June, capping a quarter that is expected to show some resilience in consumer spending after a very weak start to the year. Two of the Fed's regional manufacturing gauges, from Philadelphia and New York, also surprised to the upside, along with stronger-than-expected manufacturing activity in a report on nationwide industrial production. Those measures of the manufacturing sector are important because that sector has been the source of so much of the recent weakening in U.S. growth. Lastly, the most recent reading on Consumer Price Index (CPI) inflation surprised to the upside. That could have implications for the Fed because one of the reasons to reduce rates would be to push inflation higher. These are the main developments that drove chatter about whether the Fed actually needed to cut. Importantly, that chatter appears to mostly be just in the headlines and research notes, but has not affected equity and fixed income markets, which appear to us to still be pricing in a cut.
Figure 1: Treasury yield curve (%)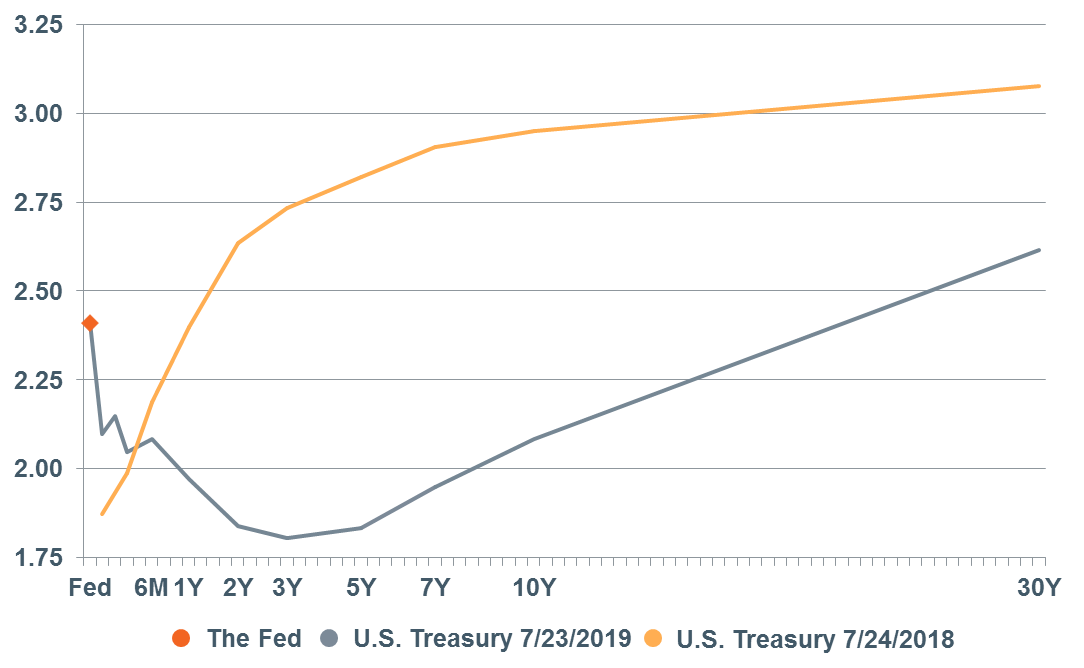 Source: Bloomberg, Federal Reserve, WTIA. Data as of July 24, 2019.
The case for rate cuts remains
We recognize that some of the recent data weakens the case to cut rates, but only marginally in our view. The strength in retail sales was expected, and the inflation data, though it surprised to the upside, still keeps overall inflation in a year-over-year sense, far enough below the Fed's target for them to be dovish. And that data has not really affected the warning signs coming from fixed income markets. The yield curve (See Figure 1) remains in a strangely inverted shape (generally, one would expect higher interest rates for longer maturity, similar to last year's curve, that slopes up and to the right). The Fed, shown by the orange dot, has kept its overnight target at 2.4%, which keeps shorter-term interest rates relatively high. The farther you go out in maturity, the pessimism about growth and inflation is reflected, with yields from 2 years to 5 years all comfortably below 1.9%. The yield on the closely-watched, benchmark 10-year Treasury fell below the Fed's overnight rate on May 23 and remains there. This is as clear a signal as there can be that the market and the Fed are on completely different pages.
So something has got to give. Either the bond market got too pessimistic and has pushed rates too low, or the Fed is too optimistic and should follow the bond market down. If the bond market was too pessimistic, then one could expect some spate of positive economic data releases to come in and drive those longer-term rates higher, and "fix" the curve. That has clearly not happened, nor is there any sign that a flood of positive data is forthcoming. Lacking that, the Fed is highly likely to "fix" the curve by dropping their target rate, the orange dot. We should stress we don't think the Fed is taking action solely to "fix" the curve, per se, but it is a handy visualization of the clear signal coming from the bond market that the outlook is not so rosy. It's also worth pointing out that, in our view, Chair Powell, who spent his career working in capital markets, likely puts a higher weight on the signals coming from those markets than did his predecessors, who were economists who were more prone to rationalizing weirdly shaped yield curves.
The other important signal coming from markets is the very low expectations for inflation, shown by the breakeven rates on Treasury Inflation Protected Securities (TIPS) relative to their nominal counterparts. These are essentially the implied inflation forecasts coming from the bond market. The Fed believes that these expectations of future inflation are critical to the effectiveness of policy. When they are low, they run the risk of creating a self-fulfilling prophecy and driving actual inflation ever lower. In 2018, longer-term TIPS yields showed some signs of remaining in what we think of as the Fed's "comfort zone," between 2% and 3%. With this year's economic slowdown and softer inflation data, though, expectations have dropped back down. We believe this is a significant consideration to the Fed as they consider whether to take action.
Core narrative
The very recent economic data has been more positive, but not enough to really change the overall outlook going forward. It has not changed the risks and "crosscurrents" coming from abroad, and has clearly not removed the risk that could come from a deterioration in the trade war. We think the case for interest rate cuts is strong, and that the Fed will take action next week. It's a bit of a toss-up as to whether they cut by 25 bps or 50 bps. The description of the yield curve above would argue for 50 bps. If they cut by 25 bps then the Fed would immediately be facing relentless questioning, and expectation that they would cut by 25 bps again in September. It is likely better for them to cut by 50 bps and communicate that they are waiting to see what transpires.
Although the Federal Reserve is likely to cut rates and that should be supportive to equities, we don't think it materially changes the outlook for the economy going forward. We expect growth to continue, but not accelerate, and it is still at risk of disruption by any matter of things, especially an escalation of the trade war. We remain neutral to equities versus our benchmarks and remain on the lookout for catalysts in either direction.
Figure 2: Treasury Inflation Protected Securities breakeven rates (%)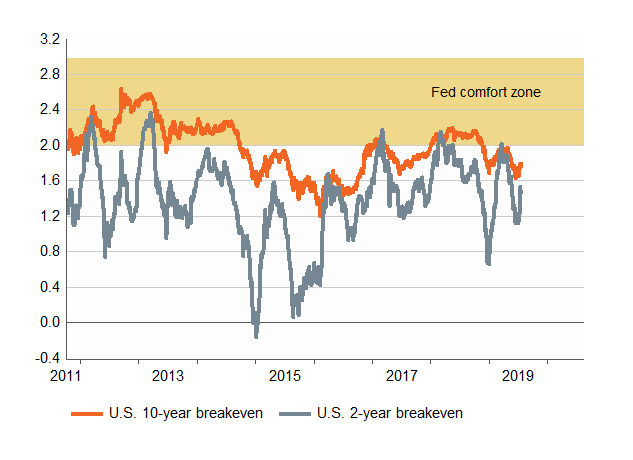 Source: Bloomberg, WTIA. Data as of July 23, 2019.
Disclosures
Wilmington Trust is a registered service mark. Wilmington Trust Corporation is a wholly owned subsidiary of M&T Bank Corporation. Wilmington Trust Company, operating in Delaware only, Wilmington Trust, N.A., M&T Bank and certain other affiliates, provide various fiduciary and non-fiduciary services, including trustee, custodial, agency, investment management and other services. International corporate and institutional services are offered through Wilmington Trust Corporation's international affiliates. Loans, credit cards, retail and business deposits, and other business and personal banking services and products are offered by M&T Bank, member FDIC. Wilmington Trust Investment Advisors, Inc. is an SEC-registered investment adviser providing investment management services to Wilmington Trust and M&T Bank affiliates and clients.
These materials are based on public information. Facts and views presented in this report have not been reviewed by, and may not reflect information known to, professionals in other business areas of Wilmington Trust or M&T Bank who may provide or seek to provide financial services to entities referred to in this report. M&T Bank and Wilmington Trust have established information barriers between their various business groups. As a result, M&T Bank and Wilmington Trust do not disclose certain client relationships with, or compensation received from, such entities in their reports.
The information on Wilmington Wire has been obtained from sources believed to be reliable, but its accuracy and completeness are not guaranteed. The opinions, estimates, and projections constitute the judgment of Wilmington Trust and are subject to change without notice. This commentary is for information purposes only and is not intended as an offer or solicitation for the sale of any financial product or service or a recommendation or determination that any investment strategy is suitable for a specific investor. Investors should seek financial advice regarding the suitability of any investment strategy based on the investor's objectives, financial situation, and particular needs. Diversification does not ensure a profit or guarantee against a loss. There is no assurance that any investment strategy will succeed.
Any investment products discussed in this commentary are not insured by the FDIC or any other governmental agency, are not deposits of or other obligations of or guaranteed by M&T Bank, Wilmington Trust, or any other bank or entity, and are subject to risks, including a possible loss of the principal amount invested. Some investment products may be available only to certain "qualified investors"—that is, investors who meet certain income and/or investable assets thresholds. Past performance cannot guarantee future results. Investing involves risk and you may incur a profit or a loss.
Any positioning information provided does not include all positions that were taken in client accounts and may not be representative of current positioning. It should not be assumed that the positions described are or will be profitable or that positions taken in the future will be profitable or will equal the performance of those described. Positions described are illustrative and not intended as a recommendation outside of a managed account. Indices are not available for direct investment. Investment in a security or strategy designed to replicate the performance of an index will incur expenses, such as management fees and transaction costs that would reduce returns.
Third-party trademarks and brands are the property of their respective owners.
ACCESS THE WILMINGTON WIRE
Discover perspectives on timely wealth and investment management topics, authored by subject matter experts.
Explore Articles