Back
October 16, 2020—The housing market's role as one of the key drivers of the current recovery has been notable and stands in stark contrast to its role as a key driver of the last recession (2008–2009). The housing market's surprising resilience is due in part to pandemic-induced demand for housing, in addition to ultra-low interest rates and pre-pandemic demographic trends. It has also been supported by an unprecedented level of government support for incomes, and a much swifter implementation of policy protections for homeowners and renters relative to the last recession. While the true downside impacts of the pandemic may only be revealed as these government policy supports fade, the risks are likely to be more limited than they were during the last recession. The longer-run outlook for the housing market will depend on potential for additional fiscal stimulus, recovery in the labor market, and the trajectory of interest rates.
A V-shaped recovery so far
A number of housing market indicators have swiftly recovered after their initial plunge, and in many cases are now far exceeding pre-pandemic levels. Existing and new home sales in August both surged to their highest since 2006. Pending home sales (which are counted at contract signing) are a leading indicator of existing homes sales (which are counted at closings), and rose to a record high in August, posting a fourth straight month of gains. Meanwhile, the National Association of Homebuilders (NAHB) housing market index hit a record high in August, indicating builders are increasingly optimistic.
Figure 1: Home builder sentiment is at a record high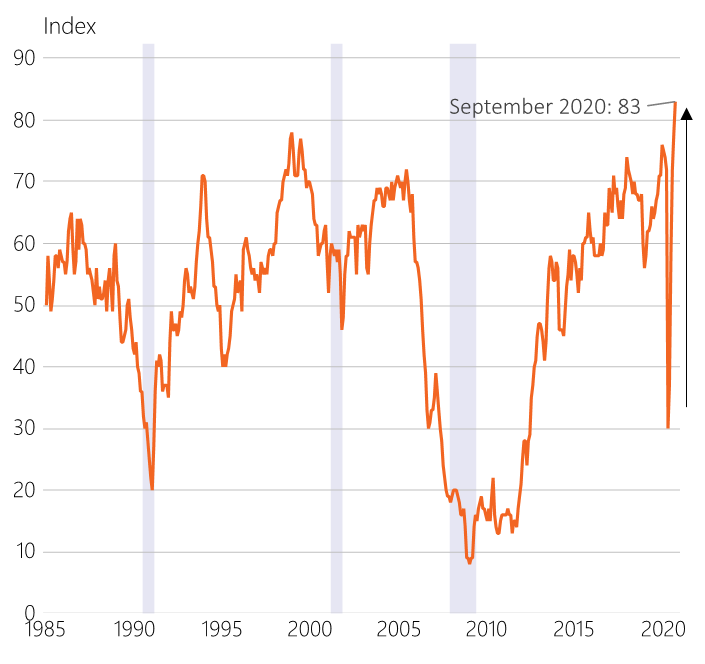 Sources: National Association of Home Builders, Macrobond. Data as of September 30, 2020.
Demand remains robust
Demand for housing has been fueled in part by the pandemic. The increased prevalence of work from home arrangements has spurred a rising trend in households looking for more space, and away from dense urban areas to suburban locations. This is likely contributing to the more sanguine picture for single-family homes relative to multi-family homes, with new permit applications for the former up 4.4% from February levels, but down 1.4% for the latter as of August.
Mortgage rates are at all-time lows thanks to easy monetary policy implemented by the Fed to combat the recession (Figure2).
Figure 2: Mortgage rates at all-time lows
Sources: Macrobond, Freddie Mac. Data as of September 30, 2020.
Meanwhile, existing trends supporting home buying have also been accelerated. Millennials, who overtook baby boomers as the largest generation in 2019, are increasingly entering the prime home-buying age bracket, as a rising proportion are now 30 years or older. The combination of pandemic-driven factors and low interest rates may have encouraged millennials to pull forward purchases of homes. Since February, new home sales have picked up the most in the $200,000–$299,000 price range most typical for first-time buyers (accounting for 40% of purchases in August, up from 28% in February, Figure 3).
Figure 3: Change in share of new home sales by price (from February to August 2020)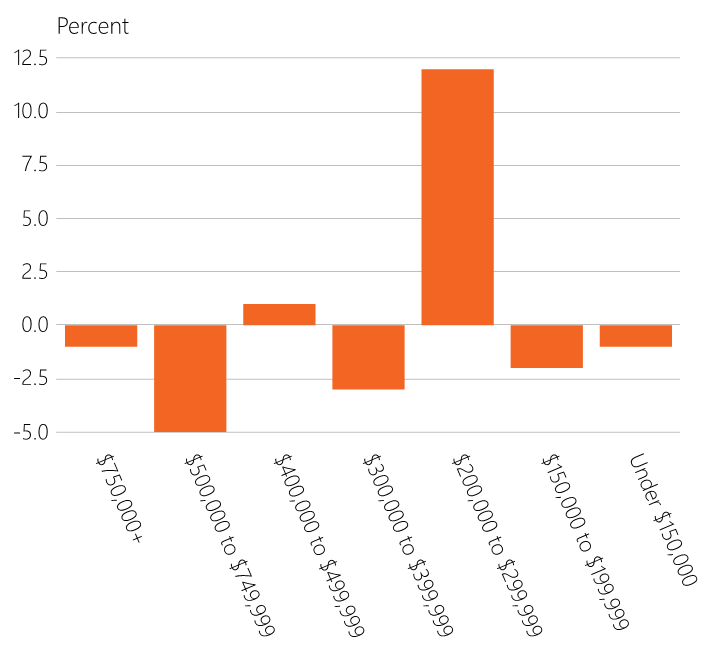 Sources: U.S. Census Bureau, Macrobond. Data as of August 30, 2020.
Near-term supply side risks to housing activity are cropping up
Low supply: Both existing and new home supply had been low coming into the pandemic and are now at all-time lows as of August (3.0 and 3.3 months, respectively), suggesting lack of supply might act as a constraint on sales in the near term. Looking under the hood, though there is a more nuanced picture. Though months of supply for existing single-family homes is at its record low of 2.8 months as of August, existing multi-family home supply is at slightly more elevated levels (4.2 months in August vs. its 2018 low of 3 months). Coupled with softer demand, this suggests a relatively less rosy outlook for multi-family homes, and points to slowing rents, particularly in large cities. According to Apartment List's National Rent Report, rent prices are down 1.4% year over year (y/y) as of September 2020. Rents declined in 24 out of the 50 largest cities from March to September, compared to just 2 cities experiencing rent declines during the same period last year, with large coastal cities like San Francisco, New York, and Seattle experiencing the sharpest falls.
Higher input costs and supply chain disruptions: In addition, home builders have noted rising lumber prices and delays for building materials due to supply chain disruptions, which could also slow housing market activity as prices rise. The NAHB estimates that lumber prices, for example, have boosted average new single-family home prices by over $17,000 since mid-April.
Figure 4: Soaring lumber prices are boosting input costs for homebuilders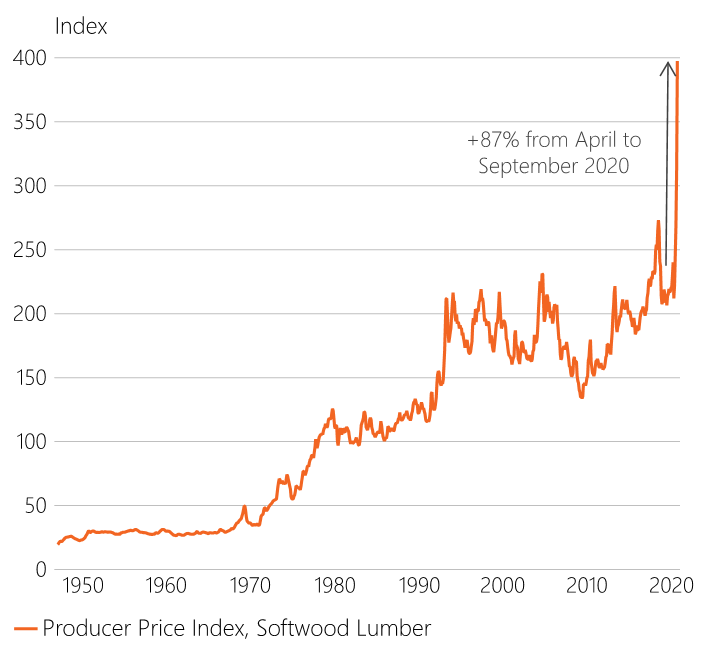 Sources: Bureau of Labor Statistics, Macrobond. Data as of September 30, 2020.
Prices remain tame for now, but demand and supply-side dynamics point to upward pressures
The S&P Case-Shiller Home Price Index is up 3.9% y/y but remains tame compared to 2018 highs (+6.7% y/y in March 2018). Strong demand, low supply, and rising input prices suggest upward pressure on house prices are building. Interest rates remaining low will be key for keeping housing affordable.
Figure 5: House price growth modest for now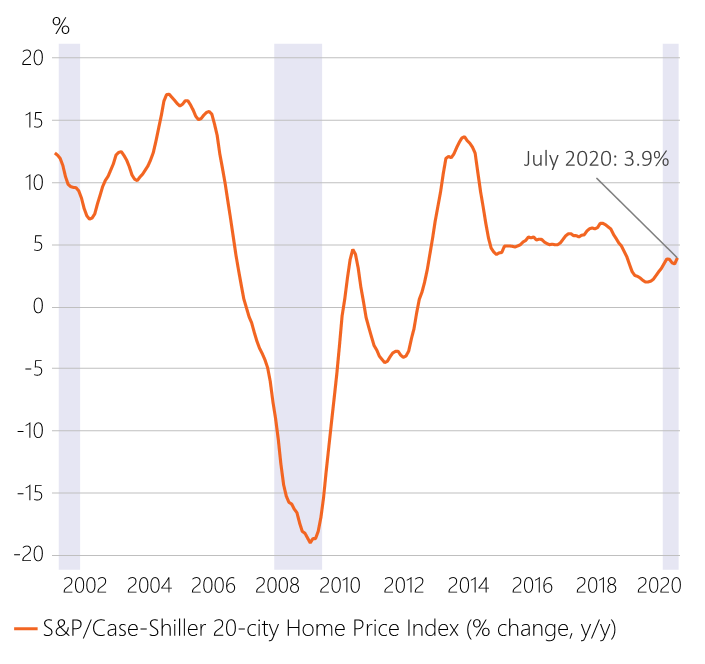 Source: Macrobond, S&P CoreLogic. Data as of July 31, 2020.
The true impacts of the pandemic on housing will likely be unmasked once government policy support fades, particularly in early 2021
Typically, elevated unemployment during recessions leads to an increased number of foreclosures as unemployed households face difficulties making mortgage payments. This additional supply of housing tends to weigh on prices and reduces demand as these borrowers find it difficult to obtain new mortgages down the line.
This recession has been different, in large part because of 1) generous fiscal support (stimulus checks and unemployment insurance benefit supplements) to prop up incomes, 2) forbearance measures that allow pandemic-impacted households to delay mortgage payments for 180 days (and by request an additional 180 days), and 3) a moratorium on evictions and foreclosures for impacted households that currently extend until December 31, 2020. As a result, households have held up relatively well so far in terms of being able to make their housing-related payments, as highlighted by key measures below. But these measures will be worth monitoring closely as government support and protections fade.
Mortgage delinquency: Credit agency-based mortgage delinquency measures (such as from the Federal Reserve Bank of New York) that count missed payments due to forbearance as current, show delinquency rates as modest. However, it is worth noting that industry-based measures (such as those from the Mortgage Bankers Association (MBA)) that show missed payments as delinquent, whether or not they were part of forbearance programs, are more elevated (Figure 6). These readings show the broader scale of potential stress in the housing market, as they reflect the payment status of borrowers that are truly unable to make payments, as well as those utilizing the flexibility provided by forbearance as an insurance policy and could possibly face stress in making mortgage payments down the line if households are unable to restore incomes before forbearance measures roll off.
Figure 6: Industry-based measures of mortgage delinquency capture scale of potential stress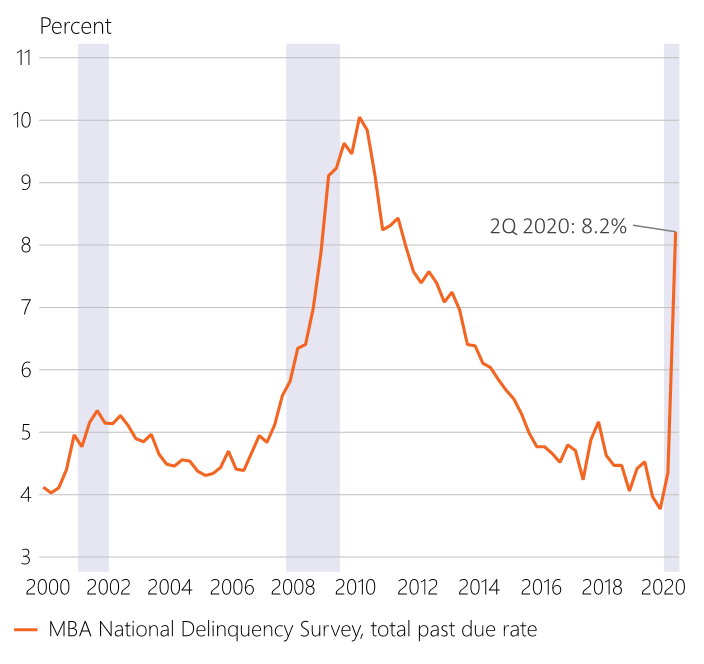 Sources: Mortgage Bankers Association, Macrobond. Data as of June 30, 2020.
Forbearance: MBA survey data show that the percent of loans in forbearance has continued to decrease as of October 4, 2020 (to 6.3% of total loans from an 8.6% peak in June). Part of the decline in the most recent week was due to borrowers not contacting servicers to obtain an extension of forbearance provisions according to the CARES Act. However, two-thirds of these borrowers who exited forbearance remained current on their payments according to MBA.
Foreclosures: MBA data show that the percentage of loans in process as of 2Q 2020 was just 0.7%, down 5 basis points (bps) from 1Q 2020, and 22bps lower than a year ago.
Missed rent payments: The National Multifamily Housing Council Rent Payment Tracker found that 94.6% of apartment households made a full or partial rent payment as of month end September 2020, down from 95.5% a year ago in September 2019. Some surveys that show more elevated rates of missed payments (like the Census Weekly Household Pulse), could be capturing household rent payment status earlier in the month, but the Research Institute for Housing America has noted that many households that missed payments earlier in the month were able to make the payment by month end.
Downside risks for the housing market loom, but are likely to be more limited relative to the Great Recession
A number of downside risks remain on the horizon for the housing market. First, fiscal support for incomes is fading. Economic impact stimulus payments were one-time payments distributed mostly in April and May. The $600/week unemployment insurance benefit supplement expired at the end of July. While the president's executive order has provided a new supplement, it is roughly half of the previous amount ($300/week) and is set to dry up soon given limited funding. This suggests that unemployed households may face increasing challenges in meeting housing-related payments in the coming months.
Renters are likely to be most vulnerable. The Research Institute for Housing America found that the share of renters receiving unemployment insurance benefits rose to 12% at the end of June, significantly higher than 6% for mortgage holders (up from 3% for both groups in April). Government policies have forestalled evictions but have not provided flexibility with rent payments in the way that mortgage holders were given some flexibility with forbearance programs.
In addition, foreclosure and eviction moratoriums expire at year end, and forbearance programs end in early 2021. Without an extension of these programs, the housing market is likely to get a dose of the typical recession impact. Elevated industry-based mortgage delinquency rates, as noted above, suggest that the potential for stress is fairly elevated, if the proportion of households currently using forbearance out of necessity rather than for flexibility rises.
However, the downside risks are likely more contained compared to impacts seen during the Great Recession. Government assistance in terms of income support for the unemployed, and housing market-specific protections, came much more swiftly during this recession. This has been crucial in limiting the damage that could have occurred in the initial stages of the recession. In addition, the household mortgage debt service ratio is roughly half of what it was at the peak of the financial crisis (3.7% in 2Q 2020 vs. 7.2% in 4Q 2007, Figure 7). The debt service ratio measures minimum required monthly debt payments (accounting for associated interest rates) as a percent of disposable (after-tax) income.
Figure 7: Household mortgage debt service ratio is roughly half of Great Recession peak levels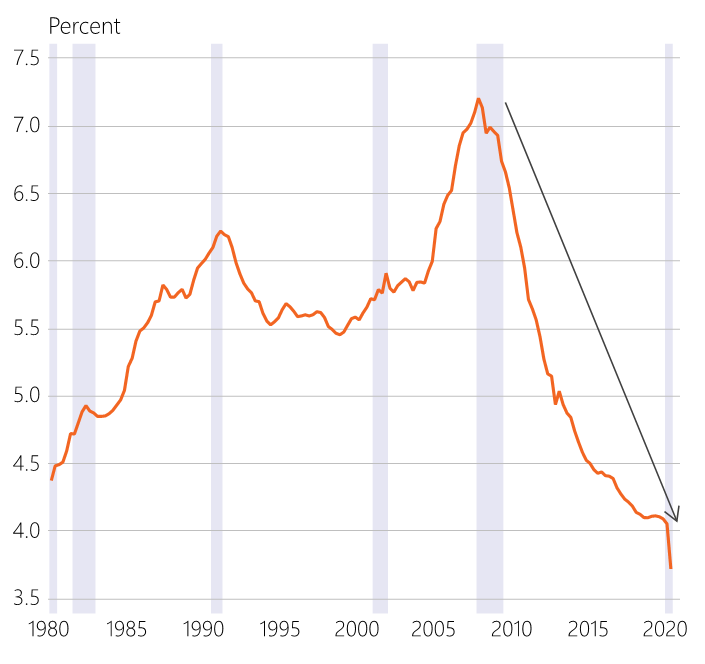 Sources: Federal Reserve, Macrobond. Data as of June 30, 2020.
Core narrative
The housing market has been a bright spot in this recovery, as it has supported growth through increased residential business investment and strong consumer spending for building materials, garden equipment, furniture, and other home goods. While the underlying demand and supply dynamics are supportive for the housing market (though more so for single-family relative to multi-family homes), the elevated unemployment rate may drag on housing demand in the medium term, especially once forbearance and foreclosure protections expire. As households draw down on savings, and without additional stimulus, the risk of rising housing payment hardships for the unemployed are yet another potential "shoe to drop," on both the housing market and the consumer spending recovery. We have a cautious view on consumer spending and GDP growth going forward absent additional stimulus or an improvement in the virus situation. We have retained a cautious but not overly defensive posture in portfolios, with a slight underweight to equities and an allocation to gold.
Disclosures
Wilmington Trust is a registered service mark used in connection with various fiduciary and non-fiduciary services offered by certain subsidiaries of M&T Bank Corporation including, but not limited to, Manufacturers & Traders Trust Company (M&T Bank), Wilmington Trust Company (WTC) operating in Delaware only, Wilmington Trust, N.A. (WTNA), Wilmington Trust Investment Advisors, Inc. (WTIA), Wilmington Funds Management Corporation (WFMC), and Wilmington Trust Investment Management, LLC (WTIM). Such services include trustee, custodial, agency, investment management, and other services. International corporate and institutional services are offered through M&T Bank Corporation's international subsidiaries. Loans, credit cards, retail and business deposits, and other business and personal banking services and products are offered by M&T Bank, member FDIC.
Facts and views presented in this report have not been reviewed by, and may not reflect information known to, professionals in other business areas of Wilmington Trust or M&T Bank who may provide or seek to provide financial services to entities referred to in this report. M&T Bank and Wilmington Trust have established information barriers between their various business groups. As a result, M&T Bank and Wilmington Trust do not disclose certain client relationships with, or compensation received from, such entities in their reports.
The information on Wilmington Wire has been obtained from sources believed to be reliable, but its accuracy and completeness are not guaranteed. The opinions, estimates, and projections constitute the judgment of Wilmington Trust and are subject to change without notice. This commentary is for informational purposes only and is not intended as an offer or solicitation for the sale of any financial product or service or a recommendation or determination that any investment strategy is suitable for a specific investor. Investors should seek financial advice regarding the suitability of any investment strategy based on the investor's objectives, financial situation, and particular needs. Diversification does not ensure a profit or guarantee against a loss. There is no assurance that any investment strategy will succeed.
Past performance cannot guarantee future results. Investing involves risk and you may incur a profit or a loss.
The gold industry can be significantly affected by international monetary and political developments as well as supply and demand for gold and operational costs associated with mining.
Indexes are not available for direct investment.
©2020 M&T Bank Corporation and its subsidiaries. All rights reserved.
ACCESS THE WILMINGTON WIRE
Discover perspectives on timely wealth and investment management topics, authored by subject matter experts.
Explore Articles