Back
August 8, 2018— Recent data have raised concerns about a slowdown in the housing market. After a solid 2017, in which both existing and new home sales posted their strongest readings since 2006 and 2007, respectively, 2018 has been a lackluster year in comparison. Sales of existing homes in the housing market, which account for close to 90% of all home sales, have been negative on a year-over-year basis for most of 2018. Sales of newly constructed homes have been edging lower in 2018 as well. Sales of newly constructed homes are a much smaller component of total home sales, but are still important because new construction is a boost to the investment portion of gross domestic product (GDP). In addition, other leading indicators of future housing market activity, such as the number of building permits issued for new homes, the number of new housing units started, and pending home sales (existing homes sales that are under contract for sale but have not yet closed), have all turned negative on a year-over-year basis in June as well.
Is it time to worry about the housing market? Not yet, in our view. While recent housing-related data have been softer, the deceleration has been moderate so far. Rising house prices, along with climbing interest rates, may keep growth in the housing market tame in the near term. However, a healthy labor market and longer-term trends suggest underlying demand should remain in place. Despite this backdrop in housing, we still look for GDP growth 2.75%–3.00% in 2018, with consumer spending and business capital expenditures (capex) as the main drivers of growth in the broader economy for the remainder of the year.
Current housing market slowdown in context
How should we read this recent flurry of soft data in the wake of the housing market-induced Great Recession? Figure 1 shows that total home sales activity (newly constructed single family home sales plus existing single, co-op, and condo home sales) has dipped into negative territory only a few times during the course of this recovery. The first major dip was in 2010–2011, as housing activity pulled back after being boosted artificially in the years prior by the Housing and Economic Recovery Act of 2008, which established a tax credit for first-time home buyers in 2008 (and was extended through 2010). The second major dip was in reaction to a sharp rise in interest rates in 2013 known as the "taper tantrum," when markets were surprised by the Federal Reserve's announcement that it was contemplating paring back, or tapering, its balance sheet purchases for the first time after the Great Recession. The 30-year mortgage rate jumped by nearly 100 basis points, or bps (1.00%), between May and September of 2013, and home sales declined sharply in response.
Figure 1: Total home sales activity dipping its toes into negative territory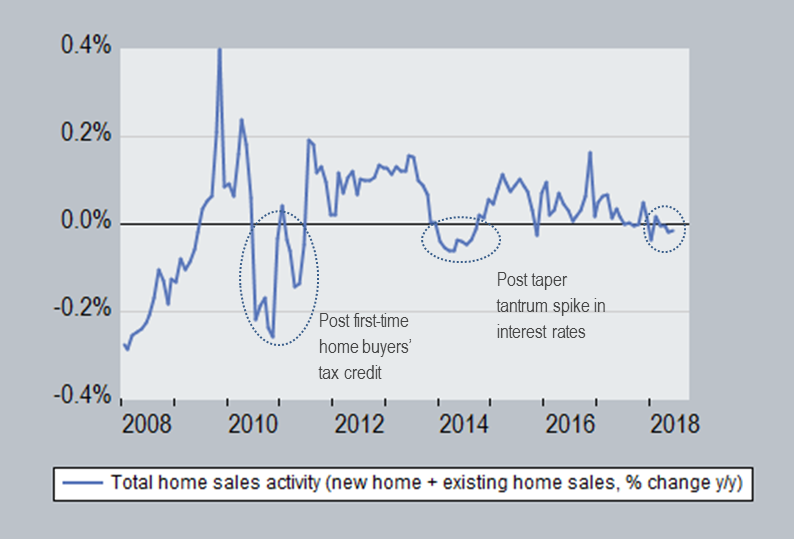 Data as of June 2018.
Sources: National Association of Realtors, Census Bureau, Bloomberg.
2018: A story of rising house prices and interest rates weighing on affordability
This year's cooling in housing activity has been moderate relative to past post-recession dips, and unlike the previous two episodes appears to be more organic in nature. Demand for housing was strong in 2017, supported by robust labor markets and low interest rates, as well as a temporary boost due to post-hurricane rebuilding. While labor market strength has continued to support demand for housing going into 2018, interest rates have crept higher, and tax reform has weighed on demand, particularly at the upper end of the market, given changes to the tax code related to the housing market.[i]
On the supply side, both home builders and realtors have noted consistent constraints on the construction of new homes. Tight labor markets have made it challenging for builders to find construction labor and have driven up wages in the industry while rising construction material costs due to recent tariffs (lumber, steel, aluminum), have had an additional upward impact on prices. This has made it more difficult and expensive for builders to construct houses, resulting in low inventory levels. The supply of existing home for sale has been low relative to demand as well.
The combination of strong demand for housing and low supply has pushed house prices higher. In recent months, various measures of house prices indicate growth 6%–8% y/y, though the pace of growth has moderated slightly. Interest rates remain low in level terms, but they have been grinding higher since the start of 2018, with the 30-year mortgage up by about 50bps since the start of the year (Figure 2). Higher home prices and interest rates have taken a toll on the affordability of housing, which in turn may dampen consumer demand going forward (Figure 3).
Figure 2: House prices and mortgage rates are rising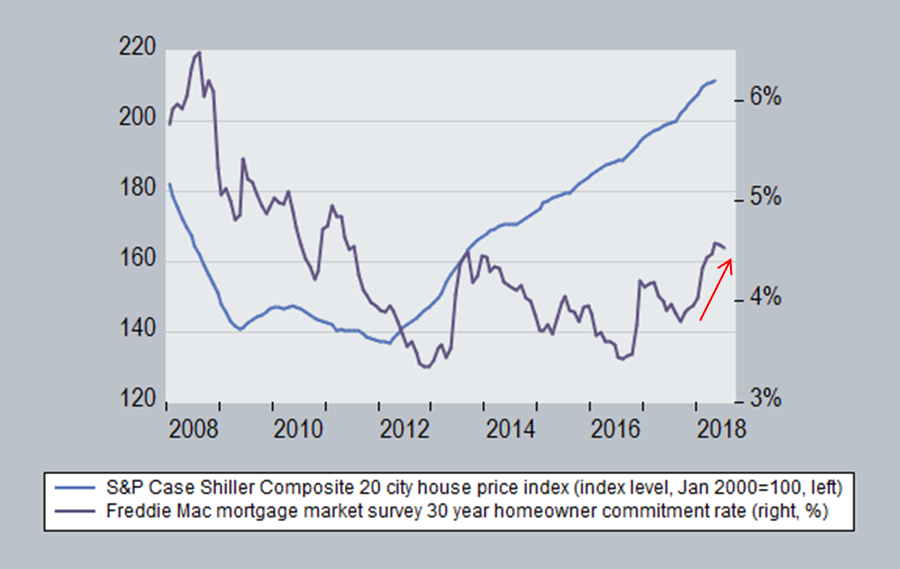 Data as of May 2018.
Sources: Freddie Mac, S&P Dow Jones Indices LLC.
Figure 3: Rising house prices and interest rates are weighing on housing affordability*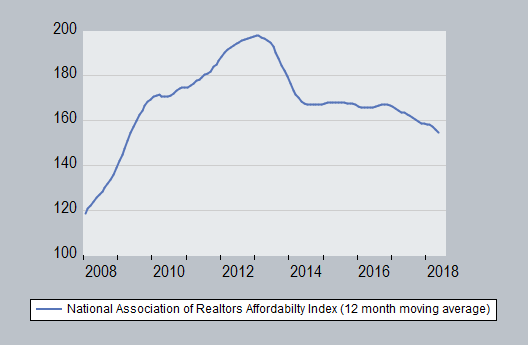 *Measures affordability of housing based on median income, median house prices, and interest rates.
Data as of May 2018.
Sources: National Association of Realtors, Bloomberg.
Will housing hold up?
Despite these near-term headwinds for the housing market, longer-term trends are supportive of underlying housing demand. The homeownership rate has been recovering since 2016, after hitting its lowest level since 1967 two years ago (Figure 4). Household formation has been on an uptrend in recent years as the labor market has improved, enabling more individuals to afford living on their own (rather than with parents or roommates). The share of 18–34 year olds living with parents has stabilized at just above 30% after edging up in the post-recession years. Millennials are also aging and, as a result, are beginning to build families and purchase homes in greater numbers.
Figure 4: Home ownership rate starting to recover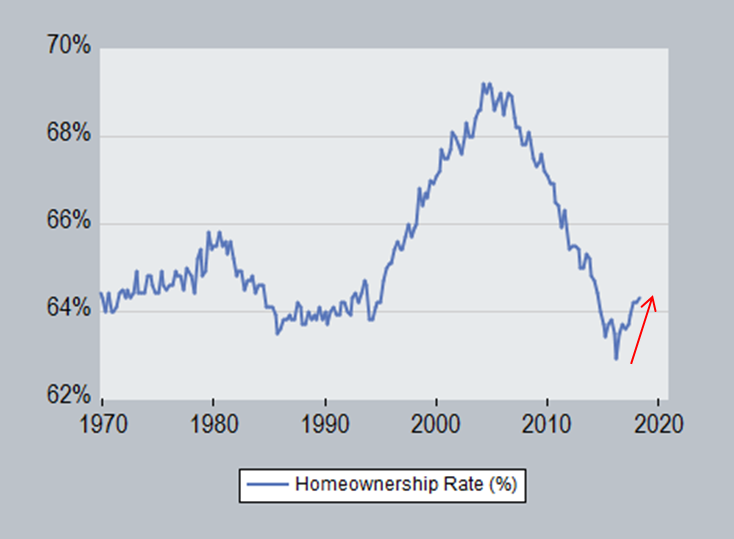 Data as of June 2018.
Sources: Census Bureau, Bloomberg.
In addition, the impact of a slowing housing market on GDP should be fairly contained. Housing's impact on GDP can be measured through business spending in the sector (also known as residential investment) and consumer spending on housing services. As share of GDP, residential investment is the more cyclical of the two components, and has been recovering since the recession, now at 3.9%, close to its historical average (4.5%), but still well below its pre-recession high of 6.7%. This suggests the housing market is not overextended relative to history.
Core narrative
In the short term, rising house prices, along with climbing interest rates, may cool housing market activity. However, longer-term trends and demographics, along with a strong labor market, still suggest underlying housing demand should hold up. Residential investment as share of GDP remains below historical averages, suggesting the housing market is not overstretched. We would expect the housing market to continue to grow at a more moderate pace compared to 2017, but we continue to look for GDP growth of 2.75%–3.0% in 2018 and expect the Fed to continue on its gradual path of rate hikes.
Disclosures
Wilmington Trust is a registered service mark. Wilmington Trust Corporation is a wholly owned subsidiary of M&T Bank Corporation. Wilmington Trust Company, operating in Delaware only, Wilmington Trust, N.A., M&T Bank and certain other affiliates, provide various fiduciary and non-fiduciary services, including trustee, custodial, agency, investment management and other services. International corporate and institutional services are offered through Wilmington Trust Corporation's international affiliates. Loans, credit cards, retail and business deposits, and other business and personal banking services and products are offered by M&T Bank, member FDIC. Wilmington Trust Investment Advisors, Inc. is an SEC-registered investment adviser providing investment management services to Wilmington Trust and M&T Bank affiliates and clients.
These materials are based on public information. Facts and views presented in this report have not been reviewed by, and may not reflect information known to, professionals in other business areas of Wilmington Trust or M&T Bank who may provide or seek to provide financial services to entities referred to in this report. M&T Bank and Wilmington Trust have established information barriers between their various business groups. As a result, M&T Bank and Wilmington Trust do not disclose certain client relationships with, or compensation received from, such entities in their reports.
The information on Wilmington Wire has been obtained from sources believed to be reliable, but its accuracy and completeness are not guaranteed. The opinions, estimates, and projections constitute the judgment of Wilmington Trust and are subject to change without notice. This commentary is for information purposes only and is not intended as an offer or solicitation for the sale of any financial product or service or a recommendation or determination that any investment strategy is suitable for a specific investor. Investors should seek financial advice regarding the suitability of any investment strategy based on the investor's objectives, financial situation, and particular needs. Diversification does not ensure a profit or guarantee against a loss. There is no assurance that any investment strategy will succeed.
Any investment products discussed in this commentary are not insured by the FDIC or any other governmental agency, are not deposits of or other obligations of or guaranteed by M&T Bank, Wilmington Trust, or any other bank or entity, and are subject to risks, including a possible loss of the principal amount invested. Some investment products may be available only to certain "qualified investors"—that is, investors who meet certain income and/or investable assets thresholds. Past performance cannot guarantee of future results. Investing involves risk and you may incur a profit or a loss.
Any positioning information provided does not include all positions that were taken in client accounts and may not be representative of current positioning. It should not be assumed that the positions described are or will be profitable or that positions taken in the future will be profitable or will equal the performance of those described. Positions described are illustrative and not intended as a recommendation outside of a managed account.
Indices are not available for direct investment. Investment in a security or strategy designed to replicate the performance of an index will incur expenses, such as management fees and transaction costs that would reduce returns.
Third-party trademarks and brands are the property of their respective owners.
[i] The Tax Cut and Jobs Act of 2018 introduced measures that lower the amount of mortgage debt that is tax deductible, down to $750,000 from $1,000,000 previously. In addition, whereas previously property taxes had no limit on tax deductibility against federal income tax, now there is a limit of $10,000 total for the combined deduction of property, and state and local taxes. The standard deduction was also doubled, which may reduce the number of taxpayers itemizing deductions (and therefore using the mortgage interest deduction).
ACCESS THE WILMINGTON WIRE
Discover perspectives on timely wealth and investment management topics, authored by subject matter experts.
Explore Articles