Back
February 6, 2018 — The recent gyrations in equity markets are generating lots of headlines and questions, and for good reason. Sharp market movements are always noteworthy, and when they are to the downside they can be scary. The 1,175 point decline in the Dow Jones Industrial Average (Dow) on Monday, February 5, was reported as the largest single-day drop for the index in history. But in percentage terms, it was by no means the biggest downward move. For this reason, and many more important ones, we believe equity markets are currently undergoing a "correction," which happens somewhat frequently and do not always turn into "bear markets." Our current assessment is that this correction was long overdue and that we will not enter a bear market unless there is a material deterioration in the U.S. and world economies, something we don't expect.
What has happened?
Equity markets began to decline on Jan 30, when the S&P 500 (S&P) moved down by 1.1%, followed by further losses for the remainder of the week. The most significant drop thus far came on Monday, Feb 5, when the S&P 500 declined by 4.1%. On that day, the Dow declined by 4.6%. This translated to 1,175 points, the single-largest point decline for that index in history, understandably generating headlines.
It was not the largest single day percentage decline. The largest percentage declines still belong to the crashes in 1929, 1987, and 2008. This is the 6th one-day correction of more than 4% that has occurred since 2008, so while the market movements are unnerving, they are not unprecedented even in this current bull market.
International markets have also declined to varying degrees, generally not yet as severely as domestic markets. The MSCI International Developed index was down 3.3% through Feb 5 compared to the S&P decline of 7.2%. The MSCI Emerging Markets Index was down 3.1%.
What caused this?
The trigger for the correction is challenging to identify, but there are several notable recent developments. The most prominent is last week's U.S. employment report, which showed continued strength in the labor market and the strongest y/y gain in average hourly earnings (2.9%) thus far during the recovery. That data point likely stoked concerns for some investors that the Federal Reserve (Fed) may be prompted to be more aggressive in the tightening of monetary policy.
We do not believe the employment report materially changes the Fed's expected trajectory, but likely emboldens their long-held view that the labor market has little slack which will push wages, and ultimately inflation, higher.
Likely contributing to the market action are technical factors which include algorithmic traders reacting to indexes moving past thresholds (i.e., 50-day moving averages). There are also likely structural factors such as institutional investors compelled to sell due to portfolio risk constraints.
What caused this?
We believe markets are currently going through a correction and could see further declines, we do not expect it to worsen to a bear market. The following observations contribute to this assessment:
The S&P index gained 19.4% in 2017 with a total return of 21.9%. In January 2018, the index gained an unsustainable 7.5% from Jan 1 to the peak on Jan 26, which is an annualized rate of 158%.
As stated in in our 2018 Capital Markets Forecast (CMF), we are expecting low returns in equity markets over the next several years, so the early gains this year were surprising and unsustainable.
As also stated in the CMF, we believe volatility in 2018 will be higher than it was in 2017. Realized volatility in 2017 was the second lowest on record in the past half-century. The equity market posted monthly gains in all 12 months of 2017, which was unprecedented. The VIX spiked to 50 on Feb 5 since Jan 1 (Figure 3). That is understandable given how many investors had moved into a position of shorting market volatility. In mid-January, a survey of global fund managers revealed a sentiment that "short volatility" had overtaken bitcoin from the previous month as the trade viewed as the "most crowded."
Corporate earnings reports for Q42017 continue to be healthy. As of February 5, 260 companies in the S&P had reported earnings. Approximately 75% had beaten estimates and earnings were up 17.2%.
Credit markets have not yet shown any signs of significant stress. Investment-grade corporate spreads have not widened.
Perhaps most important to our economics-led investment process, domestic and international economic data continue to support our core narrative of a synchronized global recovery. The employment report referenced above shows employers are still eager to hire. Other recent data include a very encouraging GDP report for the fourth quarter. We believe economic growth is going into 2018 with momentum and will get a boost from the recently enacted tax legislation.
Core narrative
The ongoing equity market correction has been unnerving both because of the magnitude, but also because it has been quite some time since we experienced such volatility. Equity market corrections are nearly impossible to predict, and we don't recommend attempting to trade around them. We believe it is more prudent to maintain portfolios in such an environment. As long-term investors with an economics-led investment process, we look for turning points in the economy and to avoid recession-led bear markets. Our assessment of the current market movements is that it's a correction. We believe the economy remains in an expansion.
Figure 1
Corrections in the 5%–10% range are the norm, and do not necessarily portend low returns
Annualized S&P 500 returns and intra-year declines (%)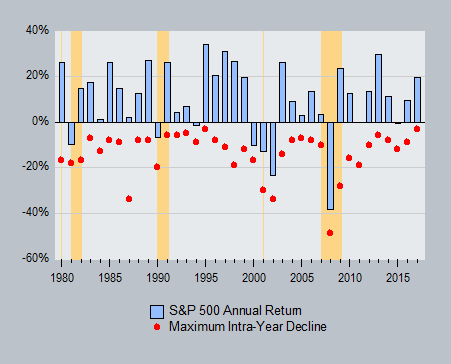 Data as of December 31, 2017
Source: Bloomberg, WTIA
Figure 2
Volatility was uncharacteristically low in 2017 and is nearly certain to increase in 2018
Annualized standard deviation of daily S&P 500 returns over the past 50 years (%)

Data as of December 31, 2017
Source: Bloomberg, WTIA
Figure 3
The current spike in volatility is the worst since the crisis, and likely the result of many factors including overcrowding in the short volatility trade and algorithmic trading
Implied volatility of the S&P 500 (VIX)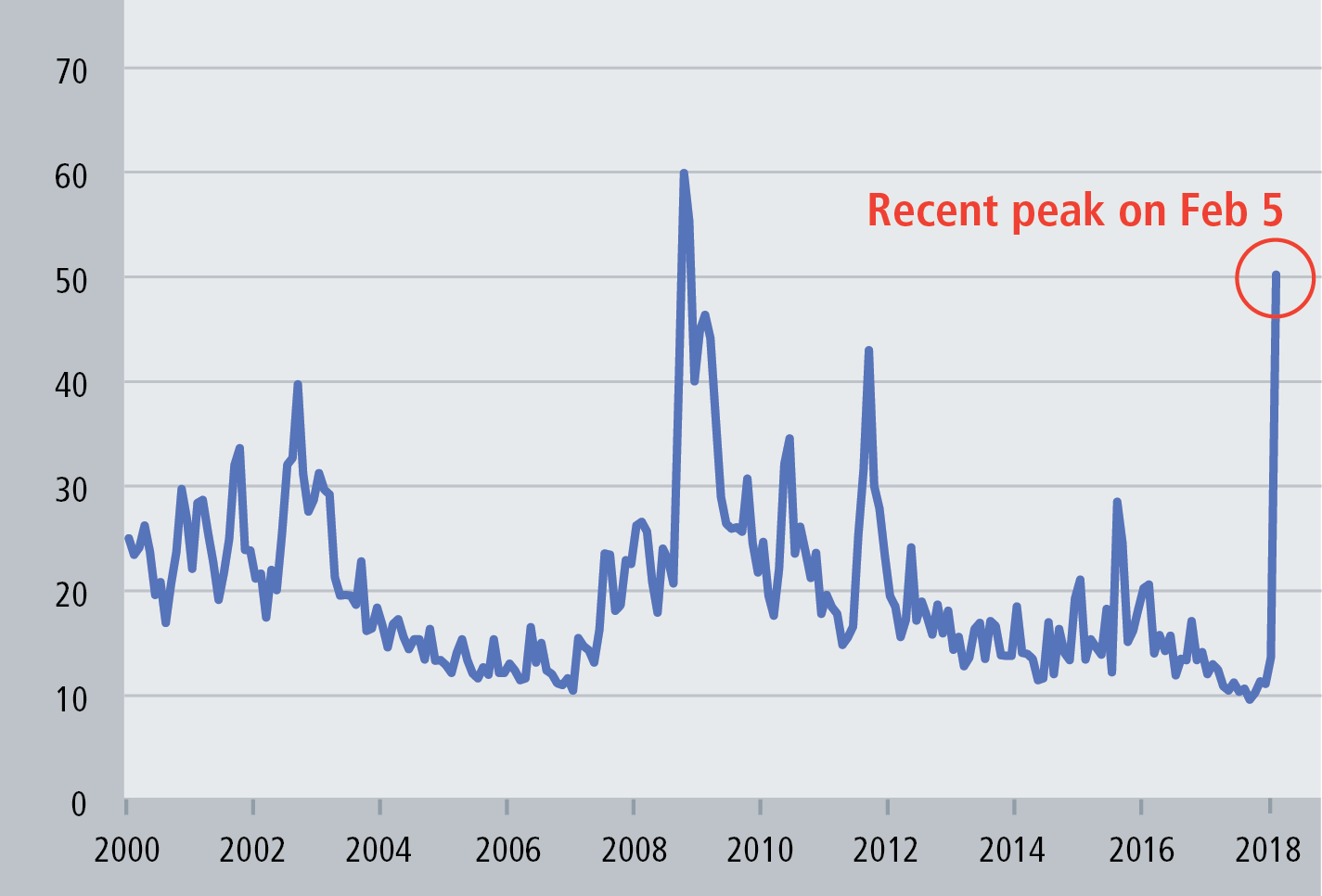 Data as of February 5, 2018
Source: Bloomberg
Disclosures
Wilmington Trust is a registered service mark. Wilmington Trust Corporation is a wholly owned subsidiary of M&T Bank Corporation. Wilmington Trust Company, operating in Delaware only, Wilmington Trust, N.A., M&T Bank and certain other affiliates, provide various fiduciary and non-fiduciary services, including trustee, custodial, agency, investment management and other services. International corporate and institutional services are offered through Wilmington Trust Corporation's international affiliates. Loans, credit cards, retail and business deposits, and other business and personal banking services and products are offered by M&T Bank, member FDIC. Wilmington Trust Investment Advisors, Inc. is an SEC-registered investment adviser providing investment management services to Wilmington Trust and M&T Bank affiliates and clients.
These materials are based on public information. Facts and views presented in this report have not been reviewed by, and may not reflect information known to, professionals in other business areas of Wilmington Trust or M&T Bank who may provide or seek to provide financial services to entities referred to in this report. M&T Bank and Wilmington Trust have established information barriers between their various business groups. As a result, M&T Bank and Wilmington Trust do not disclose certain client relationships with, or compensation received from, such entities in their reports.
The information on Wilmington Wire has been obtained from sources believed to be reliable, but its accuracy and completeness are not guaranteed. The opinions, estimates, and projections constitute the judgment of Wilmington Trust and are subject to change without notice. This commentary is for information purposes only and is not intended as an offer or solicitation for the sale of any financial product or service or a recommendation or determination that any investment strategy is suitable for a specific investor. Investors should seek financial advice regarding the suitability of any investment strategy based on the investor's objectives, financial situation, and particular needs. Diversification does not ensure a profit or guarantee against a loss. There is no assurance that any investment strategy will succeed.
Any investment products discussed in this commentary are not insured by the FDIC or any other governmental agency, are not deposits of or other obligations of or guaranteed by M&T Bank, Wilmington Trust, or any other bank or entity, and are subject to risks, including a possible loss of the principal amount invested. Some investment products may be available only to certain "qualified investors"—that is, investors who meet certain income and/or investable assets thresholds. Past performance is no guarantee of future results. Investing involves risk and you may incur a profit or a loss.
Any positioning information provided does not include all positions that were taken in client accounts and may not be representative of current positioning. It should not be assumed that the positions described are or will be profitable or that positions taken in the future will be profitable or will equal the performance of those described. Positions described are illustrative and not intended as a recommendation outside of a managed account.
Indices are not available for direct investment. Investment in a security or strategy designed to replicate the performance of an index will incur expenses, such as management fees and transaction costs that would reduce returns.
Third-party trademarks and brands are the property of their respective owners.
ACCESS THE WILMINGTON WIRE
Discover perspectives on timely wealth and investment management topics, authored by subject matter experts.
Explore Articles