Back
October 31, 2019— The Federal Open Market Committee (FOMC) cut the fed funds rate by 25 basis points, or bps, (0.25%) at its October meeting as expected, to a target range of 1.50%–1.75%. Similar to cycles in 1995 and 1998, when Federal Reserve rate reductions were seen as "insurance cuts" to ward off potential downturn, it has now cut rates three times, by a total of 75bps, leaving markets to wonder whether this "mid-cycle adjustment" has come to an end (Figure 1).
The Fed's post-meeting statement would certainly suggest that this is indeed the bias of the committee to leave rates on hold unless the outlook changes materially. The October statement indicated the FOMC will consider incoming information as it assesses the appropriate path for rates, suggesting the Fed is now in "wait-and-see" mode relative to the September statement's less neutral wording, which indicated the FOMC would "act as appropriate" in response to incoming information. Fed Chair Powell indicated even more directly during the press conference that the FOMC's bias is to remain on hold, noting "the current stance [is] likely to remain appropriate as long as incoming information remains broadly consistent with our outlook for moderate economic growth," and "monetary policy is in a good place." He also mentioned that the effects of recent policy adjustments would be "realized over time," suggesting that the FOMC would like to wait and see how these impacts materialize.
Figure 1: Target federal funds rate (%)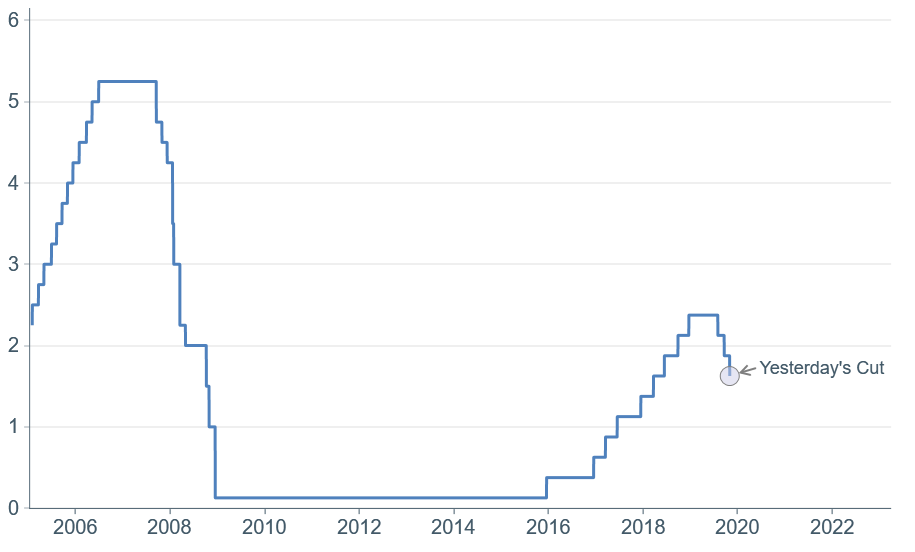 Source: Macrobond. Data as of October 30, 2019.
So what will a "data dependent" Fed be watching for its next move? Chair Powell made it clear that the bar for a rate hike from here would be rather high, given the muted trajectory of inflation and, and even more importantly, inflation expectations, saying the FOMC was "not thinking of raising rates right now." To clear the hurdle for further rate cuts on the other hand, the Fed will likely be looking for evidence in the data that the impact of recent rate cuts has not provided enough cushion for growth. But the risk picture will be equally as important. As Chair Powell noted at the September FOMC press conference, "the data involves the evolving risk picture."
We agree with the Fed that, though they have not been completely removed, many of the key risks to U.S. growth emanating from abroad (slowing global growth, U.S.–China trade tensions, Brexit) appear less menacing compared to a month ago. The data on the other hand remain mixed in our view, but still highly vulnerable to the evolution of progress on those key risks. A combination of continued stabilization in both the data and the risks will be needed for the Fed to better assess whether monetary policy really is in "a good place."
Chicken or the egg: Data or risks, which come first for the Fed?
Though markets had nearly fully priced in the October rate cut, the distribution of FOMC member projections for the fed funds rate in September[i] suggested the move to cut at the October meeting was far from a done deal a month ago, as the forecasts indicated a majority of participants thought it was appropriate to keep rates on hold for the remainder of the year at the 1.75%–2.00%. Despite the fact that between June and September, FOMC's median projections for both GDP and inflation were close to unchanged, the Fed cut rates twice over the course of those three months. The Fed built its case for cuts instead on the risks to the outlook, including trade-related uncertainty, global growth, and Brexit. So while the growth and inflation related data might have suggested a Fed on hold, risks argued for a Fed in easing mode.
Since the September meeting though, the reverse has occurred. The Fed cut rates at the October meeting despite the fact that the risks, which drove its previous cuts, have abated somewhat, suggesting the Fed is taking out some extra "insurance" with its latest cut. While Brexit still remains up in the air, the chances of a no-deal exit have receded. The Trump administration's decision to delay the October 15 round of tariffs with the aim of reaching a "Phase 1" deal by late November suggests some easing of trade tensions. Global growth has displayed some tentative signs of stabilization (albeit at still vulnerably low levels), with key global manufacturing PMIs remaining in contraction but steadying (rather than worsening further) for the past two months.
Meanwhile, growth data in the U.S. have been more mixed. The ISM purchasing manager indices pointed to contraction for the second consecutive month in the manufacturing sector, and a further deceleration of activity in the nonmanufacturing sector in September. As Chair Powell highlighted, the labor market remains healthy, with the unemployment rate at multi-decade lows. However, we would note that data indicate that it is starting to slow at the margin, with payrolls growing at their slowest since 2011, when incorporating recently announced preliminary revisions to the data. Additionally, the pace of job openings has slowed sharply from lofty rates of growth late last year. Third-quarter GDP data remained resilient, slowing just a tenth from 2Q, to a 1.9% q/q seasonally adjusted annualized rate (saar). Consumer spending continues to be the main driver of growth, but at a less rapid pace (2.9% q/q saar in 3Q vs. 4.6% q/q saar in 2Q). And while residential investment made a positive contribution to growth for the first time in six quarters, business investment declined for the second consecutive quarter—-3.0% q/q saar in 3Q vs. -1.0%q/q saar in 2Q (Figure 2).
Figure 2: Consumer spending still the key engine of GDP growth in 3Q, but chugging along at a slower pace
GDP Growth (% change, quarter-over-quarter, seasonally adjusted annual rate of return) and contributions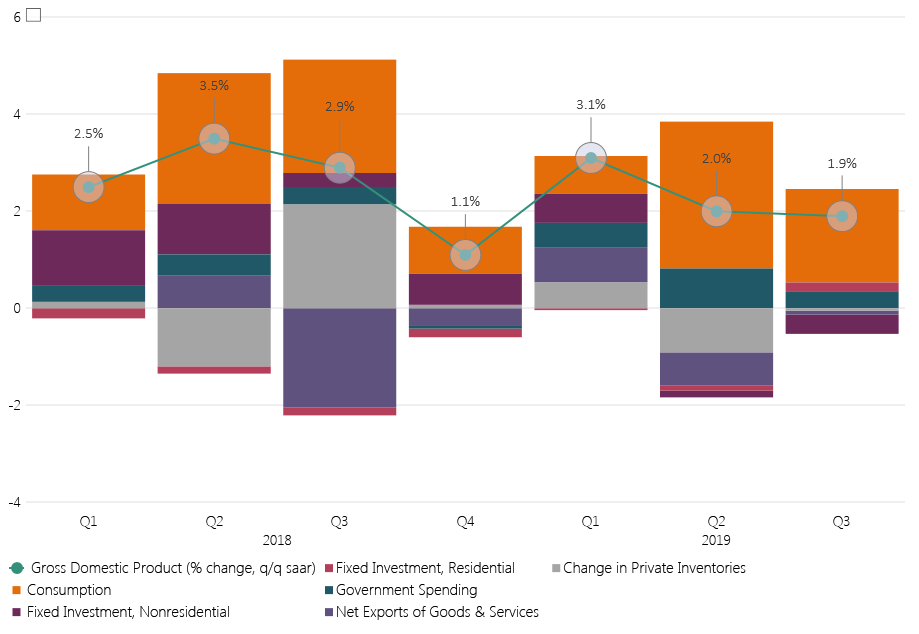 Source: Bureau of Economic Analysis, Macrobond. Data as of September 30, 2019.
In our view, the Fed's wait-and-see mode is predicated on the hopes that recent rate cuts, combined with ameliorating risks, will help stabilize the economic data. We have seen some encouraging signs in the market-based data as well, which have improved since September. The 3-month/10-year yield curve has recovered from inversion for the first time since late May (after the U.S. China trade deal broke down) suggesting a reduction of recession risk, and inflation breakevens (an indicator of future inflation expectations) have rebounded somewhat after hitting their lowest levels since 2016 back in early October.
Core narrative
For now, the risks to U.S growth (e.g., trade, global growth, Brexit) and market-based data are moving in the right direction, and we would expect the Fed to remain on hold as it waits to see if the economic data follow. If those risks continue to recede, with a backdrop of significantly easier monetary policy across the globe relative to a year ago, we think this may be enough to see the data firm again and possibly allow 2020 to see a more successful follow-through on global growth stabilization in comparison to that seen earlier this year. At that time, stabilization was thwarted by the collapse of U.S. –China trade talks in mid-2019—but the environment then was one of notably tighter monetary policy compared to today.
We have modestly increased our position in International Developed Equities, while remaining neutral to U.S. and Emerging Markets Equities, as we believe the higher sensitivity of the eurozone and Japan to potential global growth improvements, will allow International Developed Equities to better benefit from the recent improvement in the risk picture.
[i] The Summary of Economic Projections which includes FOMC participant forecasts for key economic variables is presented quarterly, at the March, June, September, and December FOMC meetings.
Disclosures
Wilmington Trust is a registered service mark. Wilmington Trust Corporation is a wholly owned subsidiary of M&T Bank Corporation. Wilmington Trust Company, operating in Delaware only, Wilmington Trust, N.A., M&T Bank and certain other affiliates, provide various fiduciary and non-fiduciary services, including trustee, custodial, agency, investment management and other services. International corporate and institutional services are offered through Wilmington Trust Corporation's international affiliates. Loans, credit cards, retail and business deposits, and other business and personal banking services and products are offered by M&T Bank, member FDIC.
Facts and views presented in this report have not been reviewed by, and may not reflect information known to, professionals in other business areas of Wilmington Trust or M&T Bank who may provide or seek to provide financial services to entities referred to in this report. M&T Bank and Wilmington Trust have established information barriers between their various business groups. As a result, M&T Bank and Wilmington Trust do not disclose certain client relationships with, or compensation received from, such entities in their reports.
The information on Wilmington Wire has been obtained from sources believed to be reliable, but its accuracy and completeness are not guaranteed. The opinions, estimates, and projections constitute the judgment of Wilmington Trust and are subject to change without notice. This commentary is for information purposes only and is not intended as an offer or solicitation for the sale of any financial product or service or a recommendation or determination that any investment strategy is suitable for a specific investor. Investors should seek financial advice regarding the suitability of any investment strategy based on the investor's objectives, financial situation, and particular needs. Diversification does not ensure a profit or guarantee against a loss. There is no assurance that any investment strategy will succeed.
Past performance cannot guarantee future results. Investing involves risk and you may incur a profit or a loss.
Indexes are not available for direct investment. Investment in a security or strategy designed to replicate the performance of an index will incur expenses such as management fees and transaction costs which would reduce returns.
ACCESS THE WILMINGTON WIRE
Discover perspectives on timely wealth and investment management topics, authored by subject matter experts.
Explore Articles