Back
October 2, 2018— After weeks of bargaining, surrounded by bluster and grandstanding suggesting that the demise of NAFTA as a trilateral agreement might have been near, Canada and the United States were able strike a deal at the eleventh hour on September 30 in an attempt to salvage NAFTA, just over a month after Mexico and the U.S. reached a deal. Now renamed the "United States-Mexico-Canada Agreement" (USMCA), it includes a number of provisions championed by the Trump administration, as well as a number of concessions, suggesting the administration is willing to compromise if necessary to close a deal.
As mentioned in a recent blog post, we believe that coming to an agreement with Canada and Mexico to salvage NAFTA was a key first step in paving the path for an eventual resolution of trade tensions with China, though we acknowledge it is only one step on what is likely to still be a long and bumpy road. It allows the U.S. to show that it is working toward making deals, rather than simply pursuing protectionist policies. In addition, it allows for a more united front among allies as the U.S. attempts to make headway in correcting what many of its allies also view as China's unfair trade practices. The ability to narrow the focus of its trade "war"—rather than fighting on multiple fronts simultaneously (and against traditional allies)—should also help the U.S. as it approaches negotiations with China down the line. The USMCA deal follows on the heels of a signed trade agreement with South Korea on September 24, and recently launched negotiations with Japan, and the European Union is likely next in line.
Provisions included in USMCA may resurface as starting points in arguing for adoption of similar provisions in a deal with China and other countries in Asia. Enforceable exchange rate restrictions, for example, aimed at preventing member-countries from artificially weakening their currencies to gain trade advantages, are not typically a point of contention with Canada and Mexico. However, their inclusion in USMCA may be used as a springboard for discussions on this front with China, where exchange rate manipulation is frequently perceived as an issue. In addition, USMCA may also be a signal for potential tariff exemptions which could be secured along with a broader trade agreement. Canada and Mexico have received exemptions from potential future auto tariffs that could be imposed depending on the findings of the Commerce Department's Section 232 investigations[i] into whether auto imports are harming the U.S. economy and national security. Canada and Mexico would be able to export up to 2.6 million vehicles tariff free, significantly higher than the current level of exports from both countries. Exemptions from U.S. steel and aluminum tariffs sought by Canada and Mexico have not been granted yet, and are still being worked on as a separate deal.
Some key provisions from the new deal include:
Auto sector/Labor/Local content restrictions: 75% of auto content for vehicles is required to be manufactured in North America to avoid tariffs (up from 62.5% previously, phased in over five years). In addition, the agreement imposes more stringent labor standards, with 40% of the work done on autos required to be performed by laborers earning $16 per hour or more. More broadly, Mexican workers must also be allowed greater freedom to unionize and strike, putting them on more equal footing with U.S. workers, and thus encouraging companies to use labor in the U.S. rather than cheaper alternatives in Mexico. Some concerns remain that this may make cars (particularly smaller autos) too expensive to produce in North America and may lead manufacturers to shift production—particularly for export to other nations—to lower-cost countries. In addition, concerns remain about whether labor provisions in particular would be easily enforceable.
Dairy: An area of major contention, new provisions will allow U.S. producers to access 3.5% of the heavily regulated Canadian dairy market, and will allow for certain cheeses to be marketed without restrictions in the U.S. and Mexico.
Intellectual property: Pharmaceutical, internet, and cloud computing companies, along with banks and financial institutions, have gained additional intellectual property protections.
Dispute resolution: Investor-state dispute settlement (ISDS, also known as Chapter 11)—a process that allowed investors and companies to dispute governments in the event of a change of rules or laws—has been pared back significantly, though some industries, like energy, have maintained their rights in Mexico. The Chapter 19 provision, which allows countries to challenge unfair trade practices by other member-countries in front of a panel of member-country judges outside of their national court system, remains in place, in line with demands from Canada.
Sunset provisions: The new deal will sunset in 16 years unless it is renewed or renegotiated, and is subject to revision every six years. Though critics claim this time span still creates uncertainty that will hurt investment, it allows for a longer horizon compared to the five-year sunset clause originally sought out by the Trump administration.
We acknowledge there are still many hurdles to cross: USMCA still has to be finalized and signed, with November 30 a likely target date, given it is Mexican President Pena Nieto's last day in office. The agreement then has to be evaluated by the U.S. International Trade commission before it can be ratified by Congress, which means it may be early 2019 before there is a vote. Depending on the outcome of the midterm elections, support for the deal from Democrats may be needed. Provisions on more stringent labor, environmental, and local content requirements may help garner some of that support, though there are some perceptions that these provisions are not strong enough. But all in all, we would expect that both parties will find a way to ratify the deal.
Core narrative
We view the "new NAFTA" as an important step in the right direction toward an eventual resolution of trade frictions with China, as it suggests that the administration is willing to make compromises where necessary to achieve a deal. The new terms of the USMCA not only set the stage for future negotiations, but also provide a more united front with allies. It will be critical to see whether this momentum continues in negotiations with other allies (namely, the European Union and Japan).
However, we acknowledge the points of contention with China will be much more difficult to come to agreement on, particularly compromises on lower tariffs and the forced technology transfers faced by U.S. companies in China. The U.S. trade deficit with China is also its largest with trading partners by far, making the Trump administration's goal of reducing the massive deficit a much more daunting task.
We remain modestly overweight Emerging Markets and International Developed equities, which have suffered as a result of trade tensions in 2018 relative to U.S. equities, and where valuations suggest trade-related uncertainties are currently priced in. While the path to resolution will likely be long and remain volatile, our base case remains that a deal will eventually be reached between China and U.S., which should provide support to non-US equities.
Figure 1: U.S. 2017 goods deficits with top trading partners ($, billions)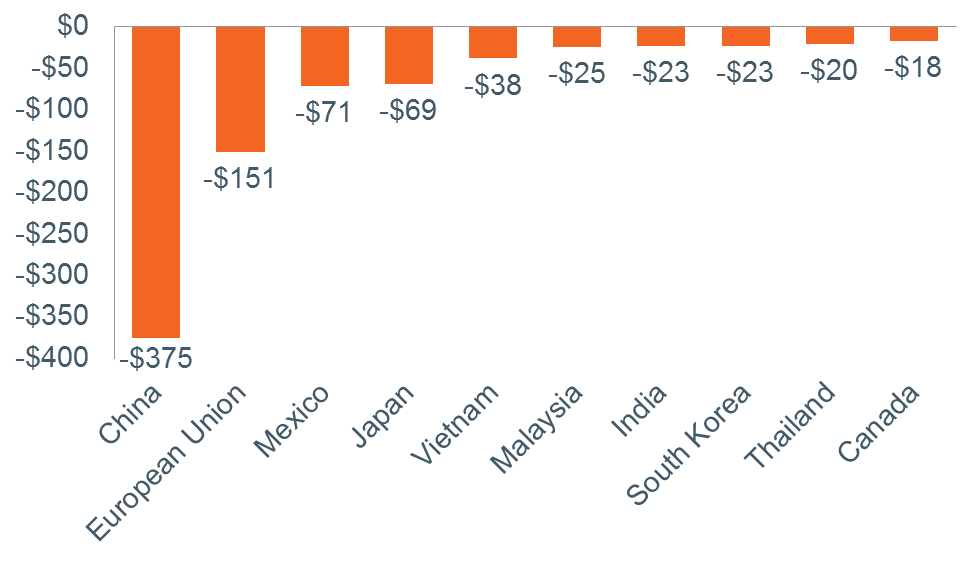 Source: Census Bureau.
Data as of December 2017.
[i] https://www.commerce.gov/news/press-releases/2018/05/us-department-commerce-initiates-section-232-investigation-auto-imports
Disclosures
Wilmington Trust is a registered service mark. Wilmington Trust Corporation is a wholly owned subsidiary of M&T Bank Corporation. Wilmington Trust Company, operating in Delaware only, Wilmington Trust, N.A., M&T Bank and certain other affiliates, provide various fiduciary and non-fiduciary services, including trustee, custodial, agency, investment management and other services. International corporate and institutional services are offered through Wilmington Trust Corporation's international affiliates. Loans, credit cards, retail and business deposits, and other business and personal banking services and products are offered by M&T Bank, member FDIC. Wilmington Trust Investment Advisors, Inc. is an SEC-registered investment adviser providing investment management services to Wilmington Trust and M&T Bank affiliates and clients.
These materials are based on public information. Facts and views presented in this report have not been reviewed by, and may not reflect information known to, professionals in other business areas of Wilmington Trust or M&T Bank who may provide or seek to provide financial services to entities referred to in this report. M&T Bank and Wilmington Trust have established information barriers between their various business groups. As a result, M&T Bank and Wilmington Trust do not disclose certain client relationships with, or compensation received from, such entities in their reports.
The information on Wilmington Wire has been obtained from sources believed to be reliable, but its accuracy and completeness are not guaranteed. The opinions, estimates, and projections constitute the judgment of Wilmington Trust and are subject to change without notice. This commentary is for information purposes only and is not intended as an offer or solicitation for the sale of any financial product or service or a recommendation or determination that any investment strategy is suitable for a specific investor. Investors should seek financial advice regarding the suitability of any investment strategy based on the investor's objectives, financial situation, and particular needs. Diversification does not ensure a profit or guarantee against a loss. There is no assurance that any investment strategy will succeed.
Any investment products discussed in this commentary are not insured by the FDIC or any other governmental agency, are not deposits of or other obligations of or guaranteed by M&T Bank, Wilmington Trust, or any other bank or entity, and are subject to risks, including a possible loss of the principal amount invested. Some investment products may be available only to certain "qualified investors"—that is, investors who meet certain income and/or investable assets thresholds. Past performance cannot guarantee a profit or ensure against a loss. Investing involves risk and you may incur a profit or a loss.
Any positioning information provided does not include all positions that were taken in client accounts and may not be representative of current positioning. It should not be assumed that the positions described are or will be profitable or that positions taken in the future will be profitable or will equal the performance of those described. Positions described are illustrative and not intended as a recommendation outside of a managed account.
Indices are not available for direct investment. Investment in a security or strategy designed to replicate the performance of an index will incur expenses, such as management fees and transaction costs that would reduce returns.
Third-party trademarks and brands are the property of their respective owners.
ACCESS THE WILMINGTON WIRE
Discover perspectives on timely wealth and investment management topics, authored by subject matter experts.
Explore Articles