Back
March 1, 2019— At long last, we have an estimate of economic growth for the fourth quarter of 2018. The report, which was delayed a month due to the government shutdown, surprised a bit to the upside, showing that Gross Domestic Product (GDP), adjusted for inflation, grew at an annualized rate of 2.6% in Q42018. There had been a few indications that growth might come in weaker, so it was a nice upside surprise. The inflation report released this week showed prices are still moving up only at a subdued rate. Taken together, the economic data this week supports our view that the U.S. economy is slowing relative to stronger growth in the middle of last year, but remains encouraging, while the tame inflation will keep the Fed from hiking rates in the first half of the year. This is supportive of our positive outlook and overweight position to U.S. equities.
GDP growth and capex
Growth of 2.6% in the fourth quarter caps off a strong year of overall growth, driven both by consumers and companies. For the full 2018 calendar year, growth measured 2.9%, matching the high-water mark set in 2015, making them the two strongest years of growth in this recovery (Figure 1). Consumers benefited from the continued strength in the labor market (2.7 million jobs added), accelerating wage growth, and of course, lower taxes. That said, consumer spending growth of 2.6% was just one-tenth of a percent higher than in 2017, and a tenth weaker than it had been in 2016. But by nearly any measure, consumers are still in a strong position.
Figure 1: U.S. economic growth (Y/Y%)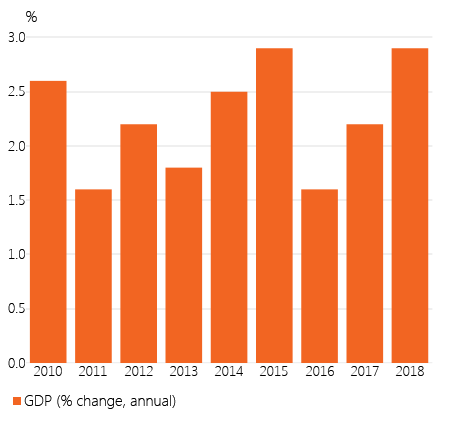 Source: Macrobond, Bureau of Economic Analysis. Data as of 4Q2018.
Companies investing in new capital showed renewed strength in 2018, growing 7% compared to 5.3% in 2017. Buoyed by strong sales and a positive outlook, firms also took advantage of lower tax rates and changes to expensing rules, both of which increased the incentive for capital investment. Of particular interest to us was the sharp acceleration in capex on intellectual property in 2018 (Figure 2). That category includes primarily investments in software as well as research and development (R&D) efforts. The sharp acceleration to a 16-year high in those types of spending reflect an ongoing "arms race" of companies investing in new technologies to gain a competitive edge in a dynamic economy with scarce available labor. We cover this dynamic and the investment implications in detail in our 2019 Capital Markets Forecast (CMF), in which we contend the economy is in the midst of a 4th Industrial Revolution.
Despite the strong year in 2018, we expect GDP growth to slow to roughly 2% in 2019. Consumers remain in a strong position, and firms do too. But we don't expect firms will keep up the same kind of capex activity this year as they did in 2018.
Figure 2: Investment in intellectual property (Y/Y%)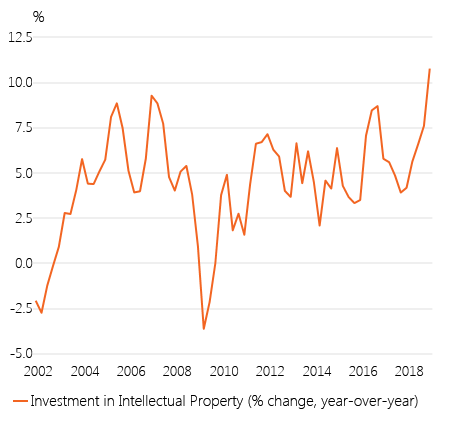 Sources: Macrobond, Bureau of Economic Analysis. Data as of February 28, 2019.
Inflation remains in check
Another report this week gave an update on the Fed's preferred measure of inflation, the Personal Consumption Expenditures (PCE) price index. (This is distinct from the Consumer Price Index (CPI), another measure of inflation that is informative, but the Fed prefers the PCE for a variety of reasons.) It was not a surprise that inflation remained quite low. The PCE was dragged down to 1.7% y/y. It had peaked at 2.4% y/y in July of 2018 but has since been pulled down, in large part due to the sharp drop in gasoline prices.
Due to the volatility in gas prices (and food prices), it is helpful to focus on Core PCE, which removes the impact of those items (Figure 3). That measure is much steadier, and came in at 1.9% y/y, just a tenth below the Fed's target rate of 2.0%. Looking at the Core PCE in a higher frequency, the 3-month rate (also shown in Figure 3) reveals that after a sharp slowdown in mid- to late-2018, the gauge has bounced back to the 2% level. The previous weakness was one reason the Fed moved to a more dovish stance of late, and the recent bounce will help assuage any concerns of a more serious problem with too-low inflation. We do not expect inflation to run very high in 2019, in large part due to the 4th Industrial Revolution as discussed in our CMF.
Figure 3: Core PCE inflation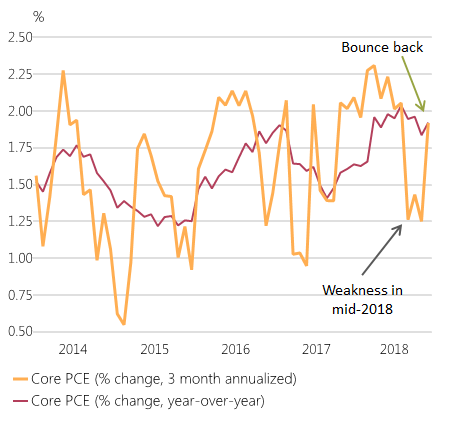 Sources: Macrobond, Bureau of Economic Analysis. Data as of February 28, 2019.
Core narrative
The report on GDP confirms our view that growth remains solid, but will not be as strong in 2019 as it was last year. We expect firms to continue investing in new technologies, but overall capex will slow a bit, unable to keep up the strong pace set in 2018 that was heavily dependent on the newly enacted tax law. We expect growth will be strong enough to boost U.S. equities, and inflation to remain subdued enough that the Fed will not even contemplate another rate hike until the back half of the year, which would also be supportive of risk assets.
Disclosures
Wilmington Trust is a registered service mark. Wilmington Trust Corporation is a wholly owned subsidiary of M&T Bank Corporation. Wilmington Trust Company, operating in Delaware only, Wilmington Trust, N.A., M&T Bank and certain other affiliates, provide various fiduciary and non-fiduciary services, including trustee, custodial, agency, investment management and other services. International corporate and institutional services are offered through Wilmington Trust Corporation's international affiliates. Loans, credit cards, retail and business deposits, and other business and personal banking services and products are offered by M&T Bank, member FDIC. Wilmington Trust Investment Advisors, Inc. is an SEC-registered investment advisor providing investment management services to Wilmington Trust and M&T Bank affiliates and clients.
These materials are based on public information. Facts and views presented in this report have not been reviewed by, and may not reflect information known to, professionals in other business areas of Wilmington Trust or M&T Bank who may provide or seek to provide financial services to entities referred to in this report. M&T Bank and Wilmington Trust have established information barriers between their various business groups. As a result, M&T Bank and Wilmington Trust do not disclose certain client relationships with, or compensation received from, such entities in their reports.
The information on Wilmington Wire has been obtained from sources believed to be reliable, but its accuracy and completeness are not guaranteed. The opinions, estimates, and projections constitute the judgment of Wilmington Trust and are subject to change without notice. This commentary is for information purposes only and is not intended as an offer or solicitation for the sale of any financial product or service or a recommendation or determination that any investment strategy is suitable for a specific investor. Investors should seek financial advice regarding the suitability of any investment strategy based on the investor's objectives, financial situation, and particular needs. Diversification does not ensure a profit or guarantee against a loss. There is no assurance that any investment strategy will succeed.
Any investment products discussed in this commentary are not insured by the FDIC or any other governmental agency, are not deposits of or other obligations of or guaranteed by M&T Bank, Wilmington Trust, or any other bank or entity, and are subject to risks, including a possible loss of the principal amount invested. Some investment products may be available only to certain "qualified investors"—that is, investors who meet certain income and/or investable assets thresholds. Past performance cannot guarantee future results. Investing involves risk and you may incur a profit or a loss.
Any positioning information provided does not include all positions that were taken in client accounts and may not be representative of current positioning. It should not be assumed that the positions described are or will be profitable or that positions taken in the future will be profitable or will equal the performance of those described. Positions described are illustrative and not intended as a recommendation outside of a managed account.
Indices are not available for direct investment. Investment in a security or strategy designed to replicate the performance of an index will incur expenses, such as management fees and transaction costs that would reduce returns.
Third-party trademarks and brands are the property of their respective owners.

ACCESS THE WILMINGTON WIRE
Discover perspectives on timely wealth and investment management topics, authored by subject matter experts.
Explore Articles