Back
February 4, 2019—Financial markets have been quite volatile over the past four months, with the S&P 500 down almost 20% from September to December of 2018 on concerns about politics, the Federal Reserve, and global growth. During that time—as is our modus operandi when the headline noise risks overwhelming all other considerations—we kept our focus on economic fundamentals and maintained the view that the U.S. equity market was not reflecting those fundamentals. Cyclical sectors of the equity market (those more closely tied to the business cycle, such as industrials, consumer discretionary, and technology) were pricing in a recession we did not believe would occur in the near term. Markets looked deeply oversold in late December, and we expected the economy to perform better in 2019 than the market was discounting. We made no dramatic changes to our asset allocation and continued to hold a slight overweight to equities through the panic-driven selling. From December 24 through January 30, 2019, the S&P 500 has returned 15% and is now just 8% off its all-time highs.
A U-turn as risks abate
The market's U-turn has, in our view, been supported by an alleviation of two of the three major risks: politics and the Fed. On the political front, the U.S. government has now reopened temporarily, and we see it as unlikely—wall or no wall—that President Trump would allow for another shutdown to occur on February 15. Also related to politics, the U.S. and China are engaged in trade negotiations that seem to be moving in the right direction, though important differences remain. We continue to expect a resolution of trade tensions that avoids a further escalation of tariffs on March 1. While any deal or agreement may fall short on some of the more difficult issues, including intellectual property protections and joint venture requirements for U.S. companies doing business in China, removal of the imminent threat of further tariffs would likely be enough to support the equity market in the short term. Removal of U.S.–China tariffs could, in our view, act as a powerful upside catalyst for global equities.
The Fed has also taken great pains to ease the market's jitters by sending a message of patience and flexibility related to both rate hikes and their balance sheet. (See Chief Economist Luke Tilley's recent Wilmington Wire blog post for more details.) Chair Powell has alleviated concerns that the Fed will crush the U.S. economic cycle in anticipation of higher inflation that may never materialize. The Fed's actions are an important transmission mechanism for emerging markets (EM) currencies and equities as well. A more patient Fed suggests more limited upside for U.S. interest rates, which would limit capital flow into U.S. dollar-based assets (from EM assets) while taking the pressure off EM central banks to raise rates in order to remain competitive. This scenario improves the relative attractiveness of EM equities and currencies, and we have already seen EM equities outperform international developed market equities by 5.7% (in U.S. dollar terms) since December.
The one risk that still looms relates to slowing global growth generally, and China's role in that phenomenon, specifically. The slowdown in many ways emanates from China (Figure 1) and is having an outsized impact on Europe as well, where certain countries like Germany are heavily reliant on exports for economic growth. Chinese policymakers have responded to growth concerns with fiscal and monetary measures that amount to an estimated 2.5% of GDP, with more stimulus likely to follow in the first half of 2019. If our base case for a benign outcome on trade materializes, the stimulus provided to China's economy should help growth stabilize not only in China and the EM region, but globally, as well.
Figure 1: The global slowdown has emanated from China
(China Manufacturing PMI)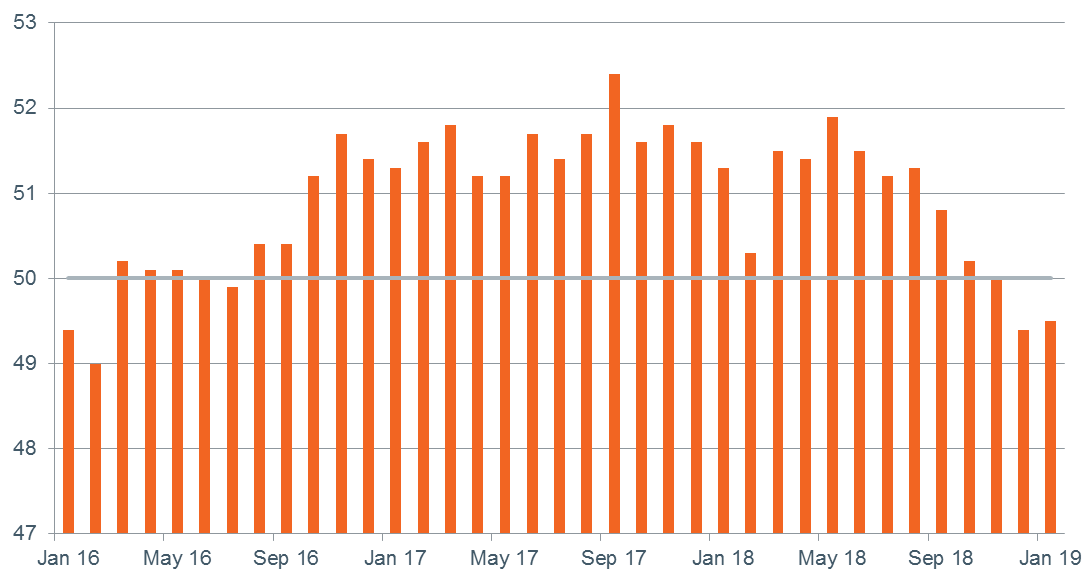 As of January 31, 2018. A number above 50 indicates expansion of the manufacturing sector, while a number below 50 indicates contraction.
Source: Bloomberg, China Federation of Logistics and Purchasing
Make no mistake, risks remain, particularly related to the Chinese, European, and Japanese economies, and valuations in these regions have become more attractive as a result. Some headwinds for European growth, like the slowdown in auto manufacturing from new emissions requirements and low levels of the Rhine River that impeded shipping, are expected to recede in 2019. However, even if these temporary factors do finally dissipate, it is looking increasingly likely that business and investor sentiment in Europe may not full recover, even with a U.S.-China trade deal (Figure 2). We also see little in the way of positive catalysts but a slew of negative tail risks (think Brexit, Italy's debt, protests in France, an impending tax hike in Japan). Moreover, with policy rates still negative and strict European Union budget rules, there is little in the way of ammunition from monetary or fiscal stimulus if growth continues its downward trajectory. All of these considerations have turned us more negative on international developed equities.
Figure 2: The eurozone economy has continued to deteriorate
(Eurozone GDP growth and Economic Sentiment Indicator)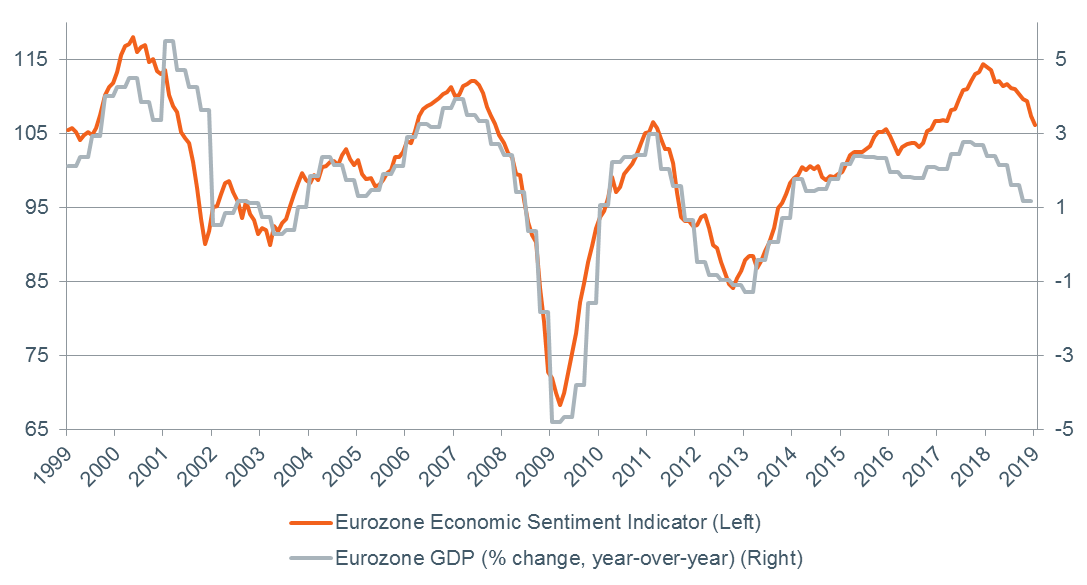 As of January 30, 2019. The economic sentiment indicator is a measure of industrial, services, retail, construction, and consumer confidence.
Source: Macrobond.
Taking some risk off the table
The most important (and challenging) part of investing is determining what is already priced into the market versus what is not priced in that could move financial assets one way or the other. Compared to December, when we saw global equity markets as pricing in all of the negative risks and few of the positives, we assess the market as now more appropriately reflecting the balance of risks both to the downside and the upside. In large part, this is due to the very strong January bounce in the market, which we do not expect sets the stage for a roaring year for equities (though we do think this year could deliver solid returns for equities). Recognizing that this January has been the best start to the year for global equities since 1987, prudent risk management now calls for taking a bit of risk off the table.
As a result, we are modestly reducing our equity overweight and shifting into core municipal bonds, while retaining a slight overweight to equities versus our strategic benchmark. Within our equity exposure, we are also altering the composition, reducing our allocation to international developed to an underweight versus our benchmark and adding a bit more to U.S. large cap, where we see more attractive return potential over the next six to twelve months. Importantly, pockets of volatility this year could provide opportunities for long-term investors, and we will remain nimble as developments evolve.
Disclosures
Wilmington Trust is a registered service mark. Wilmington Trust Corporation is a wholly owned subsidiary of M&T Bank Corporation. Wilmington Trust Company, operating in Delaware only, Wilmington Trust, N.A., M&T Bank and certain other affiliates, provide various fiduciary and non-fiduciary services, including trustee, custodial, agency, investment management and other services. International corporate and institutional services are offered through Wilmington Trust Corporation's international affiliates. Loans, credit cards, retail and business deposits, and other business and personal banking services and products are offered by M&T Bank, member FDIC. Wilmington Trust Investment Advisors, Inc. is an SEC-registered investment adviser providing investment management services to Wilmington Trust and M&T Bank affiliates and clients.
These materials are based on public information. Facts and views presented in this report have not been reviewed by, and may not reflect information known to, professionals in other business areas of Wilmington Trust or M&T Bank who may provide or seek to provide financial services to entities referred to in this report. M&T Bank and Wilmington Trust have established information barriers between their various business groups. As a result, M&T Bank and Wilmington Trust do not disclose certain client relationships with, or compensation received from, such entities in their reports.
The information on Wilmington Wire has been obtained from sources believed to be reliable, but its accuracy and completeness are not guaranteed. The opinions, estimates, and projections constitute the judgment of Wilmington Trust and are subject to change without notice. This commentary is for information purposes only and is not intended as an offer or solicitation for the sale of any financial product or service or a recommendation or determination that any investment strategy is suitable for a specific investor. Investors should seek financial advice regarding the suitability of any investment strategy based on the investor's objectives, financial situation, and particular needs. Diversification does not ensure a profit or guarantee against a loss. There is no assurance that any investment strategy will succeed.
Any investment products discussed in this commentary are not insured by the FDIC or any other governmental agency, are not deposits of or other obligations of or guaranteed by M&T Bank, Wilmington Trust, or any other bank or entity, and are subject to risks, including a possible loss of the principal amount invested. Some investment products may be available only to certain "qualified investors"—that is, investors who meet certain income and/or investable assets thresholds. Past performance is no guarantee of future results. Investing involves risk and you may incur a profit or a loss.
Any positioning information provided does not include all positions that were taken in client accounts and may not be representative of current positioning. It should not be assumed that the positions described are or will be profitable or that positions taken in the future will be profitable or will equal the performance of those described. Positions described are illustrative and not intended as a recommendation outside of a managed account.
Indices are not available for direct investment. Investment in a security or strategy designed to replicate the performance of an index will incur expenses, such as management fees and transaction costs that would reduce returns.
Third-party trademarks and brands are the property of their respective owners.
ACCESS THE WILMINGTON WIRE
Discover perspectives on timely wealth and investment management topics, authored by subject matter experts.
Explore Articles