Back
May 2, 2018—As of May 1, the U.S. economy has entered the second-longest economic expansion in its history (tied with the expansion of 1961–1969). Though "expansions don't die of old age," this new milestone will likely keep markets on edge watching for signs of a peak in the economic cycle. One of the key indicators frequently monitored for signs of a turn in the economy is accelerating wage growth. The concern is that rising wages tend to prompt worries about upward pressure on inflation, and potential additional rate hikes from the Fed, which in turn curtail the expansion. The most recent example of this type of market reaction occurred just months ago in February, when jitters about higher-than-expected average hourly earnings (one measure of wage growth) jolted markets out of their low volatility complacency. Since then, market anxiety on this front has receded somewhat, as the January average hourly reading was revised down and subsequent reports showed more subdued (though still solid) increases. Average hourly earnings, however, is just one of a number of measures of wage growth. The employment cost index for the first quarter of 2018, released last week, posted the largest quarterly gain since the end of the recession. Later this week, markets will see two additional indications on wage trends (nonfarm hourly compensation for the first quarter of 2018, and average hourly earnings for April), both of which will be worth monitoring for signs of a pickup.
What are wage growth measures currently telling us?
There are four key aggregate measures of wage growth: average hourly earnings, the employment cost index, nonfarm hourly compensation, and the Atlanta Fed Wage growth tracker. All of these measures suggest that wage pressures have been picking up, but at a very modest pace over the course of the current expansion. All four are now finally approaching (or just above) growth of 3.0% year over year (y/y). Average hourly earnings, one of the most closely watched indicators, are currently up 2.7% y/y, still far from the approximate 4.0%-4.5% y/y pace that has been historically associated with pressures on corporate profit margins, but above the 1.5% y/y pace seen at post-recession lows. The employment cost index total compensation measure, which is a broader but less timely measure, is also up 2.7% y/y, compared to its post-recession low of 1.4%, but still below its 2002–2007 average of 3.5%.
Meanwhile, the uptick in wages has moved in line with signs of decreasing labor market slack. Wage growth has moved up as the gap between the broader U-6 unemployment rate (which includes workers who are part time for economic reasons and those who are marginally attached to the workforce) and the official unemployment rate has narrowed (Figure 1). As the labor market continues to tighten, we would expect continued upward pressure on wages. Stronger wage growth going forward, coupled with a strong labor market, should also be supportive of consumer spending.
Figure 1: As labor market slack diminishes, wages should continue to tick higher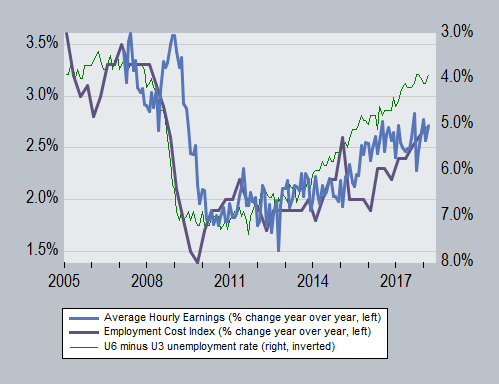 Source: Bureau of Labor Statistics, Federal Reserve Bank of Atlanta
Data as of March 31, 2018
Why is wage growth important for markets?
First, wage growth is a measure of labor costs for firms, which, if it is rising, suggests that employers could potentially pass these additional costs to customers, contributing to higher economy-wide inflation (although this is not necessarily the case, if it is accompanied by rising productivity). If firms do not pass on higher wage costs on to consumers, eventually rising wages will begin to hurt firms' profit margins. Second, the pace of wage growth can be an indication of remaining slack in labor markets, which in turn has implications for Fed policy, given its goal of fostering both price stability and maximum employment. Finally, wage growth can provide signals for trends in consumer spending in the economy (which accounts for approximately 70% of GDP).
Core narrative
In short, the current pace of wage growth does not yet suggest concerns about triggering higher overall inflation, nor does it prompt the Fed to hike at a more rapid pace than expected. We expect two more rate hikes from the Fed by the end of 2018, though we acknowledge the risk of an additional hike. We do expect that as labor market slack continues to decline, wage pressures will be nudged higher, so we will continue to monitor these trends. Stronger wages, along with a tighter labor market, should bolster the U.S. consumer, along with tax reform and fiscal spending, which should be supportive of the U.S. economic outlook for 2018. We are overweight risk assets, with an overweight to non-U.S. equities and a neutral position in U.S. equities, as we believe the U.S. is further along in the business cycle relative to international economies. We remain underweight fixed income.
Appendix: What are the different measures of wage growth and which is the best?
As mentioned earlier, there are four important measures of wage growth that tend to receive market attention: average hourly earnings (AHE), the employment cost index (ECI), nonfarm hourly compensation (NHC), and the Atlanta Fed Wage Growth Tracker (AFWGT). Each of these indicators measure slightly different aspects of wage growth and so, as a result, have various strengths and weaknesses (see Figure 2). Given the differences in what each indicator measures, none of them are directly comparable, so monitoring all of them in combination can provide a better overall picture of wage trends than any one indicator on its own (Figure 3).
Timeliness, breadth of compensation coverage, and adjustment for shifting dynamics in employment composition are key characteristics that differentiate each of these wage measures. Some measures (AHE and AFWGT) are more timely since they are released monthly, compared to quarterly releases for the ECI and NHC. Some measures like AHE are narrower in that they only measure wages and salaries, but exclude certain non-wage benefits (such as healthcare coverage or bonuses), while the ECI and NHC are more comprehensive in total compensation coverage. Finally, the ECI and AFWGT measures both adjust for changes in the mix of employment in the labor market, whereas AHE and NHC do not. For example, AHE could show a trend of rising wages if more people move into higher-paid jobs over time, even if wages in the lower-paid jobs remain unchanged because of the way it is constructed.
The AFWGT looks at the median, rather than the average, of 12-month wage growth, and looks only at those workers who have been continuously employed for 12 months. This helps to account for structural factors (as described in a study done by the Federal Reserve Bank of San Francisco) such as the entry and exit of workers from the labor force, which tend to drag down average wages during expansions, when new workers, who tend to have lower wages, are entering the labor force at a faster pace (while the opposite impact tends to boost average wage measures during recessions). In addition, this measure helps account for demographic factors, such as ones we are experiencing now, where larger numbers of Baby Boomers are retiring (dropping out of the workforce at higher wage levels) and are being replaced by new entrants to the labor market (who are less experienced and entering at lower wage rates).
On the whole, AHE is useful because of its timeliness. The ECI is more useful as a measure of the labor cost of firms, given that it includes wages and salaries along with benefits, and it also accounts for the changing composition of the workforce. The Atlanta Fed's Wage Growth Tracker accounts for the changing composition of the workforce, but is not a perfect measure of aggregate wage growth since it looks only at median growth and has a small sample size. Nonfarm hourly compensation is the broadest measure, but much more volatile because it does not account for the changing composition of the labor market.
Figure 2: Measures of wage growth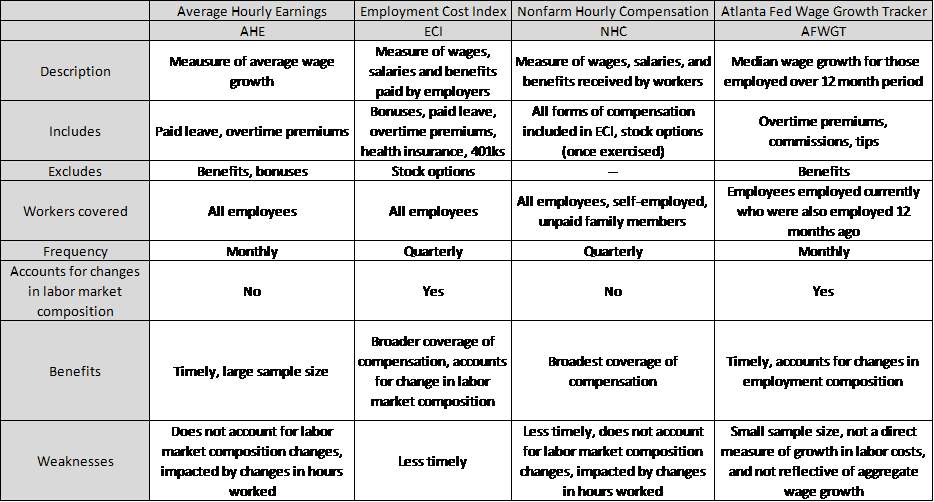 Source: BLS, Federal Reserve Bank of Atlanta
Data as of March 31, 2018
Figure 3: Wage pickup has been gradual during the current expansion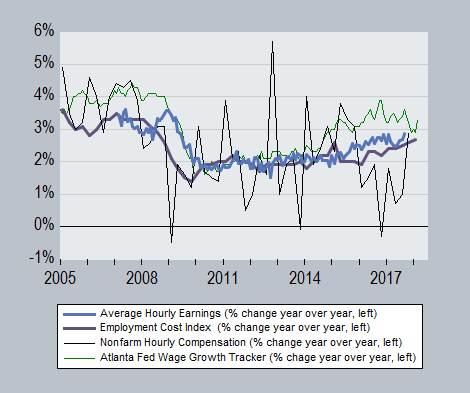 Sources: Bureau of Labor Statistics, Federal Reserve Bank of Atlanta
Data as of March 31, 2018; Nonfarm Hourly Compensation as of December 31, 2017
Disclosures
Wilmington Trust is a registered service mark. Wilmington Trust Corporation is a wholly owned subsidiary of M&T Bank Corporation. Wilmington Trust Company, operating in Delaware only, Wilmington Trust, N.A., M&T Bank and certain other affiliates, provide various fiduciary and non-fiduciary services, including trustee, custodial, agency, investment management and other services. International corporate and institutional services are offered through Wilmington Trust Corporation's international affiliates. Loans, credit cards, retail and business deposits, and other business and personal banking services and products are offered by M&T Bank, member FDIC. Wilmington Trust Investment Advisors, Inc. is an SEC-registered investment adviser providing investment management services to Wilmington Trust and M&T Bank affiliates and clients.
These materials are based on public information. Facts and views presented in this report have not been reviewed by, and may not reflect information known to, professionals in other business areas of Wilmington Trust or M&T Bank who may provide or seek to provide financial services to entities referred to in this report. M&T Bank and Wilmington Trust have established information barriers between their various business groups. As a result, M&T Bank and Wilmington Trust do not disclose certain client relationships with, or compensation received from, such entities in their reports.
The information on Wilmington Wire has been obtained from sources believed to be reliable, but its accuracy and completeness are not guaranteed. The opinions, estimates, and projections constitute the judgment of Wilmington Trust and are subject to change without notice. This commentary is for information purposes only and is not intended as an offer or solicitation for the sale of any financial product or service or a recommendation or determination that any investment strategy is suitable for a specific investor. Investors should seek financial advice regarding the suitability of any investment strategy based on the investor's objectives, financial situation, and particular needs. Diversification does not ensure a profit or guarantee against a loss. There is no assurance that any investment strategy will succeed.
Any investment products discussed in this commentary are not insured by the FDIC or any other governmental agency, are not deposits of or other obligations of or guaranteed by M&T Bank, Wilmington Trust, or any other bank or entity, and are subject to risks, including a possible loss of the principal amount invested. Some investment products may be available only to certain "qualified investors"—that is, investors who meet certain income and/or investable assets thresholds. Past performance is no guarantee of future results. Investing involves risk and you may incur a profit or a loss.
Any positioning information provided does not include all positions that were taken in client accounts and may not be representative of current positioning. It should not be assumed that the positions described are or will be profitable or that positions taken in the future will be profitable or will equal the performance of those described. Positions described are illustrative and not intended as a recommendation outside of a managed account.
Indices are not available for direct investment. Investment in a security or strategy designed to replicate the performance of an index will incur expenses, such as management fees and transaction costs that would reduce returns.
Third-party trademarks and brands are the property of their respective owners.
ACCESS THE WILMINGTON WIRE
Discover perspectives on timely wealth and investment management topics, authored by subject matter experts.
Explore Articles