Back
May 2, 2019 – Over the past several months, expectations (and hopes) have been building that the Federal Reserve (Fed) may be moving toward rate cuts in the face of stubbornly low inflation, a move that would likely be helpful to equities. No one really expected the central bank to cut rates this week, but it appears that some investors were hoping for hints that it may be tilting more in that direction, and some apparently read the initial statement as just such a hint. But the press conference 30 minutes later indicated the Federal Open Market Committee (FOMC) and Chair Powell were neither cutting rates nor indicating a bias that direction. Much like Arya Stark at the Battle of Winterfell, they insisted "Not today." (My apologies for the Game of Thrones reference to non-fans.) We do not react to short term movements, but the reaction in markets and the discussion highlight the importance of inflation data going forward, both for the Fed and for the markets.
The Fed statement, market reaction, and reversal
The Fed made no changes at yesterday's meeting, maintaining a target range of 2.25%–2.50% for its main policy tool, the federal funds rate. Even though the move was expected, there was in an interesting dynamic in markets reacting first to the official statement, released at 2:00 PM, and then to Chair Powell's comments at the press conference, which started 30 minutes later. The market appeared to read the official statement as "dovish," i.e., that the Fed may have been leaning in the direction of rate cuts, and equities pushed a bit higher. Though there were precious few changes to the statement, the FOMC did update the language describing its assessment of the economy to take into account newly released data since the last meeting. This included the surprisingly high GDP report for 1Q 2019, and, importantly, a description of the most recent inflation data that reveals a sharp slowdown. The assessment was neither lengthy nor dire, but with very little other information, it would appear some investors took it as a sign that the FOMC was getting a bit more nervous about low inflation and may be leaning in the direction of cutting interest rates. If that were true, and its members were to cut rates because of low inflation and little worries about growth, it would likely be bullish for equities.
S&P 500 index on May 1, 2019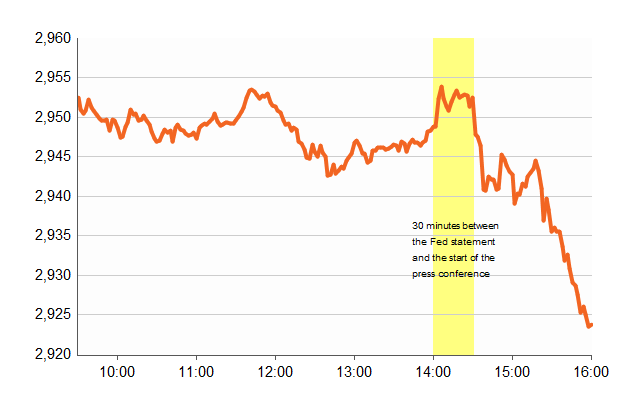 Sources: Bloomberg, WTIA. Data as of May 1, 2019.
At 2:30 PM, when the press conference started, it was immediately clear that Powell was not concerned about the low inflation figures and was not hinting a bias toward cutting rates. He gave a lengthy description of the recent inflation figures, and then briefly said the FOMC thinks the slowdown is "transitory." The reporters in their room focused on this question, with many of the initial questions asking him to elaborate. Powell indicated the committee believes the slowdown in core PCE was being pulled down by very large declines in a few categories that will not persist. He named financial services fees, apparel, and airline fares, specifically. Powell made it quite clear in response to the questions that, because the committee believes the slowdown to be temporary, it is not leaning toward cutting rates at this time. Those strong assertions appear to have discouraged investors and equity markets proceeded to decline for the remainder of the day, with very little other news to account for the decline.
The importance of inflation, looking forward
The press conference once again reinforces the importance of the economic data going forward in anticipating the Fed's next moves. It also was revealing in that we heard Powell endorse some of the alternative measures of underlying inflation pressures more than we've heard in the past. Specifically, he cited the Dallas Fed's "Trimmed Mean" measure of inflation, which remains very close to its target of 2%. This measure (along with a similar trimmed measure for CPI that comes from the Cleveland Fed) has been around for many years and gets significant attention from economists but comparatively little attention in markets and financial press.
Briefly, most people in financial markets are very familiar with the two main data sources for inflation, the CPI and the PCE, and that the Fed prefers the PCE. Then, for both the CPI and the PCE, there is a special calculation of "core" inflation, which removes the line items for food and energy; the argument for doing so being that food and energy components are very volatile, and because they swing around so much, it is hard to discern an underlying trend in the overall CPI and PCE measures, so core gives a more accurate picture. The wrinkle with that story is that removing food and energy is completely arbitrary. In truth, every single component of inflation is more volatile than overall inflation, so the argument being made to remove food and energy could just as easily be made for housing, health care, communications—anything in the index.
The recognition that in any month there could be some rogue components that have gone awry and pull the overall index too high or too low leads to a solution of removing the most volatile components in each month, no matter what they are. This is what the Dallas Fed's Trimmed Mean PCE does. Without getting into the mathematical gymnastics underpinning the method, the Trimmed Mean PCE removes roughly 20% of the components from the high end and the low end. For example, in the March 2019 calculation, the trimmed measure removed the price movements of tax preparation services, which collapsed at a 62% annualized rate, along with 56 other line items that were at the low end. It also excluded the price of wristwatches, which surged at a 138% annualized rate, and 62 other line items at the high end. Next month, if tax preparation services and wristwatch price movements are well behaved, they'll be included, and something else will get thrown out.
The impact of the Dallas Fed's trimmed measure is significant as can be seen in the chart below. While the traditional core PCE measure has collapsed over the past three months to just 1.5% y/y, the trimmed measure is very close to 2%. So while some investors were looking at the orange line in the figure below and thinking the Fed might cut rates to push it higher, Powell essentially said he's not nearly as worried about inflation as they might have thought, because he's looking at the gray line.
Two measures of underlying inflation (y/y %)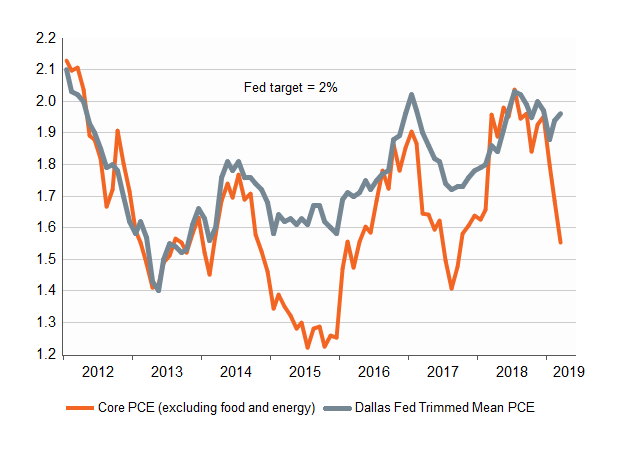 Sources: Bureau of Economic Analysis, Federal Reserve Bank of Dallas, WTIA. Data as of March 31, 2019.
Core narrative
What to make of it all? To be clear, we are not dismayed by the eventual 0.75% decline in the S&P 500 on Wednesday, May 1, which falls into the category of a fairly normal day. And even if the move were larger, we do not make snap judgements on one day (or even one week) movements in markets. But the dynamic around the Fed announcement and then reaction to Powell's comments made it clear that markets had been moving toward more of an expectation that the Fed's next move would be to cut rates, rather than to hike. There are other indications of market expectations of the Fed, such as the futures market for fed funds and the Treasury curve, which tell a similar story to the equity market movements. Those broader contours of the future path of monetary policy are very important to markets and do merit careful analysis for investment positioning.
We believe the Fed remains very much balanced in its expectation over the next move, with no bias in either direction. The direction of the economic data and financial markets will be the key driver. We expect the economy to continue to expand, though more slowly (2%) in 2019 than in 2018. Importantly, we do expect inflation to pick back up. Even more importantly, so does the Fed. Barring some kind of shock that sends the yield curve into inversion or pushes growth lower, we expect the next move from the Fed to be a hike, but not likely anytime soon as it will be a while before the inflation numbers recover to the extent necessary for it to do so. We remain overweight equities, with a preference for U.S. large cap and emerging markets.
Disclosures
Wilmington Trust is a registered service mark. Wilmington Trust Corporation is a wholly owned subsidiary of M&T Bank Corporation. Wilmington Trust Company, operating in Delaware only, Wilmington Trust, N.A., M&T Bank and certain other affiliates, provide various fiduciary and non-fiduciary services, including trustee, custodial, agency, investment management and other services. International corporate and institutional services are offered through Wilmington Trust Corporation's international affiliates. Loans, credit cards, retail and business deposits, and other business and personal banking services and products are offered by M&T Bank, member FDIC. Wilmington Trust Investment Advisors, Inc. is an SEC-registered investment adviser providing investment management services to Wilmington Trust and M&T Bank affiliates and clients.
These materials are based on public information. Facts and views presented in this report have not been reviewed by, and may not reflect information known to, professionals in other business areas of Wilmington Trust or M&T Bank who may provide or seek to provide financial services to entities referred to in this report. M&T Bank and Wilmington Trust have established information barriers between their various business groups. As a result, M&T Bank and Wilmington Trust do not disclose certain client relationships with, or compensation received from, such entities in their reports.
The information on Wilmington Wire has been obtained from sources believed to be reliable, but its accuracy and completeness are not guaranteed. The opinions, estimates, and projections constitute the judgment of Wilmington Trust and are subject to change without notice. This commentary is for information purposes only and is not intended as an offer or solicitation for the sale of any financial product or service or a recommendation or determination that any investment strategy is suitable for a specific investor. Investors should seek financial advice regarding the suitability of any investment strategy based on the investor's objectives, financial situation, and particular needs. Diversification does not ensure a profit or guarantee against a loss. There is no assurance that any investment strategy will succeed.
Any investment products discussed in this commentary are not insured by the FDIC or any other governmental agency, are not deposits of or other obligations of or guaranteed by M&T Bank, Wilmington Trust, or any other bank or entity, and are subject to risks, including a possible loss of the principal amount invested. Some investment products may be available only to certain "qualified investors"—that is, investors who meet certain income and/or investable assets thresholds. Past performance cannot guarantee future results. Investing involves risk and you may incur a profit or a loss.
Any positioning information provided does not include all positions that were taken in client accounts and may not be representative of current positioning. It should not be assumed that the positions described are or will be profitable or that positions taken in the future will be profitable or will equal the performance of those described. Positions described are illustrative and not intended as a recommendation outside of a managed account. Indices are not available for direct investment. Investment in a security or strategy designed to replicate the performance of an index will incur expenses, such as management fees and transaction costs that would reduce returns.
Third-party trademarks and brands are the property of their respective owners.
ACCESS THE WILMINGTON WIRE
Discover perspectives on timely wealth and investment management topics, authored by subject matter experts.
Explore Articles