Back
June 6, 2019 – After closing out the month of May on a sour note due to sharply escalating U.S. trade tensions with both China and Mexico, the equity market rallied sharply on Tuesday in response to comments from Fed officials that were perceived as being more open to the possibility of rate cuts going forward. Chair Powell mentioned in a speech this week that the Fed would "act as appropriate to sustain the expansion," while the St. Louis Fed President Bullard suggested that a "rate cut may be warranted soon" on Monday. Markets seemed as enamored with the Fed as John Travolta and Olivia Newton-John were as they sang "Summer Nights" in the age-old classic song from the movie Grease.
Market signals and recent economic data (including Wednesday's significantly softer than expected ADP payroll report) now appear to be bolstering the case for a more dovish Fed and raising the likelihood of a rate cut, in our view. This may provide a near-term boost to equities, but we would be less optimistic about the potential for a sustained rally until trade tensions are resolved. In contrast to the early 2019 market surge in response to the Fed's shift from a rate hike cycle to a more "patient" policy approach, the U.S. economic picture is less robust now than it was six months ago, given the fading impact of fiscal stimulus. In addition, trade tensions with key U.S. trading partners are still festering. Until we get more clarity on trade relations, we would be concerned about the market's "summer dreams" for a sustained equity rally being "ripped at the seams" going forward, given recent signs of slowing growth. We continue to maintain a more cautious view, having shifted portfolios to a neutral position in equities, while paring back our underweight to fixed income in recent weeks.
Market signals supporting a rate cut have been gathering steam
Since trade tensions reignited on May 5, 2-year Treasury yields have plunged by roughly 40 basis points (bps) to 1.90%, while equity markets have been seemingly less pessimistic, down by 4% over the period. Measures of volatility in both equity markets and bond markets signal a similar divergence, with the MOVE index of treasury market volatility having surpassed late 2018 highs, and the VIX index of equity market volatility remaining more subdued (Figure 1).
Figure 1: Measures of treasury market volatility remain more elevated than that for equity markets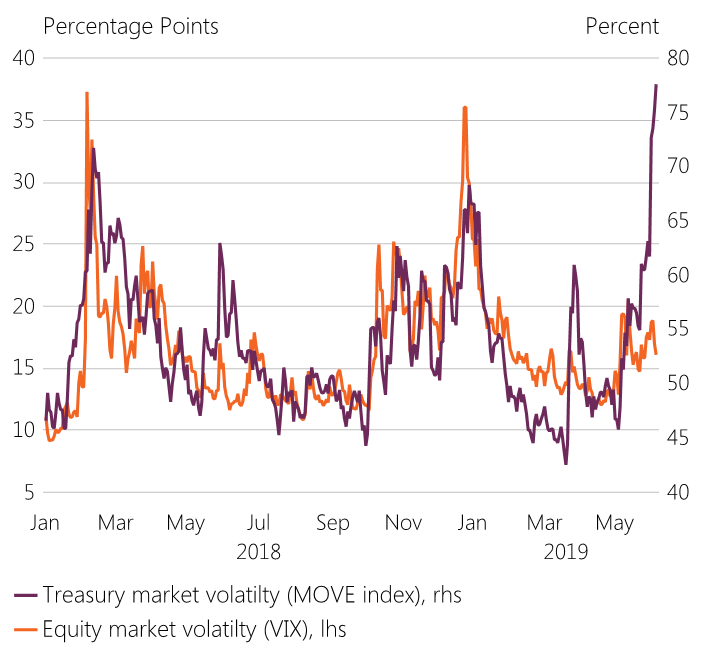 Source: Macrobond, CBOE, BofAML. Data as of June 5, 2019.
The relatively more sanguine moves in equity markets may be driven in part by expectations that the Fed will come in to cut rates and save the day. Indeed, key market signals watched closely by the Fed may be giving the FOMC an opening to do so. Breakeven inflation rates, a signal of inflation expectations, have been edging back down, now close to levels seen at the end of last year during the 4Q 2018 equity market rout (Figure 2). St. Louis Fed President Bullard mentioned that "inflation expectations appear to be too low to be considered consistent with the inflation target of the Federal Open Market Committee (FOMC)." In addition, the 10-year minus 3-month portion of the yield curve has been inverted now for the 10th consecutive day, another market signal closely watched by the Fed. While it is still early days, Vice Chair Clarida mentioned this week that "if the yield curve inverts as it has and if it persists for some time, that's obviously something I would definitely take seriously." It should also be noted that other measures, such as the 10-year minus 2-year portion of the yield curve, are not yet inverted, and still remain upward sloping.
Figure 2: Breakeven inflation rates falling back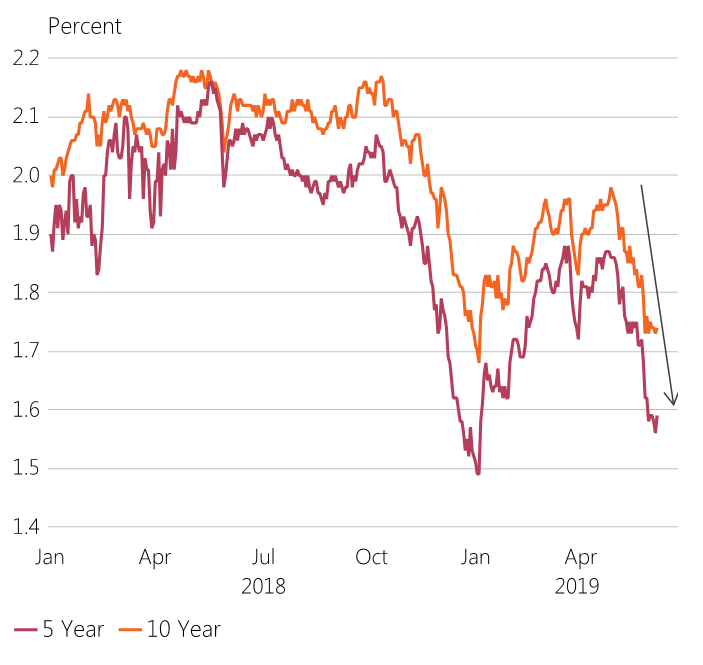 Source: Macrobond. Data as of June 4, 2019.
US economic data beginning to soften, opening the door for a potential rate cut
In contrast to the period of equity market indigestion seen in late 2018, economic data in the U.S. in the current period is showing some signs of a more fundamental softening, with downside risks building to our 2019 GDP growth outlook of 2.0%. The main drivers of growth for our outlook had been slowing, but still solid, business capital expenditures (capex), and consumer spending bolstered by a strong labor market. Some cracks may now be appearing in both of these key pillars of growth.
First, the manufacturing sector in the U.S., after having been immune to the global slowdown for much of last year, is showing clear signs of deterioration since mid-2018. Manufacturing production has turned negative on a year-over- year basis for the first time since October 2016 which, if the trend were to continue, does not bode well for business capex (Figure 3). Core capital goods orders, another leading indicator of business capex, have also slowed notably since the start of the year.
Figure 3: Slowing manufacturing sector activity bodes poorly for business capex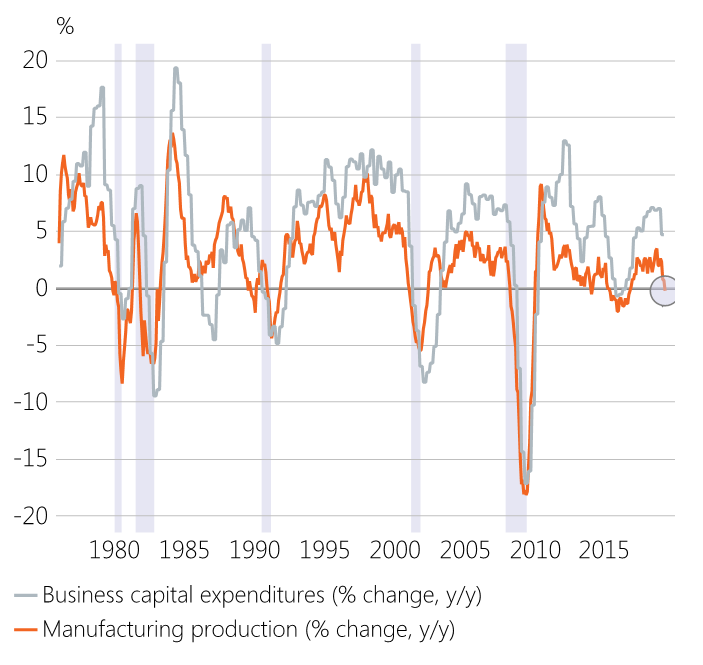 Source: Federal Reserve, BEA, Macrobond. Data as of April 2019 for manufacturing production, and March 2019 for business capital expenditures.
Other, more timely indicators of manufacturing sector activity have decelerated as well, including the ISM survey (which has slowed in 6 of the past 9 months) and Markit purchasing manager index (at its lowest since September 2009, and showing the sharpest slowing relative to other countries for the month of May). While both are currently in expansion, a persistent slowing into contractionary territory would suggest further support for a Fed rate cut (Figure 4). Since 1971, any time the PMI went negative for at least 2 months the Fed ended up cutting rates shortly thereafter. Two exceptions exist during the current expansion: first in 2012, when the Fed remained on hold because rates were effectively at zero and it was engaged in quantitative easing (an alternate form of cutting rates); and again in 2016 when rates were still low and the Fed instead paused a hike cycle (raising rates only once in December 2016 despite expectations for four hikes at the start of the year).
Figure 4: Fed rate cuts have typically followed after the ISM manufacturing PMI falls below the 50 threshold for at least two months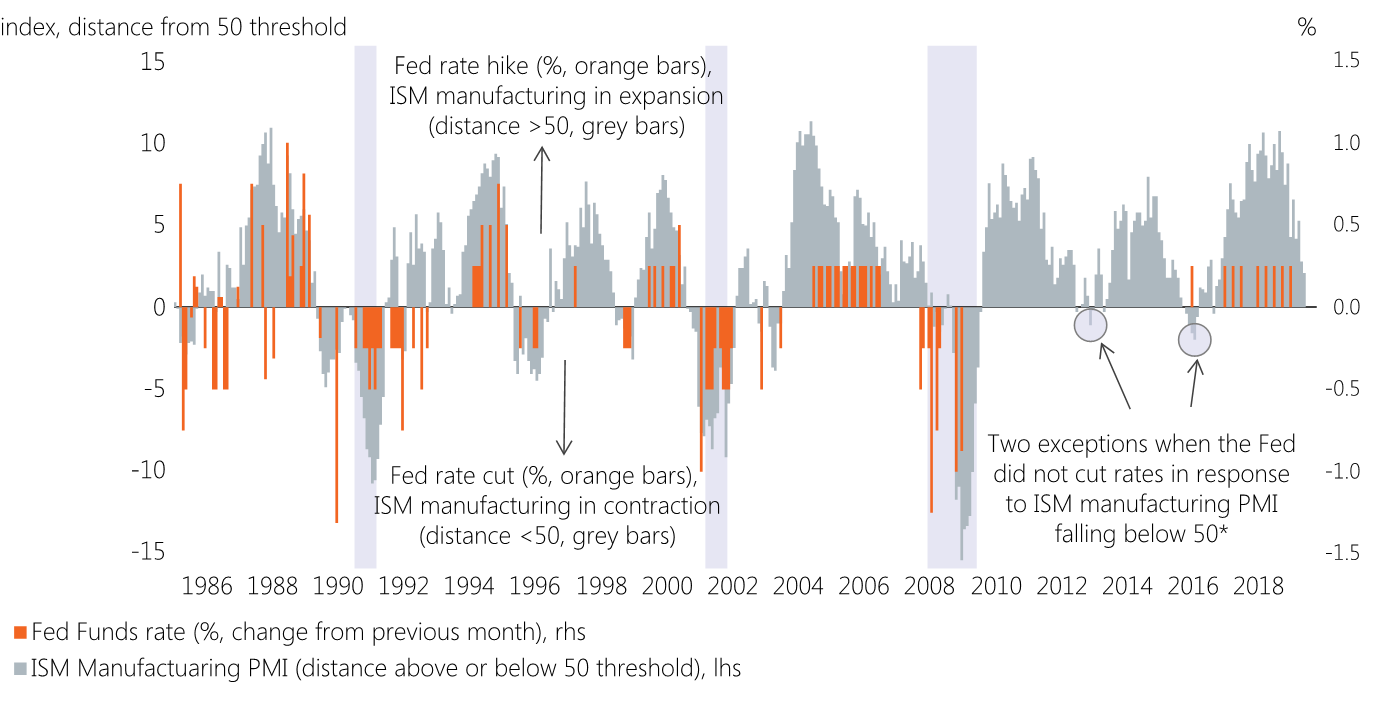 Source: Macrobond, ISM, WTIA. Data as of Jun 4, 2019. *Two exceptions when the Fed did not cut rates in response to ISM manufacturing PMI falling below 50: in 2012, the Fed remained on hold as rates were already at the lower bound and it was engaged in quantitative easing; and in 2016, rates were still low and they instead paused a hike cycle.
Until Wednesday's ADP payroll report showing private sector job growth of just 27,000 (its slowest one month reading since September 2010), data on the labor market had remained fairly solid (outside of some signs of softening in the manufacturing sector). While we will put more weight on this Friday's more comprehensive BLS employment report, the downside surprise in the ADP employment data is the first sign of possible softening in the labor market. The ISM non-manufacturing PMI (measuring activity in the service and construction sectors), also released Wednesday, was slightly more comforting, suggesting that service and construction sector job growth (which account for a larger proportion of employment relative to manufacturing) still remains healthy, with a sharp jump in the employment sub index. The combination of these two readings points to payroll growth that will likely be slower relative to last month, but not as dire as the ADP report by itself might imply. Friday's employment report will be a key focus for signs of any deterioration in labor market strength. Any material softening of this report will likely provide further support for the potential rate cut from the Fed.
Inflation data remain tame as well. Core PCE inflation, the Fed's preferred measure of inflation, is running well below the Fed's target of 2.0% (currently at 1.6% as of April). At the May FOMC press conference, Chair Powell had emphasized the FOMC's view of the transitory nature of the current slowdown in inflation (noting that the Dallas Fed Trimmed PCE, an alternate measure of inflation followed by the Fed, remains close to the 2.0% target). However, comments from a speech he made just this week suggest that he may be concerned that if the Fed is wrong about the transitory nature of the current slowdown in inflation, some action would be merited.[1]
The current slowing in the U.S. economic picture is coming at a time when global growth, which had just begun to stabilize over the past two months, remains quite fragile. In fact, the global manufacturing PMI fell into contraction for the first time since 2012. The World Bank this week downgraded its global growth forecast for 2019 to 2.6% from its last forecast in January of 2.9%. In addition, uncertainty around trade relations between the U.S. and major trading partners, the main culprit behind much of the slowing in both U.S. and global economic activity, are still far from being resolved.
Core narrative
Recent softening economic data, existing tariffs, and uncertainty surrounding the threat of additional tariffs, suggest rising downside risks to our current growth outlook of 2.0% in 2019. Taken together with signals from the market and recent commentary from Fed officials, the likelihood of a possible rate cut from the Fed has increased in our view.
While it is difficult to forecast Fed policy even in the most straightforward of economic environments, the current outlook is all the more challenging as it hinges on the outcome of multiple trade and tariff scenarios with a number of different countries/regions, each of which could escalate or disappear or mutate with a single tweet. We expect that if additional threatened tariffs are implemented (on China, Mexico, European Union, or any potential unexpected new entrants to the tariff game), and/or we see a further deterioration of key economic data or market signals (i.e., employment report, inflation, inflation expectations), the Fed could take action to cut rates later this year.
In our view, while the possibility of a Fed rate cut would likely buoy markets in the short-term, it is not clear that even if the Fed were to take action, that this would be enough to counteract the negative impacts of tariffs, should they all be implemented and stay in place. We would be wary of expectations for a sustained rally in equities solely on the back of a potential cut in rates from the Fed, and would await further clarity on trade tensions before considering whether to add to risk in portfolios. We remain neutral to equities in portfolios, and have reduced our underweight to fixed income relative to our strategic benchmark.
[1] From Opening Remarks at the "Conference on Monetary Policy Strategy, Tools, and Communications Practices," June 4, 2019. "Core inflation is currently running a bit below 2 percent on a trailing 12-month basis. In this setting, a similar low-side surprise, if it were to persist, would bring us uncomfortably closer to the ELB. My FOMC colleagues and I must—and do—take seriously the risk that inflation shortfalls that persist even in a robust economy could precipitate a difficult-to-arrest downward drift in inflation expectations."
Disclosures
Wilmington Trust is a registered service mark. Wilmington Trust Corporation is a wholly owned subsidiary of M&T Bank Corporation. Wilmington Trust Company, operating in Delaware only, Wilmington Trust, N.A., M&T Bank and certain other affiliates, provide various fiduciary and non-fiduciary services, including trustee, custodial, agency, investment management and other services. International corporate and institutional services are offered through Wilmington Trust Corporation's international affiliates. Loans, credit cards, retail and business deposits, and other business and personal banking services and products are offered by M&T Bank, member FDIC. Wilmington Trust Investment Advisors, Inc. is an SEC-registered investment adviser providing investment management services to Wilmington Trust and M&T Bank affiliates and clients.
These materials are based on public information. Facts and views presented in this report have not been reviewed by, and may not reflect information known to, professionals in other business areas of Wilmington Trust or M&T Bank who may provide or seek to provide financial services to entities referred to in this report. M&T Bank and Wilmington Trust have established information barriers between their various business groups. As a result, M&T Bank and Wilmington Trust do not disclose certain client relationships with, or compensation received from, such entities in their reports.
The information on Wilmington Wire has been obtained from sources believed to be reliable, but its accuracy and completeness are not guaranteed. The opinions, estimates, and projections constitute the judgment of Wilmington Trust and are subject to change without notice. This commentary is for information purposes only and is not intended as an offer or solicitation for the sale of any financial product or service or a recommendation or determination that any investment strategy is suitable for a specific investor. Investors should seek financial advice regarding the suitability of any investment strategy based on the investor's objectives, financial situation, and particular needs. Diversification does not ensure a profit or guarantee against a loss. There is no assurance that any investment strategy will succeed.
Any investment products discussed in this commentary are not insured by the FDIC or any other governmental agency, are not deposits of or other obligations of or guaranteed by M&T Bank, Wilmington Trust, or any other bank or entity, and are subject to risks, including a possible loss of the principal amount invested. Some investment products may be available only to certain "qualified investors"—that is, investors who meet certain income and/or investable assets thresholds. Past performance cannot guarantee future results. Investing involves risk and you may incur a profit or a loss.
Any positioning information provided does not include all positions that were taken in client accounts and may not be representative of current positioning. It should not be assumed that the positions described are or will be profitable or that positions taken in the future will be profitable or will equal the performance of those described. Positions described are illustrative and not intended as a recommendation outside of a managed account. Indices are not available for direct investment. Investment in a security or strategy designed to replicate the performance of an index will incur expenses, such as management fees and transaction costs that would reduce returns.
Third-party trademarks and brands are the property of their respective owners.
"Grease." Paramount Pictures, 1979.
ACCESS THE WILMINGTON WIRE
Discover perspectives on timely wealth and investment management topics, authored by subject matter experts.
Explore Articles